Patch Tuesday: Microsoft updates Surface 2, Surface Pro 2 with Power Cover fixes and more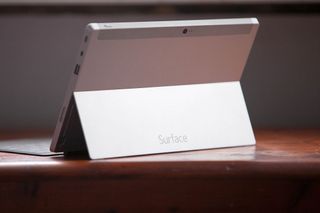 It's the second Tuesday of June and Microsoft is back at it with firmware updates for the Surface Pro 2 and Surface 2 tablets, bringing some performance improvements and bug fixes to both slates. Owners of either tablets can download the updates through the Windows update menu, and doing so will give you improved battery life and sleep performance with the Power Cover among other improvements. Hit the break to see what has changed.
Of note, there are no updates this time around for the original Surface RT and the Surface Pro. The changes for the Surface Pro 2 and Surface 2 are listed as "System Firmware Update - 06/10/2014."
Here is what has changed for Microsoft's newer tablets:
Surface Pro 2 Update: Release notes (opens in new tab)
Surface Pro UEFI (v2.4.950.0) and Surface Pro Embedded Controller Firmware (v24.1.50.0) updates enhance system stability with microSD products, improves compatibility with Power Cover, and increases the reliability of sleep state transitions. Surface Pro UEFI update also provides support for PXE boot with the new Surface Ethernet Adapter.
Surface Pro System Aggregator Firmware (v2.4.350.0) update improves sleep state transitions when a Surface Cover is attached.
Surface Accessory Device (v2.0.287.0) update improves sleep state transitions when a Surface Cover is attached.
Surface Power Cover Firmware Update (v2.0.288.0) improves reliability when the Power Cover is attached to Surface and folded behind Surface.
HD Graphics Family (v10.18.10.3496) update improves Miracast wireless display experience and enhances display stability.
Surface 2 Update: Release notes (opens in new tab)
Surface 2 UEFI (v4.21.500.0) update enhances overall system stability, including boot and reboot scenarios, compatibility with Surface Power Cover, and increased battery life when Surface 2 is not in use.
System Aggregator Firmware (v1.0.50500.0) update enhances the charging behavior of the Power Cover.
Surface Power Cover Firmware Update (v2.0.595.0) update improves battery life when using the Power Cover with Surface 2.
Surface Platform Power Driver (v2.0.557.0) update improves battery life when used with the Surface Power Cover.
Audio Driver Set (v 9.17.13.2819) and Display Driver Set (v 9.17.13.2818). This update provides enhanced support for external displays, improves the Miracast experience, and enhances the overall system stability while reducing power consumption in many scenarios.
Surface Accessory Device (v2.0.583.0) update enhances the experience when using a Surface Cover.
In addition to the updates listed above, an additional update for Surface 2 4G LTE is listed below:
Wireless Network Controller (v14.62.28061.10179) and Bluetooth (v14.62.28061.10179) update simplifies and improves tethering for Surface 2 4G LTE.
If you've applied any of these updates to your Surface 2 or Surface Pro 2, let us know if any of the issues have been corrected or if you have encountered new issues.
Chuong's passion for gadgets began with the humble PDA. Since then, he has covered a range of consumer and enterprise devices, raning from smartphones to tablets, laptops to desktops and everything in between for publications like Pocketnow, Digital Trends, Wareable, Paste Magazine, and TechRadar in the past before joining the awesome team at Windows Central. Based in the San Francisco Bay Area, when not working, he likes exploring the diverse and eclectic food scene, taking short jaunts to wine country, soaking in the sun along California's coast, consuming news, and finding new hiking trails. For news tips or to connect, please message him on the Signal messaging app at +1 (424) 666-7438.
Uh... My RT just got a bunch of updates.

They mean no firmware updates for the RT. Of course it'll always get the usual Windows security updates and other bug fixes.

Just like we can check in a windows pc control panel for updates?

Thanks. And office updates too ;-)

Well...then it was over 400MB worth of "bug fixes"

Yes, Windows updates are included for all Surface tablets. I think the article should be more clear about that. Otherwise, it seems MS abandoned the "old" tablets, and that is just not true, at all. This is not Android :-P

what about the surface first generation?

8.1 made mine slow as $##%

the same with my mom's :____( hahah my surface 2 works good

Really? 8.1 seemed to really help my RT's performance.

Surface Pro UEFI (v2.4.950.0) and Surface Pro Embedded Controller Firmware (v24.1.50.0) updates enhance system stability with microSD products

This one is big - it's supposed to fix the battery drain issues some people are seeing with a microSD card inserted.

Today i watched 2 hours of Netflix on the Surface Pro 2. I have a 64Gb microSDXC mounted and my battery level after the session was at 76%. Not bad at all.

Mine updated Pro2 but still shows firmware update 3/11/2014 in history. Weird...

I also received only the Windows updates do far, fairly normal, the firmware will follow soon.

yeah, I got the march update again. ah MSFT. not even dates can you get right.

I'm buying surface pro 2 128gb, or should I wait for pro 3?

Get either one can't go wrong, love my pro 2. I have no regrets not waiting for a 3.

Depends. Which device do you like better? They're fairly similar in specs. I'd personally lean Surface Pro 3 though. More angles on the kickstand are nice. The bigger display and higher resolution are nice too.

On the other hand the aspect ratio of the SP2 is better and the tablet still comes in black instead of that inspired silver.

16:9 aspect ratio is only clearly better for movies and modern TV shows. It might also have some slight advantage for multitasking, but that's all. In any case, there is no "better" aspect ratio, it depends on what you are going to do with the device more often.

Do not forget that it IS lighter. :)

Wait for the pro 3... There's enough new stuff plus the much improved trackpad and much more usable screen size that make a huge difference. Unless of course your getting the pro 2 at a much reduced price...

The i5 SP3 has a larger and higher density screen but otherwise same prcoessor and GPU and ian nferior pen. This is all for the same price. It is NOT a lot of new stuff, nor is it more advanced. You are getting a lighter device and a different form factor but that does not make it better. The pen itself also makes it vastly inferior for my work.

unless you get it way cheaper, there is nothing better about sp2. except maybe the kick stand. I for the life of me can't get used to SP3's stiff stand. It takes far too long to snap in and out unlike sp1 and sp2.. they need to re-think that idea. it needs a switch or button you can press to reduce the resistance so you can adjust it easily then lock it in place instead of nearly bending the thing to get it to move.

I have 2 issues with Surface 2:
1. When using micro HDMI out, the audio doesn't switch over until you open the playback devices menu.
2. Choppy framerates when watching "Call the Midwife" on a micro HDMI connected display.
Here's to hoping everything gets fixed!

first of all that is a good show. second, if you get tearing try using extend rather than clone. El-cheapo intel HD4xxxx chips cannot do clone without tearing. this is is why I'm hoping for an nvidia gpu on a surface model at some point or for intel to stop sucking.

He says surface 2 though, arm chip not Intel. I have a surface 2 and the audio issue can be problematic with my vizio TV. I've also read online that people tend to have issues with vizio TVs. Hope it gets fixed.

Nice. Though I already feel that my Surface is so outdated now =( I want a Surface Pro 3!!

Hopefully this fixes my battery drain on my surface 2 with the type 2 cover. I'll also see if this fixes the miracast lag with the PTV3000

that's what I'm hoping for too, fixing the lag between surface 2 and PTV3000

Amen. Tired of the battery drain.

Lag with the PTV3000 is a problem with every machine I have touched. Somehow I don't think Microsoft is going to fix that piece of garbage.

They need to fix the battery drain on the Surface 2 when in sleep. Tired of hearing their excuses (apps may be running or it could be checking for emails). Same thing occurs on an iPad and it doesn't lose 7% and hour. Ridiculous.

Sleep does not equal off and if htings are running (easy enough to check) the battery will drain. Do the math on 7% per hour and that is 14+ hours to drain.

What did they update Surface one with?

install firmware, install a couple of updates and the 2 old issues still there, 1st blank screen when sliding up to enter my password, either have to wait ages or force a restart. Doesn't happen all the time but a pain. 2nd, the update installs old graphics drivers that bring back the banding on the display, why oh why oh why. Fingers crossed it will stop it from getting warm in my bag for no reason and draining the battery.

Dear god...the graphic issued are back?!?!?!? I wish I knew before I started this install. I spent 3 months and 6 returns and they told me I was pretty much nuts and the o ly one with the issue. Then they turn around and say it is a mass universal issue. Now this....ugh.

yes I hope not. MSFT has nearly a novel in their support forums regarding that. The sad part is SP3's guts are identical so it will be marsed by the same curse. I don't understand what is so hard for MSFT to do since they control both the software and hardware. I expect hese problems from Acer and your cheap chinese OEM. But this is MSFT first party stuff!

Yay updates for my Surface 2! Gotta love em!

My Surface Pro 2 is creaking around the edges of the screen, and the internal network adapter is horrible. I get limited connections frequently. It would be nice if I can swap it out for the Surface Pro 3.

unless they changed adapter OEMs you won't get a solution. And after two models plagued with wifi issues, I'm hoping they do.

Yes, and I am sure if someone swings by a Honda dealer, they will happily swap out their 2013 Civic for a 2014 Accord because they decided they don't like the Civic. Every time I hear a version of this I just shake my head in disbelief....

Can we get some Titanfall drivers for the 4400 integrated graphics. Been using the beta drivers, but updates keep updating it.

you're going to have to force install the gpu drivers for MSFT, in their wisdom doesn't let you use generic drivers, you know, unlike EVERY OTHER OEM ON EARTH.

News flash: if you can force install a driver, they will let you install it. It is also hardly force installing, since all you need to so is manually point to the inf. There is nothing to override or otherwise modify. Oh, there are also lots of systems for which you cannot do generic driver updates at all. The 4400 GPU is also actually pretty tempermental.

First need to fill up the Surface 2 full power. Damn, well oke, I'll wait then. EDIT: got it. 453 MB Thank you ;-)

But no new firmware for the original Surface Pro and the power cover. Huh.

I got 20 updates but there isn't a "System Firmware Update - 06/10/2014" for my Surface 2.

No firmware update for my Surface Pro 2 either.

I agree regarding firmware updates. There were lots of other updates for my Surface Pro 2 but absolutely no firmware updates.

Glad I'm not the only one.

surface pro has update too now

no firmware update though. I confirmed with MS rep on Surface Forum. No June firmware updates for SPro v1.

Every time I try to update my SP 2 it makes my video quality turn to crap. Haven't been able to update for months now.

My S2 had a serious battery drain, I will wait and see if anything changed. Also screen went black after installing the firmware, Getting ready then nothing. Restarting it by holding power switch brought it back, so far all looks fine.

Recently bought a Surface pro 1 for 399 euro on iBood.nl. I was hoping all issues were fixed by now since it's a first generation device. http://nl-nl.forum.ibood.com/48417-microsoft_surface_pro_128_gb/

Just updated my Surface 2 but i have only used it for 30 minutes and dont see anything different.

Pretty noticeable battery performance increase on my Surface 2. Battery usage is much more reasonable now.

How can you possibly estimate battery usage for an update released today? That is silly as people saying performance is better every month. Sorry, but this is a classic example of a placebo effect. You are expecting something and therefore seeing it. No one can say a word about battery or performance for at least a few days and preferable several battery cycles....

well I'm happy to report display port 1.2 hubs still don't work even when MSFT says they should. maybe they'll get around to releasing a dock station with two ports before they get around to fixing this bug.

the firmware update failed on my sp2

My Surface Pro 2 received no firmware updates. After rebooting it also hung at 79% for at least 30 miniutes and then bluie screened upon restarting. After restarting it then crawled like an old netbook for about 15 minutes. All the past updates have gone smoothly - this one has been very problematic. Thankfully things have settled down....

my surface pro 2 can't boot to windows now. it shows "preparing automatic repair" and "diagnosing your PC" screen. then I tap continue to windows, and the same thing happened again and again. anybody can help me with my problem?

I used to have this problem too!
Your recovery drive had been broken and can't recovery your windows. If you have a USB that contain your Surface recovery, use it. Or you have to send back to your surface retailer to get some help...
Windows Central Newsletter
Get the best of Windows Central in in your inbox, every day!
Thank you for signing up to Windows Central. You will receive a verification email shortly.
There was a problem. Please refresh the page and try again.