Patent shows off how a Surface with a folding display could work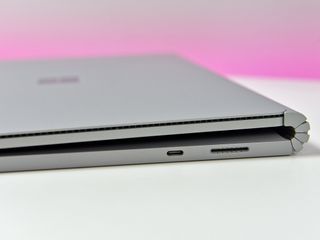 What you need to know
A newer patent shows off how a Surface with a folding display could work.
The design looks similar to the Surface Book fulcrum hinge.
The patent clearly states, "flexible display."
A relatively new patent shows off how a folding display could work on a Surface device (via WindowsUnited). The patent was filed six months ago and released today. It can be found on PatentScope which includes all of the accompanying details, images, and documentation. The patent is filed under "MICROSOFT TECHNOLOGY LICENSING, LLC."
The description of the patent goes into details regarding the flexible display.
The patent includes multiple images showing off a hinged design that has a flexible display over it. The flexible display wraps along the inside of the hinge, as shown above. This hinge looks identical to the fulcrum hinge that's on Microsoft's Surface Book. The display wrapping along the inside of the hinge could be an interesting approach as it wouldn't have to form a crease. Creases have shown up in displays like the Samsung Galaxy Fold. There's a chance a folding Surface could take advantage of the gap in the design and reduce the chance of issues.
Microsoft reportedly teased a folding Surface device codenamed "Centaurus" recently, though that reportedly has two screens rather than one folding display.
As always with patents, there's no guarantee that this technology ever sees the light of day. Patents are filed all of the time, and companies like Microsoft file large numbers of patents that are never implemented.
Portable (and affordable) power accessories we love
Each and every one of these charging gadgets will keep your favorite gear and gadgets going for longer, and none of them costs more than $30.
VisionTek 8,000 mAh micro-USB power bank (opens in new tab) ($13 at Dell)
This compact dual-output powerbank can speedily recharge any and all your devices, thanks to a two-amp "fast charge feature," using its micro-USB out port. Its simple design includes an LED indicator, and it costs about as much as a single ticket to the movies.
Panasonic eneloop AA batteries (opens in new tab) (From $13 at Dell)
Panasonic's rechargeable batteries are among the best available, and just a couple of them will keep your favorite remote, mice or other peripherals powered up when you need them. They're also eco. And the company's affordable charger (opens in new tab) fits and charges both AA and AAA batteries at the same time.
Belkin Qi Wireless Charging Pad (opens in new tab) ($30 at Dell)
This unobtrusive Qi wireless charging pad looks good (and kind of like a UFO …) and easily charges all your Qi-compatible device up to 5W. Its LED indicator lights up when you're charging. And it costs just $30.
News Writer and apps editor
Sean Endicott brings nearly a decade of experience covering Microsoft and Windows news to Windows Central. He joined our team in 2017 as an app reviewer and now heads up our day-to-day news coverage. If you have a news tip or an app to review, hit him up at sean.endicott@futurenet.com (opens in new tab).
Personally, I can't stand the added thickness and gap that the fulcrum hinge creates. It's undoubtedly beautiful, but I feel like it's form over function, which seems odd considering the rest of the Surface line up is so thoughtfully designed. It's literally the only thing that kept me from buying the Surface Book. I really hope they opt for a design that allows the device to be completely flush when it's closed.

I'm not a big fan of the gap either, but if having a gap means it can have a folding display I'm okay with it. We'll have to see what happens.

I'd wager that the fulcrum hinge is exactly what gave the Surface Book its name simply because of how it looks like the binding of a Book and while I'm not a HUGE reader of physical media except for the occasional Manga I'm quite content with the design it sports - Something different in a world where every idiot is using the same design principles BUT unlike the rare occasion where others have tried to go a different route it still emanates... How should I say... Class.

I would disagree with this being form over function. To get the function of a folding device with glass like material you cant bend it more without adding too much stress. The Gap removes a great amount of wear and stress the material would be put under. If it was two different displace I could see it being form over function other wise I do not see that.

I agree with what you said!

The Surface Book hinge was necessitated by the way weight was distributed in the device, and the extra thickness of the tablet portion. It expands the surface area of the base when it's opened, which stabilizes the heavier top portion better so that it doesn't wobble as much or fall over. If it closed flush, it'd either leave a gap at the keyboard as the screen wouldn't fully cover the base or it'd be top heavy. It also wouldn't be able to handle the various other configurations it can go into as well, like tent and draft mode. It's not form over function in the slightest.

Actually the fulcrum hinge is definitely function over form. I do love how it looks however it is a very divisive design that many consider hideous. Now, as a mechanical engineer, I appreciate the function it provides to the balance of the device in laptop mode. I used Asus early transformers in the past (Android tablet/laptops) and the top heaviness of them was very annoying, and also the detach mechanism was not as smooth as the one on my Surface Book. I definitely love the design as it is, and while the gap is a bit of a compromise, it helps with heat dissipation when closed, it's lifted a bit for drawing when attached backwards and its curvature is very comfortable to carry around in my hand when it is not in the bag. That is definitely a lot more functions than simply "pretty looking for some"

Fujitsu made a laptop that did roughly the same thing as the Surface Book (detachable screen, which had its own USB ports, etc, so that it could be used separately from the keyboald). In fact, it also came with a "Desktop docking bay", which let you have all of your peripherals left attached on your desktop on that you immediately switched to a desktop environment (screens, keyboard, mouse, etc) just by sliding the tablet portion into the dock. While that all seems great, it absolutely sucked for the reasons you mention. The top was heavy (heavier than the base, even), and it would easily fall out of your lap if you didn't keep your hands on the base. The tablet portion, due to its lack of innovative design, had all the battery, hardware, and most ports maintained internally, so the keyboard was nothing more that a couple extra USB ports and a barrel port for charging. I'm glad we got rid of those, and I get a TON of use out of my SB2, now.

It does not look like this design will allow for folding both directions. I know that the gap is going to be a negative as it is in the surface book, although looking at it from a material point of view limiting the bend to a larger circle would reduce the amount of stress on the material, opening the door for a more firm glass like material. Maybe Corning even has a more flexible glass composite that could bend this far? This could look good for October Surface event.

Good point on the limitations and benefits to this design for a foldable screen. That all sounds reasonable to me.

the gap on surface book has been just fine.
the gap on a foldable pocket device seems like it would get pocket lint or dirt in it more since you're carrying it out and about

I can understand having a full continuous screen to enjoy a better video display. I don't think it would work if you have two screens. No matter how well you minimized the gap between the two displays. However, from a productivity standpoint, I don't see the necessity of having a large continuous screen. I like the idea of having two separate screens. One screen is used for inking to write notes, draw, etc. The other provides touch interface for menus, toggle switches, etc for the particular application you are using. Think of the Macbook touch bar but much larger. If it was small, like a 9-inch form factor, then you can lay it out on a desk to take notes during a meeting. If you are in a corporate-like environment using a whiteboard, then each person can sketch on their portion of the design, with the overall design displayed on the Surface Hub. Others can build various other info (colors, etc.) into the overall design. Again, each contributor to the design can change their second screen for menus giving them more tools that others don't need. You might be able to pair it with a foldable keyboard that would "lock" into the opened screen to have a "laptop and keyboard" configuration. For the most part, the keyboard could be folded up in your bag while you are taking notes, reading email, etc. But if you have to start typing, you pull out the keyboard and go to work. But I think the biggest issue is the software driving the various screens communicating with other members of the team and harnessing the overall "model" distributed around the world with different members of the team. For instance, one team is designing the configuration of packaging, while another team is designing the graphics. But the packaging is being made in one country and the graphics are being designed in another. Trying to reduce the timeline of changing marketing materials would allow a more responsive market plan as seasons change, holidays arrive, etc.

Glass screens do not fold and Plastic screens only u-fold!
Windows Central Newsletter
Thank you for signing up to Windows Central. You will receive a verification email shortly.
There was a problem. Please refresh the page and try again.