The Path of Kara, a puzzle smorgasbord for your Windows Phone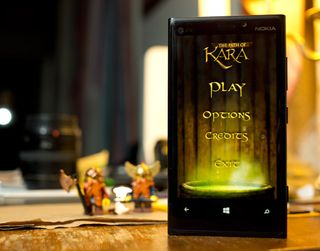 The Path of Kara is an outstanding puzzle game for your Windows Phone that is wonderfully drawn out and full of challenges. The game has you helping Kara, a young Shaman, on her quest to save her island home. In the process you have to solve a healthy selection of puzzles.
The game has over seventy levels of story driven game play, plenty of bonus items to help you along the way. The Path of Kara is a great addition for your Windows Phone gaming library and an addictive way to pass the time.
The Path of Kara has over seventy levels of play that are scattered about a map of Kara's island. Prior to each level, story boards appear walking you through the story aspect of the game. If you're the type who would rather jump right into the action, you can skip the dialog and jump right into the action.
Game play with The Path of Kara is consistent throughout the game with the goals changing ever so slightly with each level. Game play has matching three or more of the same symbol to collect points and work towards solving the puzzle. Just tap and trace your finger to connect the symbols. Once you finish the string the symbols are removed and new symbols come into play. If you run out of combos of three or more symbols, the game puzzle will reshuffle but the clock won't wait for this to happen.
Bonus items are collected throughout the game by connecting six or more symbols. The bonus items can add time to the clock or bombs to clear out large areas of symbols.
The game screen for The Path of Kara has the hexagonal grids that are populated by the symboled tiles. Up to are your vital statistics that include (from left to right) your time, your score and your objective progress. If you get stuck on an objective, just pause the game to pull up the tutorials that will walk you through the various aspects of the game.
Each level with The Path of Kara has a slightly different goal to reach. Some require a set number of symbols removed while others require you to clear stones from a path. You destroy the stones by creating combos adjacent to them. Have a tile with numbers on it? That's a lock and you have to complete that number of combos adjacent to that lock to unlock and destroy it.
Oh...and to make things interesting, you have a set time to complete each level. The time varies from level to level. There are some levels that only give you a few seconds on the clock and you have to extend the time by collecting the time bonuses.
While the story line may not appeal to everyone, The Path of Kara's game play is challenging enough to keep you interested (if not hooked) and the animations and graphics are excellent. The game has a bit of an addictive quality to it and with more than seventy, replayable levels the game won't grow stale too quick.
Speaking of nice graphics, the transitional screen drawings of The Path of Kara's characters would make for great lockscreen wallpapers or better yet, maybe add a Windows Phone 8 lockscreen component to the game to rotate the images automatically (hint, hint).
All in all, The Path of Kara is an entertaining, challenging, addictive game for your Windows Phone. I would have liked to have seen a link to the tutorials in the game's main menu but having to access them when a game is paused isn't too bad. The game ran smoothly on both the Nokia Lumia 920 and HTC 8X and The Path of Kara is simply a great game for your Windows Phone.
There is a trial version available to let you try things out and for a limited time only, the full version is only $.99 (regular price is $2.49). You can find The Path of Kara here in the (opens in new tab) Windows Phone Store and it is available for both Windows Phone 7.x and 8 devices.
Update: Apparently the sale price of $.99 is over with the full price of The Path of Kara jumping up to $1.99.
Windows Central Newsletter
Get the best of Windows Central in in your inbox, every day!
George is the Reviews Editor at Windows Central, concentrating on Windows 10 PC and Mobile apps. He's been a supporter of the platform since the days of Windows CE and uses his current Windows 10 Mobile phone daily to keep up with life and enjoy a game during down time.
the proce is 1.99 not 0.99??????

I noticed this as well. Any more now it is just not worth it for me to spend any more than $1 on a game.

Hate people who think like you. If you try the trial and it is not up your alley that is one thing but to put an arbitrary cap of free or a dollar on apps before you even consider them purchasable is asinine.

Updated the pricing. Didn't notice the price jump yesterday. Might have happened overnight. You still have the trial version to give you a feel for things but even at $1.99... it's still a great game to consider.

It's showing $1.99 but, I picked this up last week when it was listed for $0.99. I acutally like this one. I normally dont like puzzle games but, this one comes with a cool story, as you step through the story and you have to do one of the puzzles, not too hard but, it is a interesting story.
As for the game, it looks very well done, there is a bunch of spelling mistakes through the game but, it didn't bother me that much. Graphics are nice.

As for someone who hates puzzle games, I found myself pretty addcited to this game. If your on the fence, download the trail and check it out. I found it enjoyable because I am wondering what happens on Kara's quest...

I picked this one up given the decent reviews and the price drop last week to $0.99, and will serve as my substitute (along with Treasures of Montezuma) for Bejeweled Live. It is visually vibrant; the only issue that I have with the presentation of the game are the spelling errors - it's distracting and unprofessional especially when you release a product that you are expecting people to purchase; hopefully, the developer will correct them.

Otherwise, not bad for $0.99.

I missed the .99 cent window.

Love this game, and i hate puzzle games.

Yea, I missed the low price too (would have been 79p); now it's £1.49 :-O still not a lot, but I'm not hooked enough to buy it.

great game.. picked it up a while ago... very very well done.

Bought for my phone and wife's. Wife is officially addicted. Very fun game. Well worth the $$ to support develoeprs. Whiners complaining that any app this good isn't a buck boggle my mind. Of course, I make a living writing software and a game this good took many many hours and $$ to create. I enjoy it therefore the dev deserves my money. I'd have paid more.

Not just tons of time, tons of designer work and awesome sound engeneering =)

Still say, very addictive game....well done and a MUST play. I would of paid more if it had Xbox Achievements for sure..

I'm stuck on level 44, complete the task (open 3 pieces of ash) but the level isn't finishing. Anyone else have this problem?
Windows Central Newsletter
Thank you for signing up to Windows Central. You will receive a verification email shortly.
There was a problem. Please refresh the page and try again.