PBS Video app now available for Windows 10 Mobile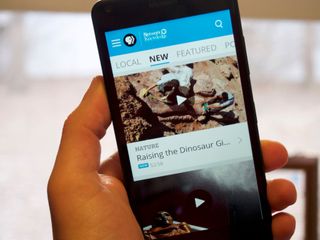 If you're feeling the need to check out some Downton Abbey, Mt. Selfridge, or any other PBS favorites on the go, the new PBS Video app is now available for Windows 10 Mobile. The app first launched in late January for Windows 10 desktop, but Mobile support wasn't yet included. With the latest update, that's been remedied, and PBS has even thrown in Cortana integration. Here's the full rundown:
Now Supported on Windows 10 mobile phones, as well as Windows 10 tablets!
Cortana command support now in!
Fixed video player issues
Added show schedules view and search functionality
This is great news for those who enjoy a little bit of public television every now and again. If you'd like to check out hte PBS Video app on your Windows 10 Mobile device, you can grab the app at the Windows Store link below.
Thanks for the tip, Lloyd!
Download PBS Video from the Windows Store (opens in new tab)
Dan Thorp-Lancaster is the Editor in Chief for Windows Central. He began working with Windows Central as a news writer in 2014 and is obsessed with tech of all sorts. You can follow Dan on Twitter @DthorpL and Instagram @heyitsdtl. Got a hot tip? Send it to daniel.thorp-lancaster@futurenet.com.
I'm ready for an app that I really want, and can use, to come to the platform. It's been awhile.. I'm talking about apps that aren't as obvious, and might only appeal to a specific group of people.. Big name apps are one thing, but those consumer product, US banking, educational organization/etc apps are what really are gonna make Windows useful..
......
Nevertheless,,, yaaaa for the PBS app. I'm sure it's gonna get a lot of use... Helen Mirren is pretty hot for however old she is.. Lol

Nice for PBS fans! I really wish the VH-1 and MTV apps came back.

Yeah, a handful of months ago they snatched them from our grasps, lol. I used them all the time. I hope they come back eventually.

Nadella hates bad ass devices, like the 1520.
.....
But, he loves his 6s+.... Opens just fine on that one.

I have to say that was / is still one heck of a device. We need another, and I don't think I would even change much, just a better chip, more ram, and better screen.

Won't open on my 950XL either.

Same happened to my 950xl but now it is working. I think it may have been because my internet connection wasn't working very well.

It appears that the app will only open if you have a strong 4G/LTE connection, or you are connected to a WiFi network. I've had 100% success opening the app when connected to a WiFi network. - Andrew

Huh? You mean UWP app? Cus there is an Official Twitter app! It's just not universal yet

.aaand there's better than the official will ever be, options.

In this case , much better indedd.... Tweet it is on sale by the way

Yep! I use Fenice and Tweetium

The third party better versions are all I need. I use 6sec and never ever thought about official vine app.

Downton Abbey...yeah baby! Too bad it's almost done ​:(

I need a Comcast Xfinity app

I need the damn Vance & Hines FP3 app!

Yep we could use one of those to

Won't open on Lumia 830. Just goes back to start screen.

"It's raining apps!" - Akira X

Masterpiece theatre and Masterpiece Mystery! That means the Sherlock Holmes special!

App is buggy, doesn't install in 640. Back to the drawing board!

Excellent. Been waiting (for not very long) for this to come to the phone. Works great on my 950. I'll have to give it a go with continuum when I get home.

LIttle by little the apps are trickling in. FWIW, Windows phone users should send a quick message to companies, sites, media, etc. that presently do not have an app on Windows to consider developing one. It doesn't hurt and it only takes a minute or two of your time. The app that I want the most more than any other is Strava. For those that haven't heard of it it's the best app to track your running, cycling and other outdoor activities. I consider Strava one of the BIG apps that is missing from the Windows app store. With cycling on the rise all over the world I don't understand why Strava isn't offered on Windows. Yes, there are around 4 billion smartphones with iOS and Android but 100 million Windows phones is nothing to sneeze at. Hope springs eternal. -Cheers.

I'd also like Strava. Just started using it since it connected with my Band, but then found out there was no counterpart on my phone. As for PBS app, it's installing now. USE IT OR LOSE IT.

love PBS saturaday cooking shows and sesame street has been my favorite for all my life.

Mr Selfridge not Mt. Selfridge

Refuses to download to microSD storage. It wants only to install on native phono memory. No way. Thanks PBS

The app doesn't open. just outrun for a second and then closes

Currently not available. Yup that's what it says in the Store.

It said that the app is not available now

Got pulled to rework it probably cus its crashing a lot.

It's really usefully app but some videos not available

Good start. Now they need to squash those bugs and refine the interface. For example,I can't scroll in the video (get black screen). Also, subtitle window does not need to be full screen and volume slider in landscape mode should expand the width of the screen (lumia950xl).

UWP waiting for update for Lumia 930 and when will this be?

i am able to run this on continuum, so i guess it is a UWP app

Downloading now... will use.

Is the PBS app out for X1?

Grew up on PBS and Fox as they were the only two channels we got in my small town. So I have somewhat fond memories of PBS.

just confirmed that this app supports Continuum, so i guess it is UWP app
Windows Central Newsletter
Get the best of Windows Central in in your inbox, every day!
Thank you for signing up to Windows Central. You will receive a verification email shortly.
There was a problem. Please refresh the page and try again.