Watch Downton Abbey and more on Windows 10 PCs with the PBS Video app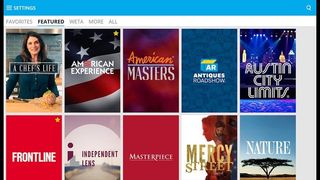 Windows 10 PC and tablet owners can check out the recently-launched PBS Video app in the Windows Store, which offers episodes and other content from the U.S. TV network. Some of the titles on offer include Downton Abbey, Mr. Selfridge and others
Windows 10 users can launch the PBS Video app with voice commands via Cortana and it also support Live tiles to show the latest episodes. Here's a breakdown of its main features:
Explore a rich and varied selection of hundreds of videos from both new shows and from the PBS archives.
Find these top shows and more: Masterpiece shows including Poldark, Downton Abbey, Mr. Selfridge, Wolf Hall and more.
Other PBS primetime shows: Mercy Street, Antiques Roadshow, Frontline, Independent Lens, POV, History Detectives, Nature, Need to Know, Nova, Secrets of the Dead, and more.
PBS NewsHour segments.
Austin City Limits song performances.
Original online series, including NOVA ScienceNOW's "Secret Life of Scientists" and "FutureStates" from INDEPENDENT LENS.
Please note the PBS Video app is just for Windows 10 PCs and tablets for now; there's no word if there will be a version for Windows 10 Mobile as well.
Download PBS Video from the Windows Store (opens in new tab)
Windows Central Newsletter
Get the best of Windows Central in in your inbox, every day!
I've always been a fan of America's Test Kitchen and the Classical Rewind.

I assume that since this is Public Broadcast, that there is no cable provider required. :)

I lose ABC and get PBS. Shoot me.

lol. doesn't sound like a fair trade, does it?

Gladly, we need less uncultured louts U_U
Lol jk ;p

Gather 'round kids. It's time for another thrilling episode of Antique Roadshow!!

Nice, PBS has great shows (many much better than Downton). Hope it goes mobile though, as that's where I'd be more likely to use this app. Web page has worked fine for me so far on the laptop.

Are you for real. Downton is the best show ever.

First few seasons were pretty good. I'm not saying it's bad, I just think many of the other offerings are better and people may think Downton Abbey is the only PBS show going. Bletchley Circle is awesome, Call the midwife is great, then there's all the masterpiece mystery options. Plus Sherlock.

PBS has Sherlock? I always thought it and Luther were on BBC America, here in the US.

Luther is on BBC America (and is amazing) but Sherlock is part of Masterpiece on PBS.

Kind of unrelated, but they also have some nice shows on YouTube, such as 'It's okay to be smart' and 'GameShow'.

I use "Movies & TV Series" and believe me it has no rival.

It is awful for TV shows. It is missing far to many. The King was TV Series, but networks like ABC complained about it, and they pulled it so in turn the could just pull the official app :p

Mobile support would be awesome. Good to see this, though.

No mobile or Xbox. Come one UWP, I want my experiences everywhere!

"Downtown Abbey BROWN" isn't it?

Is it only working in US?

Likely, since PBS is a partially US-funded system.

I would say there would be some geolocking.

Not available for the UK then ... unless the store is playing up

Pretty much for the same reason BBC iPlayer isn't available in the US.

Most of the shows mentioned are British which can be viewed on itv player.

Again a very good point, was just hoping there would be some US stuff that we do not get :)

I would trade BBC iPlayer for PBS though. Don't get me wrong because I also like PBS, that show Nova and the fact that PBS has the least in show advertisement.

All these new W10 apps are making me consider updating my DV8Pro.

Still waiting for the final season of downton to air in australia. Looks like its sometime in feb. Though since its already aired in the UK and the final episode made worldwide news I already know what happens in the final episode due to spoiler articles on australian news sites not being labelled as spoiler articles.

I can't even install it on my desktop Windows 10 PC. The error message says the app needs hardware that I don't have. Like what???

They made a PBS app for Xbox 360 but never for Xbox One.
Windows Central Newsletter
Thank you for signing up to Windows Central. You will receive a verification email shortly.
There was a problem. Please refresh the page and try again.