PC lighting buyer's guide
Spotted some insane, gorgeous computers at conventions, party, or online and wondered just how these machines were brought to life with a little touch of light?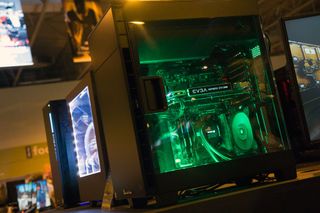 A little light can go a long way, especially if you own a case where some LEDs in one form or another will compliment everything else contained within. How one goes about lighting up their PC is another matter. There are a variety of options available, including fans, the actual chassis itself, graphics cards and other internal components, as well as modding kits.
But let's not get ahead of ourselves. First we'll need to consider what options are available and if you have the right equipment for the job. You're going to need a case with a glass side panel at the very least, otherwise your glorious light show will be hidden from sight. Then you need to have a think about which colors you want to go for, all depending on personal preference, the chassis color and other accents deployed.
Have a look around, analyse some designs and custom builds to see what you like and dislike. See how they've achieved the level of ambience and decide on how you're going to go about adding RGB LED lighting.
Cases
For my own personal PC I've gone with the white variant of the NZXT S340 case, which sports a side panel for gazing at the glowing internals. Most case makers have options available for those who wish to show off the internals of their rig, and there are even some premium brands with expensive, glass window-sporting, luxurious cases.
It's worth shopping around, see what colors you'd like to start with. White or black are neutral and work with other colors, but if you already have a scheme then a specific color may be appropriate. Some cases come with lighting pre-installed, especially if you opt for a "gamer" targeted build, though plain cases can look equally as stunning with a few mods/RGB components installed.
Case examples
Cooling
Regardless as to whether or not your PC case has lighting already installed, adding a fan or two with LEDs is arguably the easiest way to add some light-up ambience inside the chassis. And just because we're hunting for fans with LEDs it doesn't mean we're resorting to cheaper builds. Brands like Corsair have added variants to popular fan series with lighting that are more than capable at cooling your system without turning the office or bedroom into an active runway.
An issue with lighting on fans is it's usually restricted to a single color and doesn't support RGB customization. This means you'll need to purchase one (or a few) that match the scheme you have planned, and invest in replacements should you change your mind sometime down the line. As well as case fans (and any you happen to attach to the component radiators), it's also possible to grab a closed water cooling system with an RGB pump that sits on the CPU.
Cooling examples
Motherboard
Adding RGB lighting to even the motherboard appears to be the thing to do these days. Manufacturers are working tirelessly to add more features and visual effects to ensure their boards are the ideal option for system builders and PC users who enjoy a little light show here and there. Usually, it's the more expensive, premium motherboards that come with some sort of lighting.
Motherboards are a unique component to light up inside the case as they're complex, beautiful feats of engineering. A board inside a PC really is something to look at when one considers the various components and circuity present that's processing everything you see on-screen.
Motherboard examples
Graphics cards
A component that is likely to come with some form of lighting these days is the graphics card. Most manufacturers offer gaming-grade GPUs with built-in RGB lighting. Sticking one in your case won't just get you more graphics power, it'll simply look cool — especially if you take full advantage of the latest tech like NVIDIA's GTX 10 series.
Do note that much like standard LEDs on a motherboard, GPUs without RGB lighting will not likely give you enough control over effects and colors, meaning you'd need to choose carefully to fit such a card into an already configured setup.
GPU examples
Modding
Should you want to add substantial amounts of light into your case, the best way to go is LED strips that either attach via magnets or adhesive to the inside of the chassis. Available in a number of configurations, including integrated cables, strips, with RGB lighting or simple single-color LEDs, there's enough choice available to suit most requirements.
Should you have LED strips in mind when purchasing a new case and planning to install components, it may be worth planning a route for said strips and/or cabling to route through to not only provide the most efficient levels of ambiance, but also to prevent getting in the way of other internals or be visible through the side window.
Lighting examples
Wrap up
It's easy to go over the top when it comes to PC lighting, but the best way to bring the insides of your rig to life is to balance out installed effects to ensure you're complimenting the machine, as opposed to drowning everything out with a home-based rave.
These are just the basics when it comes to lighting up your case. Think of it as an introduction. Have a good look round online at custom builds for some inspiration and let us know in the comments how you've gone about adding some light inside the PC.
Get the Windows Central Newsletter
All the latest news, reviews, and guides for Windows and Xbox diehards.
Rich Edmonds was formerly a Senior Editor of PC hardware at Windows Central, covering everything related to PC components and NAS. He's been involved in technology for more than a decade and knows a thing or two about the magic inside a PC chassis. You can follow him on Twitter at @RichEdmonds.