Rise of the Tomb Raider patch adds new PC graphics options and more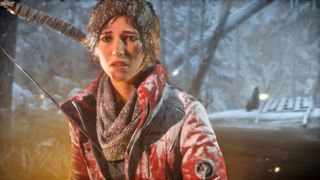 The recently-released PC version of action-adventure game Rise of the Tomb Raider by Crystal Dynamics has received a patch that brings a number of improvements and bug fixes. The patch is available to download on Steam and, for Windows 10 users, via the Windows Store.
Here's what's new and improved in the patch, which should be downloaded automatically when players next start the game:
Startup issues (Steam Only):
Fixed C++ runtime error showing up on startup preventing some users from running the game.
Provided work-around for issue where the VC++ redist would not properly get installed, stopping the game from starting at all.
Solved problem where the game would crash on startup when tools like Bins Taskbar organizer or Spacedesk are installed.
Updated options screen with among other things:
Independent mouse sensitivity control for aim and regular navigation.
Mouse and Gamepad X axis inversion
Option to disable keyboard button prompts.
Option to disable mouse smoothing (very light mouse smoothing is present otherwise)
Other fixes included in this patch:
A variety of fixes and improvements to UI including map, basecamps, and Remnant Resistance mode.
New graphics option 'Specular Reflection Quality' to enhance resolution and reduce aliasing of specular reflections, at some performance cost.
New graphics option to disable film-grain independently from 'Screen Effects'.
Improved HBAO+ quality, including better occlusion for distant objects.
Improved NVIDIA SLI performance. (Steam only)
Fixed SLI glitches during water/snow effects. (Steam only)
Resolution Modifier option that allows you to use a lower rendering resolution independent from window size when running in windowed mode.
Performance optimization for situations where Razer Chroma features are enabled. (Steam Only)
Improvements to Razer Chroma effects. (Steam Only)
Fixed an issue that could rarely lead to an error on machines with 16 hardware threads or more.
Fixed mouse cursor not always being hidden when using gamepad.
Fixed major stuttering in Endurance mode.
Fixes for Endurance leaderboards.
Fixed Remnant Resistance missions occasionally not starting.
Fixed rendering glitches on some objects on NVIDIA 6x0 and 7x0 hardware. Some issue do still happen and we are working with NVIDIA to resolve those in future patches or drivers.
Warning messages for users turning textures to Very High or enabling SSAA to indicate high-end hardware is required.
A variety of other smaller optimizations, bug-fixes, and tweaks..
Source: Steam
Random Question, is this written in UWP or exe? I'm pretty sure its UWP cause its on the store, but whenever I read stuff about it, it sounds like its an exe, so im really curious.

I would also like to know this.

It's a UWP app, https://blogs.windows.com/windowsexperience/2016/01/28/rise-of-the-tomb-...

What makes you think that UWP apps aren't an .exe?

He just want to know if it's a Win32 program or a Windows App.

And that has nothing to do with what he asked.

Because .exe is just a file extension, and AFAIK .exe aren't allowed in the store until Centennial.

Every single Windows Store and Windows Phone Store app, from Silverlight WP 8.0 to WinRT to UWP, has always been compiled into an .exe.

Yeah, that's the dev/nerd part. He probably don't know that, and as I said he just want to know if it's a Windows App.

Of course EXEs are allowed in the Store. AAA games are not UWP apps because that would require major maintenance differences between the Steam and WS versions of a game that no dev would accept.
The Store system doesn't really care what the app is or how it's built. It simply manages downloading the app, starting the EXE or DLL, and running the software in an isolated process and filesystem. This has existed since day one and is exactly how fully fledged games like Project Spark have been in the store for the longest time, and how Tomb Raider and Smite work and future Centennial apps will run.
Centennial is simply the official public facing submission process for this. It's a formalisation of the submission and packaging process that is already used by first and second parties, plus probably a few expansions to the sandbox model to ensure that all APIs available that first/second party devs would never use are all secured.

I don't think so. As far as I know Centennial isn't even ready yet. (Abobe is waiting forever). This maybe isn't a UWP, but I don't think that's a Centennial either.

"This maybe isn't a UWP​" It is.

Agree, but I'm not an engineer yet :) This is a good reading about Centennial: http://seekingalpha.com/article/3862466-microsoft-ditches-arm-smartphone...

No, it definitely is not Centennial. Not only do the developers explicitly say that they built it using the Universal Windows Platform, you can also take permissions and explore the file structure and see that it's UWP. As for the Seeking Alpha article, it's actually pretty uninformed.

I saw nothing specific for frame rate drops fixes... Hope I see some improvement.

Maybe need new graphics driver?

Naw, check the steam forums, there are a couple areas in the game that people are having problems with, even with high end cards.

I haven't experienced this on the Windows Store version. :)

This game is awesome! Looking forward to trying out higher settings!

So, this is a patch, Do we need to re-download the whole (huge) game? I'm really asking.

Store supports differential updates, so it only downloads what has changed.

Nice. Gameloft always send the entire Asphalt to the Store. It's annoying.

For the items that are Steam-only, is it because the issues were not present in the Windows Store version, or because the Windows Store version doesn't support them at all?

They seem to be related to Steam features/APIs.

What does Stream API have to do with SLI and snow effects?

If there are issues that need to be patched, then, it can just be as simple as updating the app in the store right? Ah the convenience of UWP.

Does this game work with the surface pro 3 i3 Posted via the Windows Central App for Android

Come on man! This is strictly for PCs with decent dedicated video cards!

I can play it on my core2duo 4GB Ram with GTX650 2GB. Very smooth. At medium setting of course.

Yeah the video card is critical, the main processor not as critical

Well, I don't see any update for the Windows 10 version, binaries are still dated Jan 28th and nothing showing up in the store as an update. Anyone actually see this?

Same here - how do you actually get the update(no Specular setting in game so mine is still not updated)

Anyone knows when it coming to PS4

When we done with it :) kidding. I heard around Q4.

So the steam version supports sli and the store version doesn't?

Windows 10 version is the frist and last time I will ever buy a game on Win Store. No exclusive fullscreen, buggy as all hell client with crashes galore. No ability to turn off V-sync. SLI issues that unsurpisingly are addressed by steam and not by microsoft. Update server doesnt detect the obvious update. Did I mention NO EXCLUSIVE FULLSCREEN MODE? Never again Microsoft. I'm sticking to Steam. It's nice that you guys are trying to give it a go, but when you remove features like this, it's just a no brainer. Had I known that these features were missing (How convenient that this isn't mentioned on the store page) I would never have purchased this from the Microsoft Store.


Each game on store can be run on full screen ;-) When you want update just run the store.

What exactly is NO exlusive fullscreen mode? I want to know. What is the difference between the 3 or 2 modes when you press Alt-Enter inside the main menu?

Im running full screen and playing with gamepad, no issue at all for me.

And btw. if full screen is not in main menu you can always switch to tablet mode and you will have all store games in full scree by default ;-)

There's multiple methods that are used for fullscreen gaming. One is the exclusive fullscreen that has traditionally used in the past,where the game basically takes over your system. What's been rising in prominence lately is borderless windowed fullscreen, which means exactly what it sounds like, it's being rendered to a window with no border that fills your screen. This makes for better alt-tab support, and always available v-sync, but you lose performance, and you cannot disable v-sync. It sounds like the Store version forces borderless windowed fullscreen, whereas in the Steam version it's a setting you get to choose.

Seems my last message didnt get through - how do you get the update/patch for Rise of TOmb Raider from Windows 10 store? Nothing is available under downloads and updates and the game is still missing the Specular and Film-Grain settings in game(so i am guessing it is still the old version)? Anyone that has update already - do you have those options in the in-game menu?

As a PS4 gamers this is the only title that I felt I've been cheated. Microsoft don't have the right to take it away frm ppl like me

Still no update - anyone actually has it - how did you get it???
Windows Central Newsletter
Get the best of Windows Central in in your inbox, every day!
Thank you for signing up to Windows Central. You will receive a verification email shortly.
There was a problem. Please refresh the page and try again.