People Bar may be an unpopular Windows 10 feature, but you can still make it useful
The People Bar isn't a Windows 10 feature that's used by many developers, but that doesn't mean it isn't useful.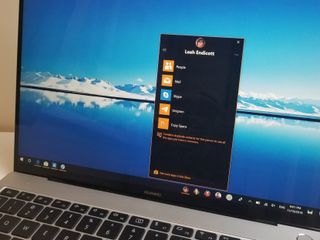 (Image credit: Windows Central)
Microsoft has a history of releasing features that most developers don't take advantage of. The People Bar, for example, is only used by eleven developers. And three of those apps are made by Microsoft.
But just because a feature isn't popular doesn't mean it isn't useful. Developers have figured out how to make the People Bar a hub for messaging across multiple platforms and even keeping up to date with YouTube videos.
Message away
The People Bar feels most natural as a messaging hub. You can drag contents over a person's icon to send it to them or click on their icon to message them directly using supported services. The most popular services that are supported are Outlook, Skype, Telegram, and Discord, though the latter two require a third-party application. You can use Unigram (opens in new tab) for Telegram and Quarrel (opens in new tab) for Discord.
When someone is pinned to the taskbar you can jump to any service you have their details for. For example, my wife and I often work together in a professional setting. If I send her work related content, I pop open Outlook, but when I want to just chit chat with her, I use Unigram. I don't have to open a bunch of apps to keep things organized.
Having my contacts directly on the taskbar makes it incredibly easy to send quick messages to people or send files their way.
Copy and paste across devices
Microsoft is working on a universal cloud clipboard that will work across devices. The first major steps of that arrived in the Fall 2018 Update of Windows 10. But until that rolls out to phones, you have to resort to a third-party app to copy on one device and paste it on another.
Copy Space is available on Android, iOS, and Windows 10. It syncs using OneDrive and its integration with the People Bar saves you time compared to having to open the app every time you need to grab something from your clipboard.
See in Microsoft Store (opens in new tab)
Check out videos
The taskbar might seem like an odd place to place a YouTube client, but myTube! does it exceptionally well. You can pin any channel you subscribe to the taskbar and then click on their icon to see their feed of videos. You can then watch the video directly in the People Bar or continue viewing it in the myTube! app.
It's ingenuity like this that I wish more developers would emulate. The developers of myTube! didn't need to put videos into the taskbar. In fact, I doubt that's what the people at Microsoft had in mind when they created the People Bar, but it just works.
See in Microsoft Store (opens in new tab)
Wrapping things up
It's sad that the People Bar is used by less than a dozen developers, but many of the apps that take advantage of the feature make it worth using. Thanks to the People Bar, I rarely open the full version of Unigram. You can also use it to keep your copied text organized or stay in touch using a number of services.
I also love to see developers like Ryken Studio, the makers of myTube!, use the People Bar in a clever way. I hope to see more developers take this route.
Do you use the People Bar? Will you try it out now that you know there are ways to make it useful? Let us know in the comments below.
Windows Central Newsletter
Get the best of Windows Central in in your inbox, every day!
News Writer and apps editor
Sean Endicott brings nearly a decade of experience covering Microsoft and Windows news to Windows Central. He joined our team in 2017 as an app reviewer and now heads up our day-to-day news coverage. If you have a news tip or an app to review, hit him up at sean.endicott@futurenet.com (opens in new tab).
If it would link to Messenger, Your Phone (for texts), and/or my Exchange email contacts, it would be useful. Sadly it does none of those things.

That's a good point. Your Phone really should work with the People Bar. It's a MS app that's relatively new.

Send MSFT feedback on that good suggestion.

send this in to MSFT through the feedback app

I agree as well and hopefully we will see them added soon...

Hopefully they will add that in upcoming Build 19H1. Praise Be!

That is what I miss the most about it: notifications

Developer here - for anyone interested, I've recently released an app (SichboPhone) that integrates a mobile phone/sms number into the People bar. It's Sideload/"App Installer" only in order to avoid Microsoft taking a 30% cut out of your calling/texting credits. Everything is wholesale/at-cost because it's intended to be a "poor man's" wifi-only phone. I use it on my data-only Lumia so my wife can reach me on it every once in a while, for pennies a month :)

Still waiting for Quarrel app integration.

I use it a little but it needs connections to Teams, Messagenger and Your Phone at the very least.

Came here to mention Teams, Your Phone, and Messenger. Glad to see I'm in good company. I will also throw in Instagram and Twitter.

You can add my vote to the mix.

Can't Microsoft use a Facebook API to link facebook to it?

Yes just like they with WP7 and the me tile did both FB Twitter. Go watch some of the old Ben the Pc Guy and smoked by a windows phone thats how ben was beating everyone using the me tile.
https://youtu.be/5RJdlDJLhRI

Too many great ideas die before maturation because of disregard. Just trying to message my g/f with Skype through the People Bar. Does it work? No! We have been Skype users for decades. We turned to Fb Messenger a year or so ago.
After launching Skype itself messages appear in People Bar.
Live Tiles used to be a great idea, but Msft had to copy cat others with a notification bar.

The notification centre was badly needed....

Still useless, one of those great ideas that Microsoft have, but doesn't pan out because they don't support it, nor push it very well.
Still don't understand why they killed off Windows Live Messenger before skype was ready

I really have no use for the People Bar. There is nobody that I communicate with in any capacity on a regular basis aside from regular texting. In fact, 95% of all my communication with people is via text messages. The rest is usually FB Messenger. Nobody I know or work with uses Skype and only one person uses WhatsApp. My wife and I text and since we have family features setup with everything else, OneDrive is a nexus for file sharing, OneNote syncs up our processes and Calendar syncs up our busy schedules.

Yeah, I tried using it with Skype to text but the Skype texting experience was horrible and then the My People feature became virtually useless after that. If they would have let users properly sync texts through the Messaging app to their PC, I would use it 60% of my day probably

So many fond memories of Windows Phone 7.5 to 8.1 where this stuff worked well.

I tried to set it up, but it appears to only work with UWP apps which all are garbage. Could be cool.

That's just not true. You might not like UWP apps but there are good ones.

Yeah, at least you can't say that to mytube!

All android and ios apps are garbage too then.

The big issue is that Microsoft themselves forgotten about this People bar feature. It's been more than a year and none has been improve even on latest Insider builds. The UI is still left unfinished which was different in the concepts where it acts like a flyout and not like a half-baked windrow like we have now. Try use it on Tablet mode (another neglected feature) and People bar unifished state is even more apparent if it's not already obvious. It's usefulness depends on apps supporting it, but Microsoft themselves don't even support it which is beyond ridiculous. Where is Teams? A messaging platform that is so successful to Microsoft. Where is Xbox? Gamers would find this useful to quickly chat with their friends. Where is Outlook? Which is useful on the workplace. Where is My People integration? Their brand new app that would be super useful to have on People bar. Being new, they should've actually apply new APIs to showcase the capabilities of Windows, but they didn't. Where is the effort to encourage big developers to support the feature like Twitter and Facebook? Both which will make this app incredibly useful if Microsoft manage to convince them to integrate their services to this feature. Seriously, this is another pet Microsoft's releasing a feature or idea and not pushing it to maturity and leaving it unpolished. We need them to push this feature forward and finish it.

Correction: My Phone/Your Phone integration.

I use it. Would be really helpful, if at least MS products would decently support it. Instead it is very unreliable.

Great feature, but highly underused
MS should definitely continue pushing it (teams, yourphone, xbox)
But I wonder why haven't more 3rd party adopted it... for big ones it's probably that they want to keep users captives, control all their experience, but even unofficial clients aren't available for many popular services.
Is it complicated to too implement ? At least, it allowed to have multiple skype windows ;)

The Mytube developer is just ace and always on the ball, I'd donate to the guy every month if I could lol.

If i where to ever chat with anyone it would be over Skype, teams or Discord on the left side of the screen. With no notification other then that i received a message. So nothing gets in the way and i can still respond when i have time. People Bar does nothing i need and what it does it handles in the wrong way, so it would just be a distraction.

Doesn't even work with Outlook 365 or Your Phone app... :/

They better just make it WORK reliably.

Time to add Your Phone, Facebook, WhatsApp, Twitter, and Instagram to this feature...

I use Clatter to integrate my messaging clients (Android Messenger for Web, FB Messenger, Hangouts, Skype and WeChat). Would be nice if we could access Clatter from the People Bar...

I like many features within MyPeople, but I think the MyPeople applet feature, as a function of the taskbar, is overkill and doesn't hold much practical value for me. I would rather see all features integrated in the people app and allow for multiple instances of the app with each window being a different contact. It's too confusing and too fragmented to constantly have to switch between the app and MyPeople, because the expereinces are connected yet seperate. It's a poor experience. I still prefer the older app hub model from windows 8.
Windows Central Newsletter
Thank you for signing up to Windows Central. You will receive a verification email shortly.
There was a problem. Please refresh the page and try again.