PGA Tour 2K21 will feature an overhauled Career mode, course designer, and much more
Big improvements on the way.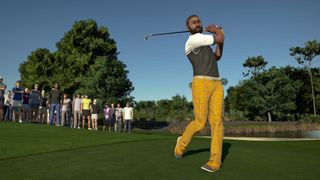 (Image credit: 2K Sports)
What you need to know
HB Studios has committed to bringing a ton of changes to the upcoming PGA 2K21.
Big improvements to Career mode, as well as the inclusion of MyPlayer, highlight some changes.
PGA 2K21 launches on August 21.
With PGA Tour 2K21 set to release later this month, more information is slowly coming out regarding the golf title. In a new developer video released today, and during a virtual preview event held earlier this week, HB Studios detailed some of the bigger changes coming to PGA 2K21, and how they aim to slowly grow the franchise into a blockbuster.
One of the biggest changes coming into PGA Tour 2K21 will be in its Career mode. Taking ideas from its NBA 2K counterpart, PGA 2K21 will also include a MyPlayer mode, which will see players create their own golfer and take them through a full tour as they aim to become the best golfer possible. Everything from name, gender, weight, and more are able to be customized, and your MyPlayer is able to be used throughout all of the other modes found in PGA 2K21, including the online and local multiplayer modes. Will it join the ranks of best sports games on Xbox One? Only time will tell.
Throughout the newly updated Career Mode, players will also be able to sign contracts and build relationships with sponsors, allowing them to access new and exclusives rewards in the process. Alongside sponsors, players will also be able to take on other professional golfers for the first time ever. Unlike previous iterations of the game, PGA 2K21 brings in 12 professional players, including Justin Thomas, the current #1 ranked player in the world.
Throughout your time in Career mode, players will be taking on a variety of other professionals and building rivalries along the way. Forming different rivalries and outplaying them on the course will be key to earning new items, and beating them will help you rank up throughout the game.
Outside of various improvements to the game's modes, PGA 2K21 also aims to help new players get acclimated to the world of golf as quickly as possible. HB Studios said that they specifically worked on making sure newcomers would be able to jump in and feel welcomed, and it shows in the brief gameplay that's been released. Things like Back Swing Tempo and other shot modifiers have been removed, making aiming and swinging much easier to handle. There's also the inclusion of things like Partial Swing, Dynamic Shot-Shaping, and more advanced tools to help players make the best decision on the course.
PGA Tour 2K21 looks to be just the beginning when it comes to what HB Studios hopes to accomplish. With a bigger audience likely to come thanks to their partnership with 2K, the hope is that the sky is the limit for PGA Tour 2K, and judging by many of the changes already included in the upcoming game, that doesn't seem too unlikely.
PGA Tour 2K21 is scheduled to release on August 21 for PC, PlayStation 4, Google Stadia, Nintendo Switch, and Xbox One.
Windows Central Newsletter
Get the best of Windows Central in your inbox, every day!
Anthony Nash has been writing about games and the gaming industry for nearly a decade. When he's not writing about games, he's usually playing them. You can find him on Twitter talking about games or sports at @_anthonynash.
I hope they found a better way to do the swing mechanics. I wanted to like the last game but I found it to be too hard. I couldn't make trackball movements precise to play it.