PGA 2K21: Everything you need to know
What's going on with 2K Sports' first PGA Tour title?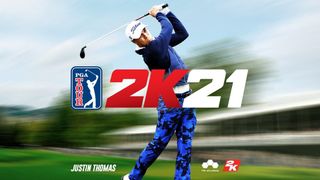 (Image credit: 2K)
In 2018, 2K Sports announced that it had taken over publishing for The Golf Club series of games, formally changing its name to PGA Tour 2K. With the first title, PGA Tour 2K21, set to launch next month, more and more information about the game is beginning to come out, giving us a great idea of what golfing with 2K Sports will look like.
Here's everything we know so far about the golf game and what you can expect to see in it.
Related: PGA Tour 2K21 Review: A Golf game for everybody
What is PGA Tour 2K21?
PGA Tour 2K21 is the latest entry in a series of golf video games that were initially known as The Golf Club. After creating three entries in that series, with the latest being The Golf Club featuring PGA Tour, 2K Sports announced that it took over publishing rights and promptly changed the games name to PGA Tour 2K21.
Much like other sports titles, PGA Tour 2K21 promises to offer a realistic simulation golf experience, allowing players to feel like they're really out on the course while playing. PGA Tour 2K21 will feature 12 PGA Tour pros, including the cover star Justin Thomas, and will also feature a PGA Tour career mode, course designer, and much more when it launches.
What is PGA Tour 2K21's gameplay like?
Similar to other golfing video games, PGA Tour 2K21 will focus heavily on the realistic aspects of golf, including choosing which club to use at various points in the game, timing up shots, and more. In a brief gameplay trailer released by 2K Sports, we also get to see what the overhead camera will look like, which will allow players to get a better look at what type of terrain they will be hitting the ball onto.
One of the key aspects to being a successful golfer is how you handle a putt, and PGA Tour 2K21 looks to have that covered as well. Once on the green, PGA Tour 2K21 has a grid cover the entire green, giving you a good layout of the angles and incline of the patch of grass you'll be shooting over. It isn't revolutionary by any means, but it is good to see PGA Tour 2K21 giving players the full golfing experience that fans have come to expect.
What game modes does PGA Tour 2K21 have?
The NBA 2K series has become known for its wide variety of game modes and features, and it looks like PGA Tour 2K21 will be no different. Players will be able to hit the links with their friends in local and online multiplayer, run full seasons and tournaments with the Online Societies feature, and also be able to play out their dreams of becoming a PGA Tour Champion with the all new PGA Tour Career Mode.
Much like the MyCareer mode in the NBA 2K series, the PGA Tour Career Mode will allow players to create their own character and take them from humble beginnings to the ranks of greatest golfer ever. Throughout the mode, you'll customize your MyPlayers appearance, skill, and much more, all while trying to take down the games 12 other professional golfers as you strive to become the FedEx Cup Champion.
PGA Tour 2K21 also promises to have some other modes that fans may love, including a course design mode that lets you create your own golf course. This will give players the chance to recreate some of the most iconic courses in golf history, as well as make some fun and less traditional courses as well.
Will PGA 2K21 have a MyPlayer feature?
Thanks to HB Studios partnering with 2K Sports, PGA Tour 2K21 will feature some things that fans of the NBA 2K series will recognize. Along with an overhauled Career mode, PGA 2K21 will also include the ability for players to create their own MyPlayer. Similar to how 2K usually operates, players can choose from a variety of preset options, or build their own golfer from scratch. Customizing the height, weight, gender, and other features will allow players to make the perfect counterpart for themselves.
Just like the NBA 2K series, everyones MyPlayer will be available across all of PGA 2K21's game modes, including its multiplayer modes and Career mode. Alongside being able to create your own MyPlayer, PGA 2K21 also includes a ton of apparel and gear upgrades that can be made throughout your time playing. Whether it be earning awards through sponsorships or performing well in various tournaments, your MyPlayer will be a huge part of how you play PGA 2K21.
Are there professional golfers in PGA 2K21?
While previous iterations of The Golf Club franchise didn't have any professional golfers for players to go up against, HB Studios fixed that. In PGA Tour 2K21, players will be able to go up against 12 real world professional golfers, including Justin Thomas, the current #1 ranked golfer in the world. Alongside being in the game, the professionals will also serve as rivals to your MyPlayer, with players being able to form rivalries with various stars and take them on throughout your Career. Outperforming your rivals can result in big rewards for you, and getting to see real pros actually participate in the game is a huge step forward for the franchise.
The full list of PGA Tour professionals that have been scanned into the game include:
Justin Thomas
Cameron Champ
Bryson DeChambeau
Matt Kuchar
Kevin Kisner
Gary Woodland
Billy Horschel
Ian Poulter
Tony Finau
Jim Furyk
Sergio Garcia
Patrick Cantlay
How many courses are there in PGA 2K21?
PGA Tour 2K21 will feature 15 officially licensed courses when the game launches. A handful of courses - including Detroit Golf Club and Rocket Mortgage Classic - are planned for post-launch, giving players a ton of places to experience and play.
The full list of available courses in the game can be found below:
Atlantic Beach Country Club
Copperhead Course (Innisbrook)
East Lake Golf Club
Quail Hollow Club
Riviera Country Club
TPC Boston
TPC Deere Run
TPC Louisiana
TPC River Highlands
TPC San Antonio
TPC Sawgrass
TPC Scottsdale
TPC Southwind
TPC Summerlin
TPC Twin Cities
When is the release date?
PGA Tour 2K21 is now available for PlayStation 4, Xbox One, Nintendo Switch, Google Stadia, and PC.
Go pro
Customize your golfer and become a champion

Test your skills against golf pros on real courses in Career Mode using a character customized to suit your style. You can also design your own dream course.
Get the Windows Central Newsletter
All the latest news, reviews, and guides for Windows and Xbox diehards.
Anthony Nash has been writing about games and the gaming industry for nearly a decade. When he's not writing about games, he's usually playing them. You can find him on Twitter talking about games or sports at @_anthonynash.