PGS handheld gaming PC to be shown off at E3 2017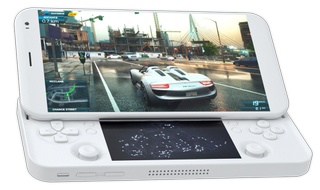 E3 is usually a showcase for the big games and console releases coming over the next year, but there are often some smaller demos and announcements mixed in. E3 2017 is no different, as an interesting new handheld gaming PC called PGS (which somewhat blandly stands for Portable Gaming System) will be demoed at the show.
For a bit of history, the PGS initially started out as a Kickstarter campaign from a company called Portable Solutions in 2016. However, after surpassing its goal, the campaign was abruptly canceled after Portable Solutions caught some criticism from skeptical onlookers. And while that does seem a little suspicious, Portable Systems now says it will indeed have some hardware to show off at E3.
As for hard specs, Portable Systems says the PGS will be powered by Intel's Atom x7 chip with 8GB of RAM and 128GB of storage. The device also sports two screens, with a bigger 1080p display on top and a smaller screen on the lower portion. Otherwise, the PGS packs the usual array of buttons you'd expect on a modern game console, along with two joysticks.
Perhaps the most interesting things about the PGS is that it's supposed to dual-boot Windows 10 and Android so it can be used not only to play PC games on the go, but to make calls as well. To accomplish this, Portable Systems claims the PGS will pack a MediaTek Helio processor in addition to its Intel Atom chip.
If the PGS indeed comes to fruition, it definitely looks like an interesting device. You can learn more about what Portable Systems says it's cooking up at the PGS website, where the device is also up for pre-order in Lite and Hardcore editions that vary slightly in specs. However, if you're interested in getting your hands on something like this now, you can also check out the highly portable GPD Win.
In any case, E3 2017 is set to kick off on June 13, so we won't have to wait too much longer to see if Portable Systems can live up to its promises with the PGS.
Dan Thorp-Lancaster is the Editor in Chief for Windows Central. He began working with Windows Central as a news writer in 2014 and is obsessed with tech of all sorts. You can follow Dan on Twitter @DthorpL and Instagram @heyitsdtl. Got a hot tip? Send it to daniel.thorp-lancaster@futurenet.com.
Surface Phone should be a slider like this.

Looking back at what MS have done, that idea its so good that will be descarted.

It's a nice looking piece of hardware and the specs are pretty nice. However, I'm skeptical about a slider type "Surface" device. I'm not sure what functionality a slider styled device would serve, other than a built in keyboard and mouse stick or whatever you call it. The device will already be somewhat bulky, because of it. Typically, cases make sliders even thicker. I just don't see a slider being all that popular. A custom portable Bluetooth keyboard would be a better solution. One that can fold or roll up and slide in your pocket. (assuming that you are considering a keyboard.) Whatever it was, it would have to be really creative and innovative.

Just a slideout keyboard would be awesome. Loved having it with my old TouchPro 2.

My LG Optimus is a slider, and it's my daily driver. Still using it after 4 years. Would be cool to have another phone with a hardware keyboard again. later -1

I had an LG Eclypse way back that was a slider phone.

Actually this could work if marketed as both a surface phone with Xbox gaming capabilities. Considering that this PGS can run windows 10, is a confirmation that surface phone will probably run Windows 10 OS, and Microsoft just launched Xbox game subscription service. That and they have Play Anywhere. it's possible.

Surface branding will steer away from gaming ...so wouldn't expect that. Surface is more about the professional life. Doubt they will ever bring it into the mix with a focus on gaming.

It's hard to see where this company coming from, not mention in article anyway. After clicking here and there in their official website, found it. It's from China. Typical. Is it safe? This remind me of some chinese android smartphone like Lenovo brand that phoning home by the bloatware.

Amusingly, when I try going to their site in Edge, I'm informed they only support Chrome, Firefox, Safari and Internet Explorer (10+). Even funnier, I get the exact same error trying to go to their site in IE11 and Firefox 52. If they have that much trouble with their website, I don't have much faith in their product.

Weird. Works fine for me.

Technically speaking. If that's a problem. That would just mean that they have used most of their money in the product development than anything else.
.
So in other words, if anything, it's a not a bad sign but a bit of a good sign. Not like other companies/products where they waste most of their budget on everything but the actual product.

I cannot even respond to posts in Edge on this, the worlds top Windows site.

Would have preferred if it was windows 10 and w10m working together instead of android,it just makes more sense to me.

Does W10M work on x86 or 64 bit amd/intel processors?

There is also a arm chip in the pgs

What would be the point of both W10 and W10M?

If they are only using android for calling why not use w10m ?

This isn't a cellular device. The point of dual booting Android is to get access to Android games. However, since Google is very unlikely to certify a dual boot device, it won't have access to the Play Store.

Paragraph 4: "to make calls as well."

Phone as well as gaming on Android. I wonder why they didn't just use the Atom for Android as well as Windows?

My guess is that Intel's cellular-capable chip is still not so capable. They've been trying for about a decade, but don't seem to have yet cracked that nut.

Worked for me using FireFox Windows 10. Looks interesting. Would be better if you can run W10M instead of Android

I guess this will be nice for games on android, but any mid-high end pc games will need to be streamed. Nice that it has 8GB ram!

I'd be very surprised if this is ever released, given the history of other devices that were supposed to dual boot Android and Windows.

Chuwi has a few dual boot tablets.

Right, but they don't have access to the Google Play Store, which is most of the point of buying an Android device.

I own a chuwi hi8 dual boot and it has access to the play store

Chuwi us also a crap compnay that makes junk

I'm not sure about Atom x7, but 8GB+128G is great for this size. It's also great to have dual screen instead of tiny keyboard, which is something I don't like most for GPD Win. However, I'm not sure about the slider. I used to have Zinc and the slide was not as good as clamshell. I understand some Windows fans hate andriod, but it's a big addtional to general gamers (non-windows fans), something that may really affect the decision, if restart is not required for system switch. In the end, this is not a small PC or a phone, but a game console that can do some tasks as phone or PC, and thus it's unfair to comment it good or bad from the aspect of PC or phone.

Can't imagine this being much good for anything other than indie games. The kind of kids that carry around these kind of things always have a satchel or backpack of some kind, so why not make a more powerful "box" with something like this connected via thunderbolt or something?

It could be used with services like steam streaming, geforce now, PlayStation now, UWP games, emulators, and some great old school PC games. Thunderbolt 3 would be nice though, which I believe would require a core m processor.

couldn't they just use the built in Phone in windows 10 to enable calling? Why would they need to dual boot android for phone capabilities.

I'm not sure there is a telephony stack in full windows. I could be mistaken

If this thing could run Skyrim I'd be all over it, but I doubt that will be the case...

X7 chips run Skyrim pretty good.

At what resolution and fps?

Looks neat. Viewed on my L640...

1080p will put unnecessary strain on gpu and power draw. Why is battery life always the least regarded variable in portable systems....switch has really mediocre battery life. PGS remains to be seen...

Slider = heavy risk of mechanical failure. We saw a number of spiders in the WinMo era. All it took was a toddler getting a hold of it to cure my love of that form factor. The performance issue is the other big issue. While the AtomX7 can handle a pretty decent set of games it isn't going to be a power house. In addition, most "PC games" are not optimized for this (I.e. Gamepad) so you will further limit the subset.

I'm still using a Windows LG optimus slider after 4 years. never had a problem with the keyboard or the mechanism. It works fine. Didn't know there were 'spiders' in the phone. later -1

Haha, great autocorrect, Lumia doesn't like "sliders"

Slider remains my favorite from my Palm Pre, which I still view as the best designed phone ever. Dell Venue Pro used a portrait slider too and was a great phone. Of course, for the gaming aspect, PGS uses a landscape slider, which is better for gaming, but not so nice for a keyboard. My first Windows Phone was the HTC Arrive on Sprint, with a landscape slider, and typing was noticeable slower simply because of the extra distance between keys compared to portrait layout. If MS can get Switftkey for swiping working as well as it did on 8.1, that finally made a touchscreen keyboard usably fast for me, but sadly in Windows 10, it's just not that good any more, with too many words that it won't use, no matter how carefully you swipe them. I never had any mechanical issues with any of my sliders, portrait or landscape.

I'll believe it when I see it. This device has had so much controversy surrounding it, due to the fact that it appears the heads of this company are pretty shady. There were many kick starter backers that are very disappointed in them. I have absolutely no faith in them. Even if they DO present something at e3, I wouldn't order anything, as it's likely you won't ever receive anything.

You must have seen this: https://www.youtube.com/watch?v=0ECmCChjnK0&t=5s Looks shady as f*** ... also the prototype was a Surface 3 and iopega bluetooth controller or something like that.

Hahaha no I haven't seen that, but the video is so freaking bad and full of red flags that i really don't feel sorry for anyone who lost money on it.

They should have gone with an APU like the Carrizo-L. I have a GPD Win and the performance of this will be similar or worse because of the higher resolution and two screens. Maybe I'll consider this if the sticks are clickable which aren't in the GPD Win.

This screams at me that Pocket Surface as a powerful full Windows 10 device is coming. 100%.

This was already a shady Kickstarter, and a shady Indiegogo, backed by a Russian mobster. No joke. https://www.youtube.com/watch?v=0ECmCChjnK0&t=5s

OMG! I just watched it! Scary though.

phone and LTE data please


Wonder if intel+ARM config can work for a Windows 10 Mobile device that runs only Win10Mobile related processes, getting good battery life, running x86 only when connected in Continuum mode. Or do the same on just an ARM chip. But all we can do is speculate

Please don't report on scam Kickstarters. Do some research before putting this on the front page. https://www.youtube.com/watch?v=i8leeedH71c
Windows Central Newsletter
Get the best of Windows Central in in your inbox, every day!
Thank you for signing up to Windows Central. You will receive a verification email shortly.
There was a problem. Please refresh the page and try again.