Philips' Hue Sync app makes your lights a part of your movies, music, and games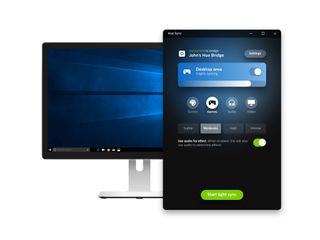 Philips' Hue lights, while expensive, are already some of the most versatile out there. But Philips is taking things up a notch with its new desktop app, Hue Sync.
The goal of the app is to make your Hue lights a part of the entertainment experience on your PC. When you fire it up, Hue Sync will automatically create "lightscripts" based on the content you're watching, listening to, or playing. The result is that your Hue lights should light up and respond to whatever you happen to be doing on screen at any given time.
For movies and games, this translates to an experience where your lights will grab the color of whatever is going on on-screen and match it. For music, Hue Sync assesses the beat and the type of song you're listening to and runs a script for matching dynamic effects around your room. Think of it as a modern version of Windows Media Player's old visual effects, but surrounding you.
While Philips says that Hue Sync will work automatically for the most part, there are still some manual controls here as well. You can control the brightness level, along with preset mode changes that force Hue Sync to respond based on what you're watching, playing, or listening to. There's also an immersion control through which you can adjust the intensity of any effects.
If you already have a house (or room) full of Hue bulbs, you can download the Hue Sync desktop app for Windows now to get started for free. And if you're looking to get started with Hue, a starter kit, which includes four of the color bulbs and the bridge, is currently available for $195. That's definitely on the expensive side, but Philips often runs promotions and holiday sales that cut the price significantly.
Dan Thorp-Lancaster is the Editor in Chief for Windows Central. He began working with Windows Central as a news writer in 2014 and is obsessed with tech of all sorts. You can follow Dan on Twitter @DthorpL and Instagram @heyitsdtl. Got a hot tip? Send it to daniel.thorp-lancaster@futurenet.com.
Considering it's not in the Store, unlikely. Does it matter? Philips finally and officially supports Windows. This is a good thing.

Is it going to be available for xbox? I watch EVERYTHING through my xbox now - please tell me it is going to be available for xbox.

Just tried to set it up. It tells me "your hue bridge is not compatible with hue entertainment." WTF?

Turns out you have to have the v2 SQUARE bridge. V1 round bridge will not work.

Yeah same issue. I have always used Huetro app and it works really well. Philips may now be supporting Windows via EXE file to install but it still has issues

even with the square bridge it doesn't work. The app tells you that you need to set up areas with the official hue app. well, the official hue app is for apple, not for the PC. if anybody can get this crap to work, let us know.

Yeah, you need to use the iOS or Android app to create an entertainment area. Sadly you can't do that in the Hue Sync app for Windows or Mac. But you need that app anyway to use the Hue bridge so you should have it on one of your phones or tablets.

If you're feeling adventurous, you can setup entertainment areas and bulbs physical locations within them through http requests to the bridge. I'm usually setting up bulbs, devices, groups and rules manually to have more flexibility anyway, so I went this route without even thinking much about apps. I managed to manually configure my areas properly and can use the Hue Sync app without any Android or iOS device.
However, this definitely isn't a solution for the general public. But as the API is documented, I expect 3rd party apps include this feature soon.

Pretty Cool. Works for me. Thanks for the heads up. Was waiting for them to support Logitech, but this works for now.

Another person wondering about a potential Xbox app, because that is where I use most of my entertainment.

You might try hueDynamic for Hue. It's on the MS store. I have it on my phone. Works pretty well. Have not tried it on XBOX but it is supposed to work on it also.

I can already tell you there won't be a Hue Sync app for Xbox. The reason is that they basically capture a snapshot of the desktop at regular interval to compute colors similarly to how their Ambilight TV does it. The Xbox won't let them do that and it doesn't work with HDCP content anyway even on the desktop as the capture gets blacked out for protected video areas. The clean solution will be for video player applications and games to integrate the Hue Entertainment feature directly, giving them more control, less CPU use, and support for protected content.
Built-in support in apps and games would allow for much better effects, such as light reacting to things happening off-screen. An explosion on your right could then be shown with a light spark on your right.
The Hue Sync app is really just a workaround until apps and games implement the support built-in.

Thanks for the input, that saves me a purchase of Hue lights (or any ambient lighting for that matter) until something like that exists.

Pretty regressive move by Phillips to release a win32 app in 2018. They missed an opportunity to showcase new app models. They could even have packaged it as a UWP app. But well, our ecosystem is poor and we end up thanking it's even here.

Not really, considering this app requires desktop capture which as far as I known isn't available to UWP apps.
It really is just a temporary solution for apps that do not include built-in support for their API, the long term goal is to have games and apps handle the light environment directly. As long as their API layer is available to UWP apps, I wouldn't mind about the Hue Sync app itself too much.

Got my V2 bridge in today and got this working. It is a shame that I have to go between my android tablet and my surface pro to get it to work. Hue says the reason they don't allow you full control from windows is because of "security" - whatever. On the bright side, once you jump through all the hoops to get it working, it is pretty fantastic!

Don't you need to pair with the Hue bridge either way? There is no security except for the initial oAuth via the button press on the bridge. It seems weird that they limit it on the Windows/Mac app. In any case, still a cool app. I assume it will evolve over time.

As usual, companies claiming they're doing it for the sake of security is just to invoke a reason most people won't challenge... kind of the tech industry version of "think of the children". I configured my entertainment areas from a Windows 10 PC, using one of their software, namely the CLIP Debug Tool, which is built into their bridge and available from any web browser... so much for the security excuse.
Windows Central Newsletter
Get the best of Windows Central in in your inbox, every day!
Thank you for signing up to Windows Central. You will receive a verification email shortly.
There was a problem. Please refresh the page and try again.