Create speed dialing Live Tiles with Phone Pins for Windows 10 Mobile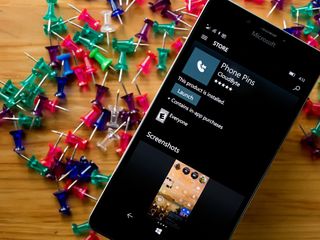 Phone Pins is a nifty Windows 10 Mobile app that allows you to pin the phone numbers of your contacts to your Start Screen. You already have the ability to pin contacts to your Start Screen, but where Phone Pins sets itself apart is the ability to pin individual numbers from those contacts — making calling them a single-tap affair!
It is a nice utility app, especially if you have contacts with multiple phone numbers. Phone Pins has a host of features to customize the Live Tiles to help identify them at a glance. The free app does have a few feature limitations and is ad-supported. You can unlock all the Windows 10 Mobile app's features and remove the ad support through a $1.99 in-app purchase.
It's a solid app and if you want a speed-dial like feature for your Start Screen, Phone Pins is worth checking out.
When you launch Phone Pins, it populates the primary screen with your contact listing. You can scroll through the contacts, choose the location (SIM or locally stored) to look for contacts and filter the contacts by theme. Additionally, if you need to review or manage the contacts already pinned, just swipe to the left to view all your pinned phone numbers. Phone Pins also supports dual-SIM phones.
The menu button sitting in the upper left corner of the primary display holds options to unlock the full app, view the About Screen and access the app's settings. These settings cover two broad areas that include Pin Themes and General Settings. The Pin Themes options establish the appearance of the Live Tile. These options include:
Theme Style and Color
Configuration of the small Live Tile
Configuration of the medium Live Tile
Configuration options cover displaying contacts names, phone numbers, pictures, number type and custom text.
The General Settings include options for the app's theme (system, light or dark) and how you would like the app to react once the call is made. You can have the app continue to run or immediately exit after the phone call.
The process to pin a phone number is simple. Just tap the contact for the telephone number and a listing of every phone number associated with that contact is displayed. Button controls are located beside each number that allows you to send a text message to that number, call that number or pin it to the Start Screen. From there, all that is needed is to arrange the Live Tile to your liking on the Start Screen. Tapping one of the Phone Pins' Live Tile immediately launches the phone dialer for that particular number.
In using Phone Pins, I did experience a few stability issues when launching the app, but nothing mission critical. Out of ten launches, the app crashed maybe one time. My only concern with the Live Tiles immediately dialing the number when dialed. It does offer an easy way to quickly dial a number but, it also increases the odds of accidentally dialing a number. I would have liked to have seen an option for a confirmation window to appear when you tap the Tile. Such a feature would not slow down the dialing process and should minimize the number of accidental calls.
The free version of Phone Pins has enough meat on the bones to give you a good feel for the app. The two features not available with the free version is the ability to create custom themes and to exit the app after the call is made. To unlock these features and remove the ad support requires a $1.99 in-app purchase.
All in all, Phone Pins is a handy Windows 10 Mobile app to help you better manage how your contacts appear on the Windows Phone Start Screen.
Download Phone Pins from the Windows Store (opens in new tab)
Windows Central Newsletter
Get the best of Windows Central in in your inbox, every day!
George is the Reviews Editor at Windows Central, concentrating on Windows 10 PC and Mobile apps. He's been a supporter of the platform since the days of Windows CE and uses his current Windows 10 Mobile phone daily to keep up with life and enjoy a game during down time.
I personally think Windows App store is improving a lot than before. If Google starts developing their apps for windows mobile platforms,it would definitely give a big boost to Windows Phones. So, I guess Google won't develop for Microsoft.

Microsoft apps are better than that Google apps. But people doesn't know that.

Agreed. I use Google account only for YouTube. And I presume those who has one, are for the sole purpose to access App store in their android.

Google applications are elementary, unless you want to continue losing users. But it seems that these applications never arrived.

Which apps are people desperate for? I don't find the lack of a youtube app that annoying personally - There's Maps I suppose but the Microsoft Maps app does a great job itself

There are a few new 'utility' apps that are quite good. The store won't really be any good unless these strange apps come along whereby you can chase fictional characters around. For the more mature ( read old!! ) user, the store is more than adequate. I guess it's because with age comes wisdom, and the ability to talk to real people face to face, instead of via social media.

It's really one of a kind app.Loads pretty fast after the last update!!! Not only worth checking out but also bying too. Constant support from the developer is also worth mentioning!

the app market is bloated with rubbish. windows provides plenty to choose from games to service apps. a lot of apps, in my opinion, are aimed at the teenage market and younger.

Useless (For me, not for everybody) , i though they would finally bring square tiles to the contacts again (the logical theme of Windows) ... Nope still a damn circle inside a square....
Do devs lack any kind of logical design looks ?

Agreed. The circle inside of a square is weird.

Agree about the square tiles. I liked it when a contact's photo covered the whole top half of the screen when a call was received. Now it's just a small circle and it feels so... empty and forced. It's a forced design choice for a theme built on squares (as you said). And I understand the whole thing with Groove (circles for people, squares for something else)... but personally I stil don't like it. Doesn't look like Microsoft will be chancing this anyway no matter the feedback.

Windows just now discovered speed dial but android discovered Moto Z

The app is well build and very fast ! when u tap on a pinned tile , it starts istantly a call . it worth its money . and it take updates all the time . You can customize a lot , the pinned tiles. It's PERFECT and laggLESS...

Great addition to the windows phone store. Definitely faster than the original windows 10 phone application. Well done dev, wish more apps like this join the store as soon as possible.

Why would I use this app when pinning a contact to the start screen is a native OS feature?

If you read the article you will understand that windows can not pin contact NUMBERS on start screen. This app can. And further more they are very customizable and manageable.

Ya you caught me. I usually do read articles before posting, but didn't feel the need to with this one. For me, it seems to solve a problem that isn't there. It just removes one tap from the process of calling someone from a pinned tile. After I set it up, I could see the app being useful for my grandmother if she was on the platform (and I think she should be), but I don't see the wide appeal.

Gave it a try. Says I dont have a SIM in my phone!

There should be an article on Why I left windows phone... You can count reasons.
Still love windows mobile os Posted via the Windows Central App for Android

So...conflicting ideas in the same post....You're more than welcome to start or contribute to the forum, but honestly this site is for the enthusiasts and those that are enjoying the platform. I'm not saying the platform is perfect, but at least it's transparent, listens to the users, and for a while it was pushing the industry forward. OIS is now in all flagship devices after the 920 pioneered it. You're welcome to leave the platform and use something else, but there is no need to waste time posting a comment like this.

After my feedback this is the dev`s reply: Hello,
Thank you for your feedback.
Square tile removed last minute before official release.
We will get it back as an option on next update among with other features, which will be very soon. So i guess i`ll be buying it after all :)

I just bought the app. It is very useful. I just wish that you could pick text vs. call. There are so many people I text that I would love to have a tile that opens to their text screen.

The app is awesome... really appreciate it. IMHO the OS must have this baked in....
Windows Central Newsletter
Thank you for signing up to Windows Central. You will receive a verification email shortly.
There was a problem. Please refresh the page and try again.