Photos Add-ins app reveals Microsoft's module photography plan for Windows 10 Mobile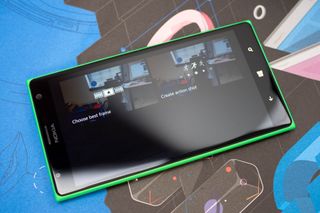 Microsoft's Windows 10 Mobile is set to be released later this fall and with it comes a usual lot of unanswered questions and concerns. Microsoft will likely answer all in October for their expected press event, but today we may be getting a peek behind the curtain.
Photos Add-ins is a new app that is really old for Windows 10 Mobile. Truth be told it is just Lumia Moments, which lets you take photos from your videos to save. That app was announced in Berlin in 2014 arriving later in December for a select number of Lumia owners. What makes Photo Add-ins unique though while the functionality is the same as Lumia Moments, its method is not.
Watch our hands-on video to see it all in action.
In Windows Phone 8.1 you could shoot a video and then within the camera app 'Choose a moment' using that app. Likewise, you could also launch the app separately and browse to find a video. What you could not do was use Lumia Moments from within the Photos app.
Windows 10 Mobile changes things up by integrating the Photos app directly into the Camera. This action means that when you review a photo in the camera app you are reviewing the photo in the Photos one directly. This change may seem boring but it is a fundamental shift in architecture for Windows 10 Mobile, and it lets Microsoft do things more directly.
With Photos Add-ins (admittedly, a boring name) you can download the app using the same link for Lumia Moments. Once installed, it does not show up as a separate app like before. Instead, it only appears when you are viewing a video you recorded on your Windows Phone device. Once you start playing the video, you can see the option directly on the display, and it then fades away. Tapping the screen brings it back. Once opened you can either choose the best image from the video or create an action shot as you normally would.
What is more tantalizing is that Microsoft could add in other plugins separately, or more likely, add features to Photos Add-ins making it much more than just Lumia Moments. Indeed, there is plenty of space beside those two functions already, and we would not be shocked if Microsoft has bigger plans for this one. In fact, from the app description, we get an idea:
This modular approach to Windows 10 makes the OS much more dynamic as we have already seen with the recent Messaging Skype app.
Finally, another interesting thing we noticed is you do not need to shoot the video in 4K as with the previous Lumia Moments. We tested our sample video using simple 1080P settings implying that this function should hit all Windows Phones regardless of 4K video recording ability.
Although we cannot yet install it for Windows 10 PCs, in theory, the app could be a universal app for those devices as well. Time will tell.
Watch our hands-on video, grab the app and let us know what you think. If you find anything else that is interesting, let us know in comments!
Download Photos Add-ins for Windows 10 Mobile
Windows Central Newsletter
Get the best of Windows Central in in your inbox, every day!
Daniel Rubino is the Editor-in-chief of Windows Central, head reviewer, podcast co-host, and analyst. He has been covering Microsoft since 2007 when this site was called WMExperts (and later Windows Phone Central). His interests include Windows, laptops, next-gen computing, and for some reason, watches. Before all this tech stuff, he worked on a Ph.D. in linguistics, watched people sleep (for medical purposes!), and ran the projectors at movie theaters because it was fun.
Yes..
Once again, the mighty Lumia 1520 is still shown to be king....with the wee 930, the queen...

Best phone ever. I don't regret for a second buying it.

Miss my 1520 everytime I pick up my 930 "replacement" :'(

I loved the 1520 until i carried it around in gym shorts while working out, that phone swinging back and forth could break a finger....great phone though.

I thought it would make your d look small lolololol

i use the 930 and feel its the best phone i have ever used but then again i have small hands so would hate a phablet.

Awesome, I just hope that my 720+735 can get it!!

I want to dload it so badly but i cant it says "cannot install to sd card" but when i remove sd no apps install.

Yes, you can get the app on a Lumia 735 or 720 considering the fact you're on the Windows 10 Mobile Preview. ............ As for the "no apps install" I think the article clearly states that it won't show as a separate app, but rather show up In the videos and such (and it does) allowing you to take a pic in the video.

No no xaly, i literally meant tht no apps install. They all come up with a error if remove sd and install. But since this app only installs on the phone, im not able install it as even if i chnge the install directory to phone apps still install in sd

Shame we lost Lumia exclusives but alas I am curious about this app.

What if those apps become plugins for the Photo app?

Now I hope that the removed apps like Refocus, Photosynth, and others will become an Add-In for Photos app while Camera app will gain those features seamlessly. I'm still less than 50/50 on this since their track record at returning a removed feature is slim and sometimes inferior.
We'll see.

Exactly. This is why people shouldn't go all ape over apps being gone until W10 Mobile is done and ready for everyone. Same with little UI issues and features being out of place and etc.

There was similar optimism when 8.1 was in Developer Preview :)

I hope you know the difference between Developer Preview and Insider Preview. Developer Preview was the final build while Insider Program is a work under progress :)

Yes but i'm sure Microsoft knows its really their last chance to proof they are still in the game

I think this is Microsoft being reactive to all the aoe behaviour.... not that they planned this.

You don't understand how SW is done in companies like Microsoft. They don't make big changes like this lightly. What we see now is something they started coding months ago (years for OS) and discussed/architected even longer. What is "aoe behaviour" btw?

Yup, where they went wrong is by announcing the retirement of the predecessors without announcing the successors, that is really odd. I mean why not wait until the successors are in place and THEN announce the retirement? Or even better: announce a migration path. Some of the apps they recently killed had their own separate websites for sharing, which are being shut down. It would have been nice if they had found a way to migrate your data over to OneDrive and the Photos app somehow. I know, probably not easy, but would have been a nice gesture.

@allanwith We have to remember that some of these changes, particularly this one, are strategic moves and MS probably don't want to reveal the secret until they absolutely have to in order to give Apple and Google less time to copy. Every week and month counts.

@tk2011 Sure, but what I am saying doesn't prevent that strategy. One might even say on the contrary. If they hadn't said anything about phasing out those old apps, no one would have suspected anything was up, until they actually announced the new ones. So if they were thinking what you are suggesting, they should have kept thinking and not done anything ;) I agree with you that this must have been planned for a while, but I cannot see any logic in their communications strategy. By leading with the preannouncement of the death of the old apps, a lot of people will only hear that and not the follow-up news that replacements have now been put in place. It is a lot harder to communicate that way, IMHO. As in: "Hey all of these apps will die and we have nothing further to announce"... If they had waited, the message could have been: "Hey, we have something new and exiting! Oh, and by the way the old ways will be extinct, but pay no attention to that, because this is shinier..." (or something).

@allanwith If their API and SDK are not done, there's little reason to pre-announce it because it will just tip off the competition. I'm guessing this is the case here. Enthusiasts unwisely acting on these premature speculations are a very small minority and doesn't merit risking the competitive advantage IMO. I mean, c'mon, we've seen this many times. Geeks here make all kinds of premature and wrong speculations on daily basis off random news and rumors. There are times they are justified but in most case they are simply wrong as in this case. Usually you can spot them by running a "does this make sense?" test. In this case, it made no sense MS would complete ditch all previous apps and offer nothing in return for W10M, so it would have been wise to hold off drawing any big conclusion off of it. Most times, things just explain themselves over time if people just wait a bit (e.g. few weeks, months) instead of assuming pre-release OS and its components to be in perfect harmony and expecting MS to explain everything in detail on daily basis.

I agrre with TK2011. This probably required architectural changes to the Photos app. Perhaps they open the plug-in (or add-in) API to developers with TH2. :)

Well there are three ways of killing sn app. First.. Kill it and never talk about it again. Seconds..present an alternative and kill the original app..third..kill the app and in the same announcement explain how u are going to replace this service later..maybe they should have not choose way one

Guessing it'll replace the lenses system. Wonder if they'll reintegrate vision functionality as its inconvenient trying to find another app to replace & makes it useless for sites like this to post rqcodes

Exactly! No more switching to camera to edit moments or hdr photos.

Although these new camera functionalities will be great for Windows 10 mobile, anyone who gets left behind or chooses to stay on WP 8.1 will be boned since they removed those other camera apps.

Why would they choose to be on 8.1? Posted via the Windows Central App for Android

If Windows mobile 10 has performance issues of any kind on older Lumia's, I'll not be updating my phones.

Maybe some carries won't allow older phones to get updated. It's certainly a possibility

The Lumia 830 on AT&T didn't even get the Denim update, there's no way Windows 10 is going to get pushed to that phone. My 1520's are both AT&T models, and I'll be lucky if they recieve Windows 10 as well. The good thing about all of this is that I don't really care that much. My 1520's work beautifully just the way they are.

Windows Insider. If you don't update, you can't expect full experience/support.

Windows Insider is great if you like trying out new(albeit buggy) features, but I prefer to have a phone that is 100% rock solid and stable.

you can simply sign into insiders when w10m rtms, grab the update then sign out, bam.. full retail os with no carrier blocking and no beta software..

If they had a way to render ie11 for non-compliant sites it might be stable enough for daily use but for now my ativ s serves me well for most functions while the l929 handles intensive games like aoe:cs(which right now the touch controls arnt working aswel as it should on wm10)

Blame for that is 100% AT&T

That is not certain but for sure..not even within WP8.1 all phones got updated

Some don't like change. Or get scared reading sites that treat Windows as a conspiracy theory.

Because I'm perfectly happy with 8.1 on my 1520. Will wait for finished product before deciding to install 10.

Exactly, people better update, Microsoft doesn't work so long on this OS for free, they will make it much better, and if there will be serious issues, patches will soon follow release.

Because they hav a 4GB RAM phone?

Well the man ie saying that even if he wants to upgrade, he cant cause of Atnt. He's saying he doesnt have an option as such. And coping with it.

No its called developer preview

No, the developer preview program was a Windows Phone 8/8.1 program. The Windows 10 mobile previews are part of the Windows Insider program. TangledW is right...

So much misinformation....smmfh

Removed from store. Those of us with Lumia Camera and hardware to match may benefit from not 'upgrading' to W10M.

Kinda saw this happening tbh. Didn't think they'd cut the separate apps for no reason. Good to see. Posted via the Windows Central App for Android

Lumia moments works great on the Lumia 640

2 thumbs up... Looks like the recently retired Lumia apps are making a comeback as plugins/addins :) integrating into the OS....
Keep them coming MSFT!!!
#panorama
#storyteller
#lenssupport

Awesome!!! More of this from MS and the future is saved!

I'm all for being positive and everything, but really?

Lol! The OS is different than the competition. Most people I know who've chosen their wps have chosen them despite app gap and feature gaps because the photography part has worked well. Anecdotal, I know. I'm not claiming universal applicability, just that Daniel's article from earlier today suggested photography was low on MS priority list for WM10. For me the photography strength in the platform has been it's saving grace when all else has been trumped by the competition.

No, what he said was making niche phones with ungodly cameras like the 1020 is low on ms's priority list because it wont sell well, if ms can make themselves a well established brand in the phone market then they might try niche phones like nokia did, but for now, they need to focus on making a profit before they can make risks like that (for the reocrd, the lumia 1020 did pretty poorly in sales, so there is definatley merit to putting such a device off)

I hear you. I'm simply stating that photography has been a strength for the platform when other aspects of WP don't appeal to potential buyers. This gave Nokia more sales of Lumias than would've been the case without great mobile cameras. Lets not kid our selves: Our platform of choice is niche, our phones are niche. All differentiators strengthen the sales argument. Photography chops is important to the success of wm10. I think so because I sell mobiles. Our phones are the cameras we carry with us. When MS, Nokia, HTC, Huawei screw up on apps or products or users get blocked from youtube or snapchat, what's left to be glad about? A great camera on your WP!

Yep, I have been saying for over a year there will never be a 1020 successor....only a new model when all tech, competitively is equal will allow for a higher res cam...

If you want real photography get a good DSLR!

It's not about real photography, but enthusiast photography. Of course a Dslr is better. But most don't carry those with them all the time. Technologically premature but still. Most have replaced their regular cameras withe their phones.

If they open it for developers, i'm sure they would do wonders!

Moments never required a 4k video in the first place

Just installed Lumia moments on my 730.. At first it wasn't possible

lumia 1020 here but i had to take video using the camera on the app, as it says file type not surpport which is odd

@Daniel Rubino, any truth to the rumors that not only do the 950/XL look better then the renders but they are actually lower cost than high end phones and are actually the devices being pushed to the commercial space. Since it was let out that there will be devices for both consumers and business, we have actually not even seen the consumer ones this whole time. Sorry off topic, but being dying to know since I heard the rumor

Cityman and Talkman ARE the consumer models.

LOL, he's not going to answer to rumor questions. But he did say in yesterday's AskDan video that they usually look better than render leaks and photos taken off factory floors. As to the price, I have not heard that rumor. I usually ignore most rumors unless they are from highly reliable sources like Dan here.

Well design is cheap. Plastic non unibody. It must show in price. They could even make these in-house in Vietnam factory as no fancy equipment is needed.

Anyone care to fetch a guess? I say...$500????

If they wish to sell these designs then 299€ might work. But most likely in a 499€ territory. I suppose Nadella wants MM to fail and design & pricing will reflect that.

I get an error installing it. It's the "this app won't install to SD card" error. Well, I've already switched all new apps and downloads to save to phone... And it still gives me the same error. I even tried removing the SD card. Same error: "this app can't be installed on SD card" :/

I also can't get this app for the life of it. Edit: Whew..finally got it somehow. Try setting the 'store new apps' from phone to sd card, then try again to donwload it, then set back to phone, and then it will download.

Ah, your trick worked! Thanks.. Now lemme go find that creative studio beta I was having the same problem with.

That did the trick, thanks for the quick fix.

Modular is not the best. Why? Look at Android. See how it's laggy? One of the main reasons is its modularity. I don't wanna Windows Phone to become another laggy OS full of hooks and modules... :/

Making something modular doesn't have to make it laggy. In the majority of cases, modular software performs much better than non modular software. It also gives the flexibility to update single components without effecting the software as a whole (bugs have a much lower impact), and best of all it enables extensibility of the software to quickly develop new features. Microsoft is not google. Windows Phone is not Android. So relax about performance, everyone knows Windows Phone performs well on basically any device and it will continue to do so with or without hooks and modules.

They yet have to show this on the modular windows 10 mobile:)

Most modular systems are universal, but not very good in term of performance. Look at Android. Look at WordPress. This is just beginning of end... :/

Just download loaded to my 1020 but when you try to open a video it says doesn't support this video.....needs a fix or has ms just stuff a good Nokia app that used too work well...hopefully it just a bug

Take video in side the app

Ok but this should be installed by default. You have all this cool functionality that most users won't ever know about unless they happen to run into articles like this. That app name doesn't help either. Just a thought

Eddie's right though, there's been many an app or tool type of setting feature like this that never saw the light of day, that I (or anyone) would have known about unless we just happened to catch the article on it.

Yeah, all apps should be pre-installed.

No, not all apps... but "feature adding apps" like "Gestures BETA" for example...

Agreed! Even more so, why not ditch the modular/add-on model and just update the photos and/or camera apps with the functionality directly? Wouldn't that make things so much easier for everyone involved?

Yeah, just integrate those features directly in the Photos app while just let 3rd-party fills the rest with Add-ins. If any case some features are exclusive, then just preinstall those add-ins and not make it optional download. Average users won't bother install this stuff and thus, few will use it. Then Microsoft will literally follow their telemetry data that no one use the feature and removed/discontinue it again.

They are probably making them as addin to showcase the addin environment. Think of this: When they had to make universal office, the team actually went to the API team and told them to make specific things to accommodate them. The same goes for Edge. So in this respect, the addin environment will be good.

I was just thinking this as i was reading, was about to post then saw your comment

I was thinking this too.
I apply the same theory to why they remove features from wp7 like fb chat integration in ms messaging app, xbox music. Everything is an app now and I'm thinking its also to showcase how apps can be used on Windows Phone/10

Great! Now I'm expecting add-ins to bring back Edit Rich Capture. This thing is one of the most loved features in my Lumia 830.

Im sorry, completely irrelevant but i've been watching comments of the new setup Daniel has. I just took a hard look at it myself. Does seem pretty cool. Love that green cpu. And what are those rectangular monitors? They seem cool for reading and scrolling stuff. I must have one too! :P lol.

That's just a common monitor which is used as multiple monitor and set to show screen vertically in settings

Nice. I've always wanted the many different and confusing Lumia apps to be within the camera app. Makes everything much more smooth.

I do want to say something to you Daniel, which i have been noticing in the talks. But best not in public, if ever i get a chance to ask you individually, i will.

Maybe its a love story....

When's the next chapter cominggggg??!!!!!1!!!!!1

Happy to see this back and working more logically.

This is a great move it's annoying having this feature as a separate app

All I want them to do is bring the editing features of the Windows desktop photos app to the phone. Aren't they supposed to have feature parity?

It won't download.. Always errors put not matter the storage settings

Lumia Moments capture selection was possible from within Storyteller. Storyteller also let you view Living Images. If you just change the layout in Storyteller to the standard gallery view, it is just an enhanced version of Photos. In fact it completely replaced the Photos app for me, and I never even made a "story" with it. I assumed that Storyteller would form the basis for default Windows 10 Photos app since it did everything.

It downloaded ok but when I try open old video it error's, does that have to be a new video made after the install.

Sounds awesome, BUT where is the OneDrive Photo Album sync with Photos app? No manual photo album creation besides the automatic albums Photos on Win10...

I thought of it also, instead of creating different app for different purposes in relating one area, why not make them add-in, I think it is much better. The mobile edge browser is supposed or should now support add-in/add-no. This is a good step.

It is quicker to use when it is on the camera app. No like me, I have does app, but never take time to use them, and will also help save memory.

i've always been curious why microsoft hasn't been opened to the add-in philosophy like open source software makers. Build an application and then build a store for developers including yourself to tack on additional functionality. That way you could build a stock "yet plain" app and allow for extensions to extend the functionality of the original app beyond its original purpose. Like with Office, Visual Studio, and soon Edge i see this happenining. But their other apps woudl be amazing such as Photos could turn into a powerful app including Music, Movies & Tv, etc. All add-ins could be located in the Store and seperated via sub-categories (or through their application names)

Hah, Lumia moments available for my HTC 8X. Interesting :D

I can't have it, My phone ignores the storage setting and moves every new app to SD card so most apps won't install. A factory reset will fix this but I'm holding up until the next build.

Look back to Ed Boland's post and then to Ma Rio's response, Ma figured it out and it worked for Ed too

Can't believe I missed that, thanks.

It's a,pretty interesting choice, and it would be more interesting if like outlook and office. They open this up to developers to create plugins that can enhance functionality of core apps. Specially if this feature can cone to all third party apps as well.

This will be great after a few updates and it works without crashing. I like the idea of this though. Finally some positive things happening.

I installed this on my Lumia 920 w/ Win 10 Mobile. It shows error every time (something went wrong) I tap the save photos option in Photos app. I read that app is 'fully' supported in 830, Icon & 1520. Since it is not working, is there any way to remove it? It is not even listed in the app list.

In my l920, on build 10166 app opens but video never loads for editing. It shows only loading on top of my video. May be it's time to replace my phone.....

You had me at "tantalizing".

I wish these good apps don't go to Android n Apple...

Just give me living images in camera app

So are the plugins sort off the same as Lenses were?

Nice. One thing though, Lumia Moments didn't just work on 4K videos already.
If you load the app on 8.1 it then lets you choose any video on your camera roll.

Maybe they'll join this app to the photos app and make it one... I think this is just a beginning. But I like the way its going

Nice, this has potential to do become a really powerful feature. Speaking of photos, I hope they bring back the preview button in the camera app. It's a pain when you have to constantly unlock your phone to check the gallery / preview the last photo taken, after taking a photo when the phone is locked. To save battery on my 920 (as the battery is on it's last legs) I always lock the phone / turn the screen off after use.

Cool :) now let's just wait for the "Photos plugin SDK"

So fuck lenses, now they have add-ins, coolness overload

I think Add-ins should be a standard for so many apps.Now that microsoft has shown to be willing to add lumia moments as an add-in to the photos app and extensions for Edge could also be seen as a function of similar sorts, it would help to fill the functionality gap and improve the overall quality of many microsoft apps, that are now lacking. It would offer the opportunity of a onestop shop for also your personal needs iwth photos and videos. Not more switching between multiple apps. Other examples I was thinking of: Add-ins for: Photos and Videos: A. stylus palette add-in: for doodling, annotating and touching up photos. B.Textbox add-in: for annotating a wide variety of text font designs and stylus to your image. C. Image composite editor add-in: for stichting together several images to make a good D. Collage add-in: to add images into predefined designs for a nice collage E. Hyper- and timerlapse add-in: for combing a group of images to make a smoother hyperlapse and timelapse and GIF video F. Movie maker Add-in: to edit basic movies with the full functionality of the latest movie maker desktop app functionality. Edge: A. Extensions B. Disqus add-in for reading mode C. Stylus add-in for more advanced overlays for improved navigation of the web using the stylus (radial menu's, handwriting pads built into all textboxes, instant markup techniques with pen gestures etc.) MSN news apps: A. extension for adding rss feeds to the app B. extension for adding reading mode to the app C. extension for changing the layout of the news card to improve the newspaper prenstation experience. D. disqus extension for supported feeds. MSN sports app: A. Add ins to pull bigger and other local databases into the sports app to support a larger array of sports (current sports coverage is very minimal. Covers only roughly a dozen major sports globally). B. disqus add-in for more interactive expereince with the content C. Facebook add-in for more interactive social engagement with the app content. D. Twitte add-in for more interactive social engagment with the app content E. Other social media add-ins for more engaing interactive element with the app content. Weather app A. Local weather database add-ins so that more accurate data can be pooled into the app for more accurate weather and uptodate weatherdata. B. Add-ins for more accurate rainmeter notifications Outlook-app: A. Handwriting add-in for more advanced stylus tools for handwriting in emails, support for handwriting to text recogntion inline within the email body, being able to handwrite emails in the email body, handwrite emailadresses and email titles with the stylus with auto ink-to-text recognition using a stylus. B. Add-in to enable drag and drop functionality of being able to add an appointment or activity content in an email body to the calendar app (just like in the outlook desktop app). Calendar app: A. Add-in for more different calender design styles. (like what Chronos Calendar + app can do) Microsoft recorder app: A. add-in for more advanced editing tools such as being able to change the speed, pitch, amplitude and reverse of an recording. B. add-in to be able to export a recording with flags to onenote. The flags would autmatically be linked and provide with a flag icon for instant listing. The user can then either use the stylus to handwrite notes related to the flag or tap/click the screen to start typing notes related to that audio file C. add-in to be able to edit an audio recording using up to 2 extra tracks for more advanced an comprehensive autio editing and mixing, with basic mixing tools (alignment, volume control slider between two tracks, easy snapping of paralellel tracks for smoother pasting, zoom control for improved cutting and pasting of audiotracks. D. sound effects fun package add-in for audio recordings E. add-in to save audio recordings to different files formats. Groove: A. Add-in for equalizer for more refined audio output control Explorer: A. Add-in for more stylus and touch friendly designs for the finger and stylus. B. Add-in that enables drag and drop of files between explorer and any other app when multitaskting in desktop, tablet mode or even between multiple desktops. Settings: A. Add-in to automatically pull in all the relevant info on the KB windows updates to the settings windows update section. Store: A. Add-in to automatically pull in all the relevant changeloginfo on app updates coming into the windows store.

Just curious, what's the difference between add-ins & add-ons? :D

I hope they add slow-motion feature in the camera

Awesome, now I want a 1520 even more

Lumia 1520/930 best camera phone, but can't event upload pictures to the shitty Facebook app...or in Microsoft edge...any fix on this???(got no problem w/ my internet speed)

Coming to WP10 soon. Now available on Android and iOS Posted via the Windows Central App for Android

How do I make living images on W10M?

Is like what had the Lumia 710 or the series 10 when you from the store got an app that you could use from the main camera and was easier to use than current set up with an enormous list of Lumia apps but if wants use it from the camera is somewhat bad because need to leave the camera or go to modes or lenses, to me just is hard to believe that the camera app is losing quality by the extreme compression added and also that already don't add things like metering mode and more scenes modes instead of the classics ones and also that supports HDR in legacy models because I know can but Microsoft don't want that the legacy models gets the features improved if an Lumia 520 can take some burst pictures with the smartcam mode then why can't do HDR if can take burst with the before mentioned app

It downloaded automatically on my 640 with W10 preview.
Windows Central Newsletter
Thank you for signing up to Windows Central. You will receive a verification email shortly.
There was a problem. Please refresh the page and try again.