Photos of Microsoft store grand opening in Christiana Mall, Delaware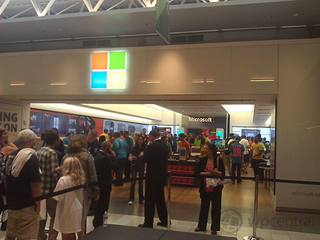 Windows Phone Central has been sent a number of photos that were taken by a reader who visited the new Microsoft Store in Christiana Mall, Delaware. The photos sent to us show the grand opening action unfolding with a sizeable group of attendees.
Microsoft has been busy opening a number of stores across the US, while outsiders who happen to reside on foreign land still wait for the day when the software giant decides to venture further than the shores of the states. We were at the opening of the Microsoft Store in Walt Whitman Mall located in Huntington Station, New York for entertainment and action.
While this is an opening day, it's still surprising to see such large numbers compared to the Apple store we spotted the other day that was almost empty. Check out two more shots from the open day below.
Thanks, Andre, for sending in the photos!
Windows Central Newsletter
Get the best of Windows Central in in your inbox, every day!
Rich Edmonds was formerly a Senior Editor of PC hardware at Windows Central, covering everything related to PC components and NAS. He's been involved in technology for more than a decade and knows a thing or two about the magic inside a PC chassis. You can follow him on Twitter at @RichEdmonds.
So strange how Microsoft doesn't seem to even acknowledge countries outside the US yet sells its products there. No wonder apple and google do so well in comparison.

Delaware is in the US -_-

Google sells products? O_o

It takes time and money to open stores, you can't open 200 stores all over the world in 2 weeks

Yes, by all means go to the foreign Google stores.

I thought all google stuff was shareware or freeware or plagiarized software?

you forgot google is also adware and spyware.

I like how some have the typical smart alec answer but miss the real issue of MS ignoring the rest of the world when it comes to its products and services. Google may not sell products directly but you can use their services in places where MS has only a token effort and that is why repeatedly you hear things like Bing is useless outside the US. That's the point, to be competitive everywhere, not just the US, but the feeble fanboy mind is unable to comprehend this hence some of the ridiculous responses.

Quit complaining about everything, are you ever satisfied?

Most google apps are useless in most parts of the world including the US. And outside of them collecting user information most of their software is a token effort. So we get your point.

@theefman there is nothing typical about our smart alec remarks. These are all new. Thank you and enjoy the show. Remember to tip your waitress.

+1 theefman. Non-US users get crippled versions of everything. For example, why can't I have Bing vision to translate text to English... Or at least to misspelled US English? It takes years, literally, for such simple things to be rolled out.

B/c you're outside the USA. B/c maybe they have to weigh the cost benefit for providing extended features/services to foreign markets. Europe can maybe blame the EU for all the stipulations they put on Microsoft's software/services.

So every time someone gives you a reasonable counterargument they are acting like fanboys? For example Bing runs circles around google in china, but it seems you completely ignore comments that have any logic or talk about something you don't know about. While its true that MS isn't ubiquitous in some of their services, I'd say its getting better with time and a bit ridiculous to call it a token effort. It isn't easy to spread out worldwide and certainly takes time, but constantly improving services in markets where you have a big presence is usually a good idea in business in order to keep your customers. Oh wait, that must just be the fanboy in me speaking. How about look at what people are saying and talk about specifics instead of generalizing. Calling everyone that disagrees with you a fanboy, even if your points are valid, takes away any credibility you may have.

@theefman You obtuse piece of flotsam. It takes time for Microsoft to provide the SAME level of features and services to foreign markets.

@theefman Microsoft will be offering more language support, mapping information (with Nokia's help) and Dev Center services than Google or Apple with Windows Phone 8. That's just a fact. And iTunes and Google Music have some huge issues when it comes to regional availability--in fact, Google Play's media offerings are quite pathetic when compared to Apple or Microsoft. You're simply glossing over the complexities of getting services over seas and licensing, but you're also severely over-stating to the point of hyperbole that Microsoft "ignores" markets.

are u nuts...google has nothing gr8 to offer except its search, maps (Nokia maps from Navtaq are better except street view) and emails...rest of the things you are using is from microsoft only anywhere in the world...even apple ignores many countries like india saying these are dumping ground for us..more than 90% in world use Windows..that is what u call reach...just opening store doesnt mean u r reachable to everyone..it takes time to open the store..and MS will do it gradually if they want to sell hardware too..Many fools like you dont knw that MS is more than just windows and office...they have countless products used worldwide..if u dont knw this then u must be alien or something out of this world..:P

Windows phones are already in other countries. And they aren't doing bad

Btw they are planning to open a store in Toronto by the end of the year. That's international the last time I heard.

1 store in another country pales in comparison to the number of international Apple stores. Even Sony have way more stores, although they've had them way before Apple.

This is amazing! I really like this strategy Microsoft is employing by opening all these stores just before Windows 8 is out. Really powerful marketing. I hope the people enjoy the WP8 tablets as much as the windows phones. I'm tired of seeing iPhones everywhere

Agreed, and the turnout at these openings is remarkable!

The opening was huge and a lot fun. They even provided free food at the Weezer concert.

Too bad there aren't any surface tablets or win8 phones to play with. Having those at stores on day 1 would have been a great way to promote them.

you want to play with them without launch of OS...No company does that...even apple doesnt do that...i m stuggling to see iphone 5 here in Uk even after its launched..cant see them even in iStores...u can see big posters outside all stores of carriers but phone is missing..thts called marketing by fooling people...

I'll be sure to have pics for the Pittsburgh and/or Beachwood openings... those are within an hour drive of me.

Give us an update next week. I bet it looks like the apple store. Nobody brick and mortars anymore. Honestly think this is a terrible strategy. Strategically place these stores in big time spots instead, the Mall of America would be a good example. Then, set up kiosks in retail stores like Target, ECT.

Are you sure this is a terrible strategy? It depends on what the goal of opening the stores is. If they're goal is to sell products, then this is a weal strategy because most their software is soon to be subscription based (office is the perfect example), and MS has very little hardware to sell for their own. What it does accomplish, however, is a direct relationship with the customers. They're essentially eliminating the stale, 3rd rate customer service you see from stores like best buy and providing customers with top tier services. Also, putting a friendly, approachable employee face in front of a big corporation like Microsoft helps with building the brand as consumer friendly. In short, the strategy of these stores is actually genius. We already know it works, just look at apple stores.

Sorry for my grammar, punctuation or spelling mistakes. I typed it quickly on my Lumia 920. (ha just kidding)

Sony stores have always been hugely popular, and pre-date Apple stores by several years. Now Apple has a huge worldwide presence with stores everywhere... And MS still have practically none by comparison. Sure they're in the US, but they should have MS stores wherever there are Apple stores.

Sony store in King of Prussia mall closed and is now a furniture store.

I'm doing all of my XMas shopping in DE because of no sales tax

They should have the Surface and all the new phones in a glass case in the center of the stores! They need to give people a reason to come back in 4 weeks

I'm really liking the stores - they seem a lot more vibrant and interesting than Apple's. Could just be that I'm too used to seeing Apple stores now and they all look pretty boring...
The good news is that they're shorly opening up their first non-US store in Toronto and I recall reading something about the stores making their way up to Vancouver and West Edmonton Mall as well so I can't complain.
And those complaining about how Microsoft should take a cue from Apple about treating foreign markets with respect - Microsoft supports more products than Apple makes overseas. Apple has only recently started to venture out of North America and Europe and they still aren't very good at it. The iPhone 4S is still being touted as the "best iPhone yet" in large markets like India and Indonesia (easily 1.5+ billion people combined) and they aren't even fully present in China - compare that to the penetration Microsoft has in the rest of the world and you'll see the point. Yes, I know it is frustrating but the truth is that their most demanding market is the U.S. and they have to take care of it first (and experiment there) before they roll out the services everywhere (the U.K. and Australia just got/are shortly getting the Zune Pass service, aren't they?). Trust me, I'm in Canada and it takes centuries to get their products here and it is very frustrating but understand the limitations involved.

That's the point... Australia JUST got Zune pass 6 months ago, while iTunes has been around for 8-10 years. It's too little, too late - we get a crippled service (no free songs), for more money ($15), at a time when Spotify, MOG etc have similar services. MS need to prioritise rolling out all of their services at the same time - at least to their Western markets!

I should say, not just Zune pass but the ability to buy Music & Videos too. My Zune software used to only have Collection & Apps. I couldn't browse music on my phone or PC and had to go to iTunes for the first 18 months.

We don't get any free songs here in the US anymore either so I wouldn't quite call it a crippled service.

Oh right, I thought you guys still had that

Yay delaware making some type head line lol

Sheesh well at least is somewhat close to me. I should have gone to the opening. Drats well hopefully one will open closer...

I read some analyst article the other day that suggested MSFT should buy out B&N instead of just partnering with them. His biggest reason for it is that it would give MSFT an instant network of storefronts across North America and would out position Apple overnight in malls everywhere. Just think in over half a year MSFT could have all the stores made over in some sort hybrid or even forget the books altogether and have their products everywhere. Windows 8 machines, Windows Phones, and accessories in everyone's faces. B&N also has lots of campus stores selling textbooks, imagine the ability to push electronic textbooks and Surface to thousands of students everywhere.

Does B&N exist outside the US? They're even worse than MS with providing their products to international markets.

There opening 1 in canada and 1 in puerto rico. They only have 22 shops open permanantly. And I think their opening 2 in the UK in 2013. There slowly getting there

I have been in a Microsoft Store after the grand opening, and it's quiet and empty. The Apple Store in the same mall was packed. It doesn't really matter, though, because for another 3 weeks there's nothing new to sell in a Microsoft Store. Let's hope that changes on October 26.

Stop the hate dude... MSFT stores are way cooler than apple store.. Yeah its empty sometimes so as apple store so shut the hate up..

I know right? Way too many downers on this site.

The internet is never happy.

You guys should form a group so you can all sit around grumbling & complaining about people complaining all the time. Because we all know that complaining about complainers helps to solve the underlying issues and makes the world a better place. Perhaps you should try kicking a beggar in the face the next time they dare to complain about being hungry, or tell a kid to shutup when they complain about being bullied. But seriously, if someone has something negative to say or wants to have a whinge then good luck to them... That's how comments work

I was referring to Daniel's remark about the empty Apple Store. Just saying that either store will be empty when there's nothing new to buy. And again, that should change on 10/26.

You're right, my apologies. My comment should've been for "Sooner or Later" (or whatever his name is this week) who's only contribution to the comments is to complain about negative comments...

Columbia Mall in Maryland is getting a MS store soon. I need to recon the mall and see if the date is posted.

I'm waiting for a windows store in Salt Lake City.....despite the smaller market compared to NYC.....this tech hungry city would eat it up!!!

I think that you guys forget that Microsoft will have available stores in the following areas: Aventura Mall (Aventura, FL) Beachwood Place (Beachwood, OH) Cherry Creek Shopping Center (Denver, CO) Dadeland Mall (Miami, FL) Eaton Centre (Toronto, Ontario) Fashion Mall at Keystone (Indianapolis, IN) Fashion Show Mall (Las Vegas, NV) Glendale Galleria (Glendale, CA) Mall at Green Hills (Nashville, TN) Mall in Columbia (Columbia, MD) Metropolis at Metrotown (Burnaby, BC) Montgomery Mall (Bethesda, MD) Natick Collection (Natick, MA) North Star Mall (San Antonio, TX) Oakridge Centre (Vancouver, BC) Penn Square Mall (Oklahoma City, OK) Perimeter Mall (Atlanta, GA) Roosevelt Field Mall (Garden, City, NY) Ross Park Mall (Pittsburgh, PA) Saint Louis Galleria (St. Louis, MO) San Francisco Centre (San Francisco, CA) South Shore Plaza (Braintree, MA) Southpark Mall (Charlotte, NC) Stonebriar Centre Mall (Frisco, TX) Streets at Southpoint (Durham, NC Time Warner Center: The Shops at Columbus Circle (New York, NY) Washington Square (Portland, OR) West Edmonton Mall (Edmonton, Alberta) Westfarms Mall (West Hartford, CT) Westfield Garden State Plaza (Paramus, NJ) Woodland Hills Mall (Tulsa, OK) Woodlands Mall (Woodlands, TX) And that's not even counting the new permanent stores like the mentioned Puerto Rico and Canada.

I heard these holiday stores will just be kiosks instead of actual stores; at least the one in San Antonio is. But we San Antonians are getting a permanent store at La Cantera.

I've never been to a Microsoft or Apple store. Are they like mini Best Buys?

Maybe you should get out more :-) Best Buys are depressing stores on their last legs. Apple and Microsoft stores are showplaces for each company's products, with enthusiastic employees who can help you buy and learn to use the products. Since each is focused on their own products, you can't compare like in Best Buy, but if you know what product line you're interested in they're great stores.

Any idea what windows 8 tablet is in the first pic ??

So I went to the Christiana Mall microsoft store in delaware yesterday evening. They were giving away bing-it-on tshirt and 25$ ms store giftcard if you try bing-it-on challenge. You win those goodies just for trying. Eventhough I have done it online before, I thought the yellow-letters-on-black tshirt looked good(can't beat the price - free) and decided to give it a shot myself.(Google won, sorry but true) There was a very long line for trying this and I saw people from all age group in the line. One hilarious moment was when a girl infront of tried and she got 4 bing and 1 draw - I could see a shocked expression on her face (and possibly misunderstood that you get tshirt only if google wins) and started muttering(pretty much to herself) - "but I selected google - this is wrong, I selected google". Then the employee explained her that bing is as good if not better and thats why she had chosen searches from bing 4 times.
Currently pretty much all employees are carrying Samsung slate with windows 8 RTM on it and showing off to people. I can tell this was the first time most people had seen it(to me it feels like I have been using windows 8 for a long time now)
I spoke to several employees, one slipped this info but we have to wait and see how true this is. He said, Europe is getting Lumia 920 first and US will get a bit later(he refused to elaborate on how later is bit-later). But agreed 820 and HTC phones are all coming. If this is true, those who are holding their breath and money for lumia 920 in USA, might have to wait a little longer. This might give some advantage to 8X over 920 - especially from impulse buyers.
All employees seem to be happy that they are getting a Surface tablet themselves. I asked one employee, who admitted that he is an iPhone user and who hadn't used bing before joing the microsoft, if he would consider selling his surface tablet in ebay or directly to someone - afterall he might make money. He said, he considered that but after having seeing surface(he refused to say if he saw it in person or just video like everyone of us) he wouldn't give one up atleast until something "that amazing" comes out.
And then there was an apple store employee came in and was chatting with MS store employee(probably friends) and the ms store guy showed him a black lumia 900. the store was quite crowded and most popular item was clearly the Kinect. The store employees seem very eager, friendly and surprisingly knowledgeable! :)


Looking forward to seeing the first stores open in England!!

Indeed, we can but dream. I recently popped into Watford, Herts and there's a shiny new Apple store in the Harlequin shopping centre. Watford!! That's a town of less than 100,000 people but from a shopping / retail perspective, it's an important regional hub for Hertfordshire. It's going to be a long, long time before Microsoft can ramp up retail operations down to this level of international coverage, if ever. But even one store in London would be a start and it would have to be somewhere close to Regent Street / Oxford Street to make the right impact I guess.
Windows Central Newsletter
Thank you for signing up to Windows Central. You will receive a verification email shortly.
There was a problem. Please refresh the page and try again.