Pick up the Alcatel Idol 4S with Windows 10 Mobile for $99
Microsoft has cut the price of the unlocked Alcatel Idol 4S with Windows 10 Mobile down to just $99.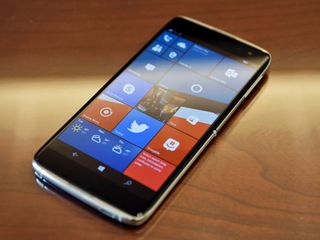 If you're looking to stick with the Windows 10 Mobile ecosystem for a bit longer, Microsoft is offering a pretty tempting discount on the Alcatel Idol 4S. The unlocked phone is down to $99 at the Microsoft Store (opens in new tab) without an included VR headset, which is a cut of $200 from its normal starting price. If you'd prefer to pick up the phone with a VR headset, you can grab that bundle as well for $169 (opens in new tab) (via MSPU).
The Alcatel Idol 4S comes unlocked with support for GSM bands, so it should work fine with T-Mobile and AT&T. Inside the phone, you'll find a Snapdragon 820 chip, along with 4GB of RAM and a 3,000 mAh battery with Quick Charge 3.0 support. As for the screen, it's a 5.5-inch FHD AMOLED affair. You'll find a fingerprint sensor on board the Idol 4S as well.
Given that Windows 10 Mobile is kind of flailing in the wind right now, this probably isn't the best time to be jumping into the ecosystem. However, if you're an enthusiast, or simply want a fairly cheap backup phone, this represents a pretty solid deal for what we found to be one of the better Windows 10 Mobile phones on the market when it was released.
See at Microsoft (opens in new tab)
Dan Thorp-Lancaster is the Editor in Chief for Windows Central. He began working with Windows Central as a news writer in 2014 and is obsessed with tech of all sorts. You can follow Dan on Twitter @DthorpL and Instagram @heyitsdtl. Got a hot tip? Send it to daniel.thorp-lancaster@futurenet.com.
Does this work only in USA? How can i buy this from Bangladesh?

It worked in India. Try Amazon or Microsoft Stores online

Wish it was available in Sweden. :(

myus.com... Works wonders to bypass these problems

It is, just goto ebay, amazon etc...you can get one there for sure.

I used Jetcarrier to get the Harman Kardon Invoke from the US store. I think Jetcarrier ships to all of Scandinavia. It cost me approx. 500 NOK, but that was due to the ridiculous size of the outer box.
I think you can ship a phone for a couple hundred kroner 😉

SD820 with 4 GB for 99$. What a steal.

Tempting to buy as a backup phone

I picked one up two weeks ago when the screen on my 950xl stopped responding. So far it's been fine with the exception of the camera. I miss the pure view.

Yep, I've had mine since they were released and the camera is what lets it down. The shame is that Alcatel could have done something about it with a firmware update. It's a good sensor. The phone also runs Continumm

I have only had Windows Phones since 2011 and vowed to stick with it until the end. But even if this was $50, I don't think I would go for it. All the nifty stuff you can use your phone for these days is absent on Windows Phone. I see no point and have no desire to stick with the platform. It's actually now bothering me that I have to stick with it until I can afford the Android phone that I want.

What Android phone do you want?

If you're moving to Android I suggest the OnePlus5T. I'm blown away by how good the phone is

What "nifty stuff" are you talking about?

been address MILLIONS of times before in various articles here scuba...do some reading!

Nifty stuff? Nothing I can't do on the X3, oh wait...Snapchat, that's right; the company that's now becoming irrelevant for being useless.

Pay for items, unlock / lock cars, rental cars, use hotel services, locks etc, I could go on and on. NONE of which are available on windows mobile. There are many many more things. Square reader support, paypal support, banking apps from most every major bank are missing, Pretty well most every app on windows 10 are just web wrappers which are crap. Mobile web pages are pure sewage compared to a full app.

And out of all those things you just listed, I do not even use my Android phone for them. I bank on my computer, use my card for purchases, make purchases online through my computer, need I go on? Also, mobile websites are actually quite good and the apps are far from better.

Guess it can still work as a solid offline music player (for those of us that still prefer the old school offline approach to music), absolutely love the Groove app on phone. 64GB worth of music is pretty solid, will use Winamp or some other player on PC for playlist management and transferring to the phone...

Anyone confirm if they ever released a firmware that works for the unlocked US device through the Windows Device Recovery Tool? I know 6-8 months ago, the firmware available would not flash to the device which meant if you ever needed to hard reset that way you were hosed. I liked the device (after putting a case on it) but got bricked by MS' bad firmware push and couldn't reset my device. Alcatel was ... less than helpful.

It's just embarrassing now..........

This is laughable at best

And well you are laughing, I am fully enjoying the phone at a fantastic price. :) Oh well, your lose.

If it had the Vivint Security and ecobee thermostat app support, I would consider it. One thing I truly miss about Windows phone is Cortana. Cortana was a beast. Still better than most other assistants on mobile, though Google has gotten a lot better

I've been checking MS store for a month now waiting for this to go on sale. They only had this device being sold with the VR goggles for $169.00. This is the first time I've seen the phone by itself. I'm waiting for the price to drop with the goggles. I'll wait patiently.

you can have my goggles that came from the one i bought for $170, they suck. You cannot even focus them. I don't know what the hell you think they would be good for to be honest.

Yep...even if they WERE great. the lack of software for them (suprise suprise), render them useless anyways.

Goggles are a waste of money, don't bother, just get the phone.

Yet, it's still priced at £419.99 in Microsoft's UK store website lol... smh.

I got one of these last month when my old L950 finally gave up the ghost. It might be my favoritest phone ever.

Microsoft UK store slashed the price of the UK equivalent at Christmas time by a whopping £126 down to 'just' £293!!!!!! (exaggerated amazement!)........but it lasted about SIX days now it's back to £420. I'd love to now why Microsoft UK are stingy bleeders compared to their US counterparts. I'd get one of these as a secondary device but not at £420 for a 2016 CPU and an OS in maintenance mode.

When it gets down to .99¢ I'll buy one.

They should give it away free.

Oh, you must be that person who sees a $1k Apple phone and says shut up and take my money. Oh well.......

Just bought this for $125 on MS Canada store. I have an L830 that has served me well. For this price I'll be able to stick with w10m for a bit longer. Shame about the app situation but for the price this is solid.

I picked one up today. I am returning the other one with the VR headset back to the Microsoft Store since I do not use the VR headset. (Tried it once but that was it.)

No thanks, Microsoft. You've reamed my butt out enough as it is.

Get it down to $49 and use it to watch Netflix on. 1080p AMOLED screen, I'd get one.

This would also be an even greater deal if someone could eventually figure out loading Android on it. Checked XDA forum and others have inquired. Not doable currently but you never know. There is an existing Android version of this phone already.

I wonder if you can hack it and put Android on it LOL.

Why would u want to? Android is crap.

LOL....I hear you but the writings on the wall. I share your preference but MS and mobile as we know it are EOL.

Better than windows 10 mobile. At least its getting support and moving forward.

This is a steal. Crazy steal. Worth buying a few. As I operate and use my Elite x3, Liquid Jade Primo, and Lumia 950 XL, everyone around me stares in wonder. I have seriously sold like twelve of these to contacts and people who've observed me.

Those poor souls.... (Written on my Lumia 950XL)

Awesome. I use my X3, 950xl, 950 and my 640xl. All FANTASTIC.

RicaChero, Living in fantasy land I see....

Great WP fan. And another reason why Nadella abandon consumer. Just my saying.

I absolutely love mine....and I can't even talk on it because I don't have T-Mobile or AT&T. But it sure works great as a small tablet ! I still think Microsoft has made a big mistake forsaking W10M.....hopefully they will come out with something even better.....hopefully. But I'm heading to a flip phone if they don't.

Here's the thing, I really did not know how much my killer app was the camera and camera app on my Lumia 920 and 950XL. The Idol 4S is a fine phone except that the camera experience is a step down. Sometimes it is the "small" things.

If this phone were dual sim dual active it would be really nice. I'd even stay with Windows 10 for a bit more... My 16 month old 950XL is just falling apart... Front Camera Broke, Vibration Broke, Locks Up, Apps Crash, USB TypeC port is sketchy, Speaker isn't as clear as it used to be.

It's $99.... Buy two...dual sims! Ha. Ha.

Great phone - you get good hardware and it's still WP. It's $99...WP last hurrah?

I have and love my Lumia 925 running Windows 10 but with each day I think it might be time for an upgrade. I've been serioulsy considering and have come very close to buying a Lumia 950. I really like the Lumia line, and would prefer to stay with it but this Alcatel seems like a good upgrade. It still feels to me that the Lumia 950 overall is a better phone. Would I go wrong if I stick with the Lumia 950 over the Alcatel Idol 4S?

who on earth made these modifications to the comment section?? Barely works. Have you guys at WC actually tested this? Or have you went MS's way: zero testing and half baked thing? I don't think you have insider guinea pigs like MS does do you?

Actually, this is 100% better than it was before. I can now run without an ad blocker and the site no longer slows to a crawl and stuttering mess. On a more specific note, I have this phone and really love it but, the Vivoactive 3 is not behaving with it and therefore, I cannot use it as my primary go to for, at least for now. (Also having issues on Android too since something got installed on the Vivoactive 3 through Garmin Express but, I have no idea what and neither does Garmin support.) I had the watch replaced under RMA and it worked properly until that something got installed. Any ideas what?

I bought one for using it in France (carrier Bouygues Telecom) and everything works except MMS. Is there a French guy who have the same problem and maybe a solution ?
Windows Central Newsletter
Get the best of Windows Central in in your inbox, every day!
Thank you for signing up to Windows Central. You will receive a verification email shortly.
There was a problem. Please refresh the page and try again.