Pick up these colorful aluminum Lumia 950, 950 XL cases for just $4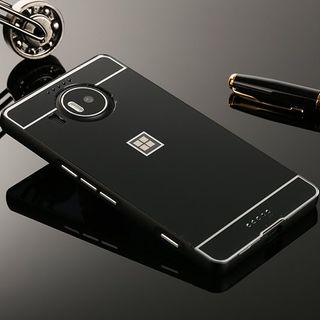 Looking to change the color of your Lumia 950 or 950 XL but don't want to spend a ton of money to do it? This aluminum case is available in a variety of colors and looks to be a great option to do just that for only $4. The listing, which was first spotted by some redditors, is available from AliExpress.
While we aren't quite sure of the quality or fit just yet, for $4 it is worth the risk to see for yourself. We have ordered a couple of these to check out, and will let you know what we find out once they arrive. Will you be picking up any of these for yourself? If so, be sure to let us know in the comments which color you are ordering.
See at AliExpress (opens in new tab)
Jared started off writing about mobile phones back when BlackBerry ruled the market, and Windows Mobile was kinda cool. Now, with a family, mortgage and other responsibilities he has no choice but to look for the best deals, and he's here to share them with you.
Shame about the white borders. Looks great when the cover itself is white too, but all the others seem weird.

Putting an all metal case on a phone is a bad idea if you care about reception. Those borders are plastic bits to let the signals through.

I own this. Bought it a few weeks ago from eBay. The entire back is a piece of plastic. The bumper is all aluminum and I like it. Tho its a bit slippery for me.

Interesting, thanks for the info.

Personally don't like the look at all. Why does it have fake antenna bars? Just looks like a Sony Xperia frame with tiny buttons. If people said that the ring around the cameras on the 950 and 950 XL were chintzy what does that make this?!

Is this actually a case or a replacement cover for the back of the phone, it was hard to tell in the photos? If its a case then I may get one. Replacing the back cover and losing wireless charging is a non-starter for me.

Great, would you mind to post some photos just to see if it really looks as good as the advertaisement ones? also i guess it added more thickness and weight to the phone, is that too much?

Since this is Aluminium Can you comment if it blocks signals or disrupts GFS in any way.

the entire back piece is plastic, so probably not.

Hmm they definitely look interesting

Bleh, reminds me too much of the iPhone. The Mozo cases are more elegant albeit expensive.

Yeah that was my first thought, the lines are not needed, so it's just there to make it look more like an iPhone... Which I don't get.

I think they look a bit ...... Ugly

Yep... Just about sums it up! #Windows10Mobile L735

I'm digging it! Too bad I just sold my 950XL :/

Aw, what phone do you have now? Or should I say, phones?

No way! Bummer! Posted from Windows Central for Windows 10
Using the Alcatel OneTouch Fierce XL for Windows 10 (Redstone)

is the MS symbol a cut out, or another symbol actually onthe case?

The case has a trasparent plastic right in the spot where the Microsoft logo is in the original case

Oh wow, they up'd the price. I got the pink 950 one for my wife for $1.95 shipped free... though on ebay... (that listing is now up to 4.75usd) http://rover.ebay.com/rover/1/711-53200-19255-0/1?ff3=4&pub=5575095911&t...

How is it? Thoughts, opinions?

Lol my estimated delivery date is June 2, just got the shipment notification hahaha

oh wow! Now it's in the, think real hard territory.

I noticed that they have one for the 640 too. Slightly tempted to try the pink one but I haven't touched the phone in months but still curious.

I ordered one two days ago for 3.50 euro, i ordered the silver one for Lumia 950XL, i guess you'll receive yours sooner than me since i live in Europe, though, can't wait to try it out cause it looks pretty cool indeed

Wow this looks soo coool. Hope it's released for 640xl ~DheeraJ~
Lumia 640XL 10586.218

http://www.ebay.com/itm/Metal-Aluminum-Bumper-Case-Cover-For-Microsoft-N...

That's the way those phones should have been from the beginning

Silver and golden looks good but not ready to sacrifice QI

You don't have to, it has to be mounted over the original cover, or it wouldn't fit

This is just a case on top of the existing one. You will not loose QI.

It is a case, but I'm wondering if being aluminum will cause one to *lose Qi. Posted from this here device.

Oh! I thought it replaces the back cover....thanks for clarification! Also its plastic back so QI should work.

I ordered the gold one from ebay couple of days ago. I do not have much hopes on its quality but just wanted to try for its low price.

To bad it's not something like Mozo...

Very generic iPhone rip-off. Color options are a letdown, as is the iPhone design, and the lack for Qi kills it, even at $4.

It doesn't lack Qi since it is just a cover... Sent from my Windows 10 PC.

Oh, really? That's even weirder, haha. It makes it a little more tempting, but I'll let a few others on here order them and speak to their quality (and post pictures) before I throw money at it. I wish they had better colors anyway. The blue is the only one I'd maybe get, but I'd rather it be a darker shade.

Yeah, I've ordered one and will get back to you. :)

Order it a few days ago on ebay for a 950... The problem is I DON'T HAVE A 950 YET

lol I'm in the same situation, 950 I have to wait to see my friend to pick it up lol BOGO lol.

They don't look all that great. The blue one is okay I guess. Windows Central for Windows 10-Microsoft Lumia 640

Would look a lot better if they did away with the MS logo, covered the speaker grill with a drilled-in grill, and allowed the back to cover right up to and over the rim of the camera. Button placement looks interesting, as a case and not a replacement cover I wonder how this will affect the usability of the buttons - for instance, only the top part of the volume down button will be in contact with the actual volume button, so how does that work when you push down straight in the middle of the 'new' button, will it always register?

Too bad it doubles the thickness of the phone. Looks really chunky. Windows logo looks cack too with that border.

Knowing cheap chinese crap on AliExpress, you'll get cancer just from touching it.

That's pretty awful to day. I've got bunch of great things from that site.

Waiting the wooden cover from mozo to replace the leather one on my lumia 950 :P

Did you get a leather case from Moto? Since I purchased my 950 (a few months back), the leather back cover from Moto has been back ordered ever since....and now I see it will not arrive for another month! I see this site, Aliexpress, has some leather covers....they don't look as nice at the Moto, but for that price, I don't mind buying one to hold me over until the Moto one finally arrives.

Mozo via amazon some months ago yeah! Red and gold <3

Just order it!! Hope is comig soon!

So people still think metal is premium? SMH. Slippery, bad for reception, scatches...frankly needing an ugly case...Get a shiny watch, ring, necklace and leave the phone polycarbonate.

Screams bootleg iPhone to me. What's cool though is that the logo cut out works perfectly, makes the window look legit.

For 7,65 € i have buy the silver, gold and blue one.

Check Amazon... Many other models "covered."

Don't buy it, they are just bad and ugly, I bought a gold for me 640 xl and the gold doesn't look like in the pictures and makes the phone so biiig Posted from Windows 10 Lumia 640 XL

These look great, but I'm skeptical about the quality.

So has anyone ordered this exact one from eBay or Amazon?

Too bad the front looks a bit chunky because of it, I do like how it looks from the back. Might give the silver one a try since it's so cheap. I also got a wood-patterned one from that site and it's not bad

Cases that allows for the Microsoft Logo on back. This is what I was waiting for. Now if we could get some quality in the case, I'm in there.

Looks gorgeous. Posted via the Windows Central App for Android
Windows Central Newsletter
Get the best of Windows Central in in your inbox, every day!
Thank you for signing up to Windows Central. You will receive a verification email shortly.
There was a problem. Please refresh the page and try again.