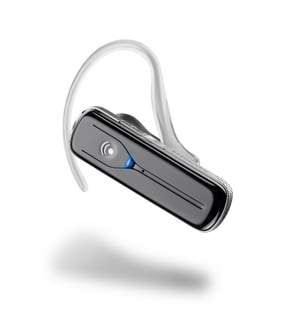 As more Bluetooth headsets are released into an already crowded market, the distinctions between the various choices start to become fuzzy. In a situation like this, there are a couple of concrete factors that offer a huge amount of insight into which product is the best choice for you; manufacturer and price.
Plantronics has become synonymous with quality headset for telephones and computers. Their products are used in call centers all over the world. The ever expanding line of Bluetooth capable products continues to push the envelope and offer a variety of quality goods to consumers. The Plantronics Voyager 835 is reasonably priced for a premium quality headset at $69.95 (at the WMExperts store, the MSRP from Plantronics is a less reasonable $119.95).
Click through for our full review.
Design
The Voyager 835 is a pretty sleek design. The ear hook is permanently attached, but can be rotated and flipped to allow for use on either ear. Plantronics included dual microphones that utilize "AudioiQ" technology, enabling the headset to isolate your voice from any outside noise. Both a car and home charger are included, allowing for flexibility. The main multifunction button is on the side of the headset while the volume controls are on the top (or bottom when worn on the left ear). The LED indicator is located beneath the multifunction button, giving a slick glow effect when the LED is lit. The earpiece itself is inflexible rubber that is shaped to funnel the sound into your ear canal.
Quality
Plantronics makes quality products, and the Voyager 835 is no exception. All of the buttons are easy to push, but not so easy to find (after a couple hours of use this isn't an issue). My only heartburn with this device is the ear hook. The fact that the hook cannot be replaced, coupled with it being the most flimsy piece of the headset just makes me nervous.
Sound
Digital Signal Processing has become standard on many modern headsets. AudioiQ is a trademark of Plantronics that uses one microphone to listen to your voice while another listens to background noise. The headset then digitally subtracts the background noise from your conversation, giving you the clearest communication possible.
Conclusion
The Voyager 835 is another solid entry into the Bluetooth headset pool. With familiar controls, a sleek design, competitive price point and functional technological features like AudioiQ; Plantronics continues to impress.
Swipe to scroll horizontally
| | |
| --- | --- |
| Ratings (out of 5)Design: 4Quality: 4Sound: 5Overall: | ProsExceptional Sound QualitySimple Button LayoutConsEar Hook is Flimsy and not Replaceable |
Plantronics has sent me THREE 835 Voyagers. Why? None of the three units has a Standby Blinking LED light -- as the documentation asserts. I have spoken to their tech support over a three week period and the standard response has been to send out another unit. Now there is some question whether or not Plantronics excluded this feature from the 925 Discrovery and 835 Voyager. I can't get a straight answer. As you know a Blinking Standby light allows one to know if the unit is on or not. I like the 835 Voyager for all the reasons given in the Reveiw above, but it is very frustrating speaking with Plantronics when no one seems to be more helpful than the enclosed documentation.

[url=http://dhc4w7ptkbnqqfuz.com/]mryljmr31v85tymz[/url]
[link=http://xhzq4nh4p1gdsoh4.com/]hyqq25hibkktzqz0[/link]
xvlnytge9f3ws6bz
http://7j8yua69q51c5s55.com/

I went through a Bluetooth stereo headset on a regular basis because I tend to lose them. I thought I'd ruined my Voyager 835 Bluetooth Headset when I left in the breast pocket in a shirt that I washed and dried in the dryer. But when I opened the dryer to check on my clothes, and Bluetooth sits there, flashing red and blue in a pair-up, very hot to the touch but still alive. And it worked, believe it or not,! He was in first, it seemed the ear speaker is cheap, but in one day, returned to its old self. Now it seems like just that before the adventure in the laundry. Incredible!
Windows Central Newsletter
Thank you for signing up to Windows Central. You will receive a verification email shortly.
There was a problem. Please refresh the page and try again.