Plants vs. Zombies: Battle for Neighborville will be revealed tomorrow
Let's all act like the trailer didn't leak a month ago or anything.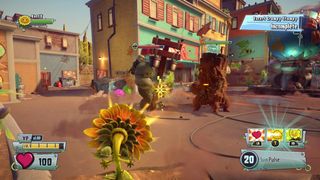 What you need to know
EA recently held a closed alpha of a Plants vs. Zombies game codenamed Picnic
A trailer leaked shortly after for Plants vs. Zombies: Battle for Neighborville.
An official reveal is happening tomorrow.
EA has announced that Plants vs. Zombies: Battle for Neighborville will be officially announced tomorrow on its website. A countdown timer has been put in place. This comes after last month's leaked trailer which outed the game from its closed alpha. It's unclear is this is a direct sequel to Garden Warfare 2 or just a spin-off because EA has opted for a different name.
We don't know just yet how much EA will reveal about the upcoming title. After the leaked trailer people assumed we'd get confirmation at Gamescom 2019, but that never happened. At the very least, you can still see the trailer online which showcases some gameplay.
The rumored release date points to sometime this October. Should this rumor pan out, this will put Plants vs. Zombies a couple of weeks ahead of Need for Speed: Heat, due out on November 8, 2019.
Braaiiinnss
(opens in new tab)
Plants vs. Zombies: Garden Warfare 2
While you wait for Battle for Neighborville

You can hop into Plants vs. Zombies on console right now with Garden Warfare 2. Get ready to defend the neighborhood against hordes of zombies.
Jennifer Locke has been playing video games nearly her entire life, and is very happy Xbox is growing a stronger first-party portfolio. You can find her obsessing over Star Wars and other geeky things on Twitter @JenLocke95.
after the most recent update to PvZ GW2, there have even been in-game references to neighborville. I'm looking forward to the big reveal tomorrow.
Windows Central Newsletter
Thank you for signing up to Windows Central. You will receive a verification email shortly.
There was a problem. Please refresh the page and try again.