Plants vs Zombies Garden Warfare 2 added to EA Access and Origin Access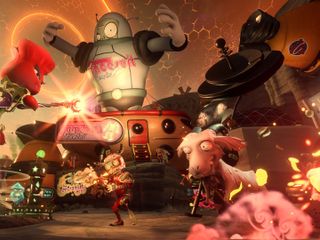 Electronic Arts has added Plants vs Zombies Garden Warfare 2 as the latest game that can be played for free for EA Access subscribers for the Xbox One, and Origin Access for PC gamers.
The multiplayer action shooter was released earlier this year and continues the battle between the foliage and the undead for control of the yard. Here's a quick description:
EA Access now has over 20 games in its Vault that can be played for free with a subscription of $4.99 a month or $29.99 for 12 months (opens in new tab) for Xbox One owners. PC gamers get even more free games for the cost of $4.99 a month with Origin Access.
See at Microsoft Store (opens in new tab)
Windows Central Newsletter
Get the best of Windows Central in your inbox, every day!
Time for me to renew. Been waiting for this.

if you are a PC gamer this is worthless, dead community no one plays, its been that way since launch and the classes are so unbalanced.

Its an odd one. It has more classes, it looks amazing, but the meta game/backyard/overworld is hard to understand for beginners. As the game is aimed at kids, its pretty hard for them to figure out. In some ways I prefer the original, but I did have fun playing 2 last night. I have a feeling they messed too much with a winning formula.

I agree. I loved the first one and have a TON of hours in it. (probably would be a little embarrassed if I looked at the actual amount) It was just a quick jump in and play game. I maybe have 2 or so hours into this one and bought it on day one. It just doesn't have the same feel or fun. I always intend on playing it again, but ... I am honestly not sure if I ever will.

Same here. i loved the first but was disappointed with number 2. It just didn't capture the fun of the first.

hmm, that was a quick release to the vault. I'm guessing it didn't sell as well as the first. I'm looking forward to the new Mirrors Edge to pop in there one day:) So far it has been well worth the $30/year.