Play as Bollywood star Salman Khan in the official Kick game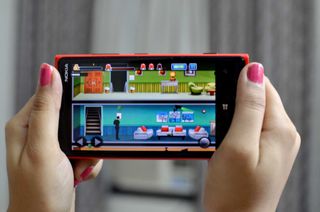 Kick) (2014) is a Bollywood action thriller film, directed and produced by Sajid Nadiadwala and stars Salman Khan in the lead role. As part of the promotions in the run up to the movie release, the producers have partnered with Indiagames to release the official game for the movie, KICK-TheOfficialGame.
In the game, you play as Salman Khan's character in the movie – a good-natured thief who steals from the rich and gives to the poor. As you go along, you need to steal from five different locations and get on a high-speed bike chase against the cops. You need to steal with your mind coming in like a storm, and escape with valor.
The game's pretty good, and not just an endless runner, as most promotional games are. The coins you earn can be used to buy new bikes, and get upgrades. You can't buy these coin bundles as in-app purchase, making it completely a merit-based game. The graphics aren't too great, but works. The game is ad-supported, and there's an overlay ad-banner that pops in between menus. It's annoying, but doesn't mar the gameplay.
Download Kick-TheOfficialGame for free for Windows Phone 8 devices from the Windows Phone Store. It's a decent action-packed adventure game, and should appeal a lot of Bollywood and Salman Khan fans. Give it a whirl, and get your kick.
Note: The game is region-restricted, so availability may vary.
Mod, please delete this comment. :P

I sent you a mail Daniel..?? Did ye consider a article on it??

That's another one keep your brain at home movie...so yeah...kick ...

I think this is the first game that Indiagames made available on Windows Phone. Am I correct?

Okay thanxx I don't know about it because I have a WP7.8 (planning to upgrade as soon as possible). And if ChennaiExpress game is available then I will download it (when I'll buy my new phone) before this game because I'm a SRK fan and Sallu bhai comes third in my list after Sr. Bachchan.

Sallu bhai ki game! Kiya baat hai!

What's more annoying than Salman Khan Fans of Salman Khan

What's more annoying than Windows phone Fans of windows phone

@Nishant +100000000000000000

I didn't know you used nail polish Abhishek ji :)

it was not abhishek....may be his wife or gf... ;-)

Haha noticed well!! :P :P :P :P

Or might be his daughter?

I live in India still its unavailable maybe for the change of region..

Change your region back to India then download the game..After that back to US!!

It's only for Windows Phone 8.1

I didn't like the movie, lets hope the app will better.

So...it's an Indian version of Robin Hood?No offence Sorry,played the game,didn't like it much :/ Btw,Abhishek,it's only available for Windows Phone 8.1 not 8 :) P.S:-Please insert the 512mb ram supported badge as well,really liked it :)

I still can't see it Abhi!! And yeah also a badge of "8.1 only"!!

Why another badge? Eventually 8.1 is going to replace 8 in few weeks!!!

Yeah, it's still windows phone 8 written but I can see the 512mb ram badge :)

Not exactly Robin Hood... Instead he gets kick in helping small children who needs essential health care...

Seems that is for specific carrier / device. Says not available for my device.

Well the movie released today..And the Game as well!!
WP is growing fast people!!

Did you watch the movie? Is it worth watching? *curious*

No Gautam..Just pondering over 530/525........

Umm... NP bro, go for 530 if you don't game much otherwise 525 ;)

Not coming till 3rd week of August I suppose..Btw am also think about a 930 :p :p !!

That'll be too much of a wait...!

Yeah..But one of mah friend is getting a 930 soon..So I'll borrow it for the time being!!

That's cool!! He must be a hard WP fan. Usually, the people I know go for high-end Android or iOS but very few think of a high-end WP in my locality... BTW, you might hate to use any other low-mid-end WP device once you touch that thing :P

Yeah he lives in Noida and has some WP apps to his belt..He won a 930 in a contest though!!

Yeah he IS a hard WP fan!! :P :P

LOL! Its going to take LOOOOONG before he gets that device... :P :D

Maybe they are toying with him..!! Or they were never gonna give it to him..!! Lol :p :p

They shouldn't! :O
He's holding on his patience badly!

Watch only if you are Salman Khan's fan...

In that case, I think I should skip. I only watch his movies if its an ultra big hit and the story is really good... like the "Bodyguard", thats the only movie I liked ...

Jai ho's story was also quite good..

Go kick yourself salman ghan...

Don't go looking for trouble dude..

Ghan?? Atleast curse the right person..

"Don't go looking for trouble dude.."

Hehe... I know there are huge no. of Salman fans but I'm not among them that's why I teased :P

Not me either..Not a show-off sort of person's fan..And he ranks 21th in acting in India only,,Can ye imagine that??

Exactly. Now that I've finally found someone after all these years, who thinks similarly, I can freely express my thoughts about him: I hate him!!!

Thanks! Now feeling better...

+520
his last likable movie was Wanted...
after that he is just making crap...

Looks good..downloading.
Btw how many of you watched kick first day?

Not yet. Tickets booked.. :(

Watched it... One time watch... Not much actions as shown in trailers... Looking forward for BANG BANG!!!

Bang bang will be super duper hit, kicking the kick

Another game not available here in Brazil. Yay!!

It is a movie based app, the movie was released today, in India. I don't think it will be available everywhere other than some Asian countries.

Switch region to India then..Download the game then back to Brazil or US if ye want Cortana!!

So he should travel all along to India to download a game? :D
Just kidding ;)

Trust me you would never want to play it...

Who said that I even downloaded it?? :P :P

As everyone will agree
Basically, it was
Kick=Dhoom 3+ some stunts from MI 4+ Jai Ho followup.

Kick is a remake of a Telugu film of the same name. The Telugu version released in 2008 and was comedy centric. IDK about this one though

Trust me, let it be at IDK, better wait for Entertainment. Fyi, I knew it was a remake.

Just a 5 sec scene of flying bike from a building does not makes it dhoom 3... Or just one jump from building with rope doesn't makes it MI 4 either... I guess you are one of those who judges movie by their action scenes and not stories...

1st day collection tells a different story, all the haters

Nothing better in this world then whistling on bhaijaan's action scene .... :D

Abhishek. I sent this tip on 23! Guess it slipped through the cracks!
Edited~~ Please try again!
https://onedrive.live.com/?gologin=1&mkt=en-IN&mkt=en-IN#cid=91B6E00704F...

What? The link that I shared or the link in the screen shot. It opened when I clicked on it. I meant the screen shot. Not the link in it

It says "This item might have been deleted, expired or you might have no permission to view it..."
My guess: Are you sure you shared the link publicly? I think not.

Check it once again brother!!

No coverage about Glasgow 2014 app? It's a decent app for the current sporting event...

Watching the movie today, what ya know. Sallu Bhai phir agaya!

Movie khatam hote he chala bhi jaega!!