Plex starts from scratch with the new Plex Media Player app for home theater setups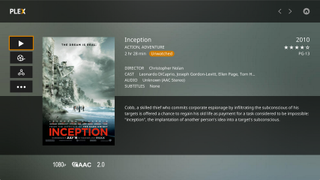 Plex, the team behind the go-to media streaming app of the same name, has unveiled quite a doozy in a completely new, revamped media player for home theaters. The new Plex Media Player will replace the Plex Home Theater app, bringing a completely revamped experience to dedicated home theater PCs all on top of a brand new, open-source code base.
Just like the previous Plex Home Theater app, the new Plex Media Player can live on a dedicated Windows PC that you have hooked into your home theater setup, delivering all of your own video and music content right to your tv. Plex Media Player represents a fresh start for Plex in the living room, however. Here's how the Plex team describes their approach:
We took a long, hard look at our current flagship for home theater enthusiasts, Plex Home Theater, and asked ourselves which bits we wanted to take to the next level and which ones we'd be happy sacrificing in a leaner, meaner, more beautiful, purpose-built high end Plex experience.
The final must-have list, written on an IPA-stained napkin, looked something like this:
Best media playback engine in the world. Needs to play every format under the sun. Needs to render hellishly complex anime subtitles without batting a tentacle, and support all the high-end features true Home Theater devotees want: refresh rate switching, display sync, rich subtitle support, popcorn maker integration, etc.
Most beautiful, efficient media library browsing experience in the world, scaled to any resolution (jagged posters and fonts are so 2002).
Truly cross-platform, with hardware acceleration, even on a Raspberry Pi 2. (How does a lovely 1080p UI on the Pi sound?)
Accurate determination/prediction of airspeed of various swallows (laden/unladen).
Cheeky Monty Python references aside, those are some lofty goals that the Plex team aims to hit by adopting its TV user interface from other platforms and basing the whole thing on the mpv playback engine.
If you're a Plex Pass subscriber, the new Plex Media Player is available as a download in preview form at the link below. Also be sure to read through Plex's full blog post for much more detail on the app and the Plex team's goals.
Source: Plex (opens in new tab)
Get the Windows Central Newsletter
All the latest news, reviews, and guides for Windows and Xbox diehards.
Dan Thorp-Lancaster is the former Editor-in-Chief of Windows Central. He began working with Windows Central, Android Central, and iMore as a news writer in 2014 and is obsessed with tech of all sorts. You can follow Dan on Twitter @DthorpL and Instagram @heyitsdtl.
Looks gorgeous! Hope this is a universal app! Unfotunately, until the plex server allows me to setup radio stations (i.e. has a scanner that understands M3U or PLS files) which it can hand off to the renderer for internet radio streaming, I can't get the wife's seal of approval. Give me that and I'm a convert.

Maybe contact them and suggest this, because it sounds like a good idea!!!! Are they focused on radio stations though??? I thought it was only visual media....

Earlier this year PLEX dramatically improved their ability to organize and stream music. It's actually really good now, whereas before I found it almost unusable. There are also a few channel plugins available. Some are for single radio stations, and others like shoutcast bundle hundreds of internet radio stations, but none of the available packages include any of the the local radio stations we typically listen to. So, I'd say that while PLEX's audio support is getting really good, the fact that it's impossible to configure your own radio stations without becoming a channel plugin developer is a weak spot.

It does say plays every format under the sun. I can't say if they mean those formats, but it would seem to me that they should. I might be a subscriber after this is fully released and there are some reviews on it.

The PLEX Media Player acts as the media renderer. I would expect it to be able to play radio streams that the controller directs it to, but I'd hope that configuring the radio stations would be managed centrally on the media servers (at least that's the approach PLEX has taken so far).

It plans to replace the Plex Home Theater. We already have universal Plex apps.

If that's true, then my question is why the universal apps could not have evolved into that PHT replacement themselves? If this is for more platforms than just Windows, then I understand why it exists. If this is for Windows only, then somthing seems redundant.

Looks exactly like the tivo app they released earlier this year. BTW tivo plex app works great, i love it!

Do you know if you run Plex on your TiVo unit, can you sync your recordings to your phone that has the mobile Plex app installed?

off topic, but i wish VLC would fix their app. so many bugs and weird missing features, but visually like the successor to zune desktop.

Awesome. They have to be doing this to fill the void media center's demise caused. With their dvr coming out soon, this is a no brainer

Honestly, Plex is probably the best software I've discovered in the last few years. As a media junkie I couldn't imagine my life without it.

Same for me. Incredible software that I now use on a daily basis

How does it compare to Kodi?

Different beasts but they do have similarities though, Plex is more focused on home server whereas Kodi is just a powerful media player/streamer software although you can also stream on Kodi using dlna app but it's not as convenient as Plex. Its great to have them both, though I just wish Plex could import AV files and playlists like Kodi does

Still doesn't play vobs so its pretty far behind the curve imo. I'd switch if I didn't have to convert my whole library just to use plex

Does it still restrict you to mkv's and mp4's?