Plugable's new Thunderbolt 3 and USB-C dock puts dual-monitor outputs, Ethernet, and more on your desk
This will give you more ports than you'll know what to do with.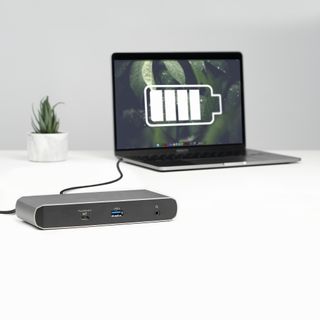 (Image credit: Plugable)
What you need to know
Plugable's Thunderbolt 3 and USB-C Dual Display Docking Station is here.
It can push graphics to two 4K DisplayPort screens and that's just the start.
A single Thunderbolt 3 cable turns into ten individual ports.
Plugable's hot new Thunderbolt 3 and USB-C dock is now available and it's definitely not short of ports. Using the included Thunderbolt 3 cable you'll take one port on your computer and expand it to nine new ones. And two of them can power 4K DisplayPort displays.
Expansion is most definitely the order of the day here, with Plugable giving you pretty much everything you could want. That includes:
2x DisplayPort.
2x USB-C (10Gbps, Data Only).
1x USB (10Gbps).
2x USB 3.0 (5Gbps).
Gigabit Ethernet.
Headset Audio Jack.
It kind of helps that it isn't a bad looking bit of kit, too. Nobody wants to have a big hunk of tech sat on their desk but Plugable has done a good job of making this thing sleek and, dare I say it, pretty. As pretty as a box of holes can be.
You can get your very own dock right now for $179. It's sold under the pithy name TBT3-UDC1, so just follow our link (opens in new tab) instead. It's probably easier!
Plug in all the things
(opens in new tab)
You can never have too many connectivity options.

Look at it. It's even pretty!
Am I missing something? Using a Thunderbolt port just to power regular USB peripherals and monitors seems like a waste. You're downgrading a 40 Gbps transfer to a theotretical maximum of 30 Gbps (2 x 10 Gbps + 2 x 5 Gbps). Unless the dock had a second Thunderbolt port what's the point?
Windows Central Newsletter
Thank you for signing up to Windows Central. You will receive a verification email shortly.
There was a problem. Please refresh the page and try again.