Windows Phone 8.1 will have a dedicated Bing podcast app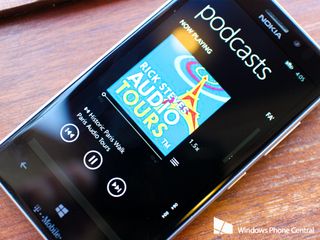 Podcasts didn't receive too much love in Windows Phone 8. They took a backseat in the Xbox Music and Video hub and didn't really get a whole lot of attention from Microsoft. That looks to be changing quite a bit with Windows Phone 8.1. A new Bing app will focus purely on podcasts. Here's an early look at the app.
It looks like podcast support in Windows Phone will be quite a bit better in Windows Phone 8.1. The new app comes from the Bing team within Microsoft, not the Xbox team like it was in Windows Phone 8. We've seen a handful of excellent apps from the Bing team on both Windows Phone and Windows 8. Hopefully the podcast app will bring that level of polish once it's released to consumers. We say that because right now the app isn't much to look at, but it does have a handful of basic features you'd want in a podcasts app.
Variable playback speed
Favorites
Support for both audio and video podcasts
Bing search to find and add podcasts
Sharing support
The biggest change (and one that will be most appreciated) is the ability to search for and add podcasts using Bing. Right now on Windows Phone 8 you need to go to the Windows Phone Store to find and add podcasts natively without using a third-party app. That's nice, but it's also the reason why non-US podcast listeners on Windows Phone need to rely on third-party apps. Now anyone can presumably just search and add their favorite podcasts or URL to get their favorite programs.
The app currently has a pivot-based interface the following views: now playing, favorites, collection, and get podcasts. It's nice to see the ability to change up the playback speed. Useful when you're using to really long episodes, but want to power through them. You can mark particular podcasts as favorites, view your collection, and search for more podcasts in the other parts of the app.
The app has a simple UI at the moment and isn't anywhere near as pretty as other Bing apps like Weather, News or Travel (beta). Hopefully the team is just nailing down the functions first and will add the polish when this gets released to consumers.
Anyone else look forward to playing with podcasts in Window Phone 8.1? Be sure to check out the initial Windows Phone 8.1 SDK leak and a subsequent gallery of screenshots from Windows Phone 8.1.
Source: WinSuperSite
Get the Windows Central Newsletter
All the latest news, reviews, and guides for Windows and Xbox diehards.