Pokémon Go on Windows 10 Mobile is back with PoGo-UWP beta update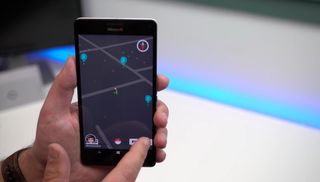 The third-party Pokemon Go app PoGo-UWP for Windows 10 Mobile is back in operation. The team behind the app has publicly released version 1.0.25 with a number of fixes and improvements.
Earlier this month, PoGo-UWP became unusable due to changes in data from Pokémon Go developer Niantic Labs. Now it appears the team has found a way to get the app working again. Here's a look at the changes and improvements that have been made to PoGo-UWP:
Changed capture page: you can now flick to throw the ball (experimental)
Added new map styles to mimic the original app (you can enable them in settings)
Added profile page with achievements
Added Pokemon detail page where you can evolve, power up and transfer your Pokemon
Added Pokemon and Eggs inventory, you can now Incubate your eggs
Added Google Login (not supporting 2FA for now)
Added translations
Added device spoofing, you device will now act as an iPhone to try preventing bugs (we can't guarantee that you're safe from bans, but this may help)
Fixed countless bugs
Revamped UI
There are also some known issues with this version:
Some buttons are not working. They're just placeholders but we didn't add the features yet.
Closing button sometimes overlaps the Pokemon in catched Pokemon list
Opening the Pokemon details page may cause a crash
After leveling up, experience bar on map page shows a wrong value
Translations are incomplete
Wrong theme may be applied, leading to white text over light map
No visual feedback after Egg Hatching, you'll still receive rewards but nothing is shown
Some animations really suck
Thanks to everyone for the tips!
Windows Central Newsletter
Get the best of Windows Central in in your inbox, every day!
Nice.. Thank You Github :) time to play again...

Just don't tell em at imore...

will be banned in 3 2 1............days

Yeah, for a game that has no real fun when you think about it after playing for a while.

I thought Nintendo was blocking anything but official apps? Is this wrong?

Nintendo isn't on this equation at all. Niantic is running this show.

Yeah, Nintendo is just collecting a royalty or licensing fee from Niantic, who produced the game, as Nintendo owns the Pokemon character lincensing rights for any type of gaming.

Oh I'm sorry, my mistake.

Well done guys , we need developer like you for bright future of windows phone .

Developers will come when Microsoft creates a compelling platform that sells. Until then it will just be hacked apps that kinda, maybe work. This is all on Microsoft to innovate and stop releasing the same failed garbage.

But, his "kinda, maybe work" phrase was humorous.

Enhh no users no developers no developers no apps no users tell me how to break this chain

Switch to iPhone or Android. Maybe someday Microsoft will have a successful mobile platform, but it isn't going to be this one. Posted via the Windows Central App for Android

Not true. How many hours you've used Windows 10 mobile? The signature android wreck saying something ...

I have a 640 with W10 and a 1320 that I have used a for a few days each. They are like using a feature phone compared to my Nexus 6. Terrible experience. Live tiles are frustrating. The info they show is random and even if it is interesting, you cannot directly access it. You just hope it is easy to find when you open the app. You also cannot have a music tile or any other interactive tile. That is a big issue when you are used to real widgets. The app drawer is also so annoying. There is plenty of room to fit at least three rows of icons, but you only get one. It takes forever to scroll through and find what you are looking for. The browser is terrible. Edge is a bit better now, but still just gives you a Subaru experience and their is no way to fix that Apps are either missing, or if they do have one, it is so bad. The apps look like they are from Android circa 2011. This alone makes the phones unusable. There are so many other little things that all add up to a bad experience on Windows. Android has come so far just in the past few years. There is a reason it is 80% of the market and still growing while Windows phone is dying. Microsoft needs something new and innovative to have any success. Posted via the Windows Central App for Android

I don't understand how you think the app drawer is better on Android. You don't have to scroll through anything forever on W10M, you hit the aplhabet and just quickly jump to the letter subcategory you are looking for. It sounds like your interface complaints are mostly personal preference.

The app drawer can be anything you want on Android, including the Windows phone experience, so of course it is better. The Apple approach of "our way or the highway" isn't what I have enjoyed about Windows in the past. It isn't the right experience for Microsoft. Having to know the name and type it in isn't always optimal. Sometimes you are just browsing or don't know exactly the name or what you are looking for. Just adding two more columns would make the interface so much more usable, especially for someone who isn't familiar with the platform. I would always do this when using Windows phone launchers on Android. Why can't Microsoft add these customizations? Posted via the Windows Central App for Android

This is a place for Windows Fans and users. No need for you to be here.

I am a Microsoft and Windows fan, that is why I don't want to see them continuing with the dead end mobile platform. I want to see them release something new and innovative, not this same garbage that has failed 6 years running. Posted via the Windows Central App for Android

But its complicatec to download . Tsk.

But it really isn't. Takes all of five minutes. You know what's complicated? Setting up my 7.1 surround system with Xbox and Cable sources.

Hi Dan, with this update will we see one for Mr Gary's app too?

Honetly, I can not get it either. or seom reason I just don't see where are the files or file needed to download. I see a whole bunch of pull request, get request, source code a Zip file with a whole bnuch fo files, stuff I do not understand basically. I am jsut looking for an arrow or something that says here download this or these files and then follow the previosu instructions.But I do not see that. So I kind of agree, it is a little complicated. Can you help us.

You can find a video how to download, and i think its not complicated. Download 3 files, pair phone with PC, select files, press Go, and you are ready to play. You can even do it without PC... Good luck with installation :)

It must be complicated. After all we have a whole series on WhatsApp.

There's a link to instructions in the article.

In that case, I recommend you steer clear of most software download sites. Those crappy sites host ads that look exactly like the "arrow or something that says here download this" that you mention haha. Watch the video and follow the directions. It's not too difficult.

Turn on dev mode on your phone, and flip all the switches on. The go to the download and download the zip file on your phone that says ARM. Then download unzip from the windows store. Go to your downloads folder in your file explorer app. Open it with zip wait for it to unzip. The go the dev mode thing and find your phones ip remember it then type it into edge and ignore the security thing. Get the security code from dev mode screen type it in. Then go to apps on the menu and click the browse button under app package find the unzipped file and put the one that has 1.0.25 in the name. Then click add dependency 2 times and browse and find the two dependency's under the ARM folder under dependency's. Hit install wait for it and you're done.

Well, poop, that doesn't sound complicated at all!

So Dan, did the developers come to an agreement with Niantic that it's ok to have this app? I know the memo issued was for cheating apps but still. I don't want them to get kicked out again. Sigh Posted via the Windows Central App for Android

If you read the article, they are spoofing your phone as an iPhone so you don't get banned. This is not approved by Niantic. It is only s matter of time before they lock it down more.

If Niantic was smart they'd let the dev fully complete it then buy it from the dev for less than it would've cost them to develop it themselves & keep them on. They'd get more users for a bargain price & experts on the OS to continue development.

And if you do it right you don't even need to use a computer

String theory? I hear that's complicated also.

I just did it. It's pretty crap, but you can play the real deal just by downloading BlueStacks on PC and play it on android

Mine got it working with Nox Player, and sometimes it comes with Pokemon GO bundled.

Right. Kids go outside and play.

You have to go outside and into your neighborhood to play Pokemon. If you stay in your house, the game is useless.

Why would I want to go outside?

Not with a location spoofer...like on nox or bluestacks

If you leave the game running when at home, pokemon will appear

You've got to give it to them, they are determined!!!! Shame it has to be done this way in the first place, but hey, when there is a will, there is a developer who will find a Way!!!! Much thanks to them for giving Windows a chance!!!!

Niantic is fine with this?


This is my main question. I see no point in getting excited over this app if it's just going to get shot down again in a week or so.

There is a question if sooner or later, people use might get permanent ban. If I remember correctly it states that not just cheating apps but also now applies to "Pokémon Go" clients. So downloading and using this app needs more caution and have a high risk getting the account lost. So for people who already playing Pokemon Go on iOS or Android and already have higher level, this is not recommended yet. If you are just starting and just give it a test and don't care getting permanent ban, then this might not hurt alot to try.

They have the time to stop WM from accessing the game but not enough time to port it over.

They have will have to deal with at of even forced to make an official app. There is a big investigation hovering over Google (witch partially own Niantic) for blocking services for competing platforms - by the laws both in US and EU, your products should be available on top 3 platforms. Windows Phone is in top 3, so they qualify to get support.

And now i can't upgrade my 630 to w10m anymore ;_;

Buy a 640 they're dirt cheap and very good phones for the price

Why would you want to do that? W10M experience in L630 is worst than crap.

The official iPhone app is over 100MB.

try to bring all Google Apps this way and letc Google reaction.....

They will again block all the apps the way they did to Microsoft's YT app

Niantic will block again this Pokemon game but developers r stopping ? nooooooo... Google at one stage get tired and they develop app for us, atleast GMaps, YouTube.

You know what, I admire their determination. Well done to the dev. It may not be ideal but if there is a will, then why not. I suspect/expect Niantic to release another api update that might break this new workaround but until they do, let's catch em all on WP.

Downloaded it. It works but damn it's long way from completition... Playable tho.

Is this game updated through store or we have to do this installation for every update.

You have to install every update manually.

You have to do it manually, but to update you only need to extract and launch the .appx file since the dependencies are already installed.

Too bad they're trying to ban everyone not using the official app. I don't know what's up Nintendo's @$$.

It's not Nintendo. It's Niantic who is enacting the bans for users.
I hope Niantic will come to some sort of agreement with the developers to allow PoGo-UWP to work. Posted via the Windows Phone Central App for Android

Yeah, Nintendo has nothing to do it with it, they didn't developed and published the app but only Niantic just got some the rights, but they don't own it and their rights can be revoked anytime. Hopefully Niantic will just hire these developers and let them develop for W10M and give them the source code where they can make an official app.

If Niantic was interested in releasing a Windows app, they would just build it themselves. It isn't their ability to make the app that is holding them back.

Which is a legitimate argument of why Ninantic still haven't released a Windows app. Though I think several factors why we still don't have the app without going through conspiracies. - Maybe the resources wasn't really enough to hire a dedicated developer and build an app for Windows regardless of the bridge tools. Paying a developer isn't that all cheap and maintaining it cost more than just initial development. They still even working on existing problems with Pokemon Go already. - Likely that it was on the roadmap but they only prioritize the major two platforms at the moment. Unfortunately, our number is way too low (even though it sounds big to us) that its easier to dismiss us since the return is bigger and way more guranteed on iOS (more user are willing to spend cash and mindshare) and Android (currently the dominant in terms of marketshare). - Maybe that they're just more focused now on trying to solve server problems, availability and trying to limit the ways of people to cheat the game, ruining the gameplay experience. I'm not sure but Niantic isn't large enough to tackle multiple problems atm. Hopefully they will soon but this is really unfortunate problem to mobile ecosystem of Microsoft. With the existence of bridge tools though,they have less escuse not to make one.

It was built using Unity which has native iOS/Android/WP cross-party support with the same codebase. The fact it wasn't released wasn't due to needing a dedicated developer. As you said, we don't have the numbers for it. They don't need the bridge tools.

Oh yeah, I've been hearing about this and I almost forgot about it. Yes, Unity supports WP for a long time, many of our games in Windows Store are built from it. So this another less excuse not to make it (but I kinda understand why they can't atm). Still they have to hire a dedicated developer that is specialized for Windows development. iOS nor Android developer can't just simply recreate an app for Windows, its not that simple and they also have to at least be familiarize about if it they aren't. Having a specialized developer for Windows are likely able to produce better quality code than just having someone to temporary work on Windows and then abandon it when they published it, leaving few to no updates. (we had too many of this scenarios) Speaking on developers, I'm now wondering if how Microsoft is actively seeking students to develop apps on Windows as UWA. This is gonna tough though since Android and iOS devices are just way to prevalent that younger generation is more interested to invest their to those platform. Before I graduated from my university, Google was actively luring students to develop apps on Android and use Google development tools, every year. Microsoft also tried but only once and never came back for unknown reason, the Kinect demo was awesome though which is unfortunate it didn't push through.

Well, they cam stil count me in. I'm learning C++, but as soon as I'm ready to develop an app, my philosophy will be "Android and IOS users can go f*** them self" :) Posted via the Windows Central App for Android

They are trying to reduce load on their servers. Unofficial and cheat apps load on servers is making them put more work on server maintenance than developing/adding new features to the app/game.. That's what they said when they added encryption...

Nintendo doesn't have that much to do with this game. They are a minority shareholder of The Pokemon Company, meaning Pokemon isn't even truly their. Niantic developed it, not Nintendo. The Pokemon Company owns the IP, not Nintendo.

IP= intellectual property.

Tell me can i play this game on this app even if Pokémon go is not available in my country?

Thanks God, this Pokémon thing has diverted people's attention from Snapchat!

And your comment if bringing the snapchat attention back. Lol !

You know, instagram recently introduced instagram stories, so at least we have an alternative for now. I think instagram will eventually replace Snapchat, given the power it already has in social media. Posted via the Windows Central App for Android

Oh. I hope so. I would love for Instagram Stories to take Snapchat's lunch. Watch Snapchat finally offer their app on Windows. Ha, ha.

Yea, I realize that Mark is very aggressive in this regard. Buying whatsapp, stopping links from instagram to Twitter. I don't think they'll buy snapchat, cuz maybe think it's just a fad, but they'll definitely compete. Posted via the Windows Central App for Android

They tried to buy snapchat, but they wouldn't to the evil Zuckerberg.

[Unintentional duplicated post]

Yeah recently Instagram have similar Snapchat features already on iOS and Android. This is a feature that Windows currently lacks and still lagging behind unfortunately. Hopefully Instagram app will be "completed" soon having same parity and polish as the other platforms.

Just curious. Is it legal?

It is legal, but against the game creators' rules so risk of account ban.

So illegal then if its against the game creator's. You comment makes no sense as its not legal. As you stated in your comment.

There's a difference between illegal and against the rules. It's not illegal to cheat on Xbox live, but it's against Microsoft rules.

How could something be against the rules yet legal?

Ok so you go to a swimming pool and there's a sign saying 'no running'. If you run, you might get kicked out by the pool company, but you cannot be arrested by the police for it. Against the rules, but not against the law.

Nope. Devs could bring a case with CFAA and IP infringement. Likely they would go against businesses that promote these apps though before individual users.

Lol, you're so stupid it's sad.

Good question. Because apparently windows central only show legal stuff on here... Or so they say ;)

It's legal, but against the tos, so you could get banned for using it.

But if its legal, then why can't they just upload it to the store?

Well for one, it's not complete. For another it's against the terms of service for the game. Anyone downloading it would get their account banned.

Well it's not ILLEGAL, just like its not illegal to count cards in a casino but in both cases if they catch you, you could be banned...

It is illegal to access & use private properties without permission.

It's not private.. anyone has access.

The use of the Pokémon images, that's against copyright which is illegal. Bear in mind Niantic has a license from The Pokémon Company to use these copyrighted materials, the PoGo developer does not. Therefore the PoGo developer is breaking the law, but Niantic has express permission from the copyright owners so isn't breaking the law.

The devs aren't using the images in anything buy maybe an icon, which you be the only issue. When I access a website, the creators of the browser don't need the permission to use any images. You dope.

Actually no. The way in which this app is being targeted means it would not come under Fair Use. Therefore it is copyright infringement. Now if it was being used for review purposes (say to show how it used to look), then that WOULD come under Fair Use. Same as if it was being used for educational purposes (say to teach people how to build games like this). This however is not. When you're accessing a webpage in a browser, the images loaded come with a license to view them (unless the website creater is breaking the law). So that is a poor analogy to use. The end user might not be breaking the law, but the person who made this sure is. So therefore the app is illegal.

It is private. Even if you leave your door unlocked it does not make stealing legal.

Poor analogy. You don't understand the internet.

God you're dumb. The people accessing anything are Pokémon users with accounts. The developers aren't accessing any properties illegally.

Question was whether app is legal or not. App is not legal. It uses Niantic backend without permission. Distributing illegal apps might not be walk in the park either. Or selling ads to webpages having links to illegal apps, that's how torrent sites monetize and WC is now not much different.

Out your whole comment, your first sentence is the only factual one. Come back when you can back up anything you say.

Wow this team has a lot of passion. MS should hire them to make apps for WP, since the current team at MS is interested only in iOS and Android.

I don't mind the Microsoft team developing for those other OS, but I do mind them ignoring the Windows fans. Every new release should be treated at least the same, and issued as a Windows universal app at the same time. Such disrespect!

Groove is supreme on WM10 though. Kudos to those guys!

Lol nice, i never know that I can check CPU, GPU and RAM usage on Wndows phone/ Windows10 mobile :D And now I see, I can.. and through PC :P

Use this app. You have to enable developer mode which you have already done..
Device Diagnostics HUB
https://www.windowscentral.com/e?link=https2F%2Fclick.linksynergy.co...

why isn't the developer releasing the app normally on the store?

Microsoft would reject it. And even if the submission gone through, Niantic will file takedown requests.

I can see Nianting not being ok with that but why would Microsoft do that?! It might also be a good way to make Niantinc aware of the windows situation..

Research this 'app' a bit more closely. Hell will freeze first, unless niantic play ball (unlikely)

Will it always looks like this? (lik sh*t compared to original version) Dont get me wrong I am grateful to these guys but if they can copy the code, cant they copy the UI also ?

They don't copy the code. They write the code from scratch using publicly available, and unofficial, 3rd party api.

They are not copying the code. They are reverse engineering the code. Copying the code and UI is copyright infringement.

How to install it on Windows 10 Tablet ? Cuz it says certificate error while deploying an app... And im doing it by same way as in video, through device portal

How to install in 8.1 phone??

It's a Windows 10 UWP App, so... not possible on 8.1.

Lol they just down voted you for asking ?

Lol... Windows phone/mobile fans are a angry bunch

Not interested in Pokémon Go.... But i truly admire the developers dedication in spite 0f Niantic's memo!

Why aren't they uploading to the store?

see above post about it will be flagged for removal by niantic

Mmm, really. Pay more attention when reading the news item

I know what happened, and I am curious why this one can't while every other third party clients can. Even before Niantic's influence this needed to be side loaded.

Its not an offical app cause theyre making an illegal one. Instead of going to nintendo and asking "hey can we make this app official on windows phones?" Theyre going behind their backs and making it.

Pretty sure you've gone and said this on another article too. It isn't illegal.
They are reverse-engineering the code, not copying the code in the slightest.
They aren't making any money out of the app (as if they were... then it would be an illegal matter), and they aren't claiming it is the original. Don't get me wrong, this is against the rules that's been put in place, hence why there is the risk of people playing this of having their accounts banned. However the devs of the app aren't going to find themselves locked up anytime soon due to "making 'illegal' apps". And individuals who use the app aren't going to find themselves sued for playing on a third party app.
There's a huge difference between it being against the rules, and it being illegal.

Actually as I mentioned above, it is illegal. The Pokémon images, they are copyright of The Pokémon Company, which have granted a license to Niantic (but NOT the PoGo developer) to use the images in their app. Thus, Niantic are in the clear, but PoGo-UWP is infringing on copyright. The Pokémon Company CAN sue, and I expect they will if this keeps on much longer. Doesn't matter if they're making money off it or not, it's still not under the terms of "Fair Use" what PoGo-UWP is doing and they can still be sued.

Actually, you don't understand how any of this works.

I don't know what the law is like where you live but I can assure you this is illegal where I live. It's not the code itself breaking the law, it's the images they're using. So please, don't be so condescending about this.

You are seriously thick headed. Nothing about the app is illegal. Go give back your fake law degree, and go get if the internet.

"nothing about the app is illegal" That's why I'm asking why not uploading to the store

Geez guys Just drop this pogo what what and focus on UWP apps that are useful and that are not blocked by updated Niantic servers lol

Hey! it works! It works perfectly on my Lumia 630.

I'm not really that much hyped with Pokemon. But Niantic might want to hire these awesome developers for bringing the official UWP version of this game! :)

I remember everyone jailbreaking their iPhone back in the day so that they could do ordinary things like block withheld numbers or record phone calls. Apple released these things and jailbreaking became kind-of obsolete. The same could happen with this game. If people keep releasing unofficial apps, then Niantic might release an official one.

Niantic developers announced that using any third party app will lead to permanent ban of the accounts

I have more important things to do than chase fictional characters around, using an app that, quite clearly, crosses the line. I understand what the devs are trying to achieve, but the manner is somewhat dubious.

Lets think about what you said, chasing around fictional characters. Ever played Grand Theft Auto? That's chasing around fictional characters. Two games I am playing at the moment are King of Thieves and Dragon Mania Legends. In KoT, you have to evade fictional traps to get to a fictional treasure chest to steal fictional cold and gems. In Dragon Mania, you have to breed fictional dragons, collect fictional gold and fictional food... oh you get the point.

I think its a damn good effort, not of interest to me to play, but love that this has been done, W10m not to be beat !!!

We want a video editing app like "Viva Video".

I love how the article is very professional. Then the last line is "some animations just suck".

If they could do another game with real fun, you know, with pokemon that can fight with their attack, duel with other people, trade, maybe even some play with your pokemon like cuddle or something for those who don't like battle.
Nintendo and Niantic could have done a masterpiece with the pokemon licence, they just did a boring adictive casual game...

This is still not an offical app i wouldnt try and get it, your putting yourself at risck of being hacked and banned by nintendo. Theres no point in trying to download it cause its an illegal app

Hacked? Shut up lady, you don't know what you're talking about.

Have to say the effort these various devs are putting into this app is astonishing. I'm not really interested in downloading this app/game, but its nice to see a huge effort from a lot of developers (I assume this app is still open-source). Just a thought, but why don't they try contact Niantic and see if they can come up with a deal? I mean, Niantic doesn't seem to want to make an app for Win10m, at least not in the close future, maybe due to development costs for a lower market share. But if would it be so difficult for them to just review the app to make sure its not got any cheating mechanics' to it, maybe even just give restricted access (So its not then passed to any other third party app) to their API, and all of a sudden they haven't had to pay as much for the development for the platform, and people are happy. :P

How i can download this game

Game is for US and UK only?

I tried to install it on my 950, and it have an error every time I tried. So I have up. (I did follow the instructions)

it's crashing on "GETTING USER DATA" screen.
every single time.

Guess because your PTC account has been wiped/reset by Niantic. I had the same issue, so I started from scratch using my Google account this time.

Disconnect Wi-Fi and play with data. That fixes most connection issues.

Love this! You guys are so talented!

Pokemon Go will finally be on Windows Phone in 2 to 3 years. That is, if WP lasts that long. By then the whole world would have moved on. Think Candy Crush.

Just curious, any one get banned?

Not yet. Day 3 and 19 Pokémon later.

Nice, same account play with Andriod and WM phone

How do you throw at a Pokémon now? It used to hit every time, now it always misses.

You just have to be careful where to point those fingers ;)

got a s7 edge and when you use the apps you know why windows is strugling. Hell i have a app that puts speaker phone on when away from my face just like gestures on windows 8.1 mobile did and windows 10 mobile still doesnt do, android pay, pay pal app thats left windows here maps with here go and my favorite 2 apps google maps and you tube i even have a bank app, and yet the s7 is a great phone but lacks notifications in a huge way thats why im retruning it and going back to my 930 lol but i hope the s8 sorts it out caisuse truth is apps are miles apart from windows mobile and android and itds not a good thing. This looks like a great app for pokimon but why have we not got the origional, well thats because windows sceewed everyone over with onedrive then released a all plastic looking flagship phone, i understand their stratagy but in the meantime, here maps, paypal have left windows mobile so has alot of hard core users and we are left with 1% share, thats thks to micrsofts stratagy. Now its gona be harder to win back developers.Pokimon is a bit pointless now as most people thats been playing with it had their 4 weeks and now dont lol so we missed the social buzz time anyway. If only apple or android made a proper os for desktops that placed games up front and centre like windows pcs, i really think the pc would be dead then. Exept in businesses for a while anyway.

bla bla bla natter natter natter

I can't any pokestop or any pokemon nearby ... the map is just empty. Is this normal ?

No. The map should only be empty for less than a minute while it populates. I've got loads of Pokémon now 2 days and I've been to a few stop around my home.

Seems a big improvement but I can't sign in with my PTC account, only logging in using Google works, and I don't have any progress on there. Is my account banned? It just crashes when I try to sign in.

Shout out to all devs that work hard to close the app gap on Window 10 mobile.

I never try the version before. But after i installed this version and found an interesting features, live tiles. Looks like the developers borrow the live tile features of Microsoft people and implement in this version of PoGo. Neat feature and I'm now catch Pokémon to "decorate" my start screen. Pokémon master is not my aim though. Has to agree the animation is quite a downside.

thanks for the super effort in getting this back on WM10. the app works a treat. 950xl

Just a heads up. My account got banned for using this app. I received an email from Niantic regarding the ban.
Windows Central Newsletter
Thank you for signing up to Windows Central. You will receive a verification email shortly.
There was a problem. Please refresh the page and try again.