Poll: Are you planning to buy a Surface Laptop 4?
Thinking of ponying up for Microsoft's latest and greatest?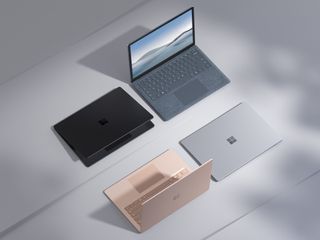 (Image credit: Microsoft)
Microsoft has officially announced the Surface Laptop 4. It offers 11th Gen Intel CPU and AMD Ryzen 4000 CPU options and stylish design updates for the Surface line of laptops. However, those two perks come at a cost — a literal one.
The Surface Laptop 4 starts at $999 and only goes up in price from there if you want anything more than the bare minimum configuration. If you love the Surface line, prefer to have the latest iterations of tech possible, and crave the power of, say, an AMD Ryzen 7 4980U CPU or 11th Gen Intel Core i7-1185G7, then the decision's a no-brainer. But for those who are undecided: which way are you leaning?
On the one hand, the Surface Laptop 4 is a cool machine. On the other, having to spend four figures for an incremental upgrade of the Surface Laptop 3 might not cut it for everyone. It's not like the CPU upgrades are a game-changer, and the aesthetic updates also don't reinvent the wheel. Are they enough to sway you, though?
Alternatively, if you've yet to adopt a Surface laptop, does this one look like it's the perfect fit for you? If you've yet to dip your feet in the Surface pool, we'd love to hear about your level of interest in Microsoft's latest model.
Whether you're a Surface veteran or a curious onlooker, let us know your thoughts! And in the meantime, keep it tuned to Windows Central for all the latest Surface Laptop 4 news.
2021's Surface
Microsoft Surface Laptop 4 (2021)
Upgrade time

Microsoft's Surface Laptop 4 brings 11th Gen Intel and AMD Ryzen 4000 CPUs to the table, in addition to some sleek aesthetics and an improved battery life over previous Surface models. If you want Microsoft's newest machine, here it is.
Windows Central Newsletter
Get the best of Windows Central in in your inbox, every day!
Robert Carnevale is the News Editor for Windows Central. He's a big fan of Kinect (it lives on in his heart), Sonic the Hedgehog, and the legendary intersection of those two titans, Sonic Free Riders. He is the author of Cold War 2395. Have a useful tip? Send it to robert.carnevale@futurenet.com.
Nope, I still think the Surface Laptop is a device meant for fanboys over anything else. If it were a 2-in-1 to compete with the XPS, Yoga, and x360 devices, I'd consider it. Instead, we have a Windows-powered Macbook--overpriced, antiquated, clamshell design (which really makes the suggestion of buying a Surface Pen for this thing kind of a joke), and mediocre internals. The AMD configurations suck, given you can only get Platinum and the memory configs aren't good. You're also left to an "upgraded" version of a year-old CPU, not the latest from AMD while Intel's stuff is their newest. I want a laptop that's good for productivity, not a fashion statement.

Well, this is (obviously) a Microsoft Fanboy site, so your comment is not going to be very popular. "I want a laptop that's good for productivity, not a fashion statement." The fact is, pretty much ANY recent Windows laptop will be fine for "productivity" today. I (and my wife and daughter, when we still need Windows) are using 5 year old Lenovo laptops. They have 17.3" 1920 x 1080 screens, 8 thread (4 core) 2.4 GHz i7 CPUs, 16GB RAM and came with 1 TB hard drives. I paid $650 for each of them. I replaced the HDs with 1TB SSDs in the last 12-18 months or so. So, less than $800 total for each. They run Windows 10 and any apps just fine. If I was in the market for new Windows laptops, I would not even consider Microsoft. Way overpriced. A laptop with these specs from MS would be $2,400. Which is more than what I have invested in all 3 of our laptops.

"Well, this is (obviously) a Microsoft Fanboy site, so your comment is not going to be very popular.", is it though? I generally see more criticism (or at least sometimes critical views) than fanboys. I do agree mostly about the productivity thingy though. "A laptop with these specs from MS would be $2,400.", well same goes for Macbooks Pro's and other premium laptops. They are definitely not meant to be bang for buck but they also do not need to be. Just like there can be premium cars; I would probably never buy one but still lots of people do and these expensive laptops are just fraction of those expensive cars.

I would trade my Envy x360 for a Surface laptop in a heartbeat, knowing that with Microsoft I get far better software and driver support than with HP (which abandons a device after 1 year or so).

If you have that HP support assistant app it usually fixes issues. I do not have many issues with my Envy laptop except it lacks precision TouchPad drivers.

My spouse strongly prefers the clamshell design. She wants to be able to sign things with a pen on occasion, a beautiful design, a great keyboard (for an ultrabook) and trackpad, excellent videoconferencing, and high reliability. She got that in a Surface Laptop 3 in early 2020. She doesn't give a crap about Windows or Microsoft. This was her personal purchase, but her company also provides Surface Laptop 3's for those working at home who need it - probably because of the enterprise features. If it doesn't fit for your needs, that's fine--don't buy it. But your complaints sound more like sour grapes than anything.

Yeah while I do not really mind that it misses the new AMD refresh I totally agree about that hinge.

As someone who isn't a "fanboy" I think this is the perfect laptop. Things that I care about are 1) performance 2) design. There's not a single windows laptop other than the Surface Laptop that I think is appealing visually. This is the perfect release. Huge performance improvement over previous versions, and still the best looking windows based laptop on the market. Literally the only thing to me that would make it stand out amongst both apple and pc manufactures is if it had far smaller bezels. But the bezels aren't even that bad when looking at it in person. I ended up getting the 15" Ryzen 7 16gb in black. I would have waited for the Windows Central Review but I wanted those free Earbuds 😂.

Totally agree. This is the perfect laptop for me (held back on the SL3 last year when I heard the SL4 was coming). Pre-ordered the no compromise 15" Intel i7 with 32gb / 1TB. Got the free Earbuds and also ordered the Dock 2.

Dang, that awesome. Enjoy! What colour?

Not had the Surface Earbuds before? I think you will find them interesting. In my experience they have a feature that makes them perfect, or hated, depending on your expectation, or need. For me, they have no sound isolation at all. It's clear they don't do noise cancellation, but they don't cut of any outside sounds like most in-ear buds. For my use, this is perfect. I can participate in a VTC, hear myself, and hear others around me. That may not be what you want, but for me it is ideal. Maybe not ideal trying to do a VTC from a noisy environment, but from an office or home, perfect.

Touchscreens are great even with clamshell form factors.

I am quite happy with the Surface Pro, a laptop would be a downgrade.

I use Thunderbolt daily, until Microsoft decides to catch up with the rest of the PC World, I'll pass.

OK, why Thunderbolt? Because you can, or because there is something specific it does, that you need, that the Surface connector/dock or USB-C doesn't support?

That's a simple answer, External GPU. Which I use for programming shows at home without ridiculous slowdown.

Just like the target market for premium ultrabooks! Stupid MS!

One thing that I've noticed more and more are people (especially on sites like this) that are trying to diminish the criticisms given towards Microsoft hardware. The criticisms are not based on anger but frustration/disappointment. I WANT to buy a surface... But at this price it's really unacceptable for Microsoft to put in AMD's previous gen CPU and not have features such as thunderbolt or usb 4 (i understand thunderbolt does not work on AMD) and have such an outdated design. I'm also starting to get very critical on the opinions given by WC. Reviews for the devices have not come out yet but i feel you have to punish their score based on the lack of improvements / hardware configuration options they have given us. Again this is not anger but frustration due to what I think is semi poor execution on what could have been a great product .

"But at this price it's really unacceptable for Microsoft to put in AMD's previous gen CPU and not have features such as thunderbolt or usb 4 (i understand thunderbolt does not work on AMD) and have such an outdated design." That's just your opinion.

No that's a hard fact. Paying new device prices to get old-gen chipset is one of the biggest mistakes you can make when buying tech hardware.
Windows Central Newsletter
Thank you for signing up to Windows Central. You will receive a verification email shortly.
There was a problem. Please refresh the page and try again.