Microsoft announces Surface Laptop 4 with AMD Ryzen 4000 and Intel 11th Gen processors
Microsoft is giving its Surface Laptop line a refresh with new processors, an Ice Blue color, and more configurations. They go on sale starting today.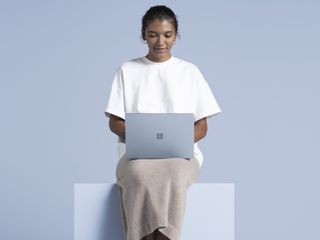 (Image credit: Microsoft)
Microsoft is giving the Surface Laptop a mild refresh with new processors from AMD and Intel. As always, this generation promises longer battery life and improved performance, but this time it looks to be significant thanks to those newer processors.
While the Surface Laptop's overall look remains the same, save for the new Ice Blue with Alcantara for the 13.5-inch, there are numerous new configuration options available. There is also now wider availability of the previous 'business-only' Intel models for consumers. Conversely, businesses can now buy AMD Surface Laptops.
The laptops are now available to order in the US, Canada, and Japan with other markets in the coming weeks.
Surface Laptop 4 (2021): What's new
Let's cut to the chase and go over what is new. Microsoft is sticking with the existing formula for the 13.5 and 15-inch models while making minor adjustments:
Intel 11th Gen Core processors with Iris Xe Graphics
AMD Ryzen 4000 and Radeon Graphics Surface Edition
Up to 32GB of RAM and 1TB storage (Intel only)
No more 128GB option (256GB or higher)
Dolby Atmos spatial-audio
Ice Blue with Alcantara (13.5-inch Intel only)
Consumer availability of AMD and Intel models
Commercial availability of AMD and Intel models
Up to 70% performance improvement
Battery jumps from 11.5 hours to 17 to 19 hours
Slightly faster Windows Hello login
15-inch models are only Core i7 or AMD Ryzen 7
Same $999 starting price (AMD Ryzen 5, 256GB, 8GB)
AMD models now have Wi-Fi 6 and LPDDR4x
Interestingly, while the AMD models of Surface Laptop 3 were readily available for consumers, those who wanted Intel for security or performance reasons had to go through Microsoft's business channels to acquire one. That's changed as now consumers and commercial channels have access to both AMD and Intel models.
The same goes for commercial channels as they can now go with either processor brand and get Windows 10 Pro (instead of Windows 10 Home), which is why they run $100 more.
Microsoft is still not budging on Thunderbolt 3 or 4 and instead is sticking with its Surface Connect for docking or Type-C. There are also no options for 4G or 5G or any other changes to the display, size, bezels, or ports.
But at least the AMD models get Wi-Fi 6 and LPDDR4x RAM this time.
Surface Laptop 4: Specs, pricing, and availability
The specifications are mostly the same compared to Surface Laptop 3 save for the new processor options, of which they are plenty, especially when you consider both consumer and commercial channels.
Swipe to scroll horizontally
Category
Surface Laptop 4 (13.5-inch)
Surface Laptop 4 (15-inch)
Operating System
Windows 10 Home or Pro
Windows 10 Home or Pro
Display
13.5-inch PixelSense
3:2 aspect ratio
2256 x 1504 (201 PPI)
15-inch PixelSense
3:2 aspect ratio
2496 x 1664 (201 PPI)
Processor
Intel i5-1135G7
Intel i5-1145G7 (Commercial only)
Intel i7-1185G7
AMD Ryzen 5 4680U
AMD Ryzen 7 4980U
Intel i7-1185G7
AMD Ryzen 7 4980U
GPU
Intel Iris Xe
Radeon RX Graphics
Intel Iris Xe
Radeon RX Graphics
Memory
8GB, 16GB, or 32GB (Intel)
LPDDR4x (3733MHz)
8GB, 16GB, or 32GB (Intel)
LPDDR4x (3733MHz)
Storage
256GB, 512GB, 1TB SSD (Intel)
Removable
256GB, 512GB, 1TB SSD (Intel)
Removable
Front Camera
720p
720p
Security
Windows Hello face authentication camera, Firmware TPM 2.0
Windows Hello face authentication camera, Firmware TPM 2.0
Connectivity
Wi-Fi 6: 802.11ax compatible
Bluetooth 5.0
Wi-Fi 6: 802.11ax compatible
Bluetooth 5.0
Ports
1x USB-C, 1x USB-A, 1x Surface Connect, 3.5 mm headphone jack
1x USB-C, 1x USB-A, 1x Surface Connect, 3.5 mm headphone jack
Battery
Ryzen 5: Up to 19 hours
Core i5: Up to 17 hours
Ryzen 7: Up to 17.5 hours
Core i7: Up to 16.5 hours
Weight
Up to 2.84 lbs (1,288 g)
Up to 3.4 lbs (1,542 g)
Colors
Alcantara: Platinum or Ice Blue
Metal: Matte Black or Sandstone
Platinum metal, Matte Black metal
Pricing gets exceptionally complicated due to the sheer number of models and variants available. It's a good sign, though, for Surface Laptop as Microsoft must be selling enough to warrant offering so many versions.
First up are the consumer SKUs, which will be available wherever Surface Laptops are sold, including online and in physical stores:
Surface Laptop 4 (13.5-inch) Consumer
Swipe to scroll horizontally
| Features | Colors | Price |
| --- | --- | --- |
| Ryzen 5, 8GB RAM, 256GB | Platinum | $999 |
| Ryzen 5, 16GB RAM, 256GB | Platinum | $1,199* |
| Core i5, 8GB RAM, 512GB | Platinum, Blue, Black, Sandstone | $1,299 |
| Core i5, 16GB RAM, 512GB | Platinum, Blue, Black, Sandstone | $1,499 |
| Core i7, 16GB RAM, 512GB | Platinum, Blue, Black, Sandstone | $1,699 |
| Core i7, 32GB RAM, 1TB | Black | $2,299 |
Surface Laptop 4 (15-inch) Consumer
Swipe to scroll horizontally
| Features | Colors | Price |
| --- | --- | --- |
| Ryzen 7, 8GB RAM, 256GB | Platinum | $1,299 |
| Ryzen 7, 8GB RAM, 512GB | Platinum, Black | $1,499 |
| Ryzen 7, 16GB RAM, 512GB | Black | $1,699 |
| Core i7, 16GB RAM, 512GB | Platinum, Black | $1,799 |
| Core i7, 32GB RAM, 1TB | Black | $2,399 |
*Note, the 13.5-inch $1,199 Ryzen 5 model with 16GB of RAM and 256GB of storage is not available until ~8 weeks after launch.
Next up are the commercial SKUs, which are available through Microsoft Business channels. The only differences are even more configuration options (e.g., Ryzen 7 in 13.5"), and these ship with Windows 10 Pro:
Surface Laptop 4 (13.5-inch) Commercial
Swipe to scroll horizontally
| Features | Colors | Price |
| --- | --- | --- |
| Ryzen 5, 8GB RAM, 256GB | Platinum | $1,099 |
| Ryzen 5, 16GB RAM, 256GB | Platinum | $1,299* |
| Ryzen 7, 16GB, 512GB | Black | $1,699 |
| Core i5, 8GB RAM, 256GB | Platinum | $1,199 |
| Core i5, 8GB RAM, 512GB | Platinum, Blue, Black, Sandstone | $1,399 |
| Core i5, 16GB RAM, 512GB | Platinum, Blue, Black, Sandstone | $1,599 |
| Core i7, 16GB RAM, 256GB | Black | $1,599 |
| Core i7, 16GB RAM, 512GB | Platinum, Blue, Black, Sandstone | $1,799 |
| Core i7, 32GB RAM, 1TB | Black | $2,399 |
Surface Laptop 4 (15-inch) Commercial
Swipe to scroll horizontally
| Features | Colors | Price |
| --- | --- | --- |
| Ryzen 7, 8GB RAM, 256GB | Platinum | $1,399 |
| Ryzen 7, 16GB RAM, 512GB | Black | $1,799 |
| Core i7, 8GB RAM, 256GB | Platinum | $1,499 |
| Core i7, 8GB RAM, 512GB | Platinum, Black | $1,699 |
| Core i7, 16GB RAM, 256GB | Platinum, Black | $1,699 |
| Core i7, 16GB RAM, 512GB | Platinum, Black | $1,899 |
| Core i7, 32GB RAM, 1TB | Black | $2,499 |
*Note, the 13.5-inch $1,199 Ryzen 5 model with 16GB of RAM and 256GB of storage is not available until ~8 weeks after launch.
Surface Laptop 4 is now available starting today and begins shipping Thursday, April 15 in the US, Canada, and Japan, with additional market availability in the coming weeks.
Bonus: Free Surface Earbuds (Thru 4/15)
As a special bonus for Surface fans in the US who purchase Surface Laptop 4 online through Microsoft or Best Buy before April 15 will receive Surface Earbuds for free from Microsoft.
Related to the Surface Laptop 4 announcement, Microsoft announced an array of new connected-office accessories (headphones, speakers, webcam), Surface Headphones 2+, and a wider Surface Duo availability.
Stay tuned for our full review to see if Surface Laptop 4 makes our best Windows laptops list.
AMD or Intel
Microsoft Surface Laptop 4 (2021)
The choice is now yours

Surface Laptop 4 brings options for Intel 11th Gen or AMD Ryzen 4000 Mobile processors in both 13.5 and 15-inch models. With Dolby Atmos, Iris Xe, or Radeon Graphics, much longer battery life, the new Surface Laptop 4 should deliver an excellent experience.
Windows Central Newsletter
Get the best of Windows Central in in your inbox, every day!
Daniel Rubino is the Editor-in-chief of Windows Central, head reviewer, podcast co-host, and analyst. He has been covering Microsoft since 2007 when this site was called WMExperts (and later Windows Phone Central). His interests include Windows, laptops, next-gen computing, and for some reason, watches. Before all this tech stuff, he worked on a Ph.D. in linguistics, watched people sleep (for medical purposes!), and ran the projectors at movie theaters because it was fun.
The SSD sizes for AMD is a ridiculous unfair choice

Agreed. You'd have to settle for 8GB RAM to even get 512GB in disk space on the 15-inch version. I'd rather just use cloud storage/external media than give up 16GB of RAM.

They obviously tiered it so there are few 1:1 AMD vs Intel models. I think it is also clear that Microsoft is still leaning hard on Intel as those are the only ones with multiple color options in the 13-inch range. OTOH, the $999 entry-level model is now 256GB whereas for Laptop 3 you only got 128GB for a Core i5/8. You now get a Ryzen 5 with 8GB, which is a really good upgrade and likely a model that will sell a lot. If you hate the SSD option, like on Laptop 3, just upgrade it yourself.

Hopefully the thermals on the 13-inch Ryzen models will be better than on the HP Envy laptops.

Think we'll get a review before the 15th so I can get my surface earbuds if this laptop is worth getting? :P

15th will be tight as we are waiting on our (late) review unit.

Kind of a miss opportunity to not have an 8 core Ryzen CPU model for the consumer version of the 13.5" model.

Also the storage+RAM options are garbage for the AMD consumer models.

May be a thermals limitation. The Surface Laptop is still fundamentally and Ultrabook. They would need something like a Surface Laptop Pro for that.

Huh. Is there no AMD chip that directly competes with the performance-equivalent Intel in terms of thermals? The AMD trolls in YouTube comments must be giving me a false impression of AMD's offerings. Or maybe they're right, and the Ryzen 5 is nearly as fast as the i7, and the Ryzen 7 is just a bad fit as it's too powerful for the (consumer) market segment MS is going after?

If you look around at the 8-core Ryzen laptops available, they are not Ultrabook form factor. They are usually beefier, with much more robust cooling solutions. I don't believe I have encountered an 8-core Ultrabook form factor yet, either from Intel or AMD.

AMD has a U line and a H line like Intel, the beefier laptops use the 8 core H series CPUs, while the slimmer laptops use the U series that also go up to 8 cores and consume and produce as much energy as their other tiers and Intel U series CPUs. There are in fact slim laptops with 8 core AMD CPUs, most models that have a R5 6 core will have a R7 8 core in the same body.

Interesting. So the enterprise Ryzen 7 Surface Laptop might be a bit of a beast, at least in ultrabook terms. I wonder what the cooling solution is. Looking forward to hearing more.

The commercial version has the R7 version, so thermals isn't an issue, it's just the cheaper more easily accessible consumer version that doesn't have.

Of course... the Ryzen 7 13.5 version is out of stock already haha.

Whelp... now it says it's in stock... BUT... the business store versions don't come with Surface Earbuds 😂 oh joy. I guess I can wait for that review then... :P

Oh sweet! I was worried that the commercial version of the 15-inch, i7 would be significant more expensive than the i5 version on the Laptop 3. But nope, they're about the same price as what we paid before. Hopefully, now the Laptop 4 is out, we can continue to get 3 at an even cheaper price.

Sorry I know I'm commenting alot... Daniel: Any clue what the actual GPU is in the Ryzen APU? When they came out with the first AMD/Microsoft Surface Laptop model they really highlighted their custom GPU (was it the Vega 12 mobile?) any clue what's in this and if it's improved over that version at all or the same thing?

Will find out maybe later tonight when it arrives. MS simply says "AMD Ryzen Mobile Processors with Radeon Graphics Microsoft Surface® Edition (8 cores)." That's for the Ryzen 7. Ryzen 5 is 6-core.

In 3rd gen the regular SKUs had a disabled core, however now current SKUs have every GPU core unlocked (for the R7 version), so don't expect anything different.

I was a fan of the physical design of the SL3 so I'm not disappointed at all by only seeing internal bumps. I really think it's the prettiest laptop in a market full of pretty laptops. Glad to see more AMD choices here. But 70% performance improvement ... comparing what to what? That sounds a bit outrageous. I know 11th Gen Intel is a good step up, but not a 70% step up. Maybe they're referring to the AMD chips? Anyway great rundown.

"But 70% performance improvement ... comparing what to what?"

Last-gen Laptop 3. Those are the numbers even Intel quotes for GPU improvement between Xe and Plus; CPU is more around 15-20% between 10th and 11th Gen. AMD would be as good if not better than Intel. We'll see.

Ah, so it's "just" the GPU. That's amazing, but it's not a 70% bump in "performance." And yes I can bet the AMD improvements would be larger given the gains they've made in the past couple years, which are also impressive.

Really curious how well that AMD Ryzen 7 4980U is going to perform.
Would have been nice if there was a microsd slot too though besides the SSD hatch, I really like that of the Surface Pro and Go models for cheap local storage (hopefully MS will not ditch that on future models).

Very curious what "Radeon Graphics Surface Edition" means. Minus that, it would seem like making a decision between awesome integrated graphics (XE) vs awesome multi-core (Ryzen 7 8 core). Also, if keeping it at Zen 2 helped keep the price down against Intel, that decision makes sense.

As always, Surface Laptop value looks very poor. The AMD options aren't configured well, which sucks. They're not even up for order with the Intel versions right now, the RAM configs are poor, and you can't get different colors. They're using last-gen AMD chips, as the rest of the market starts putting out Ryzen 5000 (though still Zen 2-based). I would like to upgrade from my 4500U-based laptop, even though it's only a year old. Getting basically the same class of chip at a higher price a year later? Sad to see, as I was hoping to see Microsoft consider AMD for the Surface Pro this year. If they're still screwing customers for liking AMD on the Laptop side like this, I can't see any way they'd go to AMD for the Pro. Oh, well, I'll have to keep buying from someone who will give me better CPUs in my devices.

Consumers and businesses don't think it's bad value. It's a premium device with a premium price tag. Turns out lots of people want that, including my spouse and I. I hear you on the AMD configurations though.

Surface Laptop has always offered a bit poor value because it lacks a way to intuitively make usage of its a digitizer (/no 360° hinge) in contrary to the Pro, Go and Book lines. This iteration might actually be one of the better ones considering we at least (finally) get access to a good AMD chip (as in faster than Intel) in a premium body. I personally still would not buy it but I wouldn't call it a bad deal this time around. Also while I agree the AMD configurations are disappointing for some power users; 16 gb ram in an ultrabook is nothing to scoff it. Even at 12 gb ram I can do lots of heavy work without lag.

Hey Daniel, at 19 hours of battery life (Am I reading that right?), I'm curious on your thoughts for the benefits of a Qualcomm competing product. Given an equal size battery, is there still a case for Arm in the Windows world?

Was thinking the same. This was my biggest issue when MS made the last big push into WoA: I figured that the next gen of Intel chips would be almost on par with ARM chips in terms of Windows battery life (albeit maybe without 5G) with none of the power or compatibility limitations. That's pretty much happened. Also, Intel greatly improved their video and videoconferencing performance (which was way worse than ARM). For those of us who don't need cellular, and also those who need a bit more power, the benefits of ARM (ignoring compatibility issues) aren't so obvious.

that number is based on video stream, not real-world usage. I'd guess real world will fall between 7-10 hours of really pushing it. Can probably hit 10+ if using casually. re: Qualcomm, it's true that gap between Intel/AMD and ARM is closing, but ARM can still go into thinner devices and be 100% fanless. We'll also see new ARM chips this fall that will narrow the performance gap even more. (ARM also gets you "free" 4G/5G on the SOC).

Yeah, those shades of detail are important. But think about it: 7+ hours of really pushing it is ... pretty dammed good. I haven't been out and about with my SP7 for obvious reasons, but really pushing it on my (fanless i5) SP5 gave me 5-6 hours of battery life, and less if "really pushing it" included Matlab. And that kind of really pushing it would call for more power than WoA has delivered so far. Looking forward to hearing more WoA developments though.

I'm pretty sure you took "really pushing it" the wrong way

TB would require a larger change but shame it doesn't have USB4 instead.

USB 4 is still ... complicated. It requires Intel cert if I remember (for the cables) and is very similar to TB3.

I don't get why they only have 32Gb with 1TB SSD which makes it $600 jump from 16/512. Why not to provide i7/32GB/512GB option which will be adequately priced without wasted SSD space/money for consumers?

Same displays as the 3? Without anti-reflective coating?

AFAIK. If they did it, they're sure not talking about it. I'll find out later today, but I'm definitely not holding my breath.

Thanks for the reply. Guess I will wait for your review.

It's great to see the surface earbuds for free but having to order by 4/15 is not so great. I'd like to see some comparisons between the amd and intel models before pulling the trigger.

I really appreciate you guys taking the time to organize the configurations in those charts- make it so much easier to navigate all the skus. There is one typo on the 15 inch Consumer model (Ryzen 7, 16GB RAM, 256GB Black $1,699), it should be 512GB storage with that price.

Updated, thanks. Yeah, that was a real PITA to format and enter late at night lol

This is probably a really dumb question, but I still don't quite understand the potential benefit of an AMD chip over an Intel one. Obviously there are different tiers of speed for each chip, but is there an intrinsic reason having more AMD models is a good / exciting thing? Daniel (or anyone), could you help me? Thank you

AMD CPUs are in general more powerful, with some single threaded tasks being slightly better on Intel, but in multi-core a R5 will demolish an i7. AMD CPUs are also more power efficient. The downsides of AMD is not easily having TB3 and not supporting PCIe 4.0 (not a problem on desktop)

It's complicated as there is lots of hype around both. Typically: Intel is better for single-threaded apps, and will easily beat a Ryzen. AMD is better for multi-core, and will easily beat Intel Iris Xe graphics are likely going to beat Radeon (what I'm seeing so far). Battery life is likely to be slightly better for AMD. Intel may be better on resumes/hibernate and speed of internal components (yet to be verified) Does any of this matter in an Ultrabook? Eh, not really. Really depends on how brutal you are for running tasks.

Thank you both for the replies. Helpful.

I'm stuck between the Core i5 and Ryzen 7 because some configs have similar price points. I know you probably don't have all the chips for review, but based on what you've seen do you think one has the edge over the other? Does the Core i5 has better graphics performance than the Ryzen 7? Sorry for all the questions before your review is up, but I'm just trying to order asap today so I can get the free surface earbuds lol

specs are bad (well even awful for 2021) and prices are high, is Microsoft trying to pull an Apple?

Specs are mostly in line with the Windows laptop competition and prices have always been slightly higher for the Surface Laptop line. AMD is Zen2, although not the latest version of Zen2 but that matters less. And Intel is the latest version with a good igpu. The SSD could/should have been bigger for the AMD variants but at least it is user upgradable in contrary to Macbooks.

Last year: Laptop 3: Core i5, 8/128 = $999 This year: Laptop 4: Ryzen 5, 8/256 = $999 The specs are quite good and you are getting more for your dollar over last year. Your post makes little sense. This is also Surface Laptop FOUR. I'm not sure where you have been for the previous three versions, but none of this is new. You also say "pulling an Apple." Apple makes billions a year, sells a lot of laptops, and has high customer satisfaction. Why do you use its name as a negative? They're one of the most successful companies in tech, which many companies, rightly, try to imitate. And, furthermore, if you find Laptop 4 a bad value, you literally have multiple dozens of other PC laptop choices on the market, meaning you don't have to buy this.

Apple is able to do this because users who want to use macOS have no choice but to buy their hardware - and in the future even Hackintosh are going to be hard to build for the latest version of macOS. Microsoft is not in the same position. Users of macOS are bound to be more satisfied with Apple, because they're likely making the choice knowing all of the benefits and drawbacks ahead of time. They've already decided they will be satisfied with the product before they've even made the purchase. People who don't like the drawbacks simply do not buy them, so the feedback is heavily biased. This bloviation about Apple satisfaction is bull. In the PC Space, there is far more competition and there is more pricing pressure. Value Proposition presents itself differently. So, a Laptop with an ULV CPU, 8GB RAM, and 256GB Storage selling for a grand in that side of the market is more of an anomaly, IMHO, considering the average quality of PC Laptops has markedly improved; and prices are extremely reasonable for very good spec packages. You can buy a 2020 ASUS Zephyrus G14 with Ryzen 9 4900HS/RTX2060/16GB Upgradeable RAM/1TB Upgradeable NVMe - and it's barely bigger/heavier than a 13" M1 MBP (I've used both) - while having 8+ Hours of Productivity Battery Life off the charger.. for $1,149... This is a mediocre value proposition, and these are not MacBooks. Those machines sell at those prices because users don't have much of a choice... The situation is completely different. Even then, this is more still reasonable than a Surface Book, Lol. I'd never buy one, though (not a fan of Microsoft's hardware, personally, and I tend to like laptops with more performance headroom that are more suitable to more tasks - and these don't even have TB3/4 to tack that on).

The stubborn refusal to include Thunderbolt is going from irritating to ridiculous. This doesn't bode well for the Surface Pro 8...

Thunderbolt is not really necessary if it has USB 4 but there is no mention of the version of USB.

Thunderbolt is necessary so that you can dock the computer at home and hook up to a more powerful eGPU, Storage, Display, etc. The lack of TB is why most OEMs stuck to Intel in laptops. Without it, these laptops aren't worth the price of entry: Same $999 starting price (AMD Ryzen 5, 256GB, 8GB) Seriously a Ryzen 5U CPU, a measely 256GB of storage, and 8GB of RAM (iGPU always takes 0.5GB on AMD platform, so about 7.4GB RAM usable). For a grand... Not when you can get a 14" 2020 Zephyrus G14 with a Ryzen 9 4900HS, RTX 2060 MQ, 1TB NVMe, and 16GB Upgradeable RAM that gets 8+ hours of productivity use off the charger for $1,150; and isn't even monumentally bigger than a 13.3" MacBook Pro, and doesn't weight substantially more either... Going that route and simply hooking up to a USB-C or HDMI Display is more worth it than these functionally crippled machines. These are overpriced lower-mid range productivity laptops. You're better off getting an M1 MacBook Air for that amount of money. For low spec premium devices at these price points, Thunderbolt is a requirement. Otherwise, there are far better choices at similar prices - more usable for a wider range of tasks while still delivering decent battery life off the charger.

I'd also want to add, that if you're using software like DaVinci Resolve, the software is likely to be more GPU limited for the types of people who visit this site. This means that even an ULV CPU like these are probably going to be fine for up to 4K work. It's the GPU that bottlenecks, and that's where TB3 comes to the rescue.

You do not necessarily need thunderbolt for docking, usually a recent usb-c version is enough.
The exception is egpu's but I still really doubt if they are all that worth it. They are expensive, not all that portable (compared to a laptop only solution), generally have noticeable efficiency loses, can be throttled by the low power CPU's...
Windows Central Newsletter
Thank you for signing up to Windows Central. You will receive a verification email shortly.
There was a problem. Please refresh the page and try again.