Surface Laptop 3 13.5 review: A delightful laptop that exceeds the conventional
By Daniel Rubino published
USB Type-C, Intel 10th Gen and minor changes add up to a one-of-a-kind laptop experience with some kick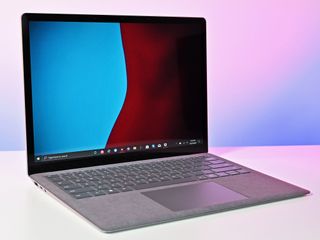 (Image credit: Windows Central)
The Surface Laptop 3 15-inch featuring AMD has garnered a lot of press – some good, a lot not so good – but Microsoft is also offering smaller Surface Laptop 3 13.5-inch. Like the new Surface Pro 7, the Surface Laptop 3 13.5 is on the outside a minor refresh, but all those hardware changes add up to a marvelous experience.
I am unabashedly a fan of the Surface Laptop 13.5. But has Microsoft been able to convince me that the new Surface Laptop 3 is worth my time over the Surface Laptop 2, and redeem itself from the underwhelming 15-inch version? You bet it did.
When Surface Laptop 3 13.5 launched, it started at $1,000. Now, Microsoft has a newer Surface Laptop on the market, called the Surface Laptop 4, which also starts at $1,000. Surface Laptop 3 can likely be found for less these days, but if you need something smaller and cheaper, check out the new Surface Laptop Go.
Microsoft Surface Laptop 3 13.5
From $977 at AmazonFrom $977Bottom line: The Surface Laptop 3 13.5 is a worthy follow-up to last year's model. While there are no massive changes, the new Intel 10th Gen processor, Instant On, faster SSD, Type-C 3.1 port, and huge trackpad make it even better than ever. Battery life is good, and things like Wi-Fi 6 help add some future-proofing. Users can save money and do a DIY upgrade of storage if they are willing.
For
Gorgeous design and craftsmanship
USB Type-C
Instant On and good battery life
Superb keyboard and trackpad
Intel 10th Gen is excellent
It is now serviceable
Against
No Thunderbolt 3
No Dolby Vision or anti-glare display
Just the facts
Surface Laptop 3 13.5 What's new for 2019
Like the Surface Pro 7, many of the adjustments to Surface Laptop 3 13.5 are on the inside, where they make a big difference. But there are also a few on the outside that are interesting. Those changes include:
Intel 10th Gen 10nm processor.
DDR4x RAM (low-power version of DDR4).
Twenty percent larger trackpad, also quieter.
Platinum Alcantara is now significantly darker.
Intel Wi-Fi 6 AX201.
Bluetooth 5.
Faster SSD.
Instant-On technology.
USB Type-C 3.1 Gen 2.
AC Fast Charge.
Dual Studio Mics.
Hidden antenna lines.
For this review, I am using the Core i5 model with 8GB of RAM and 256GB of storage. The total price is $1,300 without tax, and we purchased it from the Microsoft Store.
Category
Surface Laptop 3 (13-inch)
Surface Laptop 3 (15-inch)
Operating system
Windows 10 Home
Windows 10 Home
Display
13.5-inch PixelSense, 3:2 aspect ratio, 2256x1504 (201 PPI)
15-inch PixelSense, 3:2 aspect ratio, 2496x1664 (201 PPI)
Processor
Intel 10th Gen
AMD Ryzen 5 or Ryzen 7 custom CPU
GPU
Intel Iris
AMD Vega 9
AMD Vega 11
Memory
8GB or 16GB LPDDR4x
8GB, 16GB, or 32GB LPDDR4
Storage
128GB, 256GB, 512GB, 1TB SSD (replaceable)
128GB, 256GB, 512GB, 1TB SSD (replaceable)
Front camera
720p
720p
Security
Windows Hello face authentication camera, Firmware TPM
Windows Hello face authentication camera, Firmware TPM
Connectivity
Wi-Fi 6
Bluetooth 5.0
Wi-Fi 5
Bluetooth 5.0
Ports
1x USB-C, 1x USB-A, 1x Surface Connect, 3.5 mm headphone jack
1x USB-C, 1x USB-A, 1x Surface Connect, 3.5 mm headphone jack
Battery
Up to 11.5 hours
Instant On
Up to 11.5 hours
Weight
Up to 2.79 lbs
Up to 3.4 lbs
Colors
Sandstone metal, Matte Black metal, Platinum w/ Alcantara, Cobalt Blue w/ Alcantara
Platinum metal, Matte Black metal
The Type-C 3.1 Gen 2 port replaces the Mini DisplayPort of previous Surface Laptops. It can transfer data, power two 4K displays at 60Hz (DisplayPort 1.4), and it supports Power Delivery (PD). PD lets users charge the Laptop 3 with a Type-C charger, including anything from a phone charger (slower charge) up to rarer 90W or 100W chargers with fast-charge support.
Microsoft has now hidden the Wi-Fi and Bluetooth antenna lines, which were previously on the sides of the Surface Laptop. This change is minor and inconsequential, but it demonstrates how much Microsoft is concerned about the overall look of this laptop.
Finally, Instant-On is enormous. This advancement is part of Intel's Project Athena that focuses on mobility and performance. More on that in the benchmarks and performance section.
Art meets laptop
Surface Laptop 3 13.5 design
There are no significant chassis design changes this year to Surface Laptop 3 over the previous version. As noted above, Microsoft has hidden the Wi-Fi antenna lines, which gives a cleaner appearance.
Perhaps the most significant difference this year — and a welcomed one — is the option to buy the Surface Laptop 3 without the plush Alcantara keyboard deck. There are now four different color options, including cobalt (Alcantara), platinum (Alcantara), sandstone (aluminum), and matte black (aluminum). The downside is you are limited to specific color choices and deck materials — so if you wanted matte black with Alcantara, that's a no-go.
Alcantara fabric on Microsoft Surface PCs: Everything you need to know
Alcantara is a proprietary fabric that Microsoft has been using for some time on the Surface series. However, many customers found the idea of the material weird and off-putting. Likewise, there are plenty of cases where the fabric can get dirty over time and even stain if not occasionally wiped clean. To alleviate that, Microsoft has darkened the platinum Surface Laptop 3's Alcantara. Not only does it look better with higher contrast, but it stays cleaner looking, too. The outside platinum chassis, however, is the same as previous models.
I am a massive fan of Alcantara on the Surface Laptop series. I consider it to be one of the defining differentiators from other laptops. It is soft, warm, and welcoming. I also do not have to worry about my watch band scratching the keyboard deck. That said, I understand the anxiety over it, and it is wise for Microsoft to offer versions without it. The new sandstone model is outstanding looking, and I came close to buying it, but in the end, I prefer the platinum model with Alcantara.
The chassis of the Surface Laptop 3 is perfectly symmetrical and about as minimalist as you can get. Even the speakers are hidden with no visible grills. The ports, one USB Type-A and another USB Type-C, are found on the left side with the headphone jack. On the right is the Surface Connect Port for charging.
The display opens with one hand, and when it closes, it slows down right before hitting the deck. It makes a subtle soft closing sound like how luxury car doors feel.
New this year is the ability to service the Surface Laptop to replace the SSD storage device. The process involves removing the four bottom feet, which house Torx screws. Once removed, the keyboard deck that's held in place with magnets simply lifts away. This ingenious design maintains the look of the Surface Laptop with no distinct entry points. I did not notice any negative consequences to this change as the chassis feels the same as the Surface Laptop 2.
iFixit exposes guts of Surface Laptop 3, comes away surprised
Although a bit tricky, owners can upgrade the SSD themselves. But for warranty concerns, owners are strongly encouraged to retain the original drive for service by Microsoft.
The Surface Laptop 3 13.5 is still without question the most beautiful looking and feeling Ultrabooks on the market. It's a testament to how form and function in a PC can find a perfect balance.
No HDR or anti-glare?
Surface Laptop 3 13.5 display and camera
Microsoft has used an LCD-based 13.5-inch PixelSense Display with a 3:2 aspect ratio at 2256 x 1504 resolution for the Surface Laptop 3. The 201 pixel per inch (PPI) is lower than that of Surface Pro 7 (267 PPI) and Surface Book 2 (260 PPI), but the difference is negligible for daily use. The display is effectively the same as the 15-inch model in every way except slightly smaller in dimensions.
The bezels are relatively thin, and the glass is Gorilla Glass 3 with some oleophobic protection. That glass is edge to edge without any plastic for the bezels — another excellent design choice.
The Surface Laptop 3 supports inking with a Surface Pen, but the display does not open to 180 degrees, nor is there a place to keep the pen in transit. In a pinch, however, the pen is great for signing a document or making a quick note. Likewise, the Surface Dial is also supported with off-screen interaction.
New colors
Surface Pen 2019
Unleash your creativity

Just because Microsoft has a new stylus out, doesn't mean you necessarily need to buy it over the classic Surface Pen. This stylus still has excellent potential for creative work.
For color accuracy, the screen delivers 97 percent sRGB, 72 percent AdobeRGB, and 75 percent DCI-P3. Those numbers are below that of the Surface Laptop 2 (99 percent sRGB and 81 percent AdobeRGB), which is unfortunate.
Peak brightness, when set to 100 percent, is just under 400 nits while turning the intensity to 0 percent results in a very dim 3.8 nits.
As I remarked in my Surface Pro 7 and Surface Laptop 3 15 reviews, Microsoft seems to be slipping in the display race compared to Lenovo, HP, and Dell. Things like support for HDR400 (500+ nits) and Dolby Vision are now standard features for premium Ultrabooks. Likewise, for new anti-glare tech, which keeps the benefits of a glossy display but cuts down on reflectivity, making it better for long hours of work. The same applies to the rise of OLED displays and even faster refresh rates than 60Hz.
Unfortunately, the Surface Laptop 3 13.5, Surface Laptop 3 15, and new Surface Pro 7 lack all of those new display technologies. The color accuracy and gamut are also not as good as other premium Ultrabooks. Windows 10 now supports wide-color gamut apps, HDR apps and games natively, but the Surface Laptop 3 does not.
If you are unconcerned with such details, however, the Surface Laptop 3 13.5's display is still delightful. The contrast is excellent, and the brightness is excellent for indoor use.
Microsoft is continuing to use only a 720p front-facing camera instead of a full HD one like the Surface Pro series. That is likely due to how thin the display is on Surface Laptop. The camera is still better than average, though, and the new dual Studio Mics offer improved audio quality for Skype calls.
Nothing is better
Surface Laptop 3 13.5 keyboard and trackpad
Microsoft has made minor changes to the keyboard and trackpad for Surface Laptop 3 13.5. Like last year's model, the company continues to make the keyboard and trackpad quieter. The effect stands in contrast with Apple's MacBook series, which due to the controversial butterfly switches, is exceptionally loud.
The key travel is still an ample 1.3mm, and typing is on the softer side of comparable laptops. I rate Surface Laptop 3 as one of the best typing experiences available on any computer. The keys have three-stage backlighting that's visible on all models except sandstone, which, due to its being a lighter color, has less contrast.
Image 1 of 2
Image 2 of 2
The improved trackpad is worth pointing out here. It is now 20 percent larger than last year, and it is very noticeable in photos and in using it. It is not as big as what Apple uses, but it is effectively perfect for this machine.
Besides size, though, Microsoft has also changed the trackpad click mechanism. It is still not as creative as Apple's Force Touch technology as this is mechanical, but it is a step in the right direction. The click is now significantly quieter. It is extremely satisfying to use with a softer, but not mushy feel.
This year's Surface Laptop 3 13.5 has the best track of any Windows 10 PC, period.
clean and clear
Surface Laptop 3 13.5 audio
The 15-inch version of Surface Laptop 3 has some muddied audio and even minor distortion when the volume is set above 60. Luckily, none of this applies to the Surface Laptop 3 13.5. Side by side the Surface Laptop 2 and the Surface Laptop 3 13.5 sounds the same; that is brilliant.
Audio for movies and music is bright with an extraordinarily rich ambiance. There was no speaker distortion. It is an engineering feat that Microsoft can pull off such satisfying audio with non-visible speaker grills. Sound instead comes through the keyboard, and it works surprisingly well.
It's unclear at this time if the audio of Surface Laptop 3 15 is worse because of the lack of Alcantara – which could act as a cloth speaker membrane — or it is for other unrelated reasons. Likewise, I have not tested the non-Alcantara version of the Surface Laptop 3 13.5 to verify this hypothesis.
Under the hood looks good
Surface Laptop 3 13.5 performance, battery, and heat
Like all Surface PCs before it, the Surface Laptop 3 13.5 is near the top, but it is not the fastest performer. Microsoft attempts to find a balance between heat, performance, and battery life resulting in overall better experience for the users, versus excelling in a single category.
The Intel Core i5-1035G7 processor is a slight change from the Core i5-1035G4 found in the Surface Pro 7. The G7 has a slightly higher base-clock of 1.20 GHz, versus 1.10 GHz found in the G4. The G7 also has a somewhat beefier GPU with 64 execution units versus 48 in the G4.
Microsoft is offering 8GB and 16GB options for RAM, but if you want 16GB, you need to step up to the pricier Core i7 model. RAM is the newer DDR4x, which while not faster than DDR4, it is more power-efficient.
Geekbench 5
Geekbench 5.0 (CPU) (Higher is better)
| Device | CPU | Single core | Multi core |
| --- | --- | --- | --- |
| Surface Laptop 3 13.5 | i5-1035G7 | 1,177 | 4,413 |
| Surface Laptop 3 15 | Ryzen 5 | 769 | 2,720 |
| Surface Laptop 3 15 | i7-1065G7 | 1,336 | 4,893 |
| Surface Laptop 2 | i5-8250U | 909 | 3,372 |
| Surface Pro 7 | i5-1035G4 | 1,191 | 4,441 |
| Surface Pro 6 | i7-8650U | 1,113 | 3,519 |
| Surface Pro 6 | i5-8250U | 904 | 3,440 |
| Dell XPS 13 2-in-1 7390 | i7-1065G7 | 1,209 | 3,571 |
| Dell XPS 15 7590 | i9-9980HK | 1,176 | 7,624 |
Geekbench 4
Geekbench 4.0 (CPU) (higher is better)
| Device | CPU | Single core | Multi core |
| --- | --- | --- | --- |
| Surface Laptop 3 13.5 | i5-1035G7 | 5,265 | 17,345 |
| Surface Laptop 3 15 | Ryzen 5 | 3,985 | 12,079 |
| Surface Laptop 3 15 | i7-1065G7 | 5,727 | 19,593 |
| Surface Laptop 2 | i5-8250U | 4,203 | 13,233 |
| Surface Laptop | i5-7200U | 3,725 | 7,523 |
| Surface Pro 7 | i5-1035G4 | 5,245 | 17,350 |
| Surface Pro 6 | i7-8650U | 5,037 | 13,864 |
| Surface Pro 6 | i5-8250U | 4,287 | 14,031 |
| Surface Pro 5 | i5-7300U | 4,302 | 8,482 |
| Surface Pro 5 | i7-7660U | 4,513 | 9,346 |
| Surface Pro 4 | i5-6300U | 3,319 | 6,950 |
| HP Spectre x360 15 | i7-9750H | 4,968 | 18,790 |
| HP Spectre x360 15 | i7-8565U | 5,246 | 16,272 |
| Dell XPS 13 2-in-1 7390 | i7-1065G7 | 5,459 | 19,097 |
| Razer Blade Stealth | i7-8565U | 5,139 | 16,339 |
| Dell Latitude 7400 2-in-1 | i7-8665U | 5,469 | 15,800 |
Cinebench
Cinebench (R20) (higher is better)
| Device | CPU | Range |
| --- | --- | --- |
| Surface Laptop 3 13.5 | i5-1035G7 | 1,584 to 1,606 |
| Surface Laptop 3 15 | Ryzen 5 | 1,523 to 1,610 |
| Surface Laptop 3 15 | i7-1065G7 | 1,703 to 1,745 |
| Surface Pro 7 | i5-1035G4 | 1,201 to 1,479 |
Running Cinebench four times in a row, the scores show the following ranges. Typically, the results drop on successive runs due to thermal constraints on the processor. Surface Pro 7 is particularly susceptible to a rapid range in scores because of its limited thermal envelope. The Surface Laptop 3 13.5-inch handled thermals quite well without a steep drop in performance between runs.
GPU
Geekbench 5.0 OpenCL (higher is better)
| Device | GPU | Compute score |
| --- | --- | --- |
| Surface Laptop 3 13.5 | Iris Plus | 9,811 |
| Surface Laptop 3 15 | Vega 9 | 11,334 |
| Surface Laptop 3 15 | Iris Plus | 10,497 |
| Surface Laptop 2 | Intel UHD 620 | 5,514 |
| Surface Pro 7 | Iris Plus | 7,613 |
| Surface Pro 6 | Intel UHD 620 | 5,396 |
| Dell XPS 13 2-in-1 7390 | Iris Plus | 10,406 |
| HP Spectre x360 15 | GTX 1050Ti | 82,576 |
| HP Spectre x360 15 | MX150 | 47,284 |
| Dell Precision 3541 | NVIDIA Quadro P620 | 12,469 |
PCMark
PCMark 10
| Device | CPU | Score |
| --- | --- | --- |
| Surface Laptop 3 13.5 | Intel i5 | 3,643 |
| Surface Laptop 3 15 | AMD Ryzen 5 | 4,006 |
| Surface Laptop 3 15 | Intel i7 | 4,604 |
| Surface Laptop 2 | Intel i5 | 2,748 |
| Surface Pro 7 i5 | Intel i5 | 3,992 |
| Surface Pro 6 i7 | Intel i7 | 3,644 |
| Surface Pro 6 i5 | Intel i5 | 3,501 |
| Dell XPS 13 2-in-1 7390 | Intel i7 | 4,427 |
| Dell XPS 15 7590 | Intel i9 | 5,521 |
| Dell Inspiron 13 7390 2-in-1 | Intel i5 | 3,764 |
SSD
CrystalDiskMark (Higher is better)
| Device | Read | Write |
| --- | --- | --- |
| Surface Laptop 3 13.5 | 2,338 MB/s | 1,583 MB/s |
| Surface Laptop 3 15 | 2,028 MB/s | 806 MB/s |
| Surface Laptop 2 | 1,509 MB/s | 811 MB/s |
| Surface Laptop | 486 MB/s | 244 MB/s |
| Surface Pro 7 | 2,040 MB/s | 809 MB/s |
| Surface Pro 6 | 1,632 MB/s | 814 MB/s |
| Surface Pro 5 | 847MB/s | 801 MB/s |
| Surface Book | 1,018 MB/s | 967 MB/s |
| Dell XPS 13 2-in-1 7390 | 2,400 MB/s | 1,228 MB/s |
| Huawei MateBook X Pro (new) | 3,416 MB/s | 2,779 MB/s |
| HP Spectre x360 13t | 3,085 MB/s | 1,182 MB/s |
| LG gram 14 2-in-1 | 558.1 MB/s | 523.1 MB/s |
.
Like the Surface Pro 7, it is safe to say that this year's Core i5 model performs as well or slightly better than last year's Intel 8th Gen Core i7. That is a substantial boost in performance and quite remarkable from previous iterations of Intel's 8th Gen platform.
Compared to the AMD Ryzen 5, which is positioned against Intel's Core i5, Intel wins handily. Specifically, the Ryzen 5 in the 15-inch is still slightly behind Intel's 8th Gen Core i5, and significantly behind Intel's 10th Gen Core i5.
Intel's Iris Plus graphics also bring a substantial boost over Intel UHD 620 though this is still clearly in Ultrabook range, not gaming or video editing. Where AMD shines in the 15-inch model is in the GPU with the Vega 9. That GPU slightly outperforms Iris Plus. You can see this effect in PCMark 10, which balances CPU and GPU usage for a comprehensive overall score. But because so much software — including video playback or Adobe software — is optimized for Intel, it makes the point moot.
Cinebench (R20) delivers a score of 1,584-1,606 in multiple sequential runs for the Core i5-1035G7. The AMD Surface Laptop 3 with Ryzen 5 garnered similar results between 1,539 and 1,610.
Although by no means a gaming laptop, the Surface Laptop 3 13.5 — even with a Core i5 and 8GB of RAM — can hold its own. Arcade games like Guacamelee! 2 played just fine, of course. Even the popular first-person shooter Overwatch can run without issue. Setting the game's graphics quality to low with a resolution of 1600 x 1200, I was able to average between 60 to 70 frames-per-second (FPS). During major battles, that rate dropped to 54 FPS but was still playable. That said, if gaming is a priority, consider the Core i7 model with 16GB of RAM instead (or something more suited like the new Razer Blade Stealth).
PCMark 10's battery rundown test, dubbed "Modern Office" resulted in the Surface Laptop 3 getting 9 hours and 15 minutes with 19 percent battery left. That was with the display brightness at about 150 nits. By comparison, the Surface Laptop 2 with the same screen brightness was just about 9 hours on the same benchmark.
Real-world usage pegs the Surface Laptop 3 13.5 closer to 7 to 8 hours of use depending on GPU activity and display brightness.
Another significant change, which I wrote about extensively, is the improved Instant On feature. Previously, the Surface Laptop would hibernate after just a few hours in standby. The result, when turned on, would be a slower resume (~15 to 20 seconds) before the Windows login screen would appear. Now, the Laptop 3 13.5 turns on nearly instantly — as fast as you can open the lid — and log you in with Windows Hello. This behavior is like how Apple MacBooks and iPads behave, and it improves the user experience by a lot if you frequently open and close your laptop.
Image 1 of 2
Image 2 of 2
The Surface Laptop 3 13.5 and Surface Laptop 3 15-inch Business Edition seem to be shipping with The Toshiba BG4 (ball grid) SSD for storage, while others have an older SK Hynix card. Ball-grid storage is a smaller form factor that has been around for a while, but the Toshiba BG4 is brand new. It was announced at CES 2019 but only became available this quarter, earning strong reviews. Sourcing different SSDs is quite common for manufacturers. Still, at least, in this case, the Toshiba gives a significant boost in performance, especially in write speeds, over the SK Hynix (both are 256 GB). As to which version your laptop comes with, it seems to be random.
Wi-Fi is also interesting. Microsoft is continuing to shift away from Marvel for wireless to Intel across its lineup (except for AMD Surface Laptop 3 15, which is Qualcomm Atheros). By going with Intel, Microsoft can utilize next-gen Wi-Fi 6 (802.11 ax) and Bluetooth 5, which help with connectivity and power improvements.
Wi-Fi performed well, but there seems to be a new bug whereby Wi-Fi download speeds significantly drop when resuming from sleep (same applies to Surface Pro 7). This likely related to the new Instant On feature, and while not wholly disruptive, it can be frustrating.
Thermals and heat are excellent on the Core i5 model. While installing large applications or playing games, you can hear the fan. It is not a high-pitched sound, but rather more of a whoosh effect. For regular usage though like Office, productivity, email, web browsing, even light photo editing, the fans are rarely enabled, especially if on battery.
The competition
Alternatives to the Surface Laptop 3
Other alternatives that aren't Microsoft-made include the Razer Book 13 and Dell XPS 13. Both laptops feature an excellent Ultrabook design, with the latest specs and premium-price tags to match. Razer Book 13 starts at $1,199 and the Dell XPS 13 starts at $899.
Microsoft made a great laptop with the Surface Laptop 3, which is likely why they didn't change much with its successor. The Surface Laptop 4 is now available, and it makes meaningful changes where it counts. The external chassis and design is the same, but Microsoft has swapped out the older 10th-gen Intel and Ryzen 3000 AMD series chips in favor of the more modern and more powerful Intel 11th-generation and AMD Ryzen 4000 series chips instead.
This provides the Surface Laptop 4 with better battery, better processor performance, and a more powerful GPU in both Intel and Ryzen models. The Surface Lapto 4 also comes in a new Ice Blue color, but the biggest difference is that you can now get the AMD chips in the 13.5-inch variant, starting at $999. Unless you're on a budget and you can get a good discount on the Surface Laptop 3, we think the Surface Laptop 4 is the one to go for if you're looking for a new Surface Laptop.
Should you buy?
Bottom line on Microsoft's Surface Laptop 3 13.5-inch
The Surface Laptop 3 follows a similar trajectory of Surface Pro 7. While only modest changes, they are significant ones that add up to one of the most enjoyable laptops to use. I'm also happy Microsoft's foray with AMD did not extend to the 13.5-inch model. This is not AMD's time yet.
Take, for instance, the new fast charge ability. When using the Surface Connect or a 65-watt Type-C charger, the laptop can gain around 70 percent of the battery back in an hour. Even just 15 minutes during lunch could give you an extra couple of hours of usage. Or the ability to now use a Type-C portable battery. There's also Instant On, which, while sounding trivial, lets you get in and out of your work faster than ever – it makes you want to use the laptop more.
The dramatic increase in performance is welcomed. As is the option to not have Alcantara, which may convince some skeptics to now join the Surface family. Toss in some of the best fundamentals like the finest typing, tracking, audio, and that 3:2 aspect ratio, and you start to understand why this is such a lovely laptop.
I could lament the lack of Thunderbolt 3, which has no technical reason for not being here. But most users will benefit from the universal aspect of Type-C, which can power dual 4K displays at 60Hz, handle data, Type-C hubs, and Power Delivery (PD).
Image 1 of 2
Image 2 of 2
I do think for most users, the Core i5 model with 8GB of RAM is adequate ($1,300). Users could opt for the cheaper $1,000 model with just 128GB of storage, and if they feel comfortable opening the laptop, they can add up to 1TB to save money (RAM is not upgradeable). The Core i7 model is ideal for those who plan to make this their primary PC, developers, or those who can justify the 16GB of RAM. The Core i7 model is an extra $300 starting at $1,600.
However, like the Surface Laptop 2 — and unlike the Surface Pro 7 — there is a lot of competition in this space. Dell has the excellent XPS 13 7390 or XPS 13 2-in-1 7390. HP's refreshed Spectre x360 13 looks remarkable. Lenovo has the killer Yoga C940. Many of these are not just laptops, but full convertibles with many more options, HDR OLED displays, 4G LTE, and more all for lower price points. There are many compelling reasons to buy one of those over the Surface Laptop 3.
But at the end of the day, nothing feels like the Surface Laptop 3 13.5. It is not the fastest laptop, does not get the best battery life, but it is, arguably, the most satisfying to use. It is, as I said last year, "a perfect blend of art and technology." That is still true. It's just now even better.
A worthy successor
Microsoft Surface Laptop 3 13.5
Small changes add up fast

With the addition of USB Type-C, Wi-Fi 6, and Intel 10th Gen processors, the Surface Laptop 3 13.5 delivers a solid follow up to the Surface Laptop 2. Between the optional Alcantara, ability to get the laptop serviced, including SSD upgrades, Instant On, and the hugely improved trackpad, Microsoft has again created one of the most enjoyable laptops to use. While it won't win out for value, it does maintain the crown for user satisfaction. And that's priceless.
Daniel Rubino is the Executive Editor of Windows Central, head reviewer, podcast co-host, and analyst. He has been covering Microsoft here since 2007, back when this site was called WMExperts (and later Windows Phone Central). His interests include Windows, Microsoft Surface, laptops, next-gen computing, and arguing with people on the internet.
Regarding the final score, I feel I could have gone higher and matched the Surface Pro 7's, but there is one major difference. Surface Pro pretty much has no real competition for that form factor. The same can't be said about Laptop 3, in fact, quite the opposite. HP, Dell, Lenovo, and Razer have been creating some of their best laptops to date. Many of them excel over Surface Laptop in certain areas like battery, performance, displays or even audio. That makes it difficult to give the Laptop 3 a slam-dunk score. Still, for overall satisfaction and enjoyment it's hard to not recommend the Surface Laptop 3 13.5 either. We'll try to shoot a video review for this soon as well, but if you have any questions that I missed in the reivew leave them here 👍🏼

@Daniel Rubino, Daniel, twice in this article you have a prominent link directly to the MS Store to purchase this device. WC also clearly states, to its credit, buying through links will financially assist WC. Am I being less than charitable by wondering if you're promoting this device on its merits or as a business imperative?
WC has put itself in a potentially dubious situation and one that brings into question the sites credibility as an objective party in these matters. I would be interested in your views on this.

Affiliate linking applies to all our links/products be it through Amazon, Dell, HP, Microsoft, Razer, etc. Whether we talk about a product - good or bad (like Laptop 3 15, which I gave a poor rating to) the same rules apply. Difference here is we spent our own money to buy this laptop (because I personally use it) and two, I myself do not make any money off the links, don't see what we collect, get no bonuses or compensation for my reviews. None. Same with the rest of the staff. I'm paid a fixed salary no matter if I write 5 articles this week or 1, give a product a bad review or a good one. So, I have no incentive to write one way or the other, or for one company and not another. I'd also point out I'm only as good as my word. If I say something is amazing and it benches such-and-such, you buy it and everything I said was a lie, well, why trust my reviews? I stand by every word I write and I challenge anyone to find a review that differs dramatically from the points I make. That's why I include so many objective data points like color gamut, nits, thermals, benchmarks, and comparisons. Since people find ads repulsive/intrusive and use ad blockers, affiliate linking is the only way for sites like ours to survive. I see affiliate link no differently than if Microsoft ran an ad on this site, or when Dell, HP, etc. run ads too. Sites like Wirecutter also operate this way as do many other tech sites. The ones who don't are VC funded and...well, I'm glad everyday we're not a VC-funded site. So the question I would have for you is what about my review do you think is non-objective besides my feelings/opinions of the device (it is a review, after all)? Did I lie/boast/deceive anywhere, or, as I would contend, did I manage to write one of the most comprehensive reviews of this laptop around? See how many reviews mention the Wi-Fi/sleep bug. It'll be zero. If you have a specific area with any of my claims/data points, let me know.

@Daniel Rubino, Thank you for the thorough response. It was not my intention to imply you have acted improperly in any way. You make a valid point on ad blocking and why the site needs to have paid affiliated links.
Mind you, had websites not allowed all of the obtrusive and obnoxious ads along with the tracking of users the web wouldn't be in this predicament. Oh well, that's a discussion for another day. I have a second question if I may. I have seen you personally delete comments in your articles you find offensive which of course is fair enough.
I reported the following post but I see it is still stands. rodneyej
I use Android. I love the Android ecosystem. SD will be the best of both worlds for me; ruining Android, I'm all for, because I'm vested in it. I always asked for Android apps on Andromeda. 🤔 Why would I not want to help the ecosystem? What the hell do I care where the apps come from?
......
You definitely smoke crack. I can't wait for your Go Phone minutes to run out, so you can get back to digging in trash cans for food.. WTF are you even talking about? Nothing, as usual, but stupidity. Go sit down, and shut up.
Mon Oct 28, 2019 5:22pm This is about as offensive as one can get imho. Does this comment meet the WC's community standards?

No it doesn't and it's be deleted. Please flag me on Twitter or email directly daniel@windowscentral DOT com if that happens again.

Good apology until the penultimate paragraph, which was a bit defensive.

Returning my SL3 15 AMD for the business i5, however the MS store is out of stock at the moment. Would rather have the updated internals for $150 more.

If you weren't wearing nine different watches and a fitbit, you wouldn't have to worry about scratching the non-alcantara keyboard. :P Great review!

hah, touche ;) and thanks

How would the top tier of this compare to the original Surface Book? I was looking to upgrade to the 32GB 15" but your review of that was so bad I didn't want to spend the money. But as a software dev I need some good performance and the Surface Book has been a bit slugish as of late. Was thinking of waiting for a SB3 but honestly just looking at a Dell XPS at this point.

If you're hooked on the Laptop 15" why not go for the Intel-based version? You can get it still in black with 32GB, Core i7, 1TB. It's not cheap at $2,900 but you get 10 Pro and some serious horsepower: Here is our story on it - anyone can order it. As far as vs. Book 1 I'd always recommend newer hardware where you can. Better battery, thermals, likely performance, def GPU, etc. XPS 15 though is a whole other league. 45W CPU and a real GPU. It'd destroy both Laptop 3's.

The SL3 15 is a replacement of the SB1 for me. I dont have to have a detachable screen. SL3 is about the same weight as a SB1. 3.4ish lbs

AFAIK, no. Those haven't been used on the Laptop series. That said, without a high refresh rate and some wonkiness with the sensor (which is off by default) and adaptive contrast, the auto-brightness/level changes are a bit weird/non-ideal.

AMD needs to up their game in mobile chipsets.
benchmarks results are quite shameful for them.

Its outdated tech, wait for their 7nm cpu's if you want AMD in laptops (AMD has a year delay in the laptop market because of their very limited budget compared to Intel).

Daniel, I appreciate your reviews and videos. In this review I've noticed the single and multi-core scores on the Ice Lake processor in this 13" SL3 seem better than the new Dell XPS 13 7390 2-in-1. How can this be when they use the exact same processor? I bought a loaded XPS 13 7390 2-in-1 but returned it due to coil whine (think you found the same on your review). My plan was to simply order another hoping my second would be better and I'm still leaning that way but have held off until reviews of the SL3 came out. I don't really need a 2-in-1 but I do want a premium and powerful machine that is very portable. I would prefer 32GB RAM.

Huh, that is interesting. I'l recheck those scores. I will say PCMark 10 is a bit more comprehensive and authoritative. It balances CPU + GPU usage (26 mins, vs 4 mins for Geekbench) for a more holistic measurement and there the XPS 13 wins. I think Dell did a great job with the the performance of that laptop and it's one of the strongest (though the new XPS 13 non-2in1 with 6-core Comet Lake should be even better). Maybe consider XPS 13 9370 regular? I just got the unit it and will be reviewing it shortly.

Thanks Daniel. I really like the 16:10 aspect ratio of the 2-in-1 and like the idea of more efficient 10nm processor but I'll be curious to read your review of the new Comet Lake XPS 13. Many Thanks.

You could buy one and randomly get a much slower drive? That's not good. The best keyboard I've used is that original Surface Book. MS seems to be making their keyboards softer and not as tactile now. Unfortunate.

Unfortunately, almost every laptop is basically like this. Sourcing enough components and SSDs is hard when everyone is trying to get the same drive, or the manufacturer doesn't meet demand.

Alternate vendor sourcing is totally understandable, but you'd think they would source comparable products from each vendor

I'm a few days in to owning the Laptop 3 (13). I have the i7, 16ram, 512rom version. Battery life has been pretty great. I've easily gotten through a normal work day without needing to plug in. Normal work day (9 hours) leaves me with about 30% battery left. Nice. Speakers on mine are fantastic. I have the Alcantara version as well.
Performance has been fantastic, however I do notice that the fan kicks on a little more than I thought it would. There's also that annoying bug where download speeds tank after resuming from sleep. Disconnecting from the network and reconnecting fixes it. Hopefully they patch this soon. I've also had a bug where night mode just randomly stops working. Hopefully Microsoft can smash these last few bugs with a good firmware update soon.
This form factor is perfect for me. I'm upgrading from the SP4 and thought I would miss the convertible form factor. So far so good. The laptop is thin and light enough for me. I'd highly recommend the product to anyone looking for a premium experience with a little macbook air envy.

Yeah, I mention the Wi-Fi bug that's legit. I flagged Panos on it last night on Twitter so hopefully it'll get taken care of. I've noticed with Night Mode the laptop's display doesn't switch out of it, which is annoying.

I'm very happy with my SL3 i7. It does what I want it to do. I don't need it to be any faster, brighter, sound better, etc. Most of the time I am browsing, researching, writing, etc. not crunching numbers or creating videos. I'd buy it again. Love the instant on compared to my SPX.

You can get the instant on effect with your SPX by tweaking the Hibernate In setting which is under Sleep in advanced power settings. I have mine set to 2000 minutes and that gives me instant on next day no probs

The fact that the screen is touch enabled and has pen support, but can NOT lay flat is crazy. That hinge should do 180 degrees, or better still, 360 degrees. This is 2021, after all. It's like Microsoft has some kind of gentlemen's agreement or 'do not compete' clause with Dell, HP, Lenovo (and others) to NOT make a laptop with a 360 degree hinge! This device has been deliberated hobbled, and the score should reflect that.

Agreed. Surface Laptop lineup can be SO much more as 2-in-1 laptops, that Microsoft itself chose clamshell design doesn't make sense at all. Especially now that Apple owns the non 2-in-1 ultrabooks with the M1 MacBooks.
Windows Central Newsletter
Get the best of Windows Central in in your inbox, every day!
Thank you for signing up to Windows Central. You will receive a verification email shortly.
There was a problem. Please refresh the page and try again.