Poll: Upgraded to Windows 8.1, what are your thoughts?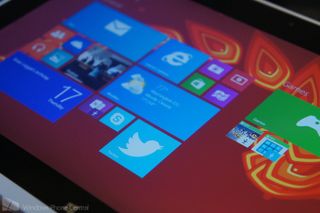 Windows 8.1 has been out for a matter of hours and already many of us have bombed straight into the deep end and upgraded. But how has the process been for you? And more importantly: what are your thoughts on Windows 8.1? While some of us have actively been stressing the Windows 8.1 Preview, there are some handy new features and updates included in the final release.
So, feel free to vote in our poll, comment below with your thoughts and let's see how it's all gone for the first major update to Windows 8.
If you haven't yet upgraded and are currently seeking the download link, be sure to head on over to our Windows 8.1 announcement article for more details.
Are you mobile and want to take the poll? Head to http://m.windowscentral.com/poll-upgraded-windows-81 to take in your mobile browser!
Rich Edmonds is Senior Editor of PC hardware at Windows Central, covering everything related to PC components and NAS. He's been involved in technology for more than a decade and knows a thing or two about the magic inside a PC chassis. You can follow him over on Twitter at @RichEdmonds.
I thought that the multiple monitor support was finally awesome rolling with three apps (browser, facebook, and twitter) on one monitor and my desktop on the other, but it seems that every once in a while "explorer.exe" crashes. When it happens, it continues to happen until I restart the computer...first chink in the armor :(

I would suspect a video driver issue. How up to date is it?

Maybe. I think it is the latest version provided by NVidea. I also have some weird issues with the locking frames around apps...but that might be related to the other problem.

I haven't noticed much of a difference to be honest. I do prefer the previous version of the store though. This new version is a cluttered mess and less metro looking.

theres always the option to use the website

I couldn't work out if they had unified the store? I looked at some apps i have on my phone, but it still told me to buy them. I thought they were unifying everything so you only had to buy apps/games once??

Answering the thread: I upgraded on my old P8600 with 4gb ram, and it flies. Windows 8 has given a new lease of life to this old laptop. Very impressed. Just bought windows 8 pro upgrade from tesco for 49.50 for my dell xps17 i7 with 8gb ram.

Already upgraded my devices in september with my technet account

*Oh yeah I installed iOS7 in June on my developer account*

Good, glad to know you're a part of the group of ios7 group that has been getting the BSOD report by the verge. This should a breadth of fresh air : )

dont know, tried to go into the windows store to DL and it was stuck there forever, ended up having to leave for work.

Awesome!

What does the Disabled List have to do with it?...

Create a back up disk before updating. My co-worker threw caution to the wind and did not... Yea it bricked. Luckily we have a few others laying around to make the disk from (600 units)

I'd share my thoughts, but it seems to be stuck on the white screen with the spinning green dots...

Close the app and re-open it. You will see the Store now and ur update on the upper right corner (click on it to see the progress).

Thanks Jey, I tried it and its now showing me the slow-as-ever download progress. Now I play the waiting game...

I started downloading at 2PM. Just finished the update at 10PM. I think they need bigger Servers

I started downloading at 7 it was done by 7:25

Its all very mysterious isn't it. Around 9 pm the download suddenly speeded up and voila, it was done within a few minutes. Upgraded two machines without incident.

Bit disppointes with ie11 but 8.1 itself is perfect

That's a very weird comment

Me too. Sites that worked fine before the update aren't rendering correctly since the update.

While googling on IE11 (I know, it just works better sometimes) noticed the results render all discombobulated. Thought maybe it was google but then again maybe just a kink.

I have problems with ie11 too. It freezes constantly. I open the application and click on a favorite or type an address and it freezes. Pretty dissapointing. Tried to disable addons and so, but it still crashes. I'm using the metro version instead, and oddly enough, works correctly.

That's funny, I've been running 8.1 since it RTM' d in enterprise environment without issue with ie11

have you disabled the GPU rendering? Im sure you dont, but if you do, it will probably stop freezing and crashless... I dont expect your gpu to be good for that anyway, even if you had a good gpu, some drivers make stuff work weird so go to advanced tools and use software rendering instead of gpu.
even an old computer I use which is like 7 years old, runs 8.1 "fine", so I dont see how you wouldnt run it fine. of course and again, you should remove the hardware rendering and use software. it makes IE more stable.

I already had the software rendering box checked, but I'll admit that I did have to reinstall the graphic drivers (AMD RADEON HD 5 series) after the update. I'll try to do some restarts and see if the problem goes away. Either way, the metro version is totally fine, I don't know if they've done something to it, but I found it more usable now. Maybe is just my perception.

well then honestly if you havea radeon HD 5xxx, you can use GPU rendering. my dad has a HD5450 and it works nice with IE. only the start of the IE takes a little time, but after my homepage loads (bing) it will go normally fast. you could also, Reset IE, and dont delete your personal info, just reset some settings and stuff.
because IE11 works fine in this old computer I have to use (my real pc broke sometime ago) and its like 8 years old or 7 or something, the videocard doesnt even have a Win7 driver so i had to use a vista one. and while it works slow sometimes, it still works fine, and IE rarely crashes, only if I load too many flash sites, since I run it in software so the processor being old and only 2 cores, suffer.

its just weird when people say their IE crashes in mordern computers, when this old computers with vista drivers still doesnt see many crashes, of course sometimes its slow and its stressful but still it runs decently.

Found the problem. It was the adblock addon. didn't check it before because I wanted it to work, so i thought it would work. I feel a little stupid right now. haha. Thanks for the help Emi!

Unfortunately, I cannot upgrade due to some error. Why can't I just download like d usual windows update?

Make sure Windows Updates are completed, restart your computer and go back into the store. That's what fixed it on my XPS 12... Also a side note, do you ever have problems with the WiFi on your 12?

Yes, we have XPS 12's and 13's at our corporate office and their wireless is very susceptible to interference. Our Latitudes 6500's can get consistent 300 Mbps while the XPS get 24 - 160 sitting at the same table.

Damn it, that's what I expected... Koodos for upgrading to Windows 8 in a corporate setting also!

Windows 8 needs to be fully up to date first

It is. I get error code 0x80070083.
Not had much time to troubleshoot yet...
This day and age and MS can't give me a better pointer to whats wrong than error code 0x80070083???

Had a similar problem. 8.1 Preview having developed quite a few bugs over time, I did a refresh first, then installed 8.1: it worked like a charm.

Refresh first your 8.1 Preview, then upgrade to the official release. Worked like a charm for me (originally had a similar error)

I never installed 8.1 preview.

you just need to locate the appropriate log file to search through. Try this...
a. From the desktop
b. Press Windows + R keys
c. Type "wsreset.exe" (with out quotes) in run window and press enter. That will reset the windows store cache. See if you have any luck.

I tried that already too.
I also tried a clean boot & a scan of the boot drive.

Same here. My Surface Pro with 8.1 Preview gives an error of 0xc1900106 and states that there are firmware or updates that need to be installed first. Except none show up when doing an update check. I've reset Windows Update and the whole nine yards to no avail. A few other people have had this problem as well. http://answers.microsoft.com/en-us/windows/forum/windows8_1-windows_inst... I was however able to upgrade a Surface RT (that has Win 8.1 Preview) and that's working great!

You can't upgrade from 8.1 preview! You must reset back to 8.0 first.

Oh really? Then explain this. http://windows.microsoft.com/en-us/windows-8/update-from-preview

Wrong! On a Surface RT you *CAN* upgrade from 8.1 preview to RTM. No need to reset. Read -> https://www.windowscentral.com/e?link=https2F%2Fclick.linksynergy.co...

Just an FYI, upgrading from the Preview isn't an officially supported scenario. Upgrading from betas is always a risky experience.

That said, might be a driver or firmware issue on your system model that you need to get from the OEM first.

You said it best. Upgrading from a Preview is not very smart. Would me much better to refresh back to the original Windows 8 install and upgrade from there.

It is an officially supported scenario on Surface as the links in posts above yours confirm.

Yap....me too..ie11 desktop version gets stuck....metro version rocks!!

Not done yet waiting, waiting have to do my surface RT and my desktop

Havn't had a problem with the store version although my msdn version (ISO) wouldn't accept the key for an upgrade on one of my computers.

As it shouldn't by design. Just FYI.

Update was fine, but I'm still having issues with Photos and music :/

My computer seems to have worked out whatever kinks I'd created over the last year. The plus side to annual major releases is it undos the damage we do during the year. Otherwise, I love the ability to better organize the start screen.

Installed easily. But now cant access WiFi access points. Even though worked perfectly in windows 8

Have this exact problem, among others. Can't upgrade yet without "activation key" even though I have one. Kills my wirelss.

If you have a Cisco VPN clinet installed, uninstall it, reboot, update wireless drivers, reboot - confirm it works. Reinstalling VPN clinet may work but I'd wait for a new release from Cisco if you can

Don't have anything cisco based.. Was all working in windows 8

i had problems connecting my wp8 device to public wifi(not ready to do hard reset) after gdr2 so its no surprise it doesn't quite work.

Why would that be relevant in this case?

Same problem here except I can tether my phone to the computer through it but can't get at the router. DLink btw and it was working on windows 8 yesterday

Yep. Mine was working, no idea what has changed as it was working in windows 8.0. Rolling back as we speak, thankful windows.old file is there :)

The update worked great on both my PCs. Not a single issue. Overall update is pretty sweet and I like it.

So far so good. Using the preview swiping back to the last page viewed took forever to be active ... Nice and quick in the final. Also the mail app is awesome now that folders are hidden until needed.

I'm still having the issue where swiping back takes forever after upgrading to RTM, that was the one thing I hoped would get fixed.

Can't complain! Really good so far. Installed 8.1 Pro with Media Center on my laptop and RT 8.1 on my Surface and both are runny smooth and quick. I had no issues with the install, had them both done quite quickly after release.

Is it just surface RT that get the update or all rt models?

All Windows 8 and Windows RT devices.

Planning to do this tonight when I get home!

Love it. Just waiting on my surface with 8.1 preview to update.

Don't know yet, clicked on it to download but it got stuck. Rebooting PC now!

Surface rt bricked missing file://BCD, ACER win8 works fine. Heading to Microsoft store now for RT repair they say no charge..

Upgraded my laptops and all is good except Netflix app no longer works

Got it on my Surface RT. I really appreciate not needing the registry edit to get 4rows of tiles and not needing the vhd to get Xbox Music to recognize songs on the SD card. Also, loving the rest so far. It feels much more polished.

Updated about 2 months ago. Using Windows 8.2 now. (Just kidding)

Stuck at 84% for way too long. Rolling back now. Will try again tomorrow.

My desktop did that as well, you just need to be patient and wait.

Hate the new search in 8.1.
And don't get me even started on the stupid Xbox Music app, its like they are trying to make it worse with each update; I miss Zune.


Here, here. See my post lower down....My only complaint with 8 is the music app.

You don't have to use it..why do you hate it?

I subscribe to it. Have you ever used Zune? If you have there is no way you can call the music app as it presently is a good music app.

guess depends on the user... I like both more than before the upgrade...


I prefer the new update personally.

Totally agree, Xbox Music still sucks I used a combination of iTunes and Music Info (which doesn't work on 8.1, so I now just use iTunes)

+1 cancelled my subscription

Someone should find the key to the closet they locked their Zune developers in and see if any are willing to come out in exchange for helping with XBox Music. Don't know which would be more torture, but that closet must be getting ripe.

Its very good...but where's my programs?

On Surface it should have warned you that you would have to reinstall your programs after the upgrade was complete. On a desktop or laptop the start screen shouldn't be any different.

Still downloading! After 3 hours only 35% has been downloaded... No doubt that the 8.1 will be great, as I'm loving the 8. Just can't figure out why people wanted that start button back. So much faster just to type on the start screen and boom...you are there.

Its time to upgrade from AOL Dial up dude :)

Just Kidding


Same here. I downloaded twice on my laptop (both failed to install) in about 30 minutes total. My Surface is taking hours at this point. Amazing.

Its a huge improvement over 8.

My thoughts are that I can't use the touchpad on my new Lenovo Laptop because the synaptics drivers are all jacked up, and nobody will do anything about it.. It's hard to enjoy W8 without gesture support.. Does anyone else have this problem, or a fix❔❔

Have you downloaded the vanilla synaptics drivers from their website? They've worked for me since I first bought Win8. There are lots of interesting features in the non-OEM version.

Upgraded.
Notebool exploded.
House caught fire.
Now homeless with wife and five kids.
But Windows 8.1 is great, I'm pretty sure. Thanks for asking.

T
Lmao......it caught fire becaus of the hot corners in 8.1 are too hot.

You think so?
So it's Microsoft's fault.
Let me call my lawyer.

I like it but I am at a loss for how to search within apps like I used to in win8. For example, I need to find an NSF proposal my Prof sent by email but if I search "NSF" while in mail I can't seem to JUST search mail. It wants to search Everywhere which does me no good. Changing from Everywhere to something else yields no "search Mail" option. Any suggestions? Otherwise, I like it. Oh, and the modern OneNote can't handle the new side by side app sizes. What's up with that?

Try clicking the magnifying glass opposite the all/unread filter ;-)

When get the Lumia 920 the update

Different OS, Windows Phone 8.1 (Blue) won't be out until early next year from what I understand.

What is different about this verses preview?

I'd also like to know. I didn't notice any changed, other than the fact that it uninstalled all my games and programs.

Like it, love the new tile sizes and icon colours, annoying thing with the photo app though doesn't show the images if they are in folders for me. Also i wish i could remove the start button from desktop i don't need it and takes up space haha! I also like the tutorial showing where to move your mouse they should have done that with w8 that would have helped people more! One other minor point, on wp you can have a medium tile and next to it one row of small tiles with another medium tile under it, so medium tiles going down in one row if that makes sense, cant do that on w8, i like making patterns ;). Other than few minor points really liking it ooo love the slideshow feature and new store layout! So much to say haha

So i love the new zoom mode that fills the screen on my sammy t700 tablet at 200%. But again, ill repeat,. everything is a lot better and faster and smoother and my only complaint has always and will always be the music app. Until it has syncing and every feature Zune had(has) then it is only a music player not a full fledged app. MY question, why doesnt the app get updated every week until its finished? lame.

Skype app is no longer opening in metro mode ..worked fine on win 8 version also shortcut on desktop mode 8.1 works...tried uninstall an reinstall with no success !

Same here. Skype doesn't quite crash but won't open either. Knocks me back to the start screen.

Yup ,that's exactly what happens to me.

Skype was updated along with the core apps, try checking for updates in the Store ;-)

where? i only see one skype app in the store and it does not solve the issue ....are u sure the skype app was updated to resolve that issue?

i also dont have any update of skype in my store.

I get the blue screen of death with an IRQL_LESS_THAN_OR_EQUAL error. Some driver isn't compatible or something....

Do you have wireless adapter. Coz that is most likely the problem

Surface RT took about 1 hour. It feels like a completely different machine. Yesterday I probably wouldn't have recommended a Surface RT to anyone. Today, I would do so without hesitation. 8.1 makes that much of a difference.

Wow, really. Have you used the 8.1 preview? Is it much better than that?

Dunno. Surface RT crashed mid install, and the device can no longer start up. Fortunately Microsoft was nice and is going to send me a new one after I send In the broken one. Will take 5 days after I ship it out for the new one to come.

Warranty replacement? If so, that's not how it works.

It is if you don't live in the US, you box up the old one and send it back with the courier who delivers the new one.

Would like to tell you but it's taking almost 6 hours to install on my RT. Most underpowered product on the market

Mine took all day. I don't believe it is hardware related. More likely your internet download speed and server overload.

Windows 8.1 is awesome. Upgraded a few hours ago, but I have to say, downloading and installing really took its time, 3 hours... but it was worth it. I like most of the new stuff but I really hate it, that they renamed "computer" into "this pc" and that they added folders for documents, videos etc. which I don't want, since I use the libraries. What MS does to the Metro stuff is really cool, love that you can set a background image, the easy way to organize tiles it really worth it. These days where very exciting first GDR3 and now Windows 8.1, hope there will be more stuff in the next time.

PC, Laptop and Surface all updated fine through store. 8.1 seems slick. Pointless addition of the start button though.

Upgrade was slow but got there, eventually.
What would be nice for WP8.1 (?) would be the 'universal' Bing search across the whole device.

As for WIndows 8.1, let's try for a few days to decide.

Downloading for 3 hours now. I'm at 21%. every 10min I get 1% more. And I have a 50000 VDSL connection.

I think there should be an official WPCentral app for it.

Easy upgrade...Surface RT, Acer W3, Asus laptop.
Lost Office 2013 on my W3 though. Chatting with MS right now. Really dig how polished it looks/feels.

I do miss the people app that I could see who was online in messenger and facebook and pop me to the chat app .
I don't really like the skype chat. I don't understand why they just couldent keep the messenger app and use the API's and not load the entire skype app anytime I try to chat with someone

Other than that I really relly like windows 8.1


Been using 8.1 RTM since September 2013. Nice improvements, though I was a fan back in 2011. My 66 yr old mother really likes it and the touch screen laptop I leant her when 2002 XP PC died. I like the refinements and OOB apps updates and additions. A very welcome upgrade indeed.

I cannot tell anymore if my SkyDrive files have synced up or not as the green tick icon is no longer there does anybody else see this

SkyDrive has duped all my files. Nightmare

sigh....
I really hope you read this...

the point of Skydrive in 8.1, which was explained in channel9 its that they wanted to make a fusion between skydrive for win8, and skydrive for desktop.
skydrive for desktop was stupid... because you HAD to synchronize everyfile in your computer, so it was pointless to have files online if you had to download them in your system. then they allowed to choose what folders you wanted to synnchronize but it wasnt enough.
now Skydrive for Win8 was nice and all, but you didnt have offline files... so it was not useful in alot of scenarios, especially whenyou wanted to have your files offline and make changes and synch those changes to skydrive.

why I tell you all this? because thats how it works now. now you are allowed to see your skydrive files and even open them, but without having to download all the files (imagine you have 20gb of files in your skydrive)

now do this, go to skydrive folder propieties, and check how much space its the folder, but also, how much space its on the harddrive. and you will see Microsoft made some changes, so skydrive will download a smaller version of the file, and have thumbnails and all, but without downloading the whole file.

now, right click on the file you want to synchronize and then you will get a "make available offline" yeah thats the new way of having your files in your disk if you want. also if you open a file it will automatically download the file. but then after you close it you can right click and "make available online-only". so you will be able to make changes to files, without having to download all the 19.9gb of 19999 files (for example) just you have to "download" 1 file.

the point of the new skydrive its you will always have your files online, but you can make them offline. so they are already synchronized across devices everytime you are on your computer with an internet connection.
if you see on details display in skydrive folder, you will also see a new row that will tell you if a file its offline or online. (it wasnt in the preview) and that way you dont need a green thing icon anymore.

I totally agree here, and I suspect this is why you can't post a photo to facebook from the photo ap now. And that is my greatest gripe with 8.1. Don't get me wrong, I really like 8.1. I love the true universal search, the larger tiles, the snap features of the metro aps. But the most handy part for me was the ability to be looking a photo on my skydrive and share it to my facebook page. I can't even do that if I'm looking at a photo stored locally. I have to go to the facebook site (since the offical ap doesn't support skydrive) and upload from there. Guess I'll be posting photo's directly from my phone now.

Hi lancguy, I think this article explains why they changed things regarding your picture uploads http://blogs.windows.com/windows/b/bloggingwindows/archive/2013/10/15/sk... let me know if it was of any use. Billy

Thank you _EMI_ for such a thougher reply it was well recieved, the only issue i do have though is that if i place some important files on my harddrive then i have to leave suddenely etc i would prefer to know that those files have backed up to the cloud before i left, just like i did in the past, i did a test yesterday and even though some files said avaible offline, they were not in my skydrive folder on the web unrill some time later, yes i refreshed screen etc but it didnt happen so the only real way to check now is to login to the online folder and check manually
many thanks

Billy

Took ~30-40 minutes to download and install.
Awesome sauce! Now its time to do my Surface RT and touch screen laptop.

Desktop, touch screen laptop, and Surface RT, all went well.

Wi-fi died on my Surface RT after the upgrade, but a restart resolved the issue. Working great now.

Update doesn't show up in the store for me. Hopefully I'll have better luck with my home wifi (instead of work).

It completely hung up my laptop with some kind of activation key issue and disabled wifi completely. I've brought it back to Win8 twice now. Once I get my Surface Pro updated (taking forever to download) I'll go back to trying to figure out the HP and get it up and running. Otherwise, it sounds like it will be great once I get there.

Destop Skype doesn't work. It crashes on startup. HELP!!!!

Takes too much time to download...

I still can't see it in the Windows Store. And my windows 8 installation is completely up to date. What's with that?

Maybe you're running Win8 Enterprise.

In my case, this is the cause. I'm running Windows 8 Enterprise, and not opt-in to 8.1 Enterprise Preview back then. So I'm not upgrading yet. I guess I have to wait for my main branch office acquire the 8.1 Ent update installation for Win8 Ent users :(

Let down, as I cant upgrade my netbook as it needs to go through the store app. But my desktop was fine but somehow I got malware and im stuck in a reboot loop.

Had my XPS 10 upgraded in about half an hour. Comcast(Xfinity) high speed internet rocks!!


How is the Xbox Music App? At the moment (pre 8.1), Xbox Music only notices 235 songs from a collection of 10,000 songs. All 10,000 songs are in my Zune folder. So is it better?


All my songs were recognized. All 12K plus. And many more have been cloud-matched that were in version 8. So far so good. I miss the Explore Artist page and had a hard time finding the buy button too.

Let me ask you this, why cant we buy multiple tracks at once? And isn't that a feature you would like?