Pompei Apocalypse, a fast paced arcade game for Windows Phone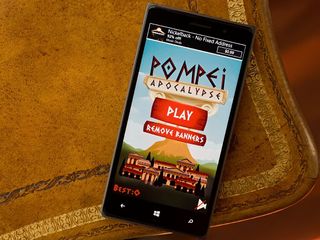 Pompei Apocalypse is a fast paced arcade styled game for Windows Phone where you race to save the ancient city of Pompeii from balls of fire that is spewing from the volcano Vesuvius.
Available for low-memory devices, Pompei Apocalypse has Facebook integration for sharing your scores and formidable game play. The only hold back to the game is that sometimes the screen isn't responsive that results in a building getting smashed. Otherwise, it has the potential of being a fun time waster of a Windows Phone game.
The layout with Pompei Apocalypse isn't very complicated with options to jump into game play and remove the ad support ($.99). Your best score and a mute button are displayed/available along the bottom of the main menu.
Game play is simple. You have a collection of buildings that represent the city of Pompeii and the volcano is located in the background. The volcano will erupt sending balls of flaming lava towards the city.
Your job is to tap the balls of lava to destroy them before they hit the city. The volcano will spew lava in waves that increase in intensity the further you survive. The game ends, often all too quickly, when the last of your city's buildings are destroyed.
Overall Impression
There's not much to Pompei Apocalypse (and yes the game title is spelled differently than the actual city's name) beyond a few buildings and flaming lava balls. Graphics are nicely drawn up and game play challenging. While the game is a fun time waster, there is one aggravating bug that can be irritating.
Tapping the screen is supposed to destroy the flaming lava balls and save the city of Pompeii from destruction. However, not every screen tap registers and allows the flaming lava to wreak havoc on the city. Fix this bug and the game has potential. Otherwise don't expect too high of a score.
Pompei Apocalypse only has one review in the Windows Phone Store, which gives the game a 5 Star Rating. We would dial it down a bit to 3 Stars but if the game performance bug can be addressed, the game's rating is probably in the 4 Star range.
Windows Central Newsletter
Get the best of Windows Central in your inbox, every day!
George is the Reviews Editor at Windows Central, concentrating on Windows 10 PC and Mobile apps. He's been a supporter of the platform since the days of Windows CE and uses his current Windows 10 Mobile phone daily to keep up with life and enjoy a game during down time.
The people of Pompeii would have loved to have this app back then. ;)

nice game but its boring after one play

but it's because maybe bolopix created it as a pastime of maximum 5 minutes! that's what all this game is about :)

Spoiler alert: Everyone died in the end.....

The moral point: Don't follow homosexualism; live healthy instead of burning with stones or fire balls.

Whats the point of all game reviews here for lumia owners when the f... Lumias dont work with bigger sd cards than 4g? Damnit i am dissapointed on Windows phone this shit is my last wp for sure......

Upto 128 GB is supported. What are you talking about?

4 gb cards are outdated I bet that card won't work in any other device it can't be formatted on ur Lumia pal...

Dafuq? Do they even make 4GB cards anymore?

I own a 520, I'm using a 32gig sd class 10, I have got everything installed in the sd card (it is almost full in memory) and it works smoothly, except for the tile rendering at times. So what are you complaining about?

Well sorry you think that but I dont understand what you mean I got a Lumia 630 and it supports a sdcard up to 128 GB. So I don't know what kind of Lumia you got but all the lumias I know of even the cheap ones at least let you have a 32gb SD card and then there are a few lumias without sdcard support but they got more memory to begin with.

It aint working fucking freezes and no installing from phone to sd thas is brand new kingston formatted in and by lumia 1320 thats what im talking about

I use 32gig sandisk and no issues whatsoever. You sure it is above class4? Class 6 is minimum requirement.

may be your card class is low

My sandisk8gb class4 too works decently in 520....!

Sounds like a person that would rate a game a 0 because the game doesnt work because of his phone.

Well, good luck moving to android which is apparently the least problematic OS around. Better have your SD card checked and replaced. Try other memory cards. Lumia 520 16 GB Class 10 strontium here, almost full, high end games playing from my card smoothly. Lumia is the least problematic phone around.

It's a defective product send it back and be sure to get a class 10 one.

Im not the only one either.the whole net is full of complains of this topic specially on lumia 1320 have a look yourself

Off topic : Can Anyone suggest me lan games ?

And it wasnt cheap either well i have to give my hope for the upcoming denim that is maybe that will fix this

Well this isn't a known issue and i doubt denim will fix this. I once had the problem of photos, music and videos showing multiple copies on my lumia 520. A hard reset with the sd card in the phone fixed it. No further issues till now. Try the hard reset.

Useless game and unity should have released a game that is better....like the before games that they have released

this game is a time waster not a game for console remember the target! ;)

Don't worry an update is coming! ;)

Pompei is Italian, and it's spelled right. Pompeii is the latin language name.

Correct...pompei it's the actual italian name!

Talking about sd cards, do I need to get class 10 for smooth 1080p recording? I wont be taking alot of videos though, its mainly for storing maps and games, music & videos

O Not sure I want to give up access to my photo library for a free game

Played the game and liked it quite much, good graphics and gameplay.

Please place a good review| ;)

Out of topic...But can someone tell me why windows phone doesn't have candy crush saga on their store?????????????????????????