Poppy Kart for Windows Phone 8, cart racing pixelated style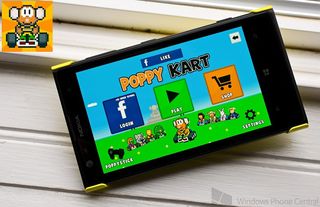 Poppy Kart is a relatively new racing game for Windows Phone 8 that takes a bit of a pixelated approach to things. The story line has Froggy running away from home and her dad has challenged you to find her by racing your way through the various levels of game play.
Poppy Kart has a "Mario Kart" feel to things and the pixelated graphics gives the game a retro appearance. Storyline aside, the races can be rather challenging and a fun way to pass the time with. All things considered, Poppy Kart is not a bad gaming option to consider for Windows Phone 8.
Game Layout
When you first launch Poppy Kart, you will be presented with a series of storyboards explaining the game's storyline. You can advance through these screens to get to game play quicker.
The main menus for Poppy Kart has options to log into your Facebook account, jump into game play, and visit the game's store. You can access the game's settings from the main menu as well. Settings cover display options, control options and sound/music levels.
Jumping into game play your first task is to select your gaming control style. Poppy Kart has three styles of on-screen controls or you can opt to use the Windows Phone tilt sensors to steer your cart around the racetrack.
Poppy Kart has two gaming difficulties, progressive and expert. Progressive starts out on the easy side and slowly becomes more challenging. Expert starts out on the difficult side and does not waver.
The game includes eight different players that progressively become unlocked as you advance through the game. You'll start out racing Poppy but you also have Norton the elephant, Crapo the frog and others to race along the way.
Poppy Kart has seven racetracks to conquer with the free version (additional tracks can be unlocked through a $1.99 in-app purchase). From the track selection screen, you can also replay the intro scenes, change your Kart racer and visit the game's store where you can unlock the full game and buy totems that will go towards finding Froggy and advance through the racing levels.
Game Play
Game play begins with you and your opponents at the starting gate for the race. Your racing data will be displayed in the upper left corner of the screen (position, lap number, and items collected). Your racing time will be displayed in the upper right corner of the game screen.
Steering controls will be dependent on the style you choose in the game's settings. You also have to buttons in the lower right side of the screen to break and activate your special power (used to take out opponents). Acceleration is automatic by default or you can add an accelerator button to the gaming screen and handle things manually.
As you race, you can collect totems and tokens that appear randomly on the racetrack. You'll need to finish no lower than fourth place in the race and collect a predetermined number of totems and tokens to advance to the next racetrack.
The pixelated graphics teeter on giving the game a childlike appearance but game play tells a different story. The race tracks were laid out in a mildly challenging fashion and your competition can get down right nasty at times. Don't be surprised if a frog race his kart up next to yours and slams you into a barricade. Luckily, you can always return the favor.
Overall Experience
I have to admit the more I played Poppy Kart, the more the game grew on me. Graphics are nice and the pixilation gives Poppy Kart a classic or retro feel.
Game play is challenging enough to keep things interesting and I think the key to success with Poppy Kart is finding which set of controls works the best. I was not a big fan of the tilt steering and found placing the steering controls in the left/right sides of the screen worked the best (your views may differ).
There is a Windows 8 version of Poppy Kart (free with in-app purchases) available and you can use your Windows Phone 8 device as your gaming controller. You'll need to install Poppy Kart on your Windows Phone and tap the "poppystick" link on the game's main menu to connect your Windows Phone to your Windows 8 device via Wi-Fi.
If you need a break from the intense graphics and high speed action of racing games like Asphalt 8: Airborne, take Poppy Kart out for a spin. I'm not sure it can hold up to lengthy gaming sessions but for short bits of time, it is a nice option to pass the time with.
Poppy Kart is a free, ad-support game that is available for Windows Phone 8. Again, the free game is limited to seven races and a $1.99 in-app purchase will unlock additional races and remove the ads.
You can find Poppy Kart here in the Windows Phone Store. The Windows 8 version of Poppy Kart can be picked up here in the Windows Store (opens in new tab).
Windows Central Newsletter
Get the best of Windows Central in in your inbox, every day!
George is the Reviews Editor at Windows Central, concentrating on Windows 10 PC and Mobile apps. He's been a supporter of the platform since the days of Windows CE and uses his current Windows 10 Mobile phone daily to keep up with life and enjoy a game during down time.
Nice looks like the old Mario Kart :D

Inb4 Brazil and 512mb ram comments

Everything comes pixelated on windows phone

So hows the medication working?

Where's my Samsung Huron!!!! Haha...

Actually looks kinda cool.

I wrote mails to kabam and glu. I didn't get any response from them for launching more pf their games on wp.

Download ASAP its going to get pulled.

memories of 'wacky wheels' ! #Nostalgia

That's exactly what I was thinking!

wacky wheels is our old classic! this game is not upto that standard verymuch average!

That plays pretty well. I am kinda bummed that the tilt controls are uncomfortable. I think for tilt steering to work, the horizon needs to stay level. Otherwise you just get disoriented. The left/right button control works like a charm though.

Why don't people use the term "demo" any more? It sounds more like this game is a demo version until you drop the 2 bucks to unlock all the content, there have been quite a large number of games like this over the recent years. Bring back the term demo and maybe people won't bitch as much.

Well, it seems that if you collect the totem things in game, then you can play through it without paying. It seems.

Add some multiplayer and I'm in!

And holy shit, what's this about using the phone as a controller for the Windows 8 version?! I will have to try this when I get home. Sounds awesome.

As far as racing games for WP8 go it's actually pretty good. Frame rate is smooth and solid, graphics are colourful and gameplay is reasonably challenging. Trouble is the levels look more designed to replicate Mario Kart than be practical for mobile gaming, so tilt-controls really don't work as well as they could do. Also the menus are painfully confusing to navigate. Maybe once I'm finished with Real Racing 2 I'll play this more. =)

The fact that they just copied the Mario aesthetic and that it doesn't feel very polished is a big turn off for me. It's not that I dislike Mario, but at least put some effort into making it look more distinctive. Also, if you're going to do a pixel aesthestic, you'd better be consistent about it. On an unrelated note, why does the Windows 8 app store look so much nicer than Windows Phone's store?

Looks like the first Mario Kart

Such an Awsome Game. Gameplay video can be found right here. http://www.youtube.com/watch?v=NwkOUa9D1eA
Windows Central Newsletter
Thank you for signing up to Windows Central. You will receive a verification email shortly.
There was a problem. Please refresh the page and try again.