Popular dice game, Yatzy goes free for a day with myAppFree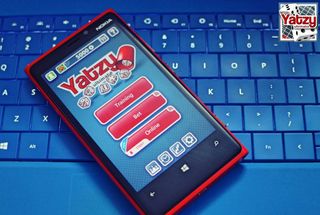 Yatzy is a popular dice game and while it's most popular in the Scandinavian countries, the variants of the game are popular in various regions of the world.
Yatzy for Windows Phone is a fun and addictive game, and judging from the reviews on the Windows Phone Store, it's obvious that the game is quite popular as well. Partnering with the awesome folks at myAppFree, the developer has made Yatzy free till tomorrow.
The game is pretty accommodating even if you don't know much about the classic game. You start the journey as a Newbie, and advance to higher levels with little luck while using your skills. You can select from your favorite game configuration - Yatzy (Scandinavian - 5 dice), Maxi Yatzy (6 dice), and American Yatzy (5 dice).
The game allows you to play online against the best opponents from around the world and your buddies or in a bet mode taking risks to win more. It also supports multi-tabling for up to four games at any given time. The game maintains a history of all past games and statistics and allows you to share your results on your social networks.
The online mode is quite engaging and you can search for your friends who are already playing Yatzy Ultimate and send them buddy requests. When you fire up the game, see who's online from your buddy list and invite them to play with you.
Since the game otherwise goes for $0.99, it's ad-free, however, you can grab it for free till tomorrow – that's 12:00 noon on May 1 (UTC+1 London time). Download Yatzy for Windows Phone 7.x and Windows Phone 8 devices from the Windows Phone Store.
Whether you're playing alone, with friends on the same device taking turns, or taking on opponents online, Yatzy is an addictive game and with interesting graphics and sound effects, it's a game I would recommend even if you were paying for it.
Get the Windows Central Newsletter
All the latest news, reviews, and guides for Windows and Xbox diehards.
Nice, although I already had it. :)

It's actually popular in the US as well, though it's marketed under the name Yahtzee.

I love this game. It is right up with Wordament as my most played games.

If I remember correctly, it's gone free second time now..
Got it the last time it went free.

I got it when it was previously for free. Its not as forgiving as ea's iteration i got frustrated & uninstalled. What a waste of 18+ mb's of space

Thanks for the great tip!

This is more of a Yahtzee clone than anything. "Yahtzee" published by EA and licenced from Milton Bradley is available as an XBox game for Windows Phone. Although it does cost $2.99 which is a bit steep.

It's not a clone. Yatzy is a public-domain game, unlike a Scrabble for example. Yahtzee is Hasbro's variant.

I also already have it, been wondering how did I got it since I usualy don't buy games. But there is the answer - it's free for the second time.

Why does a game need owner identity?

To send you free kittens in the mail