Popular iOS game 'Infinity Blade' to be released on Xbox One in China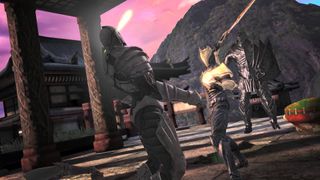 There's some good news for fans of the popular iOS title "Infinity Blade" today — provided you own an Xbox One and live in China. A new entrant in the series, "Infinity Blade Saga," will reportedly be launched by Chinese publisher Tencent on the Xbox One sometime in 2015.
The news follows the appearance of a teaser site earlier this week that showed a series of images of people smashing their televisions with various weaponry, ending with a promise that further details would come soon. That day was today, as Tencent showed off Infinity Blade Saga running on the Xbox One at the Tencent Game Show in Shanghai.
The game is said to have Kinect support, and features stages from all three of its iOS counterparts. There also looks to be a playable demo at the game show, and the Xbox One appears to be the only console on which the game is confirmed to be launching.
There is no word on whether there is a planned launch for the game outside of China, but it is definitely interesting to see such a popular title making its way to a new platform.
Dan Thorp-Lancaster is the Editor in Chief for Windows Central. He began working with Windows Central as a news writer in 2014 and is obsessed with tech of all sorts. You can follow Dan on Twitter @DthorpL and Instagram @heyitsdtl. Got a hot tip? Send it to daniel.thorp-lancaster@futurenet.com.
Wow, for a moment I thought it was coming to windows phone rather..

But if it's on Xbox one maybe it will come to Windows Phone with Windows 10 on Xbox one 2015.

We aren't going to able to play Xbox one games on windows phones just because of windows 10 lol

roflmao. hilarious. lmao! BUt yea we all tought it was for windows phone. Rudy Huyn did tease he was working on a very popular iOS game last month. I was hoping it was candy crush and not Infinity Blade, now I think it could be IB. I dont see y Microsoft wouldn't also strike a deal with them to bring it to WP

Very funny because i forgott in my comment the maybe every human can make a mistake especially people who aren't English

Depends on whether it's a native Xbone game or a universal app. I'ma cross my fingers for the latter!

Only thing about that is will we see permanent iap's in wp games that crossover?

But this particular game could make it to WP given that it runs on iOS right...? Once WP and Xbox share the same OS, its possibility...am not saying all games, maybe this one cause it can run on a phone anyway..?

Infinity Blade is made with the Unreal Engine. If I remember, Epic were working on deployment for Windows store and WP. I'm expecting the Epic Citadel tech demo to arrive first, if ever.

Glad I'm not the only one xD

I doubt it would every come to windows phone its a game that's iconic on iPhone.

I just feel offended as the iOS is compared to Xbox one not to WP ...

Title says coming to Xbox one no mention of phone at all.

And not even outside of China, this is a little disappointing.

Oh well that's life. Ain't nothing we can do about it, Microsoft even gone do their part or they will just lose alot of windows phone users who will go back to apple and android all together.

Yeah, my sister and girlfriend each switched away from WP recently. Makes me sad.

Yeah, my entire family is on WP but one of my sisters will probably defect soon. The one feature that keeps us all together--Family Room--has never worked quite right. Windows Support has been working on the problem since June 2014, but no fix in sight.

Infinity Blade was originally conceived of as a Kinect game. It later became a touch mobile game.

So its going back to its root Coolest Man Alive

It would be great if this turns out to be a great Kinect game that then launched globally. Very intrigued. But, what we really need is a Kinect-controlled sequel to Rez or Child of Eden. I tweeted Tetsuya Mizuguchi just that and he did favorite the tweet, so that's promising--or, at least it is better than him not favorite-ing it.

Similar to how some Europeans change their X1 region to the US to get games sooner, can I change my region to China and get this game?

No, the Chinese Xbox One marketplace is region-locked to Chinese consoles.

China's will find a reason to sure Microsoft for this...

I don't think that's how it works friend..

I don't know... Got all three of this game cause of its fame... I'm playing part two, but it's getting boring too fast...

So hopefully s​ince there's been talk of windows 10 apps running on Xbox One hopefully this mean the opposite is true and Xbox one apps will run or easily be ported to other windows 10 phones and tablets!

Please make the app universal so that we can have this on Windows and Windows phone too...

infinity for iphone. halo for Windows phone.

I thought Infinity Blade was an exclusive iOS title?

Yo angry birds star wars is currently free! :)
Windows Central Newsletter
Get the best of Windows Central in in your inbox, every day!
Thank you for signing up to Windows Central. You will receive a verification email shortly.
There was a problem. Please refresh the page and try again.