Popular platformer Leo's Fortune makes its way to Windows and Windows Phone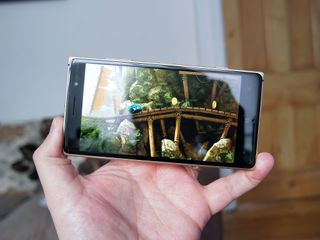 Popular iPhone platformer Leo's Fortune has made its way to the world of Windows. Featuring a beautiful art style and clever puzzles, Leo's Fortune is now available as a Universal game on both Windows 8.1 and Windows Phone 8.1.
Leo's Fortune is a platforming game that sees you take control of little fuzzball Leo as he tries to recover his stolen gold. You'll need to traverse new environments, solve puzzles, and more to catch the theif. Here's what players can look forward to.
VOYAGE through lush environments from mossy forests and arid deserts, to pirate cities and snowy mountains.
SURVIVE vicious traps and solve physics-based puzzles through 24 levels of treacherous platform adventure.
FOLLOW the trail of gold and uncover the truth behind Leo's stolen fortune in this award-winning platformer.
As a Universal app, the $4.99 price of the game will cover the purchase of both the PC and phone game. You can downloaded it now from the Windows Store and Windows Phone Store. It was awarded App Store Best of 2014 and 2014 WWDC Apple Design Award winner, so it comes well recommended.
Download Leo's Fortune from the Windows Store (opens in new tab) ($4.99)
Download Leo's Fortune from the Windows Phone Store ($4.99)
Windows Central Newsletter
Get the best of Windows Central in in your inbox, every day!
Well it was probably ported from iOS, which is why the visuals are so stunning.

Yep man .!, its eye catching graphics are awesome *_*

That comment makes absolutely 0 sense. There are tons of things on iOS that do not have good visuals and there are things on Windows Phone that have gorgeous visuals. It all depends on the art style/skills/direction of the developer, not the platform.

There are people who are going to say "ported" about every iDroid app that comes over. They are the same ones who say "market share" when we don't get ab app. They have a gripe for all occasions.

Fun Fact: Actually the game was created in Visual Studio prior to the iOS launch so technically iOS was the first "port". /Johan Knutzen @ 1337 & Senri

Great game, and thanks for bring it to windows.

Just recently bought the game. Saw it on sale in the store and thought I just had to buy it. Would have bought it full price had I know of it. It's been a joy to play. Very nice game! And I like the fact I pay for a full game, in stead of being lured in with the whole freemium concept and end up paying anyway. Thank you so much for bringing this to the Windows 10 Store!

Ah! Then, I have a question for you. Was the game ported using Project Islandwood or was it built from scratch?

Excuse me? I was genuinely concerned about the method he used to create the app. I wasn't degrading his effort one bit.

And what cause will it serve?
Like the game, can afford it, play it. If not, leave it. And yes, you were degrading his effort!!!

I'm sorry if it came across to you that way, it was certainly not my intention. With all the hubbub around Project Islandwood, I thought that the developer might have used that to bring his game onto the platform. Believe me, nothing makes me more happy than a developer who has spent his time, money and resources to provide us his game. And, I bought it just to support the dev.

Hi, The game is written in C/C++ from scratch and we rewrote the graphics backend to add support for DX11. Nothing is "wrapped" or done in an easy way - It's all custom code and a proper version rather than a port. All of the libraries we use in the game are cross-platform and open source. Johan

Thank you for the clarification Johan. I'm sorry if I sounded rude (I was just being curious). It was not my intention to degrade your efforts. And by the way, welcome to the platform!

It wasn't rude in the slightest, it was a perfectly sane and reasonable question. Electrocock seems to have some sort of problem.

Thank you Chris. I think the non use of emoticons is the cause of such confusion. Or maybe Electrodude just had a bad day.

Again, why should it worry us if the game is a port or not. We should be happy that games and apps are coming our way.
@gautam26- Sorry. Yes, I had a bad day but questions like this make me sad. It's like the new "seems faster" and "wen in India". :(

Yes, you're right. As long as apps and games keep flowing into our platform we shouldn't worry about them being a port or not. I was just trying to get a bit of clarity on Project Islandwood. I'm honestly excited about the prospects of Islandwood and wanted to know how the devs (who've worked with it) feel about it, which prompted me to ask that question. That's okay, there's no need to apologize. I should have made my point clear. All is well! :) Hope you have a nice weekend!

I don't get it. How could using Project Islandwood be considered a negative thing in any way? Are you serious?

You did not sound rude to me. I'm happy to answer any kind of questions regarding the development process :). The game has no Objective-C code (apart from a file or 2 on iOS) so Project Islandwood would not have been an appropriate fit for the game anyway.

I just tried the game and I absolutely love it. Thanks a ton Johan. The visuals are impressive.

As a retired developer, I had the same curiosity. I would have asked if you had not. really impressed with the looks of this game, and while I generally don't play this type of game on my phone, I would love to try it on my laptop. Since I have a birthday coming up in a couple of weeks, I think I'll request it for my birthday. Time to "share" the link to my wife's email. :big_grin:

I hope Project Islandwood becomes a success. I feel that Islandwood has more potential than Astoria. iOS apps look far more polished than Android apps and I would love to try them (ported ones) out on my WP. Oh and by the way, Happy Birthday in advance! :D

Never heard of it, but the visuals alone make me want to support it.

Ya apps are rushing to windows

I don't know whether it is ported or not but, I'm Happy to see new games and apps coming to Wplatform.

$5???? Im curious how much this cost on iOS. I dont know, that amount just seems like a lot for a side scrolling platform game.

Same on iOS. And worth every penny.

Probably the best visuals ever released on mobile though.

Too many popular apps in 2 days :D

I don't understand one thing! It says it is available as universal game, does this mean that windows 8.1 and phone 8.1 already had universal coding? Does this app from IOS use porting..

Hum. Yes. Not totally sharing code like UAP Windows 10, but yes, you can build an app for both with almost the same come, but with Win8.1 it's more limited.

This is the "buy once, get everywhere" universal and not the W10 type.

8.1 has the different codes for both PC and phone in one appx to be used on two different stores

Lol, we have Universal Apps since Windows Phone 8.1

Universal apps in Windows/WP 8.1 is different from Windows 10. With 8.1 it was simply just buy once, download on all your devices. On the other side, all new apps built for Windows 10 are truly universal apps (hence why they renamed it to simply "Windows apps") with one codebase.

But for some reason the game is still asking me to "buy" it on my PC (Win10 TP) when I've already purchased it for $4.99 on my phone.

edit: never mind... I just hit "buy" and it recognized that I had already purchased it. Now I'm playing it on my Win10 TP gaming PC. Looks awesome on my 27" display! And what's even more awesome is the Xbox controller support! Woohoo!

That's good news to hear... :)

Wow a lot of popular iOS games come out on Windows Phone in the last few days :D might this because of Project Islandwood?

Apps, Apps, Apps, Games, Games, Apps, Apps ... Keep coming!

Damn, look at that version number! Lol.

Awesome game. Very nice addition.

Are there in app purchaces or not?

Not on iOS. So I don't think it would on Windows either. It's totally worth the $5.

There is no IAP in Leo's Fortune. I don't think that it would be reasonable for us to charge for anything in-game no matter how lucrative it would have been.

I would amazed if is a port app bc it plays really smooth and the graphics looks great in my L925

I believe they said ports will most likely work much better on Windows compared to Android simply because of how Windows is much lighter and better on resources compared to the heavy Android core. For iOS apps, it'll be either on par or better as well. So if this is a port, I'm not surprised it works so well!

Candy Crush is a port, I believe, and runs smoother and looks better than most non ports.

WHo cares if it's a port as long as it's detailed towards Windows Phone and runs smooth with no issue, sounds good to me. If the only way we are going to get the cool games from IOS to WIndows phone is porting, I am good with it. As long as it's not what blackberry tried, to put a emulator to run Android apps, with VERY questionable performance and results from what I read.

Read the comments from the developer on this page - it is 100% NOT a port

In fact, he said the original iOS game was a port because they wrote it in Visual Studio.

What kind of idiotic comment is that? Code is code regardless of where it was before it was compiled. It doesn't matter if it was written from scratch or copied and pasted from somewhere else.

This will be the most annoying thing in WC now.

Cool! Heard the game is really amazing with its visuals, gameplay and music playing along. Will buy it on a Redstripe deal. A little too pricey for me right now...

Why everthing is paid on windows, its free on Android and iOS

Because we are the slaves

Ya I feel the same we are slaves, they are not giving anything to lure the customers from android and iOS I don't know what's their strategy what they are trying to do, it's better to move on to a mature platform that is Android because Nokia is already dead who bring me to the platform, I hate Microsoft they are arrogant

No it's not. This has always been a paid game. I know because I've bought it on both iOS and Android.

This is not free on Android/iOS... it's the same price!

"Why everthing is paid on windows, its free on Android and iOS"

Such lies and you sound whiney.

Threes! is free. (at least when I downloaded it)

Why don't you get a job? or better yet, learn to be.a developer, spend months making an app and then give it to everyone for free out of the kindness of your heart.

Or better yet, learn some f'ing grammar.

I am not a british why should I care about their language.

Because English is the universal language of the World, not just England.

Then why don't you ask Russian, French, Germans, Chinese to learn it, and if you have grammatical knowledge then why don't you make me learn it

Germans speak a very high level of English, and I'm sure the French are taught it in school. But it doesn't matter, as English is the universal language whether you like it or not. I couldn't care less about your grammar, as that comment was by someone else. I only replied to "why should I care [about English]".

Downloaded. Been waiting for this. Gosh.

Keen em coming.. Especially games! :)

Played this on my android device and it is worth the money. I can't believe some people are so hesitant to pay $5 for a quality mobile game. Are people just really poor, or so entitled that they expect everything to be free now?

Maybe neither. Some might be frugal. Try not to label people, that's so '50s.

No offense to Android users, but they have a 90% of smartphone market and yet, iOS developers still get more income than all the Android users. Conclusion, yes Android users are in a majority poor.

That's actually an incredibly dickish comment. Some people after paying things like their mortgage, utilities, and other essentials don't actually have $5 to spend on a mobile game. WHen they choose to not drop the $5, that doesn't make them poor, it makes them smart enough to not live beyond their means. Other people just don't find the enjoyment in a mobile game, that doesn't make them entitled, it means it just isn't worth it to them.

Choosing not to spend $5 on an app or game is perfectly fine. Everyone has that choice. But complaining that it is not free is very different. I am just a little concerned about the trend that I see, especially amongst gamers, where many people just expect mobile games to be given away. And it also seems that they are the first to complain about bugs and poor support.

It's funny, gamers complain about IAP and freemium, then they complain about $5 games. Lesson learned: gamers are a finicky bunch.

I'd say its a vocal minority. Especially if you look at the amount of money all those things generate. Even games like WoW has like every version of money making and it's widely popular. I don't see anything wrong with devs making money though. Gotta get paid somehow.

Well from a developer point of view, this issue is really hard. Usually you don't have a choice regarding the revenue model and you have to choose something that's appropriate for the game. The games we make happen to be premium games and that's what we know.

Yeah you are right.... I find the iap /freemium a lesser experience and the rankings useless. The ranking is the most annoying as I dont look at them to compete with others but it is nice to see if it is a hard game and if I am doing OK or not. Buying your success just makes these ranking stats pointless.

It seems like you are the only one who is supporting the platform as well as the developer's, we just creating the crowd mess, is it? I have submitted lots of new feature to Microsoft via the feedback, but I never got rply from anyone or nor get any assurance, if they are working on it or not while on the other hand google always rply, that's why I make the complaining habit , Microsoft sucks, they are poor I am not and I don't know about you

Kasif, its feedback and they say up front they most likely will not respond. Its community/beta feedback as I can like/meetoo so they can get an idea of what most important to most people or common problems. I do send emails that I do get responses to as that is the nature of that style of communication.

At What address you send emails to them.
And everybody needs a call recorder, everybody needs a threaded view of phone calls, grid view of apps is not a bad ask I guess, dark theme for internet explorer, and i have many thing to tell them plz convey my message or give me the email address, I will blast their servers with my mails :P

Funny , buy an expensive smartphone yet complaining about $5 app/game... Don't know what they're thinking actually....

I was asking it for free because developer's is porting their apps from iOS and android using Microsoft tools provided to them before that tool they don't want to support the platform they want's to kill the platform because of android shit and still many developer don't want to support the platform while they have these new tools

Wow the graphics are beautiful and it runs so smooth even on my 920 with Win 10 TP. YAY!

That's good to see that apps are coming to Windows phone

He would probably if u try to pay his daily expenses.

In india, carrier billing is not supported for more than 4 dollars (-_-)

It's easy to get a credit card now-A-days.

Exactly - and you can buy Visa gift cards in almost any country, so you don't need a credit check like a normal credit card. The gift cards are bought for a fixed amount, say $50-100, that you can link to your MS account until it runs out.

Would you do your job for free?

Probably because he wants to be paid for his work. He's set the bar pretty high with this one and deserves it. Its only 5 bucks after all.

Why in the f'ing hell would you even post a question this stupid?

Excelent, this is why I love Windows 8.1 and why I'll love Windows 10 on the desktop, since you can play all the games for any form factor (smartphone, tablet, PC, Game console) No other ecosystem lets you purcase your app on your phone and have it on your desktop and pay only once. This is also why I think Chromebooks haven't been popular outside the education market, since you still can't play your Android games on your laptop. Google needs to explain why they don't have commitment to their promises. (In Google IO 2014 they said ChromeOS would support Android, but looks like developers are not interested in Chrome OS). Time for game developers to get out of Android altogether and focus on Windows.

Pity that there is no demo. Why do they expect people to buy on the basis of the developer's description? Same problem with some Disney games.

To be fair, there is a video and a lot of information on the internet. But yeah, a trial would be good too

Apps! Apps! Apps! Developers! Developers! Developers! Lol! Nice, apps are coming I bunches.

CLASSIC WINDOWS PHONE. GAME COMES OUT ON WINDOWS PHONE A FULL YEAR LATE, COMMUNITY IS IMPRESSED. #win10isdoa

You know that Microsoft announced technologies to bring compiled Android apps or iOS apps to Windows Phone without code changes? This is going to be fully operational in Q1 2016 which means your Android OS is not going to be relevant anymore. Android will be much more tied to Google Play Services in the coming years meaning you will never be able to play your Android games on a PC or a game Console, which leaves developers with a disadvantage over Windows ecosystem. Just my 2 cents.

android will soon run legit gaming consoles, and is already making moves to take over desktops. Microsoft, by their own admission has 14% of the total market and shrinking. I like microsoft, but the writings on the wall. As for any disadvantages, i bet developers would rather work with androids 80% of the market vs microsofts 3.5% of cell phones. Even including PC's android is now bigger. iOS is coming close to passing total windows install base. I've already posted elsewhere that porting is a waste of time. nobody is going to bother. the problem isn't with writing an app, it's with supporting one. that's the reason we KEEP seeing apps pulled constantly. that's not going to change because writing the app isn't the issue, which means ease of porting isn't the solution, because it's solving a problem that doesn't exist.

Don't feed the troll. Starve him of replies and he will return to his cave.

Poignant explained. Great job. r

If you don't like use windows phone fans why don't you go hang out at the android or ios forum nobody wants to here the trash you talk anyway windows 10 is very much alive and it will revolutionize the module industry just wait and see so if you don't like windows and Microsoft why do you feel the need to troll and tell others what they like is garbage cuz your insecure about your own platform of chose good day and good riddance.

How many ios apps have found their way now

Downloaded. Played through two levels. Absolutely beautiful and smooth. The gameplay is surprisingly good for a touch interface platformer. Only complaint is that the resolution isn't quite as high as the L1520, so you see a bit of pixilation if you get close.

OMG OMG this is unbelievable! Thank you, thank you, thank you! I was so waiting for this amazing game! ... Hope Supercell is next to release Clash of Clans and Hay Day for Windows Phone...

Looks nice, but not very cheap now is it (for a mobile game)

How can people who visit this site and consider themselves tech enthusiasts make such stupid comments. It really is mind boggling. For starters, I wouldn't consider this just a mobile game. You can also play on a giant screen running on full Windows. Also, $4.99 is not expensive for a good quality game (with zero ads and zero iap's)

Add Xbox support, I will buy instantly.

Dam, looks good but, I would like to try to controls, too bad no demo... It would of been cool to see a iOS game come over with Xbox live but, I guess that is a dream huh ?

On Windows we support gamepads, keyboards as well as multi-touch input. Johan


Hello, Will you take advantage of beong able to let user "try" the game on Windows devices?

Downloading. It looks so beautiful. Can't wait!

OMG my fav game on my tablet!
Instantly downloading.

I'm grabbing it for my Windows 8.1 box mostly because the graphics are so stunning. Thanks for the work Dev.

They will never be able to make a legit game console you know why developers who make the top quality games spend millions on it they want to make there money back and a crapdroid console all people would do is root the android cuz its shitty with security anyways and get the games for free you think that big company are going to go for that I think not its fine with mobile games cuz there not losing as much money only a couple bucks for ever cracked version of the game but on a console it would be lossing 50 bucks per cracked game so do the math and don't they already have a game console running android and it is a big flop another thing your forgetting is Microsoft has direct x 12 android just can't compete in the gaming market like Microsoft can periods and sooner or later all these android fanboys and developers will realize the mistakes they made in supporting a crappy open source is to begin with go away troll

For fucks sake, have you heard of punctuation? That is like an explosive vomit of words

Can someone telling me if this game is better than Monument Valley...

Totally different style of game altogether. Are bananas better than pizza?

No, they are not. Especially if you're drinking beer.

It would be really great if the download wouldn't stall after paying for the game. Argh...

Fantastic game! I bought this a few months back for iOS on my iPad Air 2 and liked it so much that I'm more than happy to pay for it again for Windows. Looks and runs great on my 1520 AND my gaming PC (Win 10 TP) Looks amazing on my 27" display! Also loving the Xbox controller support!

YEY! But is kind of expensive >_<

5 dollars will break your bank? Just ask your mom and dad like you always do.


Say what you want, but seeing all your android friends playing it for free is just annoying I don't even know it it's a good game

Wait a sec. If ALL your android friends are playing it there is a good chance its a good game. I mean common sense kinda says its good. That brings us back to having the courage to ask mom or dad to chip in 5 bucks. Question for you Mildor, I didn't see a free version of Leo's Fortune in the Play store. Its possible my search missed it but if not, are ALL your friends playing a pirated Leo's Fortune?

Once again, people are judging by quantity over quality... even more of my friends are also playing candy crush, that do not make the game good, it's actually a pretty bad game. A lot of people are listening justin bieber's songs right now, instead of listen real music... that doesn't make "baby" the best song ever, does it? If these industries have taught us something, is that quality do not sell, marketing does. You can even see the last VisionMobile report, and the correlation between development effort and sales are decreasing dramatically, and instead the correlation between marketing effort and sales is so damn high. And yes, your answer is yes... I was talking about how easily an android user can install the game from the web without paying for it, which is not 1 or 2 users... actually 95% of Monument Valley users didn't pay for it (for example)... I do play for monument Valley in windows phone because I do wanna play the game, and I think is a fantastic game. I can't say the same for leo's fortune, it's a platformer, I like platform games, but with the videos... mah, I don't really think it worth the pay, even as cheap as 5 bucks.

Just as I suspected. Your friends who you promoted as having fun with this app, did not spend the money or support the developer. Your friends, the ones you want to join are software pirates. Straight up thieves. Theft of android games and apps is easy. It is part and parcel of how android remains so popular. If google had the balls to remove side loading, interest in android would drop off precipitously. But they have no balls so they won't and your friends are free to continue stealing a developers hard work and take money from the mouths of their families. It doesn't take Vision Mobile to tell you that there is a correlation between profit/loss when it comes to theft. Your momma should have taught you that. How long do you think a burger joint could stay in business if workers gave burgers away to their friends? Sales are decreasing because of the friends you keep and continue to give tacit approval of their activities. Before you change subjects, ask your mom for 5 bucks and pay the developer. It keeps his\her ideas flowing and we that respect this platform can continue to own these proud apps. Be blessed.

Really? Are going to compare two totally different business like that? In food business you have to do a money investment in a short time, with software you have do do an investment of time and effort more than money,and is usually not in short time, is medium or mid-long time investment... you haven't read anything about economics, have you? Also, that "steal/thieves" point of view is JUST YOURS, and please be conscious of that. Some developers like US TWO do not think the same, they think the players that do not pay for the game, they never would have bought it anyway, even so, if they like the game and share it with their friends is free marketing. So there's a lot of points of view, even in legal terms, if you did not keep the game installed in your phone for more than 48 hours is not stealing (at least in US), is a right of all users to test a product, that's why there are no legal actions against users, because they can't prove you keep the game for more than 48 hours. Finally... really? Are you still gonna use that "cheap psychology" of saying "go ask your mom for 5 dollars"? Really? What are you trying to do? Feeling like an independent adult? I'm supposed to feel "bad" with myself and I'm gonna rethink all this and decide to pay for the game just for this anonymous guy in the internet with a photo of Idris Elba, so he won't think I'm stingy and then he will think I'm a mature person against piracy and a good human being with good values... Really? Ha... Go try with another person my dear friend, 'cause that's not gonna happen.

Actually, I'm calling your friends thieves because they are. Nothing more, nothing less. This is a fantastic game with a lot of detail in it. I have it on my desktop computer and its paid for. You should consider getting your own copy...and get some new friends too before you end up in juvy.

Jajjajajjajaja see you in hell ;)

Bought it on WP but I can't find it in Windows Store. I'm on W10 on PC and the link from developers page for Windows Store is getting an error. Anyway, the game is amazing!

If you're trying to find it with the BETA store on your W10 PC, try the old store. I had the same issue.
Windows Central Newsletter
Thank you for signing up to Windows Central. You will receive a verification email shortly.
There was a problem. Please refresh the page and try again.