Popular YouTube app 'myTube' wants your feedback on its Windows 10 beta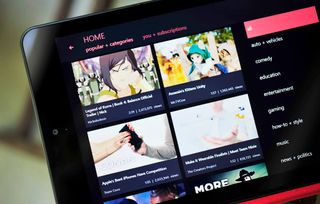 Until Google decides to play nice (or when Hell freezes over), many of us are relying on high-quality third-party solutions for YouTube playback on Windows mobile devices.
myTube is one such solution, available up until now as a WP8.1 and Windows 8.1 app. Ryken Apps is updating myTube for Windows 10, complete with a raft of new benefits.
myTube for Windows 10 and Windows 10 Mobile is available in the Windows Store in Beta. Ryken Apps consistently discusses the project with myTube users in-app, soliciting feedback directly in comments and via polls.
Here's the changelog, some features are currently available to Windows 10 desktop users only:
Updated design for Windows 10

DLNA Casting (Windows 10)
Subscribe to channels directly from the video details
Subscribing now takes place much faster
Subscription list now makes better use of space on large screen devices
Copy video links easily (Windows 8.1 and Windows 10)
Add videos to watch later list directly from notification (Windows 10)
Use Alt + Enter to enter full screen (Windows 10 desktops)
Select multiple videos in a list, and play them as a playlist

New live tile design (Windows 10)
More battery efficient and reliable live tiles (Windows 10)
Fixes issue where video thumbnails disappeared after refreshing a list (Windows 10)
The Windows 10 Mobile version has a couple of bugs that come with the Insider Preview. Casting currently isn't working as intended, and users might experience problems with high-res video playback.
If you haven't used myTube before, it ranks amongst the best YouTube apps available for Windows Phone and Windows for various reasons. It is one of the only apps which allows you to upload your videos to YouTube directly. You can use myTube to listen to videos even while outside of the app on Windows Phone, and download them for viewing without a data connection. Additionally, myTube completely bypasses all of Google's ads, even those pesky unskippable ones.
If you're going to download myTube on your PC, it is designed with touch in mind, but it's more than capable with a mouse and keyboard setup. You can use the scroll wheel to cycle through the different elements, and mouse over the edges of the app to cycle between its menus and video view. You can cycle backwards through your usage using the back button in the title bar, which simulates the back button on phones and small tablets.
Download myTube Beta for Windows 10 / Windows 10 Mobile (Free) (opens in new tab)
If you want to support the developer and jump straight onto a 100% stable build, consider picking up current release using the link below. I've been following myTube for a long time, and the developer is consistent with updates and responding to user feedback.
Download myTube Beta for Windows 8.1 / Windows Phone 8.1 (£0.79 / Free Trial) (opens in new tab)
Are you a myTube user? Let us know what you think of it in the comments!
Windows Central Newsletter
Get the best of Windows Central in in your inbox, every day!
Jez Corden a Managing Editor at Windows Central, focusing primarily on all things Xbox and gaming. Jez is known for breaking exclusive news and analysis as relates to the Microsoft ecosystem while being powered by caffeine. Follow on Twitter @JezCorden and listen to his Xbox Two podcast, all about, you guessed it, Xbox!
After being on android for 13 months, I can safely say the official app for youtube on there is not the best. I use metro tube on wp 8.1 and its far superior to the official android youtube app.

What is it that you prefer about Metrotube over the official app?

And the best part about MetroTube (for me at least): Background Play ! That is something that I can never find on Android or iOS for YouTube videos

try ITube from blackmart, works fine.


Well the list is pretty long. But firstly the design and flow of the app. Its easier to manage subscriptions, preloaded videos, favourites etc. Faster and easier to share to social networks and whatsapp for example. And it seems much faster to. Then there's the visual design. Leagues ahead of the android officiall app. Largely because the developer has built it from the ground up to take advantage of metro.

Metrotube will only play videos up to 720p, which if you have a higher resolution display really sucks. The official YouTube apps beat the pants off of any 3rd party app.

I cant reinstall mytube agin on wp. I downloaded it when it was free but now it is not downloading. I am having similar problems with other paid apps also. Please help me

Contact the developer. :)

We are talking about 5" displays, 720p is good enough even if you get phones with resolutions up to 4k, you can`t even tell the difference.

MS should start a partnership with one of the best 3rd party YouTube apps in the store, so that they can market Windows 10 Mobile by saying " W10M now comes with YouTube app out of the box which is better than the official one on Android "

I am not sure they can legally do that and even doing so it may not be ideal to advertise what many consider to be a counterfeit app.

They can't do that; intellectual property law. Google would sue them out of existence.

Windows really doesn't need an official YouTube app at this point. I don't think Google can deliver anything better than the awesome 3rd party apps (my tube, tubecast, metro tube, hyper for YouTube etc.) even if they really tried hard enough.
Just keep on delivering the steady updates, my tube is already a very solid app!

Yeah! My Tube is very versatile app. Very Smooth, Very fluent transitions... And better customization with flawless performance! Kudos to Devs! So basically We have quality over quantity.

Windows needs an official YouTube app. Not because of you or me probably but because of all those guys who are thinking about switching. When someone has plans to try windows phone and then learn that there's no YouTube they just stay on android or ios.

That's why MS needs a partnership with any one of the best 3rd party YouTube apps .. And market it .. Problem solved

Why would they want to that? Isnt it unfair to other devs, making them want to leave the platform? The app rating on app store is enough said, no need to do anything. Your way will not solve anything.

Much like anything on android, there are multiple versions of many apps. Most people don't care if it is official or not as long as they can do the same tasks.

As long as they make en universial apps im happy camper. TubeCast everyday. Sometimes i go over to the MyTube.

Oh whatever. Of course it needs the official app. You really think carrier store sales reps are going to tell prospective consumers about third party alternative YouTube apps for Windows phones? Because anybody wandering over and playing with a Windows phone, say in an AT&T store, and can't find YouTube (or Instagram or Snapchat, etc etc), will move on to the next phone on display.

loading to blank screen for anyone else?

Hmmm, Windows 10 desktop or phone?

If they used the phone app for windows central, they may not get a response notification like me :)

phone, build 10536 L1520 http://imgur.com/aQWDZ9B

Oh I see, it looks like it needs to scroll, try scrolling left or right. There's a bug right now that's causing it not to automatically scroll into view on launch.

cant click anything / scroll, just freezes there on open , might get one swipe over sometimes. Couple other apps are really slow and laggy too, I'm gonna say it prob has more to do with my build, might do a hard reset

I see, well let's hope that's what it is :) I'll be trying to reproduce it on my 1520.

I made lots of feedbacks about the same issue as well. Now i have to switch to opera mini.

My friend(Android user) keeps on asking me about this myTube app I use on my WP.

Ironic that Google can't even put annotations in the app for their own OS

The same way as for msft apps in their own OS.

Yeah but Android is a popular OS

Perfecttube is my favorite.. It's free offline videos available and can see comments thread why video is playing. Notifications about new videos choke lately that's the only problem

myTube has all of these features, as well as notifications for new videos. You can even select the channels you want to receive notifications from. You can grab the trial version, it has all the features of the paid one, you can just watch videos for like 2-3 hours straight and then get a 10 minute pause, I don't think that's a big deal ahahahahha

Hell was pretty warm last I checked so we're not going to get an official app. Fortunately, myTube is better than the official app.

Why should Google make WP apps when it has less than 97% market share? Besides, even many of Microsoft apps aren't available on WP, so why should Google care about WP? Also, Microsoft loves Android more than WP, and latest proof being that they have just released Skype for Android Wear.


Microsoft have give google a lot of opportunity through PC,where they can located chrome on every pc on this world but why google cant even help Microsoft interms of build apps for WP user.. the user still there even with 3% market share..

Most of Microsoft apps are on android. Do you not see the constant whining they get better apps.

Used android for few days and thing I missed is good YouTube compared to wp, lol ! Downloading video or converting to mp3 is not easy like wp. But honestly, I still miss Gmail or email clients, other than outlook nothing is good in w10m

I disagree. There is plenty good. Just poorly implemented.

My tube is a very good stable, 100% genuine app that represents Quality at every angle I wouldn't hesitate to recommend it.

I want to try mytube but I want to buy it using top-up in my phone..instead of credit card or anything else..

Operator billing. You can check the list here: https://msdn.microsoft.com/en-gb/library/windows/apps/mt148540.aspx?f=255&MSPPError=-2147217396

ERror to install in my L1020 with the latest update. When i try to get the app, appears an error in the download. error 0x80070002 :(

It is a wonderful app. I wish it was FREE. I would like to have an option to create personalised playlists and folders and to add any videos in it.

MyTube is very good. I admit that I love TubecastPRO a lot, but MyTube is no slouch!

Yeah other then the test casting its never worked

I cant install that Great app
Error code 80004005
Fix this error please

Anyone notice that when scrolling the video duration in 480p need to wait much longer?

My favorite youtube app. Better than the official google one for Android or iOS. And better than the website.

All of these apps are missing one feature that's a no go for me.. No tabs. Having to contantly go back and forth is not good.

Google would be starting ad free subscription of u tube meanwhile windows phone users are enjoying the ad free version.

Your links don't work guys!!! I can't find the app anywhere either :/

I'm using the paid version on my desktop PC and whenever I search something some of the results are shown for a split second and then disappear.

This is fixed in the beta, and should be fixed in the official version very soon :)

Great to hear! Keep up the amazing work!

Still getting error when downloading on my 920

Same here. Dont know what is the problem :(

Same here. It's been months. I've purchased this app long ago.

Wow, DLNA casting included in a third party app and yet missing from Microsoft's own apps :\
Windows Central Newsletter
Thank you for signing up to Windows Central. You will receive a verification email shortly.
There was a problem. Please refresh the page and try again.