Pose your burning questions to members of the Windows Insider team with today's Beam webcast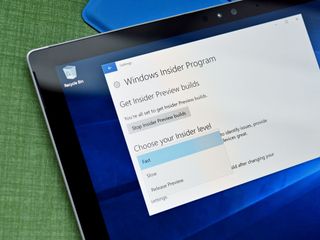 (Image credit: Windows Central)
If you've ever had any burning questions you'd like to ask members of the Windows Insider team, now's your chance. The Windows Insider webcast will go live on Beam today, where a trio of Insider team members will be ready to field your questions.
In all, Microsoft's Jason Howard, Brandon LeBlanc, and Jen Gentleman will be on hand for the webcast. Things kick off bright and early at 9:30 a.m. PST (12 p.m. EST / 4:30 p.m. UST) on Beam, so get those questions ready. To find the start time in your time zone, take a gander at Wolfram Alpha's time zone converter.
Thanks to Withheld for the tip!
Watch the Windows Insider webcast on Beam
Windows Central Newsletter
Get the best of Windows Central in your inbox, every day!
Dan Thorp-Lancaster is the former Editor-in-Chief of Windows Central. He began working with Windows Central, Android Central, and iMore as a news writer in 2014 and is obsessed with tech of all sorts. You can follow Dan on Twitter @DthorpL and Instagram @heyitsdtl.
Instead of a QnA, it should be a roast of MS mobile

Maybe they want to use this to break the news to us. Seriously don't really know what to ask, just tired of it all from Microsoft.

I seriously think people are getting needlessly worked-up over the now assumed WM10 'demise'. Let's chill guys! It's amazing how so much doom-and-gloom over the future of WM has been drummed up over the last few weeks, you'd think all the commenters' lives, hopes and livelihoods depended on it, to the point there's now so much negativity on any topic to do with MS as a whole - most disappointing is that it appears to be the so-called fans that are the main culprits :-(.
Anyways, MS mobile game is still very much alive, they really have no choice in the matter. Let's give them some slack!

Don't have a Twitter acount. Please pester them with questions about the feature2 branch and if there will be RS3 for W10M

Don't need Twitter account for Beam. You can use your MS account, Discord, sign up using email or you can just watch.

thanks! Abd thank you for the downvotes /s!

Insider team? or Pc only insider team?

3 important questions. 1) What and when will be the next Microsoft mobile hardware? 2) What does Feature2 mean? 3) When we will see the firmware updates?

You'll have to wait until after Build for news about hardware but never hurts to try.

It's great the Insider Team takies the time to do these monthly webcasts. Check out their new #BeamMachine https://t.co/XLWVepkfP9 If you're not on the Left Coast and want a permanent zime zone solution. Hey Cortana, "Open Alarms and Clock" then select + to Add new clock for Redmond, WA, USA.
You can add additional clocks to the taskbar by right clicking the clock on taskbar, select Adjust Date/time then scroll down to Add clocks for different time zones. Now select Show this clock then set to (UTC) Pacific Time (US & Canada), enter a friendly name and click Ok..

What? Wow. I'm going to check this out. Where does it display?

It shows up when clicking on the clock in your taskbar. Oh and PC only. For Mobile and PC though you can pin clocks to your start screen/menu using the alarms & clocks app

Mobile branching reasoning... That is all. I don't think I will make it to this one but I hope that is explained.

Where am I suppose to ask the questions? I have a doozy.

Were you able to ask your questions? If so, what questions did you ask? What were the answers?

No one has told me where to ask. I want to know how the hell they haven't fixed glitches and issue that a monkey could find if you gave one a phone for two minutes. Also want to know what they think about their boss Dona taking such a large pay-check and not doing what she has been hired to do. Also want to know what they think it says about their over-all value if they don't believe enough in a product they built to actually use it.

I would like to know why W10M takes sooooooo incredibly long to both boot up and shut down. And why does the camera still have so many problems? I get the "Oops. Something went wrong..." Message about once a day still. I understand the idea behind insider builds, but the camera is one of the most basic functions of phones these days.

Burning question is, whether Windows 10 Mobile is dead ;) However, cannot be asked.

How do we ask them a question?

This was a great webcast and I am really looking forward for the cirka monthly show cadence :D ... But it was embaressing to experience frustrated people spam "Mobile" at the start of Q&A -_-"