The Post Office launches its own affordable mobile network in the UK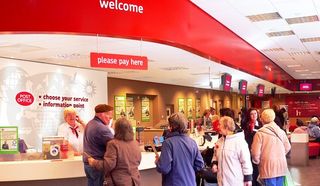 The mobile network battleground in the UK is a confusing one, especially for consumers. The Post Office has decided to make things that much more puzzling by launching its own virtual network.
The new PAYG SIM, which you can receive for free, will provide you the means to text for 10p per text and make calls for just 8 pence a minute. Data on-the-other-hand is slightly more expensive at 10p per MB and there's no 4G support, even though the Post Office is using EE's network.
The company is also providing a handful of bundles, should you need more from your deployed credit and use your mobile phone on a regular basis. Bundles start from £5 a month, which will provide 250 minutes, 3,000 messages and 500MB of data. The more expensive option of £20 will bag you 1,000 minutes, 3,000 messages and 5GB of data.
So, perhaps it's time to put away those stamps and prepare to send messages and make calls using the Post Office's new network?
Source: The Post Office, via: Engadget
Rich Edmonds is Senior Editor of PC hardware at Windows Central, covering everything related to PC components and NAS. He's been involved in technology for more than a decade and knows a thing or two about the magic inside a PC chassis. You can follow him over on Twitter at @RichEdmonds.
They should try improving their core service, the postal service. They're pretty awful and they don't have the public to bail them out anymore. This venture will just make more loss.

Sounds just like the US Postal service. I wouldn't be surprised if they would try the same. I guess in theory, they own enough land and they could put a tower at every location and you should have good service. But it would be expensive to install and most people don't trust the government, especially what has been happening with them storing our data.

Hahahaha guys stop complaining, the South African postal service has been striking since December and when they finally went back to work they started striking again because they want their salaries for the months they didn't work

I guess poor postal service and financial budgeting is a sore subject for many countries. Does any country have a good postal system? Germany, France, Japan, India...? (Government, not private)

I'm a bookseller. The UK actually has (despite popular opinion) a good, reliable, postal service (though it's all technically private now, no governmint). The main problem with Royal Mail is when something goes missing/etc. Their default is that you are a lying toe-rag and the system they have is designed to put everyone off but the most bloody minded.

I have never had a problem with the Post Office. But, thinking about it, I very rarely send anything by post and receive the odd letter.

Such a shame, the decline of South Africa.

Absolute rubbish. They are far and away the most reliable AND cost effective for sub 2kg parcels. No other company does it better.
I sell hundreds of things a year on Ebay. I have never had a parcel go missing, or get damaged...and only a half dozen have ever turned up late.
It's easy to slate the Royal Mail - but I provides a brilliant service IMO

They actually tend to turn a profit at the moment

Lol that last line..."time to put away those stamps" lmao!

Still not the cheapest mobile virtual network operator (mvno) on EE/Orange. 30 day sim only tariffs still better on the likes of - DelightMobile, ThePeoplesOperator, NowPayG, VirginMobile. Granted maybe not 4G but 4G still in infancy and largely restricted to towns, similar to 3G. Why pay more for 4G if you not in the position to get most out of it. ##This is a UK rant##

It is actually good rant. My 4G usage does not exist actually I do not miss it. There is no reson to have 4G on the phone. I can do most of the things lie streaming, browsing and reading emails on 3G. 4G is overrated...

Just what we need... Another bloody network haha. How many do we have now? Sooo glad I'm not in the mobile business anymore.

This sounds great. More competition often leads to lower prices. We seem to have less and less networks in the US as the years go by...

Not in the UK. Here we tend to sell expensive, poor quality services... Another mobile operator will do the same, advertise well but underdeliver as usual...

They'll probably do well with the older crowd.

So, perhaps it's time to put away those stamps and prepare to send messages and make calls using the Post Office's new network?

Not at those prices lol. 10p per MB for data and no 4G...it's 1p per MB with 4G included on Three PAYG. Maybe they should spend money employing extra staff so you don't have to stand in a queue for 15 mins instead of introducing something else to mither you about when you finally get to the counter. 'Are you interested in our credit card?' No thanks. 'How about home insurance?' No thanks. 'Oh, would you be interested in our 'free' mobile sim?' Noooooooooooooooooooooooo.

What is The Post Office? o.O Is it UK's national mailing service. If so, why is their name "The Post Office" :D and yeah why are they now in carrier business. Confusing name :D

The Post Office runs the UK's counter services (buying stamps, sending parcels, vehcile licences, and, for some reason, insurance, credit cards and PAYG SIMs). Royal Mail handles door to door delvery and mail sorting, They used to be the same company but divorced and are now being sold off piece by piece to line the pockets of the friends of Tori government miinisters.

WOW Hilarious. And I thought this happens in India only ( a good public sector company being screwed by politicians). :D but yes "The Post Office" should be awarded the title of being most ridiculously titled company. The name is post office and they do vechicle licensing, insurance, credit card and now SIMs.... LOL now British Airways would make software Indian Railways would make smartphones... :P :P Funny world.

Indian Railways...
Please tell me that isn't a cherished institution in India?! It's an absolute joke...

Lol no no. :P You are getting it wrong. I was just making an assumption that if we go by "The Post Office's" logic, it would be happening. Indian Railways operates Railways only. However on a related note we have a company called ITC(Imperial Tobacco Company) which now deals in multiple fields including hotels. :-|

Post Office Network...this needs Stamping Out!!!!

Giffgaff for me guys......3g okish, does the job nicely

I have agree stevenind. I use giffgaff and can get 500 mins of talk, unlimited texts and 3GB of data at 4G for only £15 pm and I've never had any problems with them as you just pay monthly without being tied into a contract.

It is o2 network so good coverage. I am on GG on my second sim and very happy with it.

300mins, 3000 texts, unlimited data and free 4g for £15 a month on 3. But I have been thinking of switching to O2 as their signal is better in our area.

Lol jesus !!! Ok but which network will they use like tesco is EE and so on and so on!! They just mask one network after the other...i dont think we need a another network really! Think we need ones that have better customer care lol...as us english seem to pass on things to other teams ....update ok it is EE....lol....and also every £5 top up you get a second class stamp lol .

Tesco uses o2 like giffgaff, The Post Office uses EE.

It's does say EE in the article! In addition, Virgin use EE as,their virtual network too.

You just reminded me why I hate the 'lol' abbreviation. Cheers

If you want PAYG then all I have to say is 3, 2, 1 and leave it at that.

Three Mobile. 3p a min phone 2p a text 1p a MB Depends on how you use your mobile, of course, as to if it's value.

Great idea. For England. Not the US. The 10p plan would be great for people who talk little and txt even less and use the web hardly at all like me dear old mum lol. And wow on the bundle where you get all that data and stuff for about 30 US dollars.

That's what USPS should do...

No, they should just fold.

I think you mean UPS, commonly known as f**k UPS lol

In the USA, UPS is a publicly traded company, USPS is a governmental agency, which gets its funds through the sale of postage stamps and the delivery services that they offer to their customers. UPS competes with FedEx. I think the USPS does a perfectly fine job, considering their situation (government agency, regulations, unionized, hands tied, ...)

> The mobile network battleground in the UK is a confusing one, especially for consumers It's confusing for Americans who have little choice in the market because most of the networks have near-monopolies in their cities and towns. Don't frame it like it's a bad thing to actually have some competition between mobile networks!


Three on pay as you go offer 3p a minute 2p per text and 1p per MB on PAYG. or for £15 bundle you get 300 mins 3000 texts and truly unlimited data (1TB soft cap)
Windows Central Newsletter
Thank you for signing up to Windows Central. You will receive a verification email shortly.
There was a problem. Please refresh the page and try again.