Pouch for Windows Phone 8 and Windows 8, an elegant Pocket client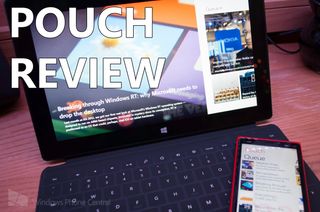 In today's world, we gather our news from a multitude of sources. Pocket (opens in new tab) (formally Read it Later) has always been one of my favorite ways to save articles and content on the web for later mobile consumption. Pouch, is a set of apps for both Windows Phone 8 and Windows 8 that delivers your Pocket content in one of the most elegant designs I have yet seen.
Before we begin, I should state that the version of Pouch for Windows 8 you are about to see is a beta and has not been seen by public eyes before; we are happy to take you on the grand tour courtesy of the developer.
Design
Pouch's app for Windows Phone 8 follows Microsoft's design guideline down to the punctuation. The design is minimalistic and simple; the screen is reserved for your content, while settings are neatly packed away – out of sight, out of mind. The application's homepage is based on the Windows Phone "panorama style" which allows for fluid and native scrolling between the application's categories. Reading a story within Pouch is one of the cleanest news reading experiences I have seen in any Windows Phone app to date.
The app's Windows 8 counterpart is also designed well, taking a cue from Microsoft's Bing News application. When you open the app, you are presented with a large slideshow of the latest content in your Pocket Queue – the slideshow is useful, while also aesthetically pleasing to the eye. When swiping to the right, you are presented with your articles arranged in a grid formation; the articles are arranged by the date in which they were added to your queue, archive, or favorites.
Functionality
Pouch has a small collection of settings on Windows Phone 8, but they should suffice for most users. By accessing the Settings screen you can adjust font size, app bar size, system tray settings, and what YouTube application to use. On my Windows Phone, I have MetroTube and the official YouTube app installed, but Pouch only lets me open YouTube links in the browser, a bug or a teaser for a future update - I am not sure. When reading an article, the user is presented with the options to favorite it, archive it, delete it, or share it with friends.
Since the version of Pouch we received for Windows 8 is still in beta there are some features currently missing, but we are told by the developer to expect to see them in the final release. Current missing features that will be in the Windows Store release include the ability to resize text, snap mode, and customization of the apps' start screen. Overall, the app shares its feature set with its smaller mobile brother; users can easily favorite articles, move them to the archive, or delete them completely. Sharing an article is accomplished via Windows 8's charm bar.
There are a few features that aren't implemented or planned as of now, but we would like to see. The first feature, would be the ability to resize the columns of text the application presents its stories in. Currently, on my Surface RT, an article is displayed in three columns – I would prefer to view them in two. In addition, the current version of Pouch (the one currently in the Windows Store), has its text resize button above the article's content – in keeping with a universal design layout, I would like to see the font resize option located within the application settings.
Value
Pouch for Windows Phone 8 costs $1.99 and in my opinion it is worth the price tag. You can download the trial of the app which allows you to read articles, but not share or manage content. In addition, the application constantly nags you to upgrade, so you might as well just do it.
Click here to be linked directly to the Windows Phone store page
Pouch for Windows 8 costs $2.99 which is a bit more expensive than junior, but still reasonable. We would like to see a slightly cheaper price tag that matches its Windows Phone counterpart, but even at $3, it is hard not to recommend it. As of now, if you download the current Pouch trial, the application has its full functionality and simply adds advertisements to the top nav bar – we don't know if this will change in the future version of the app which the developer tells us will be available soon. You can find the current version of Pouch available for download on the Windows 8 Store by clicking here (opens in new tab).
Wrap-up
Pouch is not only one of the cleanest and well-designed Pocket clients I have used, it is one of the cleanest and well-designed Windows Phone apps I used overall. I cannot recommend Pouch any more highly than I currently do and it is an important part of my news consumption arsenal. If you consume news like Cookie Monster consumes cookies, you should definitely considering downloading Pouch.
The Good:
Beautiful and minimalistic application design
Easy to manage, move, or delete Pocket content
Live tiles keep you updated
Price tag that matches its value
The Bad:
Inability to resize the width of story columns
Windows Central Newsletter
Get the best of Windows Central in in your inbox, every day!
I will give this a go on my Lumia.

If using phone, how do I add content to my queue? No pocket integration in people hub, or twitter app. Used to add stuff to queue using Gravity in Symbian.

Open the app bar on the bottom of the screen and tap add. This will bring up a dialog box where you can paste a link to save it.

Thanks will have a look. Shame there is no context menu or send to on windows phone. It would be great if you can long press on a link and send to the app. Hope MS do something like this in later versions of windows phone.

Danielgray,
I too hope Microsoft adds something like this in the future. Then I could provide a better experience to my users.
Thanks,
Joshua (Pouch developer)

Are you saying stories added to Pouch from your phone are only available / stored on your phone and not accessible from the Windows 8 app?
Edit: it took about 20 seconds after downloading the trial to get the full version. OMG. Personally, you guys did a tapdance around the description of what this app is. This app is a must-have.

Jazmac,
No, the articles saved on the phone are also accessible from the Windows 8 version. In fact, they are also accessible from the web at getpocket.com.
Thanks,
Joshua (Pouch developer)

I saw that. Its why I paid for the full version. Good job on Pouch.

Just getting into Pocket and I can't wait to give this app a try! Of course, I'm starting with an EMPTY Pocket, so the first thing I did was browse on my phone to an article, and go to the share menu - but there is no Pouch/Pocket listed to share to. Is that by design? I haven't tried the Windows 8 version yet. Are there any apps that add Pocket directly to the "share" menu? I'd need to be able to set tags from there as well. Reading List from Microsoft seems cool, but there isn't any integration with services like IFTTT, which makes it a non-starter for me.

You can install the Pocket bookmarklet in Internet Explorer. Also, apps like NextGen Reader have Pocket integration.

Pouch is a great app. I have it both for Windows Phone and Windows 8 and they are well worth the price. The dev is really responsive to questions and suggestions about the app and is very active on Twitter.

Yes! I'm very happy to see these apps getting some pub. They are both excellent. The desktop version in particular is very useful, and firmly in my daily rotation.

Is there an official Bing News app or anything? I like Bing News on my PC and would love to have it on my phone.

If you have a Windows Phone 8 device then press the hardware "search" key and swipe to the left or right. Bing News is built into the Bing search app.

Geez... Thanks, I knew that. Guess I forgot.

I cannot swipe left or right on search page on Lumia 920. So you have to enable this?

I don't think so. Make sure you have a data connection.
You're pressing the magnifying glass in the bottom right hand corner right?

I don't think it works in uk :(

No it doesn't but a quick way to get it, -settings -language & region - browser & search language - English (US)

Also, there is an unofficial Bing News app, its not much more than links to stories - but its free and works.

Great start. Look forward to future updates. I'll purchase it

Thanks for your support! I'm glad you like it! :)

Any pocket client for wp7?

Try Owl Reader, it's 1.99, but the try version is fully functional! It lets you change the reading color themes and everything. It's better than this Pouch app to be honest.

Did Owl have a 24 hour sale when you got it? That puppy is 5 bucks in the US market today.

I like the format this review took. Is this something you personally do for your articles, Michael? Or is it a universal change that will be applied to future WPCentral articles?

All me, Agent-P. Glad you liked it!

It seems like cannot work with normal Internet Explorer :( and I don't like the Metro one. I will stay with WP8 version of Pouch only, without PC.


I trialed it on a Lumia 820. It kept closing when refreshing. Not clear how to add bookmarks. Ideally you should be able to easily add bookmarks from W7 or W8 or WP8 will extreme ease. Sending an email with a link is very clunky. Very cumbersome. Major fail = uninstall.

Captaincomps,
Thanks for trying my app! That's something that didn't show up in testing.
In reference to adding links to Pocket or Pouch, I wish there was an easier way. Unfortunately Microsoft doesn't have any APIs that allow me to send links from the browser. :( I'm hoping that with the next version of Windows Phone, they implement a share charm similar to Windows 8. Then I'd be able to receive links very simply.
Thanks,
Joshua (Pouch developer)

to HELL with this....why ain't there a WP7.8 version ?! as most of the new apps recently,, Flash News : some of us are still hanging on their Beautiful Lumia800

DeacoN_Jo
I apologize for the app not being available on Anything earlier than WP8. When I first started developing for Windows Phone, I made the mistake of choosing to develop for WP8. I didn't know then that it would be so difficult to back-convert everything. I don't know if this is true for all apps, but with the APIs that I use, it would require a complete rewrite to get it working on WP7.x. In hindsight, I probably would have started coding for WP7.1, that way, almost everyone could use my app.
Thanks,
Joshua (Pouch developer)

Hello everyone,
I wanted to mention that there is an update for Pouch for Windows Phone 8 that is pending certification from Microsoft. This update allows users to open YouTube links in the browser (worst experience), MetroTube, or the YouTube app.
Thanks,
Joshua (Pouch developer)

How about making the app work period on the Lumia 920. Constant loading then crash. Takes me back to authorize screen over and over.

abond32,
I'd love to help you get my app working. If you want to email me at pouchapp(at)outlook(dot)com, I'll be happy to see if I can help! :)
Thanks,
Joshua (Pouch developer)

That's odd that you are having a problem as I am using it on my Lumia 920 without issue. I'm sure Joshua will take care of you though.

Works on 920. One of my top 5 missing apps now available! Hopefully they add Categories but great initial release.

I already use Nokia Reading News Stream on WP8 and Bing News on W8. Can someone who has used either or both share their opinion on whether there are good reasons to switch to Pouch?

Oh now I understand the difference - Nokia Reading and Bing News show everything in the news at the moment whereas Pouch lets you save individual articles for later viewing.

Really great interface, one of best interfaces on WP. Unfortunately usability is not so good. While im online, Pouch works perfectly fine, but problems came when im going offline. There is no option to sync articles, there is no way of telling if particular article can be read offline - and usually they cannot be, usually application crashes when i try to resume it being offline. Its "offline reader" after all, offline reading should be priority now

When is OFFICIAL Pocket app coming to Windows Phone?

Dev. I purchased Pouch but I have to pay again to install it on my Surface RT?
Windows Central Newsletter
Thank you for signing up to Windows Central. You will receive a verification email shortly.
There was a problem. Please refresh the page and try again.