Power Alternatives for the Fuze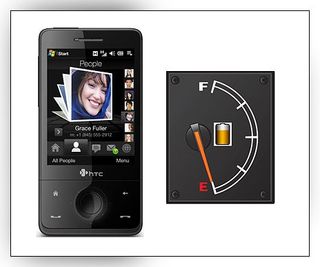 Let's face it; battery life with the stock HTC Fuze/Touch Pro 1350mah battery is far from stellar. The stock battery does get a little better with time but for power users still struggle to make it through the day on once charge. While there are portable charging solutions out there to help keep the Fuze going, what about an extended battery? The trickle charge from the sync cord is also convenient but sometimes the Fuze gets lost on your desk top. Is there a solution to pull power from your USB port and offer a safe harbor for the Fuze?
Seidio introduced a 1500mah battery a little while ago and HTC is offering a sync/charging cradle.
Read on after the break to see if either will put a charge into your Fuze or Touch Pro and make life a little more power friendly.
Seidio Innocell 1500mah Extended Battery
The standard Fuze battery is rated at 1350mah. Under moderate use, I'm consuming about 68-72% of the standard battery during a twelve hour day. I define moderate use as 6-8 voice calls, pulling email every ten minutes, replying to emails, updating weather every hour, a few internet surfs, and IM messaging.
The Seidio Innocell 1500mah Extended Battery ($44.95) gives you just over 11% more power in the same form factor as the stock battery. In using the Seidio battery over the past few days, it would seem that it gives you anywhere from 34-40% more battery life.
I used and monitored the Seidio 1500mah battery over three days. Two days were 'work' days and the third was on the weekend. The monitoring period for each day was a twelve hour period. On each day I made a conscious effort to shut down programs running in the background.
The first day under moderate use I ended the day with 44% battery power left. About a 12% increase in battery life at the end of the day when compared to the stock battery. The second day was under heavy use. I had the typical call and data use but on top of that I performed two hard resets on the Fuze (long story). I ended the second day with the battery meter resting on 15%.
The third day would be considered light use. While the Fuze automatically reached out for email, there wasn't much for it to pull in. I did make a few voice calls and checked the weather radar but all in all it was a light use day. I ended the twelve hour period with the battery meter at 58%.
While these aren't the most scientific of tests, I can say with confidence that the 1500mah gives the Fuze noticeably longer battery life and well beyond the mere 11% jump in mah. The only odd thing I noticed with the battery consumption is that the first 25% of the battery life seemed to go quick. On each day, I was down to 75% within the first 4 hours.
There's speculation that a 2000mah battery is in the works but will likely be oversized, requiring a hump-backed battery cover. If you're not interested in waiting for such a battery to be developed or would rather have an extended battery that didn't require the oversized battery cover, the Seidio Innocell 1500mah Extended Battery may be right up your alley.
Swipe to scroll horizontally
| | |
| --- | --- |
| Ratings (out of 5)Ease of Use: 5/5Added Power: 5/5Overall: 5/5 | ProsAdded power without added sizeConsShame you couldn't squeeze 1800mah into the same form factor |
HTC Desktop Cradle
I would imagine that the majority of HTC Fuze and Touch Pro owners sync via the USB cable. They plug the Fuze in, lay it down and your in business. HTC offers a desk top cradle that adds a new twist to synchronizing and charging your HTC device. If your desk is anything like mine, mounds of paper work have a tendency of swallowing up your phone. The HTC cradle offers your Windows Mobile phone a safe harbor on the desk top surface.
The HTC desktop cradle measure 4.5" square and utilizes all the spare, fingerprint prone plastic that wasn't used in manufacturing the phones. It's not a 'one-size fits all' design and comes with three mounting plates that are designed to fit the HTC Fuze, Diamond and Touch Pro. It's nicely weighted for stability and placing/removing the Fuze was easy.
The cradle comes with an eighty-five page, twelve language limited warranty statement and a twenty-one page, ten language, Quick Start Guide. Odd thing about this is that a few languages in the warranty are not covered in the Quick Start Guide. Another odd thing about this package is the lack of USB cable or wall charger. I can understand the wall charger not being included but a USB cable shouldn't be out of the question.
Cables or not, the desktop cradle is nice. It carries the trickle charge from the USB Cable or can be connected with the wall charger for a full charge. When you connect either the wall charger or USB cable, you'll notice something unique to HTC; a 3.5mm audio jack. Yes, you can plug a standard headphone jack into the cradle and listen to your tunes! Either that or plug in a set of desktop speakers and let the entire office enjoy you musical selections. Now that we know HTC has 3.5mm jacks in the warehouse, maybe it's a matter of time before they find their way to the devices.
I liked the desk top cradle and would easily recommend it to someone looking for a port in the storm that is commonly known as your desk top. The trickle charge seems to be more effective (no explanation) in charging the Fuze and the audio jack lets me take advantage of those desk top speakers that have been collecting dust. The only way it could be better is if HTC included a USB cable with it (hint, hint).
Swipe to scroll horizontally
| | |
| --- | --- |
| Ratings (out of 5)Ease of Use: 4/5 (no USB cable included)Build: 5/5 (3.5mm jack almost makes up for the lack of USB cable)Overall: 4.25/5 | ProsNicely weigthedKeeps your Fuze away from desktop clutterConsDid I mention that there's no USB cable includedCan double as a fingerprint blotter |
Windows Central Newsletter
Get the best of Windows Central in your inbox, every day!
With an updated radio and optimized ROM the Diamond and Pro are both very good on battery considering all that they do and certainly when compared to the stock setup.

The links are not working... I'm ready to purchase the battery and dock!

working on restoring the links.

70 Dollars for that dock? I mean, the audio out is HUGELY appreciated HTC... but, I'll wait for that price to drop in half. I'm enjoying the dock I have with the secondary battery charger built in.

tiffany & co Cuff links tiffany & co Cuff links tiffany & co Cuff links tiffany & co key ring

Seidio Innocell 1500mah Extended Battery supplied with my phone had deteriorated and was only lasts six days. I am not a heavy phone user, and I like a phone battery to last, the first thing in the morning to last thing at night.