Power Cricket T20 launches on Windows Phone, celebrating ICC tournament in Bangladesh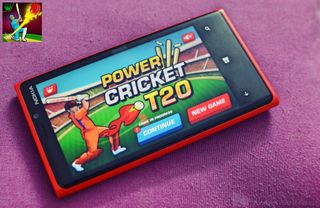 As the ICC (International Cricket Council) World Twenty20 tournament happens in Bangladesh, cricket fans across the world are celebrating the shortest, and the most exciting, form of cricket.
Clearly, it was a great time for Games2win, one of the top online gaming companies, to launch Power Cricket T20, a casual cricket game for Windows Phone devices. Power Cricket T20 allows you play against the nine cricket teams from across the world and complete your quest of winning three tournaments though the game.
It's not an exhaustive sports simulation game, but a casual game where all you need to do is 'see ball, hit ball'. You control the batsman, plan shots to play with or against the spin, and choose to hit straight down the ground, or play the ball on the off side or leg side.
Each time you bat second, and chase a target score to win the match. A dynamic bowling system ensures that no two matches are alike. For power hitting, you can choose to use the Power-Shots feature. Once you run out of your quota, you can buy bundles of Power Shots as well via in-app purchases.
Download Power Cricket T20 for free for Windows Phone 8 devices from the Windows Phone Store. It's not a serious app, but I ended up playing for half an hour continuous after downloading it for the first time. Yes, I'm a certified cricket fan. It can become addictive, and is good fun. Give it a shot, and let us know how you like it.
Windows Central Newsletter
Get the best of Windows Central in in your inbox, every day!
Aha!!! What A game!!! Love it...

Wpcentral is dead again :/

All packin their bags for the BUILD

Only true Indians work on Sundays.

Stop complaining, don't they need a weekend?

Why are you spamming here ? All your comments are spam ! Politics at wpcentral ? Oh god !! I'm not against narendra modi, infact i do support him, but not your spamming posts.

Idhar bhi tapke voters -_-

We just beat Australia... Cheers for team India...

Yahan bhi promotion ho rha hai :| Politics everywhere ..!!!

Modi is gonna win this election

Are yaar, at least leave politics here. Feded up from this already....

Vote for Rahul Gandhi.. Is it an election forum????

Good one.....:) Seems fast too......;-)

England have already been knocked out. No point in this app now.

I need EA Cricket game like FIFA 14

Develop one like it on your own..

All I need right now is WP8.1

Stick cricket is the best cricket game but it's not available for Windows phone. Read an article in wpcentral that it will release in dec 2013, but still its not released.

Stick isnt the best. The best was on pc by EA with really great natural graphics.

I mean for mobile phones. For pc EA is best but after EA 2007 they didn't release another one except the patches that are available in internet.

For windows phone check out world cricket championships.. Little buggy but alright game play. Only problem is that I can never win

Raina gone 4 wickets down India vs Aussie

Not bad once you get the hang of it.

Awesome app to kill time to play cricket on the phone. :) I wish it had multiplayer.

And.. Yuvraj back in form. Proud Indian.

I bet Nadella is happy right now.

Yaah he is so happy ...to see this game...he has been waiting for this game for years...

Wow like it thanks abhi..

I just came across a game on android; Daddy was a thief. Loved it. Hope it comes to WP soon.

Gameplay is bad..Bring stick cricket or update World Cricket championship

Now no more post till 2April... I want windows phone 8.1...just bring it :S

:( WP 8.1 is not coming on 2nd April. Only the build will reveal its features. We've to wait till late April is the worst thing...

Guess what? Not available in the Brazilian WP store.

You are not missing anything.

I was pleased to know a Brazilian interested in cricket game.

Why are these developers so reluctant to release games in Brazil? Is it unexpectedly harder proceess to get through certification there?

No. They only need a PEGI or ESRB certificate to do this. But the majority don't know it.

Ihttp://www.pegi.info/en/index/id/23 I see its nothing that difficult for developers to get through the European certification just through age group labels confirmation. But it's not possible to get every developer on board on individual basis. You are certainly doing your best. But I think, what if Microsoft, at some stage of app certification is made to inform developers automatically about the process?

Indians and cricket....better love story than twilight.

Dan is busy packing i guess......:) what about abhi ???

Busy packing what...? For the Build?

Unbelievable... This is an absolute low quality game. Can't believe WPC has an article on it. I installed it thinking if its on WPC, it must be worth playing. But, what a disappointment. I love cricket and T20, but Mr. Baxi seems to promote anything and everything coming out of India.
I didn't think anything can trump Flappy Birds, but we have a winner.

Look through the comments, and you'd find a lot of people actually liking the game. That is my job.

There are many deserving games that are worth promoting. This is not one of them. You and I both know it.

What I know is what I publish. If you've mined something good, tip us. Lot of folks do.

That has to be one of the most suggestive title screens in recent memory. 0.o

Common..load wp with cricket games... :)

It's ok to pass time. But, I dream of the day when XBox One have a beautiful Cricket Game available. Something in the class of Fifa or NBA 2K.
I think E.A. Sports or 2K Sports can pull it off.

Companies will only develop games if they see profit in it... Cricket playing nations are few... And majorly it is England, OZ, India, NZ. Out of which Indians will download it off the internet and not buy it... Piracy is so rampant...So why will EA make a wirld class game which is just gonna sell average in few countries? Posted via the WPC App for Android!

I see your point. But the majority of population in India that may "buy" the game can't be underestimated. I'm personally, not a cricket fan at all but the major part of the nation is.

Even i m not a cric fan... I m a football fan...I play fifa and buy the original game for xbox and pc Posted via the classy WPC App for Android!

I still don't understand how cricket is played but ill give this a spin

You will learn nothing about it from this game.

The name of game is T20 and its only 10 overs....

Everything indian sucks! I'm racist! Ban me!

We r second best in population... We dont suck in F*** Posted via the WPC App for Android!

No bro, we won't ban you. WP is popular in India doesn't mean you've to be a racist to complain about. And "Everything" is not Indian. I can list you damn a long list of Windows Phones features and WP models that are "US only" but we don't complain.

@lhoylhoy: you need psychiatric help :) get well soon mentally imbalanced guy..

Bizzare controls awful graphics
But credit to developer! Some free cricket game finally

I do agree Mr.Baxi seems to promote literally everything that comes out in India... Oh btw I have nothing against Indians, however being 2nd in population is nothing to be proud of. Because it raises alot of problems, no? Just sayin ._.

I was just kidding in there... He said we suck at every thing... Posted via the classy WPC App for Android!

Satya nadela CEO of microsoft is an indian

Great new monthly addition. Stick with it.

Just an issue consumes approx 397mb duhh.

Overall good game just sound effects of crowd burst up and crackle on boundaries

Cricket crazy country India..from a cricket crazy fan

Isn't it too early? The tournament is in final stages.

This game has just bating and no bowling and I love more bowling than batting. India Game's Cricket Fever T20 is better on Android I hope that game will launch on WP platform

Did you say blowing? :ohnono:

O_o Posted via the classy WPC App for Android!

Look I have corrected my mistake this annoying autocorrect I didn't check that time

Yayyy! Love this game! WP needs more quality cricket games.

India enters semi finals....

Sholokov teri jalti kyu hai bhai???
Windows Central Newsletter
Thank you for signing up to Windows Central. You will receive a verification email shortly.
There was a problem. Please refresh the page and try again.