Pre-registration begins for Microsoft Ignite 2017 in Orlando, Florida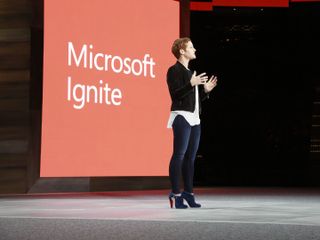 Microsoft has announced that its Ignite conference for IT professionals will be held in 2017 in Orlando, Flordia from September 24-29. Pre-registration has already started for the event.
Microsoft is wrapping up its 2016 edition of Ignite in Atlanta today, and the company had some pretty big announcements during the conference, including new security features for Windows 10 Enterprise, more updates to Office and even an experimental NFL fantasy football chatbot for Skype. It will be interesting to see what Microsoft will be showing off a year from now.
The early registration process for Microsoft Ignite 2017 willl give attendees the first crack at reserving hotel rooms for the event, which are scheduled to begin in March.
Pre-register for Microsoft Ignite 2017
Windows Central Newsletter
Get the best of Windows Central in your inbox, every day!
Donna dresses better than this one.

At least get your spelling right if you're going to be criticizing what someone is wearing (it's "Dona"). And can we stop criticizing what people are wearing already? Seriously, it's getting old.

Good, person. You apologized.

Exactly, I really don't understand why people continue to judge others by what they're wearing. :'(

Damn! Those shoes are chic!

All I know, she Is one hotty. And those are some killer heals. :)

And she will have feet problems in her retirement years

Well, I live here, so I may check this out.

Website is not very friendly!

I live near Orlando too! I may check it out myself

Not to be confused with Autodesk Ignite.

Note blew up. Won't be ignited.

Was this year's event a raging success?

I just preregistered. Does anyone know what the registration cost will be? Right now Im registered as myself and going solely for myself, but if it's too expensive I may try and convince my employer to foot the bill and go on their behalf.

Registration is usually in the $2500 range, less if you get in early or as a student. I went to the 2015 Ignite conference in Chicago and it was great. Very expensive though.

I've heard it's closer to $2900 CAD or £1700. Not really worth it if you aren't part of a IT organization or company.

Anyone know where Flordia is?

South of Alabamia &Georiga.

No, I'm talking about Flordia, like the article says. Not Florida.

Your reading comprehension of my comment is lacking. [Face palm]

OMG that is awesome! I'm a victim of my own irony. LOL

Isn't Florida somewhere in Eastern Europe near Serbia?

What's the difference between Ignite and Build?

At Ignite, you create sparks and start a fire.
At Build, you create something new with your imagination.

Build is aimed at developers while Ignite is aimed at IT professionals and solution providers.