Preproduction Nokia Lumia 1520 for AT&T hits eBay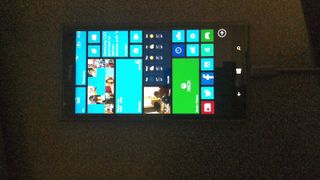 A preproduction unit of the Nokia Lumia 1520 for AT&T is currently listed on eBay for $575 (opens in new tab). While preorders already started, the Lumia 1520 will not officially be available to the public until November 22nd. The seller, surfacedude, has 271 feedbacks and 100% ratings. He writes in the listing description:
The preproduction Nokia Lumia 1520 being sold on eBay is black with 16GB of internal storage. Starting November 22nd, you can head over to an AT&T or Microsoft store to get it in matte black, matte yellow, matte white or glossy red. Who's going to press the 'Buy It Now' button and possibly get the device earlier than everyone else?
AT&T customers can pick up the Lumia 1520 for $199.99 on a two-year contract or $584.99 outright. As an added bonus, they will also receive a $20 credit for Windows Phone apps or games in the Windows Phone store.
The Microsoft Store, meanwhile, will sell the Nokia Lumia 1520 for $199 with a two-year contract and $549 without a contract. They will also give $70 worth of app vouchers and free copy of Halo: Spartan Assault. Customers who preorder also get a flip cover worth $40.
The Nokia Lumia 1520 features a 6-inch, 1080p full HD display, 20-megapixel PureView camera, and runs Windows Phone 8 with the new GDR3 update. It's a big device with an incredible screen. It is powered by Qualcomm's quad-core Snapdragon 800 processor with 2GB RAM. Check out our hands-on photos and video of the Lumia 1520 for more details.
We recommend waiting a few more days until the official release date because you'll get a brand new device with warranty in case anything goes wrong. Otherwise, keep us updated if you decide to be adventurous and click the 'Buy It Now' button.
Source: eBay listing (opens in new tab)
Looks tempting, I think it will be bought at that price.

Yeah, I would think the buy it now price would be higher, like $800.

That'll be only in Europe, as usual...

Well, in Europe prices, usually, already include taxes; plus you get 32GB instead of 16GB, built in wireless charger, two years warranty and an Unbranded device. At least for me...... Unbranded is priceless....

In Brazil have 64gb on Lumia 1020 because MS and Telefonica agreement. So, in carrier VIVO, it's 64gb. =D

We're talking about the L1520, but the 64GB L1020 is available in many European countries (Spain through Telefónica obviously, Germany and UK through O2 etc). But that's a carrier exclusive and it's very hard to buy one without a contract or branding (though the ones I've seen on eBay from O2 claim to be unbranded...)

VAT doesn't excuse the price differences that we have to endure here as opposed to the US. Even when the devices are exactly the same (such as the L920 for example).
As for the two years...that's the Law and it's applied to everything, not just phones so...
The unbranded...well...IF you're lucky. I have never found a single phone that didn't have software branding, even when buying it outside carriers on the likes of Saturn or Fnac.


What are you talking about Buddy? You can make a contract here in Germany and still get unbranded phones, you just have to know where to look and every phone you buy without contract is unbranded.

I said software branding, not logo branding. I'm not sure about O2, but Vodafone and Telekom both have their phones with their own software branding (I buy Telekom ones on purpose because of that). And no it's not. I bought a L620 in Brussels on Media Markt and it has software branding from Proximus. People here in Portugal have bought phones on retailers like Fnac and they came branded to several different carriers. I have never bought a single phone that didn't have software branding. Even when tried, I simply couldn't find one.

My appologies i thought the system here is Germany is the same across EU, i guess i was wrong. Well here you have the choice between braded (software) and normal phones. Its just that you sometimes have to pay extra buchs if you want unbranded phones. If you look in ebay and make contracts there, most of the phones you get are unbranded and no matter where you get it any new phone you pay for upfront at least here in Germany is unbranded and unlocked or else you delierately buy a branded phone ;)

I want the 1520, but it is not available anywhere for pre-order here in Portugal... unfortunately, I'm having to resort to getting it pre-order from Amazon.de. At least it comes with a nice case and a charging mat.

Yes the two years warranty for every electronic device is a law and as a customer I benefit of it without the need to buy an extension of the original one. As for Unbranded devices it depends where you buy it: in Italy if you buy a device from a TIM store it is indeed branded TIM, although by law SIM free, if you buy it in an electronic store you buy it Unbranded.

This item was $650 when he first listed it. I posted this about this about a week ago.

Hmm, I think I'll buy this and use it as my personal vibrator.

That doesn't surprise me.

Ouch.
http://www.cnn.com/2013/07/15/tech/gaming-gadgets/iphone-woman-electrocu...

Would you like me to call you repeatedly?

That would too wide for your tight ass.

I am 99% sure that it will be bought within 30 minutes.

Yep. Just read in nokia power user that there is another USA variant RM-938. AT&T 1520 is RM-940. http://www.nokiapoweruser.com/2013/10/23/nokia-developer-att-listings-gives-more-force-to-lumia1520-coming-to-t-mobile-with-inbuilt-wireless-charging/

Ooh. I'm still not sure about the size, but if it shows up on t-mobile I might just have to do it.

mark, any idea if those app vouchers can be used on the xbox martkrtplace?

Cool but I'll pass. Only US phone providers can sell a dumb down version. I want what was envisioned not a gimp.

Is this the same one that was for sale in WPC Forum?

It is indeed and this guy has been trying to scam me for a refund.

Honestly I do not want this device that is butchered by At&t. Give me what Nokia released in Dubai nothing less!

Thank you for your honesty.

Until we WP users start demanding more and stand up for Nokia, AT&T will continue to do this nonsense. They have no right to screw up this device. In fact they should have had options where one can get the 1520 and either add or subtract features. They go all out doe the iPhone but skimp on Nokia when it comes to options.

AT&T has all the rights to pick and choose what options they want on the phones they sell. They're Nokia's customer. I do get your point, though.

Microsoft is offering quite a lot of goodies to sweeten the deal, if I were not on contract (one more year!) that would be the way to go. Plus the off contract price is cheaper.

Its a decent deal. I was kinda bummed about the lack of Qi +16GB, but for $549 plus over $100 worth of free stuff it's pretty reasonable (as far as newly released high end smartphones off contract go anyway). Couldn't have afforded it at $750, but at this price I preordered one from the Microsoft Store. I'll get a cheap SD card on Cyber Monday and pray that Nokia makes a Qi charging case for it. I prefer it be built in like the 920, but I can live with it like my 1020 with the snap on cover.

Conventional eBay seller wisdom says Sunday night is not the best time to have an auction end.

With everything that they are offering, why would you not buy it from the Microsoft store?!

Not everybody has a Microsoft Store near them and ATT stores offer $50 off your next bill.

Since he has a new Nexus 5 (judging by the picture quality), he doesn't need this second phone.

Just saw from poat above that Microsoft version also doesn't have Qi wireless built in. Is there an official statement about international version with it?

Nice but its for us still looking out for pre orders in the uk from ether phones 4 u or Carphone warehouse

I already preordered mine in yellow! A rep actually told me the 32GB version would a month or two after the 8.1 update, which I believe. What I did not believe, is that the rep claimed the 32GB version would not have microSD. But still, take all this with some salt.

Omg. Please tell me your joking because if what this rep told you is true (32gb 1520 NO MICRSD SLOT) THEN SERIOUSLY ATT IS F ING WITH US (those who need 32gb of storage)

As I said: "take all this with a grain of salt." Even I don't believe that will be the case. But if it is, Deus help AT&T. Corporate will have a lynch mob.

When is gdr3 going to be available for download on other Lumias?

SOMEONE PLEASE TELL ME .... CAN THE INTERNATIONAL LUMIA 1520 WORK ON ANY OF THE LTE BANDS HERE IN THE USA?
I CALL MY TMOBILE AND A REP TOLD ME THAT THE GLOBAL VERSION WOULD WORK ON 4G LTE AT LEAST FOR THOSE WHO ARE IN NEW YORK & NEW JERSEY ? ANY EXPERT ADVICE ? BECAUSE I DONT TRUST REPS

Yes it will work on US GSM carriers

In your opinion do you think its worth it? I mean what exactly am I losing with gsm 3g 4g bands vs Lte bands?

The service isnt really effected the main benefit of LTE is the speed of your Data connections.
Windows Central Newsletter
Thank you for signing up to Windows Central. You will receive a verification email shortly.
There was a problem. Please refresh the page and try again.