Problems updating to Windows 10 preview from Windows Phone 8.1 Update 2 should be over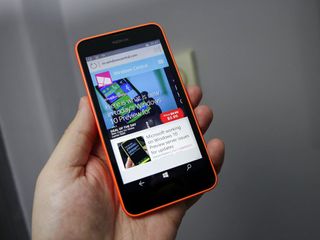 As we established during yesterday's rollout of the latest Windows 10 preview for phones, there's first an update to Windows Phone 8.1 Update 2 to take place on phones that haven't been running the first build. Unfortunately, after the Update 2 finished installing for many there was no onward route to Windows 10. Now, according to Microsoft's Gabe Aul, things should be fixed and back to normal.
So there we have it. Go forth and update.
Source: @GabeAul
Richard Devine is an Editor at Windows Central. A former Project Manager and long-term tech addict, he joined Mobile Nations in 2011 and has been found on Android Central and iMore as well as Windows Central. Currently you'll find him covering all manner of PC hardware and gaming, and you can follow him on Twitter and Instagram.
Part of the Windows Insider but still no update for me.

930 isn't compatible with this Win 10 build.

I m on fast mode but I dint get any update

dont do it , i have a 1020 and got the update yesterday,i played with it for a couple of hours then went back to 8.1, it's very buggy ( i didnt mind that much ) but the phone could not see my simcard and there is no office for these two i went back to 8.1, and the photos app is still lacking so much, there is so many issuse you can find in the forums too, am gonna wait for a more stable and working release.

Hi evn i am facing same issue sim card is not avilable please tell me hw to go back to 8.1

Use the recovery tool for Nokia phones. You can read how at the link I'll leave, and there's a link on that page to download the tool to your pc. http://www.winbeta.org/news/how-recover-your-windows-phone-technical-pre...

recovery tool couldn't detect the phone and I'm unable to reboot it using hard reset key combination. Please guide me.

Got same issues on my 1520, rolled back though to 8.1 through recovery tool

Hi, I faced the same problem as you when I updated to Windows Mobile 10 TP... I made a hard reset on my Lumia 925. Sim Card is now recognised and my phone works just fine!

i had this same problem..in my 720 ..ms office is missing nd this very very bulky..apps are crashing..HOW TO GO BACK TO 8.1? PLZ SAY

Strange how 930 is not included when 1520 is same hardware

It's more the screen size and resolution

I got the update for 1320

Looking forward to the GDR2 update. Windows 10 can wait a bit longer.

If I download an update, and it turns out to be w10 except for GDR 2, can I delete the downloaded (but not installed) w10 preview update?

after you update your phone to GDR2, unckeck the "Automaticall download updates". So you can save some storage ;)

But I don't have GDR 2 yet, and I don't want the w10 preview on my phone

Your phone updates 2 times, First it gets 8.1 update 2, then windows 10 preview, but you should uninstall the windows insider app or just uncheck the "auto-download updates" after you get GDR2. thats it. good luck brother!

Not everyone got 2 updates, though. I updated 2 phones and checked for an update on a third. All went right to W10.

My 635 went straight to 10. So some people get GDR2 and others don't.

Same for me on 920. Once I signed for insider fast, the update went directly to WP10

I got the GDR2 first on my 920 and then stopped updating to 10.

After getting GDR2 I disabled auto check for updates and even unchecked from being part of insider program but a after sometime I got a notification that an update is ready to download. I went to phone updates and confirmed it's windows 10. How are they expecting us to take part in the program when they have clearly stated that the build can permanently kill our phones?

My 1320 got windows 10 preview straight with no gdr2

I just updated my Lumia 830 to W8.1 GDR2 via this method, then removed the Windows Insider app and restarted the phone before it could check for the W10 update. Rocking GDR2 until the W10 tech preview is further refined. So far, not a single issue with GDR2, and don't have to wait for my carrier to approve it. :)

What model/carrier I have the att us model and it did not get grd2, just to .341 then a pending for 10...

Agree, seems to be carrier-specific. I've never been offered GDR2 on my AT&T 830, always wants to go straight to 10. I was hoping to get GDR2 for the updated Bluetooth stack and wait on going to 10 until its stability improves.

You can check for an update and then hit "more info" after it finds an update, and it will tell you which build it is. However, if its W10 and you don't want it, it will forever tell you there's an update waiting. Lol. Unless you wipe. You don't have to ever install it, though.

Is GDR 2 available for HTC 8s?

I got w10 without update 2. Is that normal??? +920

Normal. My 920, 635, and 521 went straight to Windows 10

Got update one on my AT&T 635.Just don't restart your phone so the insider app doesn't reboot and uninstall the app.Did this with my 635 and my mother's 635:)

My 730 is on gdr2.. Everything is fine

Ok second time around my 920 can access settings but sim card still doesn't work..

It was said that GDR2 was only going to be available to select phones.

Finally! That took some time!

On this update with the Lumia 920 with ATT and I still have no update for this.

Yea had update 2 on my 920 for a few hours now. It seems to be updating now

Just got gdr2 on my 920. Was playing around a bit, and have no intention of trying to get W10. It won't download automatically will it?

I uninstalled Insider and turned off everything remotely automatic sounding in settings for updates. Just don't go and check for updates, and see what happens. That's what I'm doing right now!

Cheers Rich. I was quite nervous that it would damn well go and add 10 without me being able to stop it! Luckily not, as I do not want an unstable build on my daily driver. I uninstalled the Insider app, so I should be safe. Thanks for the prompt response.

If it forces the update we're in the same boat together! Some have suggested doing a hard reset might help then not installing Insider when you start again. Trying to avoid that myself.

You may be at a slight advantage, I have no fallback phone. I imagine you have a few spares! On the subject of 8.1.2, and nobody else has mentioned this, but it has fixed the jerky scrolling I used to get. In many apps, including WP, it would jerk when I swiped up and down lists. Not sure if you ever experienced that? Definitely much improved.

I did the hard reset and it works, so keeping GDR2 on my L925 for sure :)

I'm gonna carry on. It may be just me, but the phone feels like it is performing significantly better. Scrolling is better than it has been since I have owned it. Not seen any background flashes either.

Glad my trick worked haha :P I can't even test it though I have an HTC One M8 for Windows :(

Damn shame, because update 2 seems better. Could all be in my head, but that'll do. And it was the quickest update that I have installed. Really pleased with the update.

The scrolling is much better.

It is indeed. Scrolling is definitely better and it seems like the animations are a hair faster and apps load quicker, though I might be imagining the latter :)

Well mine didn't force me to update to Windows 10. Unless I sign in and open the Windows Insider app again, it will search for update but then it just notifies me if I want to download 10.

Do you know of the inability to open office docs resolved in w10? I doubt it, but thought I'd ask. I'd no one installs w10 preview, then how will Microsoft know what we want, we'll be stuck with whatever they decide is right and of course everyone in this forum will be crying

There is no Office Hub or OneNote in this release as they're getting ready for Office Universal Apps. Don't expect anything on this front for a month at least. I have W10 on a secondary L520 phone that I've had in a drawer for a while.

Can you open settings in WP10 TP? Because i didn't find settings anywhere in my Lumia 620.

At least they should guarantee that the update won't harm our phones which is not the case, it seems if the update messes with our phones were are on our own

They're pretty clear about It being a preview and not an update, and the risks (you have to click at least two acceptances that it may permanently damage hardware)

No need to uninstall anything. After installing Update 2, just go to Windows Insider app, select Fast Ring, and instead of accept just select reject and you should be removed from the ring. That's how I installed Update 2 in my NL920.

Hi Richard I have installed w10 on my lumia 520 through fast ring can I get win8.1 gdr2 ? On my lumia 520 does 520 gets the gdr2 update through ota over the air?

Hi Richard I have installed w10 on my lumia 520 through fast ring can I get win8.1 gdr2 ? On my lumia 520 does 520 gets the gdr2 update through ota over the air?

Hi Richard I have installed w10 on my lumia 520 through fast ring can I get win8.1 gdr2 ? On my lumia 520 does 520 gets the gdr2 update through ota over the air?

Hi Richard I have installed w10 on my lumia 520 through fast ring can I get win8.1 gdr2 ? On my lumia 520 does 520 gets the gdr2 update through ota over the air?

Hi Richard I have installed w10 on my lumia 520 through fast ring can I get win8.1 gdr2 ? On my lumia 520 does 520 gets the gdr2 update through ota over the air? Please help

Hopefully now they'll work toward getting non-Lumia devices in the loop. My HTC One is ready...

I've managed to enroll to fast ring with my HTC 8X, so I think they are doing something about that.

Yea, I enrolled into the fast ring on my One as well. I put WinMo 10 on my old fat ugly 920 and let me tell you, keep that OS far far far away from your One until its ready. It's fun to play with but infuriating because it really is an alpha.

Thanks for the tip man. I'll probably end up waiting until its stable as I use this phone for everything.

I believe we'll get Windows 10 when Microsoft release an backup up for HTC devices, an rollback app like Nokia devices have.

I got a L920 and it's been a 9-hour nightmare with Windows 10. My SIM card won't register and WhatsApp stopped working. I had to reset the phone and lose everything on it -- Luckily backup restored my apps and I redownloaded photos from OneDrive, so I had only lost my music library (easily fixable with iTunes). Phone is functional now at least. Fingers crossed.

Hi! You receive a update? I receive a update but nothings change in my phone! I have a Htc 8x

No, I didn't get the Windows 10 update. I only got configuration update for fast ring users.

HTC 8x got a update. Build # 8.10.14219.341 was on before the update then after update I checked and it is the same build #.

Thx, Gabe. But I will not update, not now and not in the future. W10 is heading to a wrong direction with this inconsistent design (Hamburger vs Pivot, round vs square slider...etc!).

Stupid idiots. ITS NOT FINAL GET IT UNDERSTAND COMPRENDE!

There is NO way to get a consistent design with the current Apps and this alone is a pain in my eyes.

Agreed. I would like to see more features added in 8.1 only (with more fluency and smoothness too).

The UI is not even close to being a finished product. Its pointless to complain about it right now. They are WAY more concerned with making it stable.

The UI is not going to change.S has confirmed that this is the direction

Lol. Guarantee there's UI changes before official release... You serious? What Microsoft imagines as a final UI isn't on the device yet. Like I said, they aren't too concerned with the UI yet.

So what will it be then? Keep it mostly like 8.1 like some of us would prefer? Highly doubt it. I'll wait till the final official version before I decide if I want to put 10 on my 1520. Most of what I see so far I don't like..

What Microsoft needs to do is integrate the hamburger menu into the pivot. The left most pivot could be the hamburger menu and that would solve everything really. Vote it up on uservoice: https://windowsphone.uservoice.com/forums/101801-feature-suggestions/sug...

If you are using 10, now you can see the general direction MS is heading with the UI/ design. It might put us off at first, but then it's all good. Inconsistencies can be sorted out at the end.

Updated my Lumia 820., almost unusable but was good to try upcoming os. Now back on WP 8.1.2.

Well, at least you could update to it. My installer crashed with the 0x80188308 not enough storage error. Even cleared it up to have over 3.8GB free. Guess I'll take your word that it's not worth it yet and stick with 8.1.2

Yay! Now I'm running Windows 10 on my phone and half my apps crash before really running. Way less stable then on the desktop.

Can't say we didn't warn you ;-)

Yeah, it's just a shame that it doesn't at least run as well as devices shown on the videos. Eg the one shown on D Rubinos video actually runs to a degree, whilst my 820 can't handle it at all. If I could have switched mobile network back on and got network connection would have been ok. Flight mode being stuck on, with no toggle to turn it off was interesting. The loss of the setting app in apps list, and inoperability is the settings button in the actions centre was also less than ideal. Liked what I saw otherwise.

i can bare with all the bugs in the world, but... Netflix crashing????? I don't know how long I will deal with that

Well...on my 1520...this build has been surprisingly stable...everything works fine except for some resuming & loading...the apps are also pretty stable (ones which I use regularly)...have some peculiar problems like "a" doesn't type how much I try in IE n Spartan...rest seems to be workable...battery life also seems to be fine...byw this is my daily driver:)

Weird. I never got GDR2. Lumia 1020, no Denim, straight to 10. Locks up *every* time the screen locks and requires force reset. Reverting soon.

That's why I used my old 920. To get the look and feel of it and keep my 930 save.

Same. 3 phone, all straight to W10 from Update 1. No glimpse of Update 2 was seen.

Okay. I had update 2 on my 920. Before getting 10. Seems random atm.

Yeah, I went straight to 10 on my 920 yesterday. I had some issues, so I had roll back to 8.1. When I tried to see if I could get GDR2 I ended up getting Denim. Checked for an update after that and it only offered 10.

It's not ready I have patience I will wait till the real deal is ready

I can't see netflix on wp10 :'(

Netflix app crashes for me before it starts. Is that what's happening to you?

But you didn't install this on your daily driver right? You installed it on a back up phone just in case correct?

Now you can update your phone to windows mobile 10 but, Please don't update your phone to windows mobile 10 tp it was too buggy. Really i want to roll back to windows phone 8.1.

We have a post on the front page right now that'll help you do just that.

Thanks for advice.Today i roll back to windows phone 8.1. Now i am in peace.

I had Lumia denim. After gdr2 update it's Lumia Cyan, what the... xD

I got the denim update, a month or so ago on my 820, version number was denim, but extras&info still said cyan. With 8.1.2 it still says cyan

Just notice that the bottom row of my keyboard has changed with GDR 2. Language key has gone and is replace by apostrophe. I used to select this by holding the full stop key on the lower right. But apostrophe had gone from the pop up selection

I got the update last night on my backup phone(520)... IT is severely unstable... Like a post earlier stated, the UI is very unsettling and indecisive ... I would have thought IT would be more stable and the UI be a bit more set with the tentative summer release approaching... Seems like a whole bunch of work needs to be done, Lots!

yeah!! it's like a mess currently..some are alpha and some are beta and lots of inconsitent ui and some good features of windows 8 is missing like in peple hub clicking on letter a doesn't open the alpahbet list. And for 512mb device apps really crashes alot and many apps didn't open at all. Waiting for some quick update to fix all these bugs.

That summer release is late summer in September which is at least 5 months from now.

Mmm, desktop may be summer. Phone will be fall.

What's wrong with icon getting 8.1 update 2? Just curious. No problem getting cut out of this release for win 10. It happens but if 930 is getting update 2?

Windows 10 build 10051 works great on my Lumia 1520... and there is problem in some app that i'm monitoring it for Microsoft to make it better in next build. this build is so RAW but have a lot of great options like amazing keyboard and action center.... also nice Outlook app...i'm waiting for next build with word and excel + powerpoint... this build is for those who wants to test and help to shape better OS... not simple user!

No Facebook icon Peoples :(

There is a People Legacy app.

Where is word,excel and powerpoint preview for touch devices???? That's a big missing link as we cant open or read office based documents. Can we have office back in the meantime, although i was looking forward to the office preview...

they told us yesterday, Office apps aren't temporarily working in this build.

Thanks for the update. So we can expect that in the next update.

It says the update is 1.2gb, surely this is w10 and not the gdr2?

Dont ever try install windows 10. Technical preview to your daily phone use. I love the UI concept but It's far from usable

A lot of people find it very usable.

I don't know, maybe its just my phone Lumia 535 which I've found that WP 10 TP was so very unstable. One of the bug that I can't activate the internet data connection.

When GDR2 will be available to offical download for L735?

Also to 630 dual sim ......

I've reinstalled W10TP on my 735 and have to say I like a lot of it. The new messaging app is great to look at and use, Outlook Mail is almost there despite Hotmail and Outlook.com accounts imported from WP8.1 not migrating properly.
Stability.is about where I expect it, I've experienced nothing make apart from some apps not loading, but that isn't a game breaker for me.
My biggest concerns are the scaling of some of the 'warnings' that pop up and the new virtual joystick in the keyboard isn't present all the time. I wonder if it had to be enabled on an app by app basis.
I've not had chance to do any real world testing yet, so lets see how it goes, eh?

Is the problm of auto hiding the navigation keys fixed?

Is the the 735 able to hide the navigation bar in win10

Well i wanted gtr2 so i die the First update. Then stopped the second udpate. Haha thanks Microsoft for not waiting for gdr2

So was GDR 2 on the 930 on purpose or just a mistake??

My Lumia 930 isn't getting GDR2! Why? Everyone got it last night...

No. Go into the Inside App and then about. If you have R1 at "Branch" at the you wont get the Update, R2 is getting it (source: Drwindows.de)

Do you know what determines R1 vs R2? I really want Update 2, but mine says R1.

Thanks pal, got R1 here... Let me know when you answer Blacklac's question!

THANK YOU!!! I've been waiting for someone to figure something out like this. Now I can at least stop wasting time seeing if other 822 owners have been getting GDR2. That's all I really want for now.

how do i get my win gdr2 on my 635? i dont want win 10 yet.

What about settings. I cant open in settings at all.

I can't access settings to.lumia 525

Hi! I installed windows 10 on my Lumia 520 today & i can´t open Setting so i can´t update the phone menu or change the sound´s or wallpaper:( i suggest you fix this... does anyone have other ways to go to setting? sincerly
Johan Gustafsson
Sweden

Well dear Johan, I have the same issue as you. Let's hope we can update without using settings.

Everything was working fine with 10 until I found out my Band wouldn't stay connected. Tried everything from unpair to resetting Band and it just unfortunately doesn't work. Less so than 8.1. 10 doesn't work at all, at least 8.1 works for a day or 2 before having to reboot. This Band with 830 experience has been complete crap!

Testing is ok and we never warned you is also acceptable. But for that , an update which is this much error-prone like after update automatically it is in airplane mode and there is no option to switch it off , only hard reseet thereby lost data . HELL. Microsoft not expected tis from you guys . Then literally no apps working and keyboard which is by look awsome except that when you type and press send in Whatsapp nothing ... plus no access point (blame carrier -simple) ... AN OS PREVIEW UPDATE OR RELEASE IS TO IMPROVE THE PREVIOUS VERSION NOT TO DEGRADE AND MAKE UGLY WHICH IS WORKING BEFOREHAND.. Nowhere recommended .....

I fear you're missing the point of the technical preview entirely.

I think they need entry requirements for who can install it...

No not. I only fear y basic features are messed up ???????

Sathish... testing is not for fools like you..

Yes Yes. Because I have only one phone . Now not able to call, open whatsapp, open Photo APP, no browser is working (all in wi-fi connection) . Technical Preview ??? -What made these not working ????? Then I am 'FOOL' only. Comparing this to very very very stable 8.1 technical preview ... where Almost all basic features worked perfectly to the core . nobody would dare to say NO

I'm to your opinion, why should they release such a thing to us I am sure they tested it on their phones before they made it available

Like I say, they definitely should have charged cash money for access to Insider program.

Na, at that point it would have been, i spent money for this. People Will always complain.

Will slow ring just get me to 8 gdr2

No, I tried that but no updates show :/

hmmm, I aim not offered gdr 2. disappointing.

Do you really want it, my windows 10 update is sitting right in the phone update and I don't even want to go there to see it.. You should fear that thing bro... I don't want to break L1520 when there's no other flagship in our sight also I can't stand losing 26GB of data that is on my phone

Wont the upgrade process carry over all of your personal files? If anything, I already have my personal and app settings bac