The next Xbox — Project Scorpio — may be using a new interface design language [Update]
By Jez Corden last updated
Microsoft's next Xbox — Project Scorpio — is shrouded in mystery, but we now have a clue about its dashboard interface.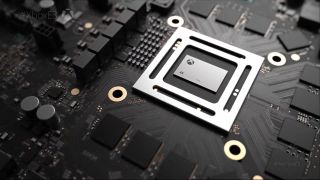 Since we know that Microsoft is hard at work on Project NEON, an all-encompassing design refresh focusing on translucency, we've been wondering whether Xbox would see the same visual design refresh in the future. We now have an idea.
Update: We've spoken to some sources familiar with Microsoft's plans who have confirmed to us that Scorpio will see the same Project NEON design language as Windows 10. The "Motion" portion refers to elements of NEON itself, which apparently, will use Scorpio's extra power to create something visually impressive. For examples of what Project NEON looks like, head over here.
Original article:
Microsoft watcher h0x0d recently discovered a LinkedIn profile that directly references not only Project NEON, but a new "Motion" design language destined for Project Scorpio. The Xbox One is currently using the MDL2 design language, typical of Windows 10 and Windows 10 Mobile.
The Software Design Engineer even links to our own article on Project NEON, while discussing a new "Motion" design language for Scorpio. He also talks about how Scorpio's 6 TF of computational power will benefit Project Scorpio's visual interface.
Image 1 of 2
Image 2 of 2
Xbox Scorpio Prototyping
I'm currently prototyping Xbox Scorpio Motion Design language, which is targeting Holiday 2017. What are we going to do with 6 teraflops of graphical processing power? Find out next year on Christmas morning ;)
I've previously speculated that Scorpio could have the same interface as the Xbox One, but it appears that Microsoft has plans to use Scorpio's horsepower to make the dashboard look extra flashy. At this point, we can only guess what Scorpio's dashboard will look like, but the word "Motion" could offer some form of clue.
Microsoft is planning to reveal Project Scorpio in the coming months, most likely at their E3 event on June 11th.
Owing to internal Microsoft documents I've received, we expect that Project Scorpio will sport all the same UWP features that the Xbox One supports today, including background audio, and so on. But with the Windows 10 Creators Update, it's looking that both the Xbox One and Scorpio will also encompass Compact Overlay Mode to replace Snap Mode, and even file picker support for third-party apps.
Microsoft is hard at work optimizing the current Xbox One interface for testers on the Xbox Insider Program, while bringing more UWP tools into the Xbox fold. There's a chance we could learn more about Project Scorpio's feature set for developers even before E3 at Microsoft's Build conference in May. Either way, we won't be waiting much longer to find out more.
Jez Corden is a Senior Editor for Windows Central, focusing primarily on all things Xbox and gaming. Jez is known for breaking exclusive news and analysis as relates to the Microsoft ecosystem while being powered by caffeine. Follow on Twitter @JezCorden and listen to his Xbox Two podcast, all about, you guessed it, Xbox!
I feel like this employee might be violating some NDAs. Probably why he edited his profile to remove the references. Still, I can't imagine these articles will go over well with Microsoft's lawyers. Lol

Basically is this all pointing to a new UI?

That's what I'm thinking, guess Microsoft want to show off the 6 TF to make Scorpio look sexy. Also it would slam home that Scorpio is a different console, and not just an incremental "Xbox One Pro."

I understand and it all makes sense but to me that will contradict what they claimed earlier on on all 3 consoles having a similar and familiar look with UI and carry the experience along. Dunno but well guess it's all good.

Depends on how radical a change they make it. I'm imagining a more beefed-up, functional version of the current dash with a roughly similar layout and design features but more crammed onto it. Add to that a few flashy animations and effects and it'll be recognisable as a version of the XB1 dash.

That's my thought too. Time will tell though! Most excited I've been for E3 in years. Scorpio, crackdown, destiny 2 oh my!

well it depends. If the layout is the same and the but say an element is statis on XB1 but motion on Scoprio, then i think it's fine. Similar experience but enhanced on Scorpio. Can't hate on that.

Well, plans do change. Some things in the world are moving targets. They [Microsoft] could have easily looked at changes in the marketplace, or changes in the direction the company as a whole is headed, or mistakes that the competition [Sony] has made launching their own quasi-generational hardare, or even just looked at what was possible with the hardware/software they had on hand, and decided to make changes to the intial plan based on these external parameters. Make no mistake though. If there has been a change of plan, it is all being geared for the betterment of the system/ecosystem as a whole.

Did they say specifically that it would have the same UI though? I know they said that it will be backwards and forward comptaible with all games and that it would be a part of the Xbox One family, but I don't remember anything along these lines. Maybe I just wasn't listening though.

I dont recall them saying anything about having a familiar ui? And it still will play xbox one and 360 games. If you can show me a link about the ui if im misinformed id be apriciative of it.

Any word on price? If it has just .5 a TFLOP less than a 1070....whoa...

Is Xbox Scorpio a scorpion?

Exciting times!!
Disappointed to such sexy news for mobile

Exciting times!!
Disappointed to such sexy news for mobile

ha ha..Nadella loves everything but not mobile.

He is a Cloud guy. His success in Cloud business has overshadowed his failure in mobile. Cellular PC will be his last chance.

Thats why I love him. Future is all about data-cloud, bot, AI.

Mobile will probably benefit from Project NEON.

Project NEON and CShell will make mobile an integral part of W10 that MS can't get rid of even they want to.

They have to be very careful that the UI doesnt look to different from current Xbox unless they totally plan to break with the "one" branding and Scorpio will usher in a new Xbox brand which it really should. This is why they should have put in a dedicated system on chip in the Xbox One S to handle UI stuff so it could match Scorpio and the original Xbox One gets left with a basic version of the UI.

its xbox 10 didn't you know?

Its a great time for xbox.I am sure this box will never dissapoint.

Ps3 is so gona shift to Scorpio, no matter the expense!!! PS4 VR is a bloody mess with all the extra boxes and tons of cables... No deal!!

@GoldStar no they don't Stop comparing XboxOneS to Project Scorpio 2 different systems so UI shouldn't mirror each other ( Even some features should also be different but they won't ) I am very happy with this news and then gamers can decide if XboxOneS is for them or they want Scorpio (I have my money and Pre-order set day one !!

You are reading a little bit too much into this. Motion design is just another term used for user experience design, especially when animations are a primary focus. We know already the NEON will focus more on animations then MDL2 did. No news here. I'm pretty sure Scorpio will have a similar UI to other NEON products.

I'm not a design person, could you explain a bit more about "Motion design is just another term used for user experience design"? Is it just a fancy term used in the design world?

No. It is not a fancy name. It is just part of user experience design. Other part is graphic design and interaction design. Motion design would describe how specific elements are animated, for instance that a headline is animated from left over 1.5 seconds. So beside structure, layout, colors, typography, this part of NEON will define the animations. I'm sure this guys works on the team that creates default animation.

You're right, it's just like how MS described Metro as "...modern and clean, it's fast and in MOTION" :)

Well, it's news that it won't look like what we have today, even if what you say is accurate. The way he capitalized the terms made me think otherwise.

I think it will look very similar, with a little extra polish and some gorgeous transitions and effects. Gonna incorporate a lot of the Neon design language. Stoked for this device. Just wondering how many 4k versions of games I will need to buy...

Good exciting times. Can't wait.

Kinda hoping it comes out as 'Xbox Scorpio', instead of their usual shift to...cool project name, not so cool release name.

Microsoft should not reveal anything about Project Scorpio details until it's finalized and ready to order. Only then should details and ads reveal the product.

With that much horse power I want to see a more robust/seamless living room experience while consuming audio/video media. The kids game. I want to be entertained.
Windows Central Newsletter
Get the best of Windows Central in in your inbox, every day!
Thank you for signing up to Windows Central. You will receive a verification email shortly.
There was a problem. Please refresh the page and try again.