Project xCloud rolling out to 'Europe, Asia, and North America,' Microsoft offers update on Xbox game streaming
Project xCloud is in the hands of developers.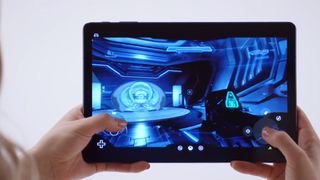 (Image credit: Microsoft)
What you need to know
Project xCloud is Microsoft's upcoming game streaming service.
More datacenters are being added.
Leading developers like Capcom and Paradox Interactive are already testing it.
Public trials should launch in 2019.
Project xCloud is Microsoft's upcoming game streaming technology. WIthout any modifications, all Xbox One games can run through the cloud and can be played on any device. While everyone may be talking about Google Stadia, that hasn't stopped the company from dropping new details about Project xCloud. Today, we got a better understanding of its industry support.
Microsoft's Corporate Vice President of Gaming Cloud Kareem Choudhry said the following in a post on Xbox Wire (opens in new tab). We didn't know that leading teams such as Capcom and Paradox Interactive now have the ability to easily test their games directly from Project xCloud without having to port to a new platform.
It'll be interesting to see how much support Project xCloud will launch with. We should find out soon because the streaming service should enter public trials this year.
Which games do you want to play on Project xCloud? Would you prefer it over a traditional experience? Let us know.
Jump into digital
(opens in new tab)
Xbox One S All-Digital Edition
Dump the discs

Secure your Xbox One S All-Digital Edition, Microsoft's new and ambitious disc-less console. It's the cheapest Xbox One ever made, bundled with a trio of downloadable games.
Xbox accessories you'll love
Every one of these quality accessories is guaranteed to enhance your Xbox experience.
PowerA Enhanced Wired Controller for Xbox One (opens in new tab) ($20 at Amazon)
PowerA's take on the Xbox One controller is an attractive pickup for budget-conscious gamers that nails all the basics.
Talon PDP Xbox media remote (opens in new tab) ($20 at Amazon)
The Talon PDP Xbox media remote is great for watching shows on your console.
Xbox One S vertical stand (opens in new tab) ($10 at Amazon)
Stand your console upright with this accessory.
Asher Madan handles gaming news for Windows Central. Before joining Windows Central in 2017, Asher worked for a number of different gaming outlets. He has a background in medical science and is passionate about all forms of entertainment, cooking, and antiquing.
Hmmm. I guess this means they have created a custom, high-density blade version of their XBOX 1 X console, most probably a high-performance emulator of the physical hardware that resides in light-weight "containers" on their standard Azure data center blades. That way they can spin-up and spin-down all the game processing power they need on-demand. Along with their software-defined networking, they won't see any bottlenecks in their data centers (your experience on the other hand is determined by your last-mile ISPs capabilities, and how much you are willing to pay for it.)

From what they've said in other places, it's based on the Xbox One S hardware, and it's not emulated, it's the exact same chips. They're specific custom blades using Xbox internals made just for this.

When in India? 😜 Sorry, couldn't resist. Glad to see this won't be a standard US only, so doesn't care about other countries outcry.

I'm dying to test this, a shame I don't live in any of those regions.

So this is going to fail. When they were first talking about this, they were working on the streaming tech beyond what you already get with the in home streaming. They mentioned that they were focusing specifically on the input lag and working out how to run the input code on the local device and the rendering on the cloud. Without that, it's just going to be a laggy mess. Well that tech can't be what they ended up doing if there is no code changes to the games. It sounds like it's just the old in home streaming, running over the internet, which doesn't even work properly when just streaming inside the house. This is just OnLive again, which died for the same reasons.

My same network streaming works fine. I think most of the lag caused my that is people using wireless or the Xbox app itself.

Well...
there are techs like, 1. AI predicting user input on the cloud side. 2. Co-rendering tech. A weak console or notebook can choose to output,
A) low fps + high detail. And server will render in high detail + high fps, and send those high detail frames to fill the gape.
B) high fps + low detail. And server will render in high fps + both high and low detail frame and send the subtracted (high-low) frame to the client. But, even without those co-rendering techniques, the developer has demonstrated that his method actually requires lesser bandwidth than mp4 streaming. So, yeah, no need code modding.

The problem is alot harder then that.
Ai predicting player movement is high unlikely. 1. It would require an Ai to understand the game, to figure out what the player is likely to do ( which if not purely vision based, which again is highly unlikely), would require code changes for the game to feed the Ai information. 2. An Ai would have to be custom made for each game. 3. This is the biggest one, the Ai would not be correct that often and therefor not that beneficial. It would have to be almost always correct, and even then, when it's not correct, it would cause noticeable hitching in the game. 4. It would still need to verify that it was correct before actually doing anything, which means the core delay problem is still there. 5. If it was wrong, it would then need to "rewind" the game to sync itself back to what the player is doing, no games can do this. The video stitching also doesn't work. As it still needs to wait for the video to be sent from the server to client, which is the core problem. The problem is even harder then that. There can be no buffering of the video. Imagin how bad streaming a video from YouTube would be if the buffer was completely turned off. Before game streaming can be viable, they would first have to solve a core problem with video streaming that has hindered the industry for years. Even microsofts mixer faster-then-light tech which is specifically designed for streaming with as little lag as possible still has seconds of lag.

well,
https://youtu.be/7gthYcyhuPs
https://youtu.be/N_eW_gPWLZ8

Come to Japan!!! I'm ready customize a LattePanda, attach a sim card and slap a pair of Joycon to the side for this!!!

I really hope that Australia is included with Asia, we have one of the fastest wireless network in the World, on the go streaming would be a breeze.
Windows Central Newsletter
Thank you for signing up to Windows Central. You will receive a verification email shortly.
There was a problem. Please refresh the page and try again.