Project xCloud will support all digital Xbox One games
Let's hope everyone agrees.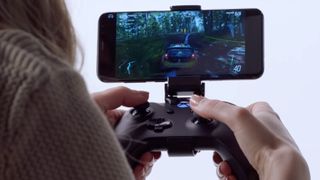 (Image credit: Microsoft)
Project xCloud is Microsoft's upcoming game streaming service. While we haven't heard many details about how it'll work and factors such as latency, we do know that public trials should begin in 2019. However, a description posted on the Game Developers Conference (GDC) website gives us some insight into the project. GDC is the world's largest professional game industry event, with five days of learning, inspiration, and networking. It'll take place from March 18 to March 22, 2019 in San Francisco.
You can read the truncated description below. It seems like all native console games are able to stream through Project xCloud.
Project xCloud should allow you to play your games anywhere. However, given the fact that publishers like EA are developing their own game streaming services, they may not want to participate in Project xCloud. Only time will tell and Microsoft should make this a requirement for the next-generation of consoles.
What are your thoughts on this? Would you want to participate in the public trials? Let us know.
Asher Madan handles gaming news for Windows Central. Before joining Windows Central in 2017, Asher worked for a number of different gaming outlets. He has a background in medical science and is passionate about all forms of entertainment, cooking, and antiquing.
Microsoft couldn't even mandate playany where or cross play for games on their service, there is no way they're going to be able to get EA to follow suite. Look right now, they even have their own game pass service.

This is a different service though. You need to own the game before you'll be able to stream it over XCloud. Or have a licence for the game from another subscription service...

Totally different thing from Play Anywhere. Which by any means is a hard thing to leverage with 3rd party publishers. This is just them extending the playbase for games they have rights to, in Xbox.

Completely different situation. XCloud is using actual Xbox hardware(Xbox One S, I think and later Xbox Anaconda) to stream down the games. So really there is no licensing deals to be done.

GD it! Why can't we just have awesome stuff to play, all these punks gotta act like they're the best game in town WORK TOGETHER AHOLES! >[

😲 please let this be true..

So long as this is a free service that is attached to Xbox Live/Game Pass (thus only games you already have access to), I'm all for it. If I have to pay ANOTHER subscription fee, then it's a no.

I think it'll be part of Xbox Live Gold or Xbox Game Pass.

Awesome, and with 5G mobile broadband coming likely this year in Oz I'll be Xbox gaming on the go like crazy.

I think they will attach it as a capability to both Gold and Game Pass. I also believe that they will have to do something about charging for online play (Gold requirement) next-gen. I am not talking about streaming but how Xbox has to pay for online gaming (multiplayer) while the same PC games (especially the PC Anywhere games you buy or use on GP), do not. To me this with this everywhere option Microsoft is not maing any more friends when games that use the same server but one is charged for it and the other is not. I know they make a lot of money from Gold but if Gold is required for streaming games I would think this would compensate with the loss. At least it would make it a much better overall service then PSPlus and drive up MAU number for multi-player games. Would Sony, whose profits are exceedingly dependent on PSPlus be forced to react in kind? If they didn't it certainly would be big contrast between the two services. At the very least Microsoft should, like PSPlus now, not require Gold for F2P games. WC STAFF: Why are the "Comment" / "Cancel" buttons always in the way when making a comment? How hard is it to move them out of the entry box?

May I have a wild guess? XCloud won't be available to masses for at least 5 years. And when it's available, better alternatives will be used already. Change my mind.

Microsoft is damn serious about the Cloud. Nadella is Mr. Cloud himself. And besides Microsoft only Amazon and maybe Google can offer such a service working fine soon.

No one is in a better position than Microsoft. Xbox + Azure = game streaming on any device. None of the rumored competitors have even said anything other than streaming to a PC.

The tech is there. MS reigns the cloud space and is developing optimization tech. In 5 years even you will be playing like that as a total normal thing.

It's going into public trials this year, so I imagine it'll launch with the next-generation device in 2020.

It's actually going public testing this year.

Have you even heard of Azure? Don't worry, I'll wait.

I want to try this, hopefully it'll come soon.

I'm all in. With games going digital and streaming becoming so prevalent in the gaming industry, this type of service makes sense. Plus the added bonus of not having to own a home console is a huge plus.

Another interesting thing is that you will be able to buy "Xbox" games to play on any device. But this will blur the line between hardware in the MS catalog. Who could oppose this? GPU manufacturers? But the premium experience will still be the local one, of course. Also, they could implement gpu processing to the cloud experience.

Hopefully this will also allows us to stream xbox games to less powerful computers without having to be on the same network for the xbox streaming service. For example, many forza games require at a minimum of 4GB of VRAM, but with this I might be able to take advantage of my all powerful 1GB of vram to play the same game over an uplink. Besides, the new xCloud only requires a decent internet connection on both sides, plus a processor running at least 1.5Ghz. Hopefully with a usb connection to my controller, I can now play my xbox games while staying with friends. Additionally, would this be using the hardware in your xbox (increasing ping, but lowering costs), or will it use the hardware in the Azure servers (lowering ping, increasing cost, probably covered by xbox live cost.)
Hopefully this isn't a extra subscription, I can only afford to pay for xbox live right now. If it is a subscription, just include in the price for xbox live instead of Gold of Game Pass. Additionally, my bets is that it will definitely apply to all xbox exclusives, but the other parties will hardly support it (namely EA).
The idea of touch input will die just as hard as the touch bar on the PS4 controllers. A xbox controller connected via bluetooth is a minimum requirement, and touch inputs would only work for maybe some weird hotkeys, assuming they: A. work and save after game reboots, B. The developers allow for it, and C. you actually want to move your fingers farther away from the controller as it already is. If we use the setup shown in the image at the top of the article, it will be pretty uncomfortable to raise just a finger to the bottom of the screen naturally. It won't even speed up many games since you will experience some input delay.

It would make more sense for Microsoft to include this with Game Pass. If someone wants to play online, they'd still have to buy Gold.

No it won't and the cloud just plain sucks

I'm sensing a trend in your posts, are you a vacuum salesman?
Windows Central Newsletter
Thank you for signing up to Windows Central. You will receive a verification email shortly.
There was a problem. Please refresh the page and try again.