ProShot for Windows 10 returns to the Store and is 50% off through Sept. 4 [Update]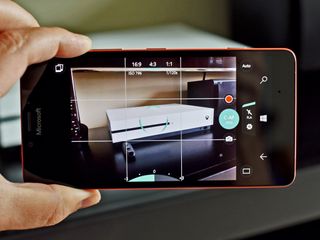 ProShot for Windows 10 has made it back to the Windows Store after over 5 days offline. The Windows 10 version of the popular camera and photo app is also discounted by 50% from now until Sept. 4.
The app launched on August 23, but after that many people were unable to install ProShot, and some that did were able to get the app for free instead of paying for it. Developer Rise Up Games decided to pull the app from the Windows Store, and now ProShot is back, hopefully with all those issues fixed. Again, it normally costs $3.99, but it will be discounted down to $1.99 through Sept, 4
Update: It looks like the sale price is not showing up yet in the Windows Store as promised. Hopefully, this will be fixed soon
Update 2: Rise Up Games has now extended the ProShot discount until Sunday. Sept. 4.
Thanks to everyone for the tips!
Windows Central Newsletter
Get the best of Windows Central in your inbox, every day!
It should be free to those users who bought it on 8.1 , why should I pay again for it? :/

You paid for the job he done on 8.1 Now he done the job again and completely rewritten the app, you have to pay again. Its like asking a guy who build your house to rebuild it again without asking for money because you payed him the first time.

Oh wow, I didn't know that, thanks for such useful information!

I sense sarcasm but I am not sure ! :D

I'm not a developer, and I barely buy apps. But there are some good ones out there, very useful, and I would pay $1, $2 or more for it. At $1 a piece, I wouldn't mind an annual subscription type model as an incentive for the developer to conitnue developing the app. I see many good apps being abandoned by the developer or not updatede as a W10 platform.

would be nice if windows central could do a Pro Shot vs the native Camera app. The latter got a lot of updates recently and has a lot of options. Would be great to know the real nitty gritty difference between both and how much really you can do more with a phone camera and professional tweaking tools like with pro shot. A CameraPhone is not the same as a dslr.

That's what I'm talking about, WC should dive deep for all the things Windows. Like the one you've aforementioned, there's these things I wish them to do: Latest wacom enabled Lenovo touchpad keyboard vs. Typical touchscreens for those who do tasks that has something to do with tactile feedback. The next one is video editing and 3D visualization (as well as gaming review which is being done particularly more often than the others) tests on certain gpu and machines (Surface Book).

Sadly, the only thing they ever write about is how to do this or that on WhatsApp...

I prefer the subscription model as well over abandoned apps. One of my favorite apps was abandoned and it took 2 years for a substitute to show up. Also, it keeps the ads away.

Naa. I think he genuinely didn't know about the code rewritten. Hehe.

That's not the case. Many apps were rewritten for W10 but noone asked their current customers to pay again.

Nobody forces you to do that. You use the Proshot classic, that is the version developed for w8 platform. If you want new app developed for w10 platform, then you pay. But also classic is very good.

The WP8.1 is still available to use. This is a completely redesigned from the ground up W10M app. You want free updates for ever? As if this pays for itself you think.

Yes, we want free updates forever. That's how the app model works and that's what happens with every app on the store (any store) except from this one. If the developer wants more money, he should broaden his customer base, not rip his existing customers again.

The truth of waiting for the customer base to broaden isn't very sustainable mainly because it has an end...One of the reasons many app startup companies fail. And Ads is the only thing saving some of them, which many consumers don't like. Even MS switching to the 365 subscription format is a testament to that.

You should pay for it again because the developer has made the new app from scratch, it is not the same app. Might have been better for the developer to have called it something else to make the distinction clearer. If you don't want to pay for the new app, stick with the old one. People can't be expected to work for free I'm afraid.

Out of curiosity, what features does the UWP app have that the 8.1 app doesn't? And is it worth buying again if I can just use the old app?

There's a review of ProShot linked at the bottom of this article; Much of your Qn is addressed in it, & in some of the comments there.

Generally faster, more efficient and less glitchy on W10M, as it's a native app

... and the deal ends right now!

So sorry, there was some confusion on the Store about when the sale price would end, so I had to submit a request for a new one. That one will go live hopefully in a few hours, and it will run through Sunday. Proof: https://twitter.com/RiseUpGames/status/771369742317662212

One thing that is seriously annoying though is that I just went to purchase it at the discounted price, and it stopped halfway through the purchase and went back to the app screen in the store where it is now full price again! Fail.

So not discounted until 2nd September at all...

So sorry, there was some confusion on the Store about when the sale price would end, so I had to submit a request for a new one. That one will go live hopefully in a few hours, and it will run through Sunday. Proof: https://twitter.com/RiseUpGames/status/771369742317662212

Will buy later, glad that it is back in the store.

Still it shows 252₹ which is the full amount in India

Still showing 252₹ in India .. No discount

Not 50% off on my US store. Still at $3.99.

Looks like a great app. Still showing full price but just bought it as I'd say it's worth that and more.

Should have been free after recent mashup

No it shouldn't have. A lot of people got it for free due to the Store bug anyway.

yeah, but then you could open the app only 3 times until it broke :)

Buy it regardless, It's a terrific app, he's been messed about with Microsofts glitchy store for long enough, It's not his fault. Seriously if he pulled the app for good I wouldn't be surprised there's so many moaning here about having to pay a meagre amount of pocket change!

Purchased it already 4 days ago. Light painting still not a activated?

The bug is still on the OS

MS says the fix is on the way, but I bet it will arrive only with RS2.

Yep, Microsoft has fixed it internally, just not sure when it'll go live

It's not half price unless the regular price is $7.98. Bard ion the reviews, seems worth the $3.99 price.

Yeah I'm so sorry for the confusion. Check back in a few hours as it makes its way through the servers.

I bought this on my lumia 950 xl, and it installed the classic app, for some reason. I deleted the proshot classic app to try again, and now I am unable to install any apps at all. Whenever I click install app, on any app, the store just closes.
Rebooting the phone does not help.

Try a soft reset OR try changing the storage ur app installs to. Change to DEVICE from SD.

Think it's a bug MS side for the light painting, as usual an ongoing problem due to be solved soon.

My take is, all 8.1 app that upgrade to 10 app deserve a payday as well. Every dev has to rewrite thier codes.

It's full amount in India

How do you activate / purchase the HDR-option? Cannot find it anywhere...

Press auto bottom right (when in portrait) and HDR should appear in middle of the screen. Press that and should take you to store.

Yes, there's a tiny lock symbol on it, push that and away you go, I've just bought it, UK £.0.79p.

I'm in UK and it shown as 3.09

I'm so sorry for the confusion. Check back in a few hours as the sale makes its way through the servers

Thank you, bought it for 0,99 Euros :)

It's the full amount in the US as well. Already bought it on 8.1 now being lied to about the price. Nope! Won't buy it!

Your not being lied to, its half price as the developer wanted, MS is to blame, a store glitch as per, when does it ever work properly??

I'm so sorry for the confusion. Check back in a few hours as the sale makes its way through the servers. Sale extended til Sunday

Paid full price this moring, should I get my credit back?

so why i should buy this when i have native camera app which is prety good...rich hdr/iso/exposure/focus/slow motion/living images...

I had it on 8.1 but I haven't taken the time to learn about photography enough to know how to really use it. I used it from time to time but used the default camera app just because taking stills out of video is what I needed for my kids sporting events. I probably will buy it again because it was a quality app.

i agree its quality app..i'm just confused why to waste money when there is nothing much compare to inbuilt app..

IMHO, when saving Custom modes you have a lot of power to shoot faster than redoing all the settings from default (which Camera always restores upon open) Also the HDR bracketing is more powerful (although it seems to not be available yet) in that you can choose the +/- Exposure values and get a wider range from more subtle to more pronounced than even "Choose best lighting" provides. On screen controls are very nice for one finger zoom and exposure adjustment. However, I think you should probably wait a bit. It still has a couple kinks. Once it is really done it will deliver the same features as Camera in a better way and actually add to the feature set beyond what camera offers.

i bought it...not so impressed with ui colour choice and lack of features i wrote same in review hope developer notice...didnt checked quality of camera vs pro shoot..

And this is why Windows 10 mobile will never get of the ground.

Still ₹252, waiting for half price & I would/should buy it.

I'm so sorry for the confusion. Check back in a few hours as the sale makes its way through the servers. Sale extended til Sunday

Can anyone confirm if Lumia 930 will support 60fps recording with this app? Gonna buy it then! :)

I don't believe 60fps is available on the 930. ProShot asks the hardware what its capable of when you open the app, and then activates the right buttons. I've seen screenshots of it running on the 930 and it looks like 60fps options is grayed out

Thanks for the reply. Which devices are capable of shooting 60fps video?

I think only the 950/950XL at the moment

Which is a crying shame for 930 and 1520 owners.

Yes, as the dev said. Only 950 and 950XL.
ALSO, HP Elite X3 and Acer Jade Primo because of the processors.

Im only seeing it for £3.09 in UK.not got any discount showing

Love Proshot, but it's usefulness is extremely limited until Windows 10 Mobile allows me to set it as my default camera app. At a minimum, it should show up in the "Lenses" section of the camera app.

App launched and was not available for download! Developer offered the discount but not showing up!! Nice app got screwed up by windows store!!!

Does ProShot make (noticeably) better photos in automatic mode compared to the default camera app?

A testversion for a day or so would be pretty cool to try it out. :/

Can WC or the developer explain why the app is not available yet for the stated half off price in the store? The developer's tweet was posted 12 hours ago stating it may take a few hours for the sale price to appear.

I also paid for it at regular price

The app was on sale when I tweeted that, but the sale only had 6 hours left because the app took way too long to get back on the store, so I had to re-submit a new sale. The new sale has been extended til Sunday, but is gonna take some time to get through the servers.

Hi everyone, again so sorry about the confusion, ProShot was on sale when I sent out the tweet, but I'm waiting for an extended one to go back online. This is taking a painfully long time for the store to certify. I'm going to extend the sale through Sunday, so just be patient, if it's not online today, check back tomrrow. https://twitter.com/RiseUpGames/status/771369742317662212

So, there you go the boss has spoken and everyone's gone quiet.
Go to the apple store, find in store, log in, pay up, download done in seconds.... use. Android play store, find, log in and pay, download in seconds...use. Windows 10, go to app store, wait a minute or 2 until it loads,(maybe), find, it might be there, key in sign in details, push the buy button.....wait... Wait...... Spinning circle.....crash.....oh dear, what happened to my money, did it go out or not, restart phone, try store again, app now not seen or, worse, store crash.
Really, It's an absolute shambles. It's either hilarious or embarrassing whatever way you look at it!

Is it right that it cannot be set as the default app when you press the camera button? That's a bit of a pain if it is the case.

Yes, it is a clusterfu$%!

lol, poor developers trying to bring apps to WM. So much work.

Bought it. Great program. Was impressed with the ease in getting clear image of zoomed details. Love the simple way to get to my camera role. The instructions were actually useful and easy to understand. Complex program 'easy' to use. Have 950XL.

Would love to buy it, but the buy button is inactive on my m8 for windows. I'll try again later, but this is convincing me I should get an iPhone 7 in November. Boo.

I purposely bought it a few seconds ago at FULL price. I'm very grateful for ANY quality developers that have supported my support for W10M. This world is truly crazy. It drinks $tarbucks but won't pony up for ..........

Oh, and watch the video tutorial and then argue the native camera app is just as good. This is what Windows 10 Mobile is supposed to be like to use. Elegant and powerful.

Thank you and thank you :)

If I was still on w10m I would pay full price. I have no issue paying for great content. I buy apps, software, music and movies all the time. Yep, I can get free ones, but they are ususally full of ads etc, so I would rather pay for the app, and have full function and no ads. On my android tablet I use for navigation while overlanding, I paid 70 bucks for some apps. I also paid over 100 dollars for certian apps on my son's ipad. He has Autism. I gladly pay developers who create these.....Why? because they work correctly! Good luck RiseUpGames, I think your going to NEED IT over here!

Posted from starbucks where he is drinking his mocha choca yaya dada latte that costs 11.00.

What a mess. First it was 1/2 off and I missed it because others were getting it free. I would have paid the 1/2 or donated if I accidentally was gifted. Then it was 1/2 off for a super limited time. I missed that. Paid full price. Also paid extra for HDR mode. Now it is 1/2 off again. Heats my 1520 up pretty good and histogram and leveling are turned off. Every 3rd or 4th feature does not work and says "coming soon" or "there's a bug in Windows" so I can't get all the functionality I thought I would have. My advice is wait, forget the discount. I would rather have waited longer for the App to have been polished enough to release. IMHO, the dev let his fans rush him and now the whole thing is a letdown from the excellent 8.1 effort. Skip the hype and wait for this app to mature properly.

Some features (like Light Painting and others) were working with 10586, but the Anniversay Update broke them. Conversely, 10586 was really really slow, Anniversary Update sped up everything. I decided to release what is there, which is a lot (manual controls with video + real-time Audio levels = something Windows camera doesn't do, among other features). tldr: If I waited for OS fixed, ProShot might not be released til next year ;)

So true man !! Agreed. Windows 10 Mobile is messed up in many ways but awesome in some too. :)
Hope all this gets fixed.

I just waited for the store to get it registered properly. Bought it at 1/2 price. Why? Because I paid full for it on 8.1, wanted an upgrade discount. Now I have both installed. Also, now I'll get it upgraded, and I trust this developer to get it worked out and running well fairly soon, and I'm in no hurry at the moment. But, yeah, for all those expecting fulll functionality now, I'd advise to hold off for a bit as well. Wait until it is fully matured, then jump in with both feet.

Apparently ProShot doesn't work well for HTC phones, I have no idea why but that's what a bunch of reviews are saying in the Google store. Anyone know a similar app that does work well with HTC phones? Posted via the Windows Central App for Symbian

umm, your going to the Google play store to get a review of a Windows Phone app?

No, I was talking about the Android version of the app not working that well with my Android HTC One M9. Just figured that some people might know of an alternative here. Posted via the Windows Central App for Symbian

Android is really different from Windows; ProShot has its own codebase for each platform (Android, iOS, WP, W10) so its written specifically for the strengths of each platform. On Windows and iOS, everything pretty much just works, because the Microsoft / Apple have more control over how the hardware communicates to apps. On Android its all over the place, manufacturers are free to do whatever they want and often don't test that well, so ProShot on Android will work flawlessly on Nexus (for example), but have issues on HTC. My work on Windows 10 inspired me to rearchitecture / rewrite the Android version, so if there's anything the app can do better, it'll be in the next update coming this fall :)

Ok thank you very much for the response! It's nice to see a company interact with its fans and customers! I'm looking forward to the next update! And I can only imagine how hard it is to try and get an app such as ProShot to work the same on hundreds of different phones with different screens and cameras etc. Thanks for caring! Posted via the Windows Central App for Symbian

it's showing 50% off now.

I'm seeing it in the US store as 50% off now. Hopefully its showing up the same in other countries!

I'm up in Canada, so good here:)

Will be purchasing your app on my iphone today! I will support good devs!

Thank you! Got some cool stuff coming up for the iOS version too :)

Still full price in the UK at the mo. Should we see the discount here? Quite interested in using this.

Yep, its still rolling out through the servers. Check back in a bit or tomorrow, sale runs til Sunday 8PM UTC :)

Hello RiseUpGames I'am using Lumia 925 on 10.0.1058.545 I tried several times from my phone but couln't buy. Is it only avaliable for the phones with anniversary update? Buying button was greyed out and now the button is completely gone. Market shows "get updated" button and when i click it sending me to an update page of windows which actually belongs to PC updates.

That is correct, ProShot requires the Anniversary Update. Everything ran too slow on the older OS versions, so I didn't want to subject users to that.

Still full price in Ireland, Europe, will try again in a few mins.

It's a fraud... there are a lot of missing features from previos version

I always support developers with good apps.

Try before you buy would be appreciated. I paid for ProShot once, would like to see the new app in action. There's no reason to pay again for exactly the same results, no matter how much effort the developer made.

50% working now in Ireland, Europe. Starting Download now

Bought the new version to show developer support and encourage updates. I really liked the Windows Phone 8.1 and hope this version is also maintained and updated.
Small/individual devs aren't the same as large companies. If someone took the time to rewrite an app entirely from scratch and is specifically making use of new Windows abilities (or working to) I can comfortably support those efforts as I want quality offerings for my platform of choice.

Same here, i just bought the Windows 10 version and i got the HDR for €0.99 also. RiseUpGames has come across as a fair dev and is trying hard to please us Windows fans. The last weeks sham was more of a Microsoft Store and Windows Central f***up. Microsoft store may have problems, BUT Windows Central​ should have stopped and removed the comments on how to get ProShot for Free. Bad form Windows Central, Ye need more Mods. RiseUpGames walks into a coffee shop and buys his/hers buddies coffee." You win the Lotto" says iPhone app guy with a toot (what a loser he thinks) "Nope" replies RiseUpGames "UWP has a lot of nice Windows people, they want good dev's with great ideas for the Microsoft windows 10 platform" "Is that the Unique Widget Preview for Marshmallow" asks Lollypop. "please don't eat me" ​squeaks Kittykat I need a Surface Phone with a Zapper, thinks RiseUpGames. iOS (induvial overpriced sweets) with a KitKat base and a Marshmallow topping will go well with my coffee. "Is it your coffee buy iPhone app guy" asks RiseUPGames "tap oh i love the tap tap, will you tap please iPhone app guy?" enquires lollypop. iPhone app guy looks embarrassed, "Hmm it's a bit of an embarrassment, tap is so easy, i kind of tapped me self-broke and the f*****s at apple want a bigger cut. I think I need help

I have no idea what you just said, I think you were trying to take shots and iphone and android, however.....it did'nt work. Sort of like Microsoft themselves these days!

Already own the Classic 8.1 version, but just bought this new W10 version at the discounted price anyway. Any developer who continues to support Windows platform deserves our support. Played around with it briefly. Very smooth. No problems so far. Bracketing and light painting don't work yet, but the developer already told you that in the app description. I have faith this developer will continue to make this app even better in the future. At $2, it's like I'm buying him a cup of coffee. He deserves it. Lumia 1520.

Bought the app, but it's getting an error trying to install on 14915 on a 950. Love this app!

Opps, wrong reply, see below

I got it now but want install
Keeps telling me to put in internal drive

Your phone may have run out of ​storage on the phones internal storage. Is the phone storage full? Can you remove apps to allow more storage, can you move some apps to a micro sd, if you have a sd installed? Your phone make will help a lot to figure out your problem. Also under Settings (All Settings from the notification pull down ui) /system/storage This Device, what is the GB used out of?

Sorry i kinda messed up there Dbl post on wrong comments. This App needs to install on the phones main storage,and not to a micro sd.

Showing at the discounted price, but the button is grayed out in my HTC One (M8) for Windows. Will this be fixed? I'm running Win 10.

I paid 3.99 for it agian. Its a good app. Come guys a cup of coffee costs more than 3.99

RiseUpGames and the beauty of Windows yellow phones, that is a very nice person. Well done RiseUpGamers. Give me a 950 and I take photo shoots all day, actually a nokia 530 will do and I will do video for ever. FOR FREE, FOR EVER.

Discount showing up. Unable to purchase. Error on their end.

Downloading at half price on 950XL; Botswana, Africa!

I purchased it and really like it. The biggest downside is you can't set it up to be the default camera.