Provide your Windows Phone some juice with Nokia's new portable chargers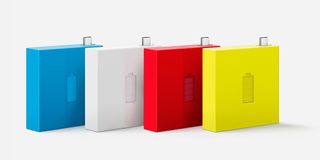 We've all been there. Glancing at the Windows Phone lock screen to find that the battery saver has kicked in with a good few hours to go until a charger can be utilised. This is where portable chargers can be rather handy. Nokia is set to release a stylish charger, called the DC-18, which looks very much like a Live Tile.
So what's the capacity of the product? Just 1720mAh, but it's a trade-off for the dimensions that come in at 57 mm by 57 mm, with a width of just 14.9 mm. That's a fairly compact charger and from glancing at the renders provided, it's a very good looking one too. On the front of the charger is a battery charge status indicator, which is active when the retractable microUSB cable is pulled out from the main case.
The DC-18 will be available in four variants: cyan, magenta, white and yellow. Unfortunately, both pricing and availability have not yet been confirmed by Nokia, though we can't imagine the charger costing an absolute fortune, especially with previous models (with higher capacity) coming in below $50. So, who's up for a stylish charger?
Source: Nokia (opens in new tab); thanks to everyone who tipped us!
Rich Edmonds is Senior Editor of PC hardware at Windows Central, covering everything related to PC components and NAS. He's been involved in technology for more than a decade and knows a thing or two about the magic inside a PC chassis. You can follow him over on Twitter at @RichEdmonds.
Nokia already has a charger in magenta, cyan, white, and black with 2200mh. Its perfect for the 920, mobile,compact. Look on att website. Nokia dc-16. Its great! Att has it for $35

Intriguing look for a charger.

Here the tweet to the pricing .. its 15€
https://twitter.com/maijatee/status/332461074173546497

Hopefully it's red like the render, not magenta, because that's the one I'd get.

Was wondering the same thing. Didn't know Nokia made a magenta phone.

Yes they do. Wife has the magenta 900. Nokia also made a magenta 800.

So cool...now they need a matte black for it to match my L900!

Heads up, these are meant for the Asha 501s, hence the low charging capacity.

The 40+days Asha 501? No need

Weird spot for the usb. One of these that charges wirelessly would be cool.

the usb is actually a little cable attached to it that gets out

That would be sick, lay them both down, boom, charging.

15€ they say, for the price.

Wish they came out in black. I sure am getting one for my Lumia 620, perfect match.

Looks good, but rather buy the dc-16

I like this! I may get one for my 8x lol

Was thinking the same thing

It just hit me... This portable charger has 1720mah, and the 8x's battery is 1800mah. So will this thing nearly charge my phone to full?

I don't think it will charge a higher capacity battery at all oxy.

It will charge your phone far from full, as your phone will be on and draining power while charging. It will get your phone up to merely 50-75% when you start from 0. But why would anyone wait till 0% to start charging? It's not healthy for the battery to drop it below 50% anyway.

I love my dc-16 charger its 2000mah and only for 25$

Same here. Own and loving the DC-16 charger. This one looks, well, odd and lower capacity

I did not see on the website any US availability. Does someone see it somewhere?

still waiting for the nokia wireless charging car holder thingy!

so if I am charging my Lumia 920; how much would it charge the battery say by using this model and using the 16 dc model?

If you're look for a nice charger for all your mobile needs, pick up the PowerGen 12000 mAH portable charger. It charges my phone from 0-100 about 6 times. Its currently 40% off on Amazon. There's a rather informative review on it as well so check that out! Nokia's portable charger is very stylish but when it comes to encompassing practicality go with the PowerGen

Very nice. Will seriously consider picking one of these up at retail.

this will charge my 710 with a whole charge and then some.

I got the Intocircuit 11200mAh battery backup for 33 bucks on Amazon a week ago. Two USB charge ports. Seems to work well.

The USB is on the side, IMHO not the perfect position for a L920

The USB is on a retractable cable.

May sound stupid but will i be able to use it with my htc 8S or do you have to have a Nokia? Thanks.

Will work on any phone with micro USB charging slot

Soon... There will be wireless charging dock attached onto tables all over the place...

Just 1700mah? Old portable charger are just 2000mah and that's even not charge my l920 fully

This may be useful. I just hope they release it in normal colours too. We are not all like Daniel, some of us prefer black phones :P lol

Would be cool if it supported wireless charging as well.


This is exactly what I need for my L820.. That's my only issue with eh phone is the terrible battery life!

Id love one in red match my 920 my battery lasts anyway but a sweet looking back up add a bit of flare you cant go wrong !

Are you kidding me!? I just bought the dc16...

The dc-16 is the better option. Higher capacity

I know lol I commented before reading th article >ㅁ< never again...

The portable charger on ATT from Nokia is $35 and is 2,200mah. Not sure why this would be more with less juice. What is the difference between the two?

Dude
this one is smaller and colorful
Moreover
The priceing wasn't mentioned by Nokia
The "below $50 is an estimation only"

I want three of them.cyan,red yellow.

Too expensive. Make it 19.95 and I'll buy it

How can it be too expensive? They haven't even announced the price?

I never thought i'd need an backup external battery, but i can't get past 8 hours on moderate use on my L920 so i may need to pick one up.

Is there a black version?

Official page Says no black
only White, Cyan, Yello and Red

Once you go black, you never go back. To the store.

What happens when the portable charger is out of juice?

You need buy another one :/

You charge it with another portable charger. :)

Man, Seriously...yellow accessories are kind of joke from Nokia.
They advertise it but you can never get it. Anyone know where to get yellow DC-16 charger or purity in-ear yellow headset.
Anyone???

I can't find a yellow DC-16, but here's a yellow WH-920:
http://nokiaskleponline.pl/product-pol-6380-Zestaw-sluchawkowy-Nokia-WH-920-Purity-by-Monster-Yellow.html

I'd actually get a battery case for my 920 if they had them. Loved the ones I got for my iPhone 4.

there ser at keast a couple that i know of. one of them das reviewed un wpcentral. look it up on Amazon.

sorry wrong language of spell checker :P

This would be awesome. Usually I'm fine but on vacation, especially in wilderness places with bad reception, the battery dies fast. This sounds great, no more losing access to Audible before getting back to the hotel.
Windows Central Newsletter
Get the best of Windows Central in in your inbox, every day!
Thank you for signing up to Windows Central. You will receive a verification email shortly.
There was a problem. Please refresh the page and try again.