PSA: Xbox One preview members should decline system update to avoid factory reset [Update: fixed]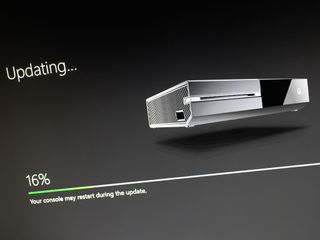 Update Microsoft has just announced on their forums that this particular issue has now been fixed
Original story In the Xbox One system preview program? You're going to want to decline any system updates you're asked to download in the near future. Microsoft has identified an issue that could cause a small sub-set of consoles in the public preview to factory reset after downloading.
Here's the full messages from Microsoft staff in the Xbox Forums:
If you're not in the public preview program you can rest easy, those of you in the program will want to decline the update. Users on Reddit are stating the update size is around 1900 MB, so hit decline if you see that.
Windows Central Newsletter
Get the best of Windows Central in in your inbox, every day!
Ooooooo Microsoft have a hard time with updating their stuff whilst during previews don't they!?

Microsoft preview programs always hitting us hard after a brief enjoyment. We still waiting for the bitlocking fix so we can download Lumia Cyan :)

They fixed the bitlock issue. Carriers dragging their feet.

But am not with any carrier. My L920 is international version and unlocked...but still no update.

My DP'ed 1520 CVUK version received Cyan about a month ago so they've definitely fixed the problem.

That is false because the Developer Preview updates are not subject to carrier review.

Cyan wont come with The dev prew . Its weather o
Part of The full update to winphone 8.1 ( The dev version is still not final ) and will be installed with it or your phone carrier will make it available at some point this year

Or use the Nokia software recovery tool to flash cyan onto your phone...

Any update on a fix for the 308 error?

I have that still too! So annoying, not even heard anything about a fix.

I guess they will not fix it. they wait till all of them are hard resetted.

It's called preview for a reason. People should know the "dangers" before joining, yet everyone is asking for an invite like an idiot, like it is a life changing situation to get something earlier. I'm in the Preview program and I'm telling you, waiting for the official and final updates is a lot better.

That's not the point, because in the case of the Bitlocker issue, it only broke certain phones that were on company networks that required Bitlocker to be active. Your everyday phone from a carrier does not run Bitlocker. The vast majority of phones are not affected by this issue, and Microsoft has said that very few are even affected.

This is why the preview esists, to check if there are some bugs before the update goes live for everyone

Guess I can't play destiny for a bit.

My first thought as well. And my clan has planned doing the raid tomorrow :(

Or just do it so what the important things are saved to the cloud and my ages are on external drive so never have to reinstall those Posted via the Windows Phone Central App for Android

Windows phone now this....

Not sure what this means. You signed up for pre release software, you knew the dangers. This is only news because of how open Microsoft has made these updates. They are doing you a favor

I don't get it either Alex. This is the entire point of the preview. To understand and squash bugs before it goes to the masses. Is this a fun bug? No, but this is the point 100%.

You signed up for it, don't complain. I have preview for developers, but didn't complain when I had an annoying bug, because I knew I would expect it.

Well, I'm suddenly happy to not be in the preview.

Let me know if you want in on preview ill invite you

Would you please kindly send me an invite? It would be appreciated! Thx!

Follow DiGzNY and send me a msg, ill invite you.

I've had a couple folk invite me, but I haven't ever received the Preview invite from MS. :-( Anyone know if the Preview is available in Australia? (GT: tropolite)

I would like an invite. Was in The Preview for the 360. Gamertag: K3NXbox

I would love an invite Gamertag: FiercePastor

I want an invite pleaseeee

Would be lovely to give some review on it, GT: FolkFighter

I want in. If you can please.

Add DiGzNY as a friend on the Xbox One then send me a msg, ill send a preview invite when I get off work. I'll be busy from 3-11pm est.

I know this is not relevant with the article but I still want to ask, why can't I log in to Xbox live account via my Lumia 1520 and the website seems not exist anymore. Why?

Ask somewhere else if it's not relevant?

The forums, check the forums. I'm sure they answer you need is in the forums.

Because you are too stupid to know how to use the Internet please box up an return to place of purchase Posted via the Windows Phone Central App for Android

Damn you its not just my phone it's happened on pc too you are the stupid one ass hole @kwajr

First it was the people in the Developer Preview, now its the people in the Xbox preview.jeez get it together!!

There's a reason it's a preview program, basically a beta to discover these exact issues.

Yea people are confusing previews with actual updates. It's guniea pig update to put it in laymen's term.

Developer preview: A software preview made for developers, not the general public.
You signed up for it and not developing. Stop complaining. You knew the risks.

I'm not complaining I'm just saying. I dont have the Xbox preview.

You're "just saying" that they need to stop finding bugs in what is effectively the beta software? ...no?

Maybe because of the layoffs they've been having lately? I'm with most others here... that's what beta programs are all about. Install and report back glitches etc to ensure a 99% smooth ride for the consumers. Beta/Preview testers, if that's their intention (and not just get the changes sooner than later), are doing everyone a favour, again if they report the issue and not whine about it :-)

This is a downfall with OTA updates, and previews programs, we sorta just have to get with the program...

"downfall with preview programs" "preview" Beta is made to find bugs >.>

I wonder of they pushed this update to consoles on standby too. Because if that's the case it may have already applied on my machine

That's what I'm thinkin, mine is set to update in standby, seems fine though.

Same here. Would've been nice to know which OS version it is, so you could check if you already got it

What is the update? Wouldn't mind resetting if there's some cool features

And what if ur console is set to update automatically?

Is this what happens when Satya fires all the big testers? Seems like all updates at MS are broken now. My laptop keeps trying to automatic update an update that fails every time, my developer preview Lumia 920 can't get the Cyan update because it could brick the device, my Xbox One preview can't update now because it could wipe the drive. They really need to fix this mess as their updates are all breaking.

You do realize the preview programs are essentially testers, right? We sign up knowing these things could happen, literally to identify this before the full release.

Yes, but also, up until now, Microsoft had a pretty good track record of not shipping game-stopping previews. All of a sudden, multiple previews are failing hard, as if they aren't fully testing every thing before pushing send.

You should read the terms before accept.

Besides the laptop all those others are beta programs so get over it Posted via the Windows Phone Central App for Android

People like you need to make a decision. When Microsoft has internal testing with Windows 8, Vista, people complained. Now they are doing a developer preview, people complain too. You are not a developer, yet you signed up for it. Don't be complaining.

I actually dropped off the developer preview because it was frying my phone battery hard (90 minutes battery life from full charge). I knew in the preview I had to accept glitches and problems but that was too gamebreaking so I got rid. I'm not a active developer, I don't need that. Even if I did return to being an active developer, I wouldn't need it.

I say tho is the beta phase of the future of windows being updated every time it needs an update!

Now do I need to get an update for XBOX One SmartGlass?

Good thing all of my stuff is on External Hard Drives

This right here Posted via the Windows Phone Central App for Android

He's agreeing with you. Posted via the Windows Phone Central App for Android

This is why I decided not to do preview. An update that would require a wipe or an issue.

Thank you for making a wise decision, unlike a lot of the complainers here.

Complainers or not, they are doing you a service that you're too selfish to join in on and expect someone else to do for you. Because if there wasn't a preview program, there's a chance this would have happened to you.

I am on the preview, and when joining, I knew the consequences. Some people had their Xbox bricked. I still joined. I report bugs and do surveys. I'm not a complainer.

This nice to know, bit wouldn't better if Xbox team just stalls the update from rolling out to the public

I believe I updated my Xbox One with this update ... Not sure, but I hope I don't lose all of my content on my hard drive.

Only update i got was only about 512mb

They just announced on the preview forums that the issue has been fixed. No need to worry now!

Good to hear, I just booted (no update) before reading this article.

The forums are a joke every beta ive done ive had to contact them to add my account to the private forums. At least with connect ive had no problems.

I love how fast they fixed this, but three months later, I still don't have Lumia Cyan.

Wish they would do that with the bitlocker preview bug. Been months now.

I just got the Xbox really nice console just waiting for some cool games and lowers prices

Good now I don't have to worry

So when is the new DLNA feature on the Xbox One going to work with mkv files? It finds videos on my PC's now over the network, but doesn't recognize mkvs. Is this feature coming soon?

This would not happen with Atari 2600. Wtf

for all the complainers: IT'S A PREVIEW!! EXPECT THESE KIND OF PROBLEMS!

Can someone please add me to the preview program!! Gamer tag: jacobm103

You have to be on a gamers friend list to be invited. Follow me and send me a message (via the console) that you are from wpcentral and I will invite you. GT: PsykoRobot. Anybody else interested do the same. Follow/Friend me and than message me and I will send an invite for your GT as well. Jus so you know. It can take from a couple of days to several weeks to be accepted into the program. You should plan to do the quests that come with each preview. Quests are routines you complete for new areas or changes in each build and then when done fill out short surveys about your experience.

Are they testing all of these updates on their own preview test devices?

Just checked no update yet guess I'll have to wait till the morning like usual(the normal for est based xbl user)

Anyone able to invite me? Tag i mulligan i

I would love an invite, thanks Gamertag: FiercePastor

Follow me GT: PsykoRobot and then message me you are from wpcentral. You have to be on a gamer's friend list to be invited.

What does this preview actually add? It still plays the games, doesn't it. And anyway previews are dubious...

Get new features and sometimes app first like media player preview new button commands for quick snap menu and this like that, we had ea access a few weeks earlier as well

All I will say is that I really don't think getting something a week or two earlier actually justifies putting your expensive console at peril
Windows Central Newsletter
Thank you for signing up to Windows Central. You will receive a verification email shortly.
There was a problem. Please refresh the page and try again.