Pure Pool and Terraria now available for Xbox One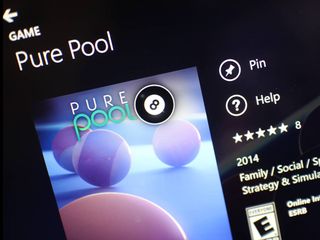 This week we have seen plenty of great new games on Xbox One. Halo: The Master Chief Collection and Assassin's Creed Unity are probably the two big blockbuster titles out, but you're not going to want to miss the smaller titles. You can now buy, download and play Pure Pool and Terraria.
Terraria
Game Description: DIG, FIGHT, EXPLORE, BUILD! Nothing is impossible in the special edition version of this action-packed sandbox adventure! Over a dozen environments and hundreds of items to craft and enemies to defeat! The world is your canvas – make it your own. Special edition content includes new tutorials, 2-4 player split-screen (HD only), Is anyone players online, new items, pets, enemies, and a brand new boss! The downloadable version of this game supports English, French, Italian, German, Spanish.
Pure Pool
Game Description: Experience a living, breathing, bustling Pool Hall from the convenience of your living room – all wrapped up in VooFoo Studios signature jaw-dropping visuals! Pure Pool also builds a DNA profile as you play creating an AI interpretation of yourself, your friends and your foes – which you can still play against, even when they're not online. Whether you prefer to spend your time playing solo or weighing up against the competition, connect and prepare to be blown away by the next best thing to real life Pool. With 4 game modes from classic American 8 Ball Pool to Killer, 4 challenges from Perfect Potter to Royal Rumble and full live online Multiplayer, rack-up, hone your skills and compete against the best in online tournaments and matches for a place in the Global Leaderboards.
Don't forget you can just search for Pure Pool or Terraria in the SmartGlass app on your Windows Phone to buy them. The games will then download to your Xbox One.
Anyone picking up these games?
Windows Central Newsletter
Get the best of Windows Central in in your inbox, every day!
Just bought pure pool. Veryyy cool 8)

http://www.windowsphone.com/en-us/store/app/terraria/75cbb8bb-5f30-4efc-...

NO TERRARIA !!! PURE POOL FOR WINDOWS PHONE

Uh oh. My son wants Terraria. There goes a few quid.
But is it xbox360 compatible so he can play his mates?

No :( sorry buddy, Xbox one games cannot play online with Xbox 360 users. But if you bought it on 360 you can play with them :)

Well, Happy Wars is supposed to be cross platform so I don't see why other simple games can't do the same.

A developer needs special permission from Microsoft to do something like that, and it's tremendously more complex and expensive than not being cross-platform.

I guess that means that my WP save game won't transfer back and forth with the Xbox One version either. :(

I don't really understand why. Both platforms are connecting to the cloud.
Do we know if PVZ Garden Warfare is xplatform multiplayer compatible?
Or Titanfall?

Cross-platform multiplayer is far more complex than just having internet or cloud access. Besides requiring special permission from Microsoft, there's much more work and certification issues to deal with. Garden Warfare and Titanfall are not cross-platform compatible. To date, no Xbox One games are.

Pure Pool is superb, been playing it all week (had a review copy) Absolutely worth the small amount

Pure Pool is priced well. I was hoping it would be around $15, so $13 is great, definitely picking this up now.

Seems a little expensive for such rudimentary (but fun) games.

They usually are on consoles. I would hope they would be cheaper...20 bucks for an indie is a bit much IMHO. $15 & under is aight I s'pose.

If you have an ​Xbox One and no HDTV then you have your priorities all wrong (or impaired vision) [in reference to HD requirement for split screen]

I have Terraria for WP. Will I be able to dowload it on my Xbox one or will I need to buy it again?

It's not a universal purchase. In fact, Xbox One does not have any purchase compatibility with Windows Phone or Windows 8 (Spartan Assault is a slight exception, but not truly a universal purchase across consoles either).

if i had teraria for xbox 360 will i have to pay the full price again to get it on xbox one

There is no discount for owning the 360 version.

We need these for Windows phone

"Is anyone players online"? What should that mean?

Wow, can't believe terraria is 20$. Seems a bit steep compared to the price on other platforms.....
Windows Central Newsletter
Thank you for signing up to Windows Central. You will receive a verification email shortly.
There was a problem. Please refresh the page and try again.